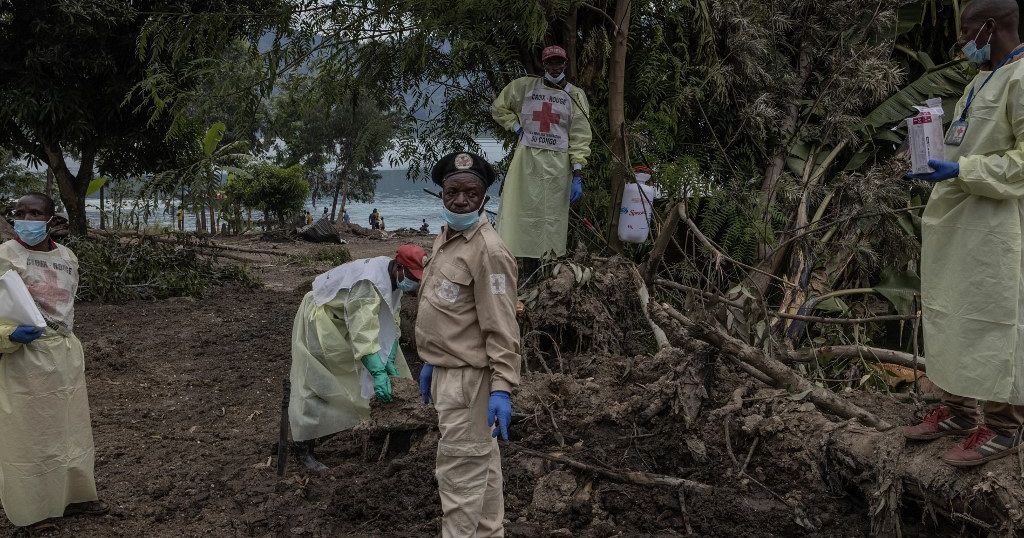 Families and rescuers search for unknown numbers of people missing four days after deadly floods in eastern Democratic Republic of Congo. The latest death toll given by the administrator of Kalehe territory, in South Kivu province, where the affected villages are located, was around 401, some of them found in Lake Kivu.
Congolese government spokesman Patrick Muyaya confirmed the death toll provided by the administrator of Kalehe territory in South Kivu province, where villages have been destroyed and bodies found in Lake Kivu.
Muyaya put forward a figure of 401 deaths during a weekly press briefing on Monday but did not specify the number of missing people, which local authorities say could be in the hundreds.
According to the UN humanitarian affairs bureau, OCHA, some 3,000 families are still without shelter.
"I have lost 12 relatives, I've buried five bodies so far and seven others cannot be found," Alpha Safari said at Bushushu village.
"I am looking for them, I hope to find the bodies to bury them with dignity," he said.
A wall of mud that fell down the mountainside on Thursday evening covers part of the village where homes and people were swept away, some into the nearby lake.
Youngsters dig into the earth. One covers his face. Another dead body has been found.
"The search continues because there are a great deal of bodies under the devastation," a Red Cross worker said, asking not to be named.
"Every time we manage to demolish a house, we find bodies," he added, deploring the lack of proper equipment to carry out the work.
– 'No help' –
"There were seven children in the family, but I'm the only one left," said Darcein Bikanaba, another survivor at Bushushu.
"My father and my mother have also gone and all my little brothers.
"We have had no help up to now… We can't stay here, it's very dangerous."
OCHA has detailed "immediate needs" including for "dignified and safe" burials as well as medical care, food aid and shelter.
Emergency teams from the United Nations and national NGOs have been brought in, OCHA said.
Greenpeace Africa noted that such disasters show "the necessity for the authorities to work on a national development plan focusing strongly on the risk of flooding in certain areas of the country".
Experts say extreme weather events are happening with increased frequency and intensity due to climate change.
Eastern DR Congo's disaster came two days after floods killed at least 131 people and destroyed thousands of homes in neighbouring Rwanda, on the other side of Lake Kivu.
DR Congo, a vast nation the size of continental western Europe, is one of the poorest countries in the world, riddled by corruption and conflict in its east.
On Saturday, UN Secretary-General Antonio Guterres on a visit to Burundi noted: "This is yet another illustration of accelerating climate change and its disastrous impact on countries that have done nothing to contribute to global warming."
Read More: World News | Entertainment News | Celeb News
African News