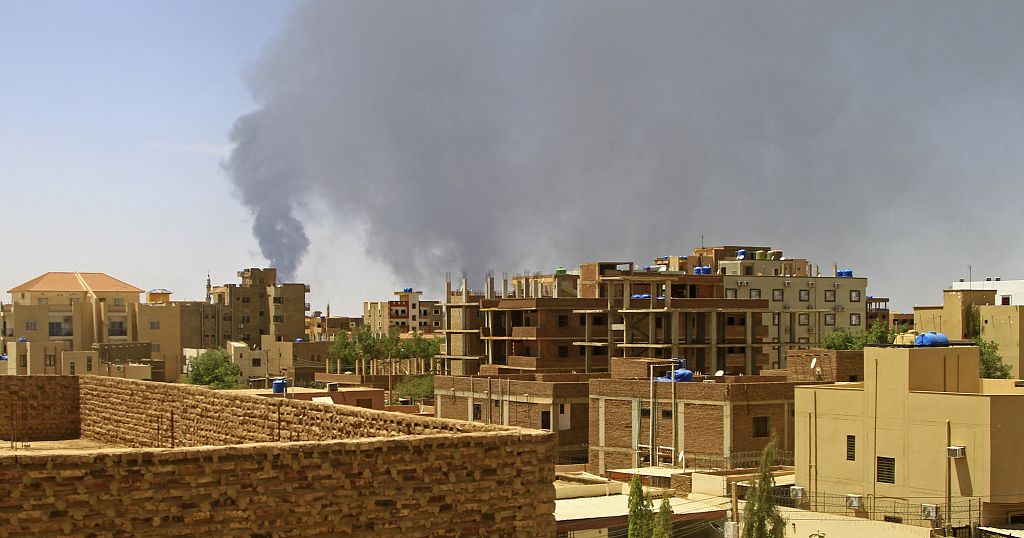 Fighting in Sudan has entered its third week, with over 500 people killed since clashes erupted on April 15.
The UN on Monday (May 1st) warned that more than 800,000 people could flee fighting in Sudan, where gun battles and explosions again shook the capital in violation of the latest truce agreed between warring generals.
"We hope it doesn't come to that, but if violence doesn't stop we will see more people forced to flee Sudan seeking safety," UNHCR chief Filippo Grandi said in a tweet, adding to UN alarm over what the world body calls a catastrophic humanitarian situation sparked by the three-week-old war.
Hundreds have been killed and thousands wounded since fighting erupted on April 15 between Sudan's army chief Abdel Fattah al-Burhan and Mohamed Hamdan Daglo, who commands the paramilitary Rapid Support Forces.
Millions of Sudanese unable to afford the inflated prices required to escape the battles have sheltered in their homes with dwindling food and water and frequent power cuts, as fighter jets thunder through overhead on raids that have drawn heavy anti-aircraft fire.
Burhan and Daglo have flouted multiple ceasefires and extended the latest by 72 hours late on Sunday.
Political and humanitarian response
William Ruto on Monday convened a meeting to mount a response to the worsening humanitarian crisis in Sudan. Ruto stressed the importance of finding ways to provide humanitarian support to the people of Sudan whether fragile truces to halt the internal power struggle hold or not.
Among the attendees at the meeting was UN Humanitarian Affairs and Emergency Relief Coordinator Martin Griffiths.
"The same way we managed to evacuate people from the theater of conflict [Editor's Note: referring to Sudan], I think there is a way we can access that theater with humanitarian support. So we must think in parallel."
"Both if there will be a holding cease-fire, and also if there is no holding cease-fire, what do we do? Because it doesn't take away that there are people in that theater who need humanitarian support."
Egypt, in an Arab League emergency meeting in Cairo, proposed a draft resolution Monday that called for an "immediate and comprehensive cessation" of fighting.
But experts have cast doubt over foreign mediation efforts. Sudan analyst Alex de Waal slammed "half-hearted and belated" efforts.
He accused the previous US administration of delegating policy to its "favoured allies in the Middle East", who feared democratic transition in Sudan and "preferred to deal directly with their favoured generals".
The Special Representative of the U.N. chief for Sudan, Volker Perthes, confirmed warring generals agreed to send representatives for negotiations.
Life in displaced camps
In a makeshift camp near Adre on the Chadian border, UN refugee agency staff were handing out emergency food rations to families who fled the violence with few belongings, sitting in the sand in the shade of trees.
"Today I have no food for my children and no means of work," one refugee, Mahamat Hassan Hamad, a tailor, told AFP, trying to hold back tears. "My sewing machines were taken by the attackers." He blamed the RSF who "destroyed everything in their path."
Sudan's turmoil has seen aid workers killed, hospitals shelled, humanitarian facilities looted, and foreign aid groups forced to suspend most of their operations.
"The scale and speed of what is unfolding is unprecedented in Sudan," said Stephane Dujarric, spokesman for UN chief Antonio Guterres.
The UN World Food Programme said it expected to soon resume food distribution in some parts of the country after a suspension following the deaths of three of its aid workers.
"Over 15 million people faced severe food insecurity in Sudan before this conflict. We expect these numbers to grow significantly as the fighting continues," WFP said.
At least 528 people have been killed and almost 4,600 wounded in the violence, according to Sudan's health ministry, but the real death toll is feared to be far higher.
Fighting has spread across Sudan, including to the long-troubled Darfur region.
The UN said at least 96 people were reported killed in El Geneina, West Darfur, where supplies were seen strewn across the floors of badly damaged hospitals.
Daglo's RSF emerged from the Janjaweed unleashed in a scorched-earth campaign in Darfur from 2003 by former strongman Omar al-Bashir, who faces charges of war crimes and genocide.
UN facilities looted
The fighting was pushing Sudan's already ailing health sector toward "disaster", warned the WHO's regional director for the eastern Mediterranean, Ahmed al-Mandhari.
He sounded an alarm over the growing threat of cholera, malaria and other diseases as the rainy season nears and safe water supplies are becoming scarce.
Speaking from Port Sudan, Volker Perthes said explained why there had been delays to aid in Sudan: "So many of the humanitarian aid which we had in stock was looted. All the warehouses, WFP (World Food Programme), UNHCR (United Nations High Commissioner for Refugees) and others in Darfur were looted. Vehicles from the humanitarian agencies were looted."
"The offices of my own mission UNITAMS (United Nations Integrated Transition Assistance Mission in Sudan) as well as obviously agencies in most of the towns of Darfur were looted."
A first Red Cross plane on Sunday (Apr. 30) took eight tonnes of medical supplies from Jordan to Port Sudan, which has served as an evacuation hub.
On Monday a US-operated evacuation ship arrived in Saudi Arabia from Sudan carrying more than 300 civilians from multiple countries, Saudi state media said.
While foreign nations have evacuated thousands of their citizens by air, road and sea, around 50,000 Sudanese have already escaped overland to neighbours, said the UN.
An envoy of Burhan's, Dufallah al-Haj Ali, met on Sunday (Apr. 30) in Riyadh with Saudi Foreign Minister Prince Faisal bin Farhan, and is due to visit Cairo and meet Egypt's foreign minister on Tuesday (May 2nd).
Read More: World News | Entertainment News | Celeb News
African News