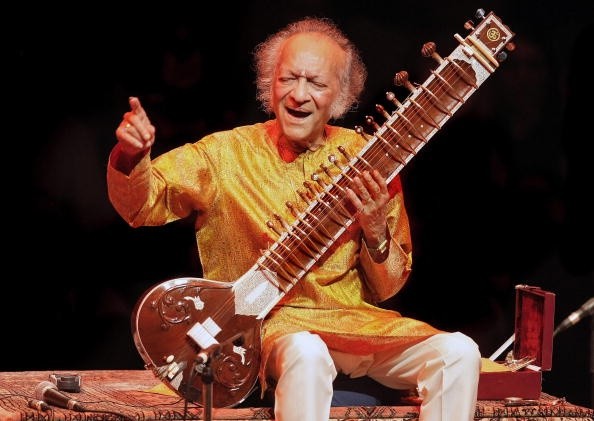 /**/
What was Ravi Shankar's Net Worth?
Ravi Shankar was an Indian musician who had a net worth of $5 million at the time of his detah in 2012. Born in Varanasi, United Provinces, British Raj, in 1920, Pandit Ravi Shankar is one of the best-known sitar players and Hindustani classical music composers of all time. He grew up touring his home country and much of Europe with his brother's dance group before deciding he'd rather learn to play the sitar. He studied under famed musician Allauddin Khan for several years before breaking into composing. Shankar put together the music for Satyajit Ray's "Apu Trilogy" and by 1949, scored a gig as All India Radio New Dehli's music director.
In the 1950s, he was invited to perform in the Soviet Union and New York City before touring different parts of the world. In the early '60s, he became the first Indian to compose music for foreign films. During the decade, he founded Mumbai's Kinnara School of Music and later opened a branch in Los Angeles. He performed at Woodstock and published his autobiography, "My Music, My Life", all during the latter half of the decade. Shankar taught at City College of New York and UCLA before landing the job of chair of the department of Indian music at the California Institute of the Arts. He won dozens of awards, including three Grammys and the Tagore Award. Shankar was nominated for one Oscar during his career.
He married Annapurna Devi in 1941 and they had one son together before their separation. Shankar began dating dancer Kamala Shastri before having an affair with New York concert producer Sue Jones. As a result of the affair, in 1979 Jones gave birth to future jazz artist and Grammy winner, Norah Jones. He later married Sunkaya Rajan in 1989. In 1999 Ravi was awarded India's highest civilian honor, the Bharat Ratna. Shankar died on December 11, 2012, after a heart valve operation.
Early Life
Shankar was born on April 7, 1920 in Benares, India, which is now Varanasi following India's independence from Great Britain. He was born to Shyma Shankar Chowdhury, a lawyer and scholar who also served as a politician, and Hemangini Devi. He was the seventh child and grew up with his six older brothers. His father moved to London for work when he was a baby and the two did not meet until Shankar was eight years old. At the age of 10, Shankar went to Paris as a member of a dance group. While in the group, he learned to play instruments and dance. The group traveled around Europe and Shankar was exposed to lots of different types of music. He was later offered musical training by Allauddin Khan, the lead musician at the court of the princely state of Maihar.
Career
Shankar's serious studies of music began when he became Khan's pupil. He trained on sitar and surbahar and learned classical and traditional styles of Indian music. He began to perform publicly on sitar in December of 1939 and his debut performance was a duet with Ali Akbar Khan. He completed his musical training in 1944. He then moved to Mumbai and joined the Indian People's Theatre Association, for whom he composed music for ballets in 1945 and 1946. He also began to record music for HMV India and worked as a music director for All India Radio from 1949 to 1956. Around this time, he founded the Indian National Orchestra and also was the music director for several Hindi movies.
Beginning in the mid-1950s, Shankar began performing outside of India. He was invited to perform in the Soviet Union in 1954 and then traveled to New York City in 1955 to demonstrate Indian classical music. He recorded his first album, "Three Ragas," in London in 1956. A couple of years later, in 1958, he participated in the celebrations of the 10th anniversary of the United Nations and UNESCO music festival in Paris. Beginning in 1961, he embarked on a tour of Europe, the United States, and Australia. He also became the first Indian to compose music for non-Indian films. In 1962, he founded the Kinnara School of Music in Mumbai.
While in the United States, Shankar had befriended Richard Bock, the founder of World Pacific Records. He recorded most of his albums for Bock's label throughout the 1960s. The Byrds also recorded in the same studio and began incorporating some elements of Shankar's music into their own. They also introduced his music to their friend, George Harrison, of the Beatles.
In October of 1970, Shankar became the chair of the Department of Indian Music of the California Institute of the Arts. He also was a guest lecturer at a number of other universities. The same year, he also began composing a concerto with the sitar for the London Symphony Orchestra which he performed with the orchestra under the direction of André Previn. He also co-headlined a tour with George Harrison, as the two had developed a friendship. He continued performing at prominent venues around the United States and released his second concerto in 1981. The following year, he was nominated for an Academy Award for Best Original Music Score for his work in the 1982 movie "Gandhi."
He also continued being avidly interested in the politics and society of India. He served as a member of the Rajya Sabha, the upper chamber Parliament of India, from 1986 to 1992. Throughout most of the later 1990s, he performed around 40 concerts per year around the world. In the 2000s, he won a Grammy Award for Best World Music Album for "Full Circle: Carnegie Hall 2000." He continued touring in the 2000s, sometimes with his daughter, Anoushka, who also played the sitar.
Throughout his life and career, Shankar won many awards and honors. He earned a number of honorary degrees from universities in the United States, India, and Australia. He was also named an Honorary Knight Commander of the Order of the British Empire for services to music in 2001.
Personal Life and Death
Shankar married Allauddin Khan's daughter, Annapurna Devi, in 1941. They had a son together, Shebhendra, in 1942. The couple remained together until 1962, when they separated. By this time, Shankar had already had a long-term relationship with Kamala Shastri, a dancer. He later had a relationship with Sue Jones, a New York concert producer. This relationship led to the birth of a daughter, Norah Jones, who went on to become a famous singer and songwriter. He lived with Sue Jones until 1986. He also had another daughter, Anoushka, with tanpura player Sukanya Rajan, in 1981. Anoushka also went on to become a successful musician. In 1989, he married Sukanya at Chilkur Temple in Hyderabad.
Shankar remained a Hindu throughout his life. He was a devotee of the Hindu god Hanuman as well as the Bengali Hindu saint, Sri Anandamayi Ma. He was a vegetarian and primarily resided in Encinitas, California.
In December of 2012, Shankar was admitted to Scripps Memorial Hospital in La Jolla, San Diego after complaining of breathing difficulties. He died a couple days later after undergoing heart valve replacement surgery. The Swara Samrat festival was dedicated to Ravi Shankar a month after his death and included performances by famous Indian musicians like Birju Maharaj, Zakir Hussain, and Girija Devi.
Read More: World News | Entertainment News | Celeb News
Celebrity Net Worth