Who is Swoosie Kurtz?
Swoosie Kurtz was born on 6 September 1944, in Omaha, Nebraska, USA, and is an actress, known for her work in various television shows and stage productions. She is a two time Tony Award winner and an Emmy Award winner, with some of her most notable projects being "The Fifth of July", "The House of Blue Leaves", and "Carol and Company".
[embedded content]
The Net Worth of Swoosie Kurtz
How rich is Swoosie Kurtz? As of early-2019, sources estimate a net worth that is up to $50 million, earned through a successful career in acting, having been active in the industry since 1977. As she continues her endeavors, it is expected that her wealth will also continue to increase.
Early Life, Education, and Career Beginnings
Swoosie's mother was an author, while her father was USAF Colonel Frank Allen Kurts, Jr., who received a lot of commendations during his service as a bomber pilot during World War II – in fact, her name is based on one of the planes her father piloted, a bomber named The Swoose. She moved frequently during her childhood, due to her father's work.
After matriculating from high school, she enrolled at the University of Southern California, where she took her first steps towards pursuing an acting career by majoring in drama. After graduating, she continued her education at the London Academy of Music and Dramatic Art. One of her first professional appearances was in an episode of "The Donna Reed Show" when she was just 17 years old. The following year she appeared in "To Tell the Truth", a television game show in which she was seen identifying her father from two imposters.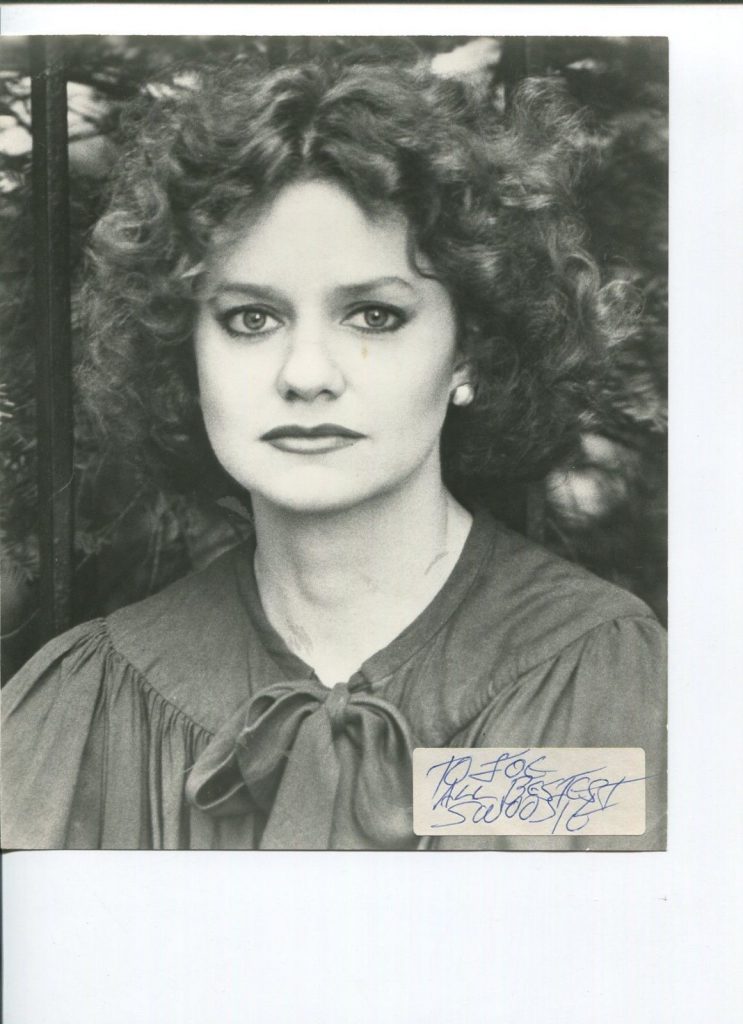 Stage Career and Rise to Fame
In 1975, Kurtz began her foray into theatre, beginning with her Broadway debut in the revival of "Ah, Wilderness!" which focuses on a happy family during the turn of the century America. Three years later, she started to gain acclaim and popularity thanks to her work in the theatrical production of "Uncommon Women and the Others", which was Wendy Wassertein's breakthrough play. She also appeared in the off-Broadway musical "A History of the American Film" which led her to win a Drama Desk Award.
Eventually she won the Broadway Triple Crown, which includes the Drama Desk, Outer Critics Circle and a Tony Award, thanks to her portrayal of the character Gwen in the production of "Fifth of July". She also gained a second Tony Award during the 1986 revival of "The House of Blue Leaves", in which she played Bananas. She also portrayed playwright Lillian Hellman in a production of "Imaginary Friends", but while working in theatre, she also started to work in television projects, beginning with the short-lived variety show entitled "Mary" in which she was a part of the ensemble cast. She also appeared in the sitcom "Love, Sidney" for two seasons, her role earned her a first Emmy nomination.
[embedded content]
Television and Film
In 1990, Swoosie got her first Emmy win thanks to her guest appearance in the comedy show "Carol & Company", following which she starred in her longest television role in the NBC series "Sisters", which earned her two Emmy nominations, playing the role of wealthy divorcee Alex Reed Halsey for five years. She then starred in the television series "Pushing Daisies" as Lily Charles, and other projects she had during this period include guest appearances in popular shows such as "Lost", "Desperate Housewives", and "ER".
Swoosie also had recurring roles in the drama "That's Life", and the sitcom "Still Standing" in which she played Helen, the mother of Judy. She also played Madeleine Sullivan in the series "Huff" and the lesbian Blythe Danner in the show "Nurse Jackie". In 2010, she starred in the sitcom "Mike & Molly" playing Joyce Flynn, and one of her latest projects is in the show "Man with a Plan", playing the mother of Matt LeBlanc's character. Aside from her television work, she's also appeared in several high profile films, including "Dangerous Liaisons" and its remake "Cruel Intentions", as well as appearing in the Jim Carrey film "Liar Liar".
Personal Life
For her personal life, it is known that Kurtz was romantically involved with artist and director Joshua White, who is best known for his liquid light show called The Joshua Light Show, a form of psychedelic art that was predominant during live band performances of the late 1960s. They were together from 1964 to 1970. However, Swoosie has never been married and has never had children.
In some of her recent projects, a lot of people noticed her drastic weight difference, as she seemed to have lost a significant amount as evident from her physical appearance. Many people believe she is suffering from anorexia, an eating disorder which is typically characterized by low weight and a fear of gaining weight. In the 2000s, she didn't seem to have any problem with her weight but things changed in recent roles. However, the disorder has not been confirmed by the actress, so there is still a bit of speculation. One of the reasons there is very limited information about her past and present endeavors is due to her lack of any online presence – she doesn't have accounts on any of the major social media websites.
Source: Affairs P