<!– Last modified on September 26, 2022 – 18:01 BST –> Last modified on Sep 26, 2022 18:01 BST Karen Silas Which hot water bottle is best for you in 2022: microwave, traditional or electric? Here are the best hot water bottles to soothe muscles and keep you (and even your pets) warm this winter.

With energy costs skyrocketing, you might be lowering the thermostat at home and looking for low-cost energy efficient ways to stay warm. Who knew the trusty classic hot water bottle would even come in MORE handy than ever?
RELATED: Trying to stay warm? Here are 10+ cosy things on Amazon you'll definitely want
That's why we've made it easy to find the best one for you with our edit of the best hot water bottles to shop online right now, whether microwave, traditional or electric.
STAY COSY: Shoppers say they 'don't need the heating on' with this energy-saving wearable blanket
RELATED: 10 genius ways to keep your house warm without paying for heating
Water bottles can come covered with soft knits, fleece, faux fur, cashmere or velvet, cheap or luxury, super lush or pared down and practical. But which is the best hot water bottle to suit your needs?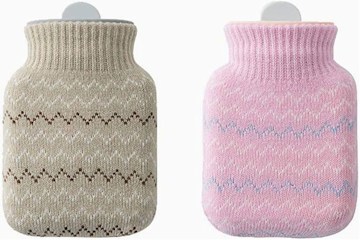 Measuring about 6in, Amazon's mini hot water bottles are small enough to fit into your bag
ALWAYS HANDY: Mini hot water bottles, set of 2, £15.99, Amazon
They're a must-have these days for staying warm indoors, and outdoors, too – some local pubs even started offering hot water bottles for outdoor guests during restrictive pandemic rules.
And of course hot water bottles have long been a useful home remedy tool and great for everything from soothing achy muscles to keeping you toasty in bed at night.
What is a hot water bottle and why should you invest?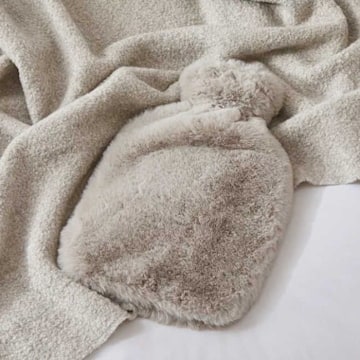 BEST-SELLER: Super Soft Faux-Fur Hot-Water Bottle, four colours, £35, The White Company
Hot water bottles, which have been around since the 1500s, are traditionally filled with hot water and closed with a stopper that you can then use to warm yourself up with, whether tucking it under your blanket, cuddling up to it on the sofa or in bed, or even wearing it when you go out for some extra warmth.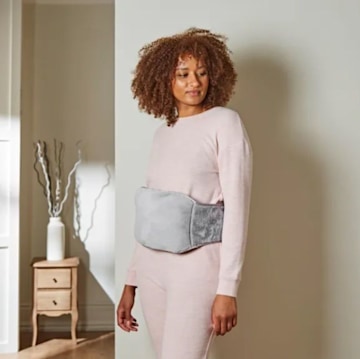 Fur Hot Water Bottle Belt, £15, Dunelm
Hot water bottles are the original heat therapy – they help improve circulation, and can also be used for targeted heat to soothe pain from menstrual cramps to muscle aches and tension.
RELATED: The best patio heaters that will help keep your garden warm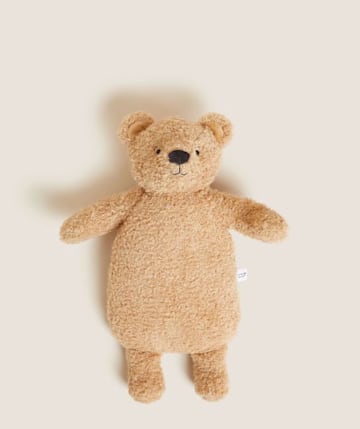 Hot water bottles can come covered with soft knits, fleece, faux fur, silk or velvet – and plush toy designs are great for kids
M&S Collection Spencer Bear Hot Water Bottle, £19.50, Marks & Spencer
Do hot water bottles work for stress relief?
Yes, heat reduces stress and tension throughout the body due to the fact that it increases the blood circulation and keeps the muscles functioning properly, providing more oxygen and nutrients. What's more, a hug releases oxytocin, the happy hormone.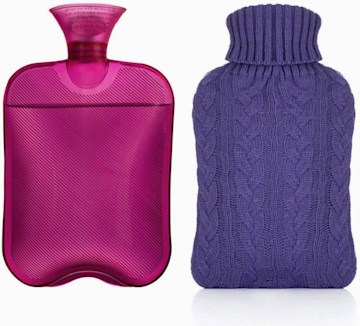 This top-rated large hot water bottle on Amazon comes in six different stylish colours
Samply Hot Water Bottle with Knit Cover, £9.99, Amazon
While rubber hot water bottles were all the rage starting in the 19th century, modern life means we've upped our game and you can now get hot water bottles with cosy knit or faux fur covers, and you no longer need to necessarily fill the bottles with water these days!
If convenience is key, you will want to opt for a quick heating microwave hot water bottle, or a plug-in electric style, both of which will usually stay warm for at least four hours.
RELATED: The best puffer coats and jackets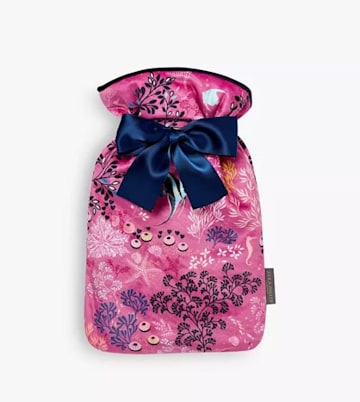 This one-litre hot water bottle has a velvet cover – and makes a great gift
Sara Miller hot water bottle, £25, John Lewis
Microwave, traditional or electric hot water bottle – which is best?
The best hot water bottle for you really depends on what your needs and priorities are, whether it is simplicity, convenience or even stylishness.Traditional rubber or PVC hot water bottles are the classic old-school home remedy and can also be used with cold water for cold therapy or during the summer.
Filled with hot (not boiling) water, they don't require electricity in either the form of a microwave or an electrical outlet, which is a plus if energy efficiency is a priority for you.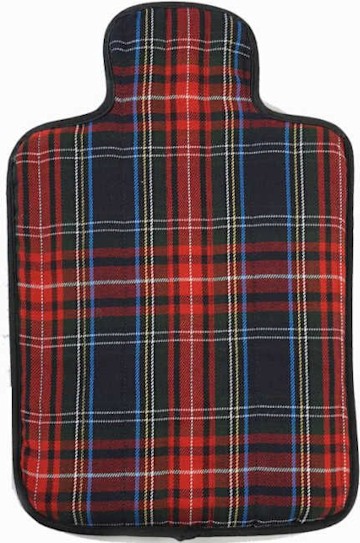 This microwavable hot water bottle heats up in the microwave a few minutes, then stays cosy for hours
Hotties Microwave Hot Water Bottle in Quilted Royal Stewart Tartan, £16.99, Amazon
A microwave hot water bottle heats up quickly thanks to an interior thermal pack. Generally, you just pop it into the microwave for a 60 seconds, which means it is a nearly instant fix if you need warmth immediately.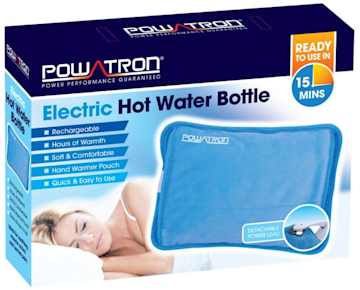 eBay's top-selling electric water bottle is very easy to use – plug it in and charge it up for 8-12 minutes for four to six hours of warmth
Rechargeable Electric Hot Water Bottle, £19.99, eBay
With an electric hot water bottle you literally just plug it in! Which means that if you're in your bedroom or living room and need some warmth, there's no need to head to the kitchen to fill up a traditional water bottle or pop it into the microwave. You can also get a rechargeable electric hot water bottle, which charges for a few minutes then last for hours.
Microwave and electric hot water bottles don't have stoppers so that eliminates the risk of water leaks or spills.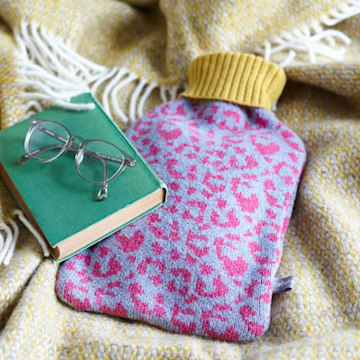 You can even find handmade hot water bottle covers – this one fits as standard 2L bottle and comes in over 10 designs
Handmade Lambswool Hot Water Bottle Cover, £50, NotOnTheHighStreet
When it comes to style, electric and microwave hot water bottles can be found in a host of looks, whether knit, fleece or faux fur. But don't worry if you prefer a traditional rubber water bottle – you can buy covers for your hot water bottle separately and switch it up according to your mood.
LIGHT THERAPY: Sunshine all season! Check out TikTok's viral sunset lamp
Now that you know the difference between traditional, microwave and electric hot water bottles, here are our picks of the best, whatever your needs.
Best plush & velvet hot water bottles for cosy comfort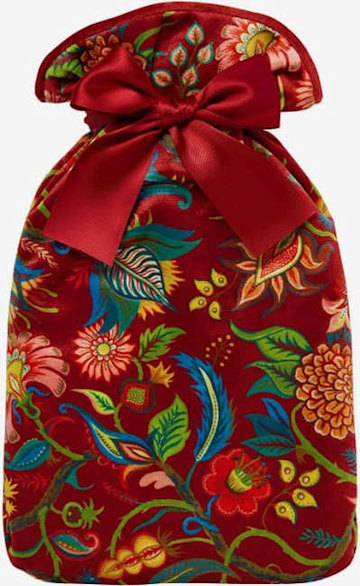 Heathcote & Ivory Wild Wonder & Joy Velvet Hot Water Bottle, was £18 now £14.22, Amazon
This Heathcote & Ivory hot water bottle is a travel-friendly 750ml size – it comes with both the cover and the hot water bottle for inside.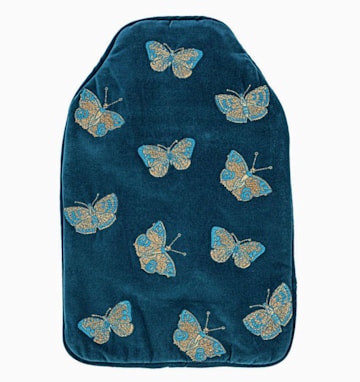 Elizabeth Scarlett x AMARA Butterfly Velvet Hot Water Bottle, was £37 now £18, Amara
You'll get a good night's sleep with this large velvet 2L hot water bottle with embroidered butterflies. It also comes in black.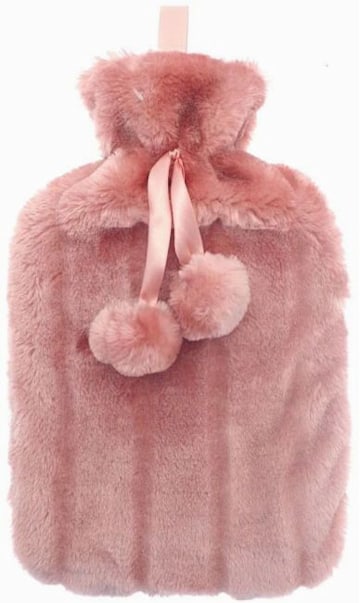 Country Club large hot water bottle with faux fur cover, £9.99, Amazon
We admit it – we just can't resist a faux fur water bottle with pom poms.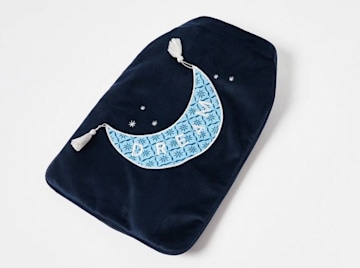 Dream Blue Hot Water Bottle, £26, Oliver Bonas
This dreamy blue hot water bottle will have you sleeping like a baby.
Fun & funny hot water bottles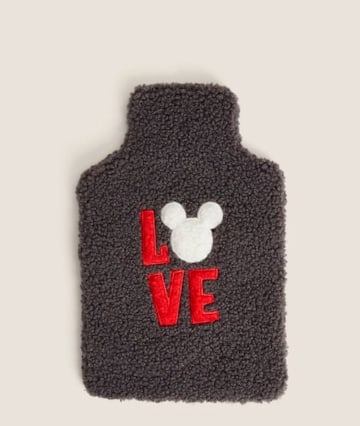 Mickey Mouse hot water bottle, £22, Marks & Spencer
This Disney hot water bottle from M&S is embroidered with 'Love' and the famed Mickey Mouse ears logo.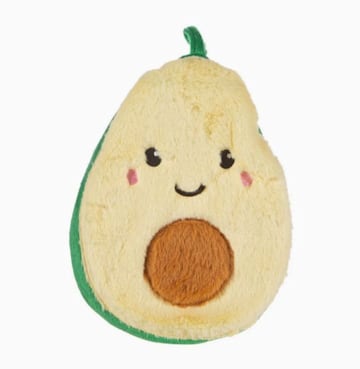 Avocuddle hot water bottle, £14.99, Etsy
A 650ml small hot water bottle with an adorable avocado theme.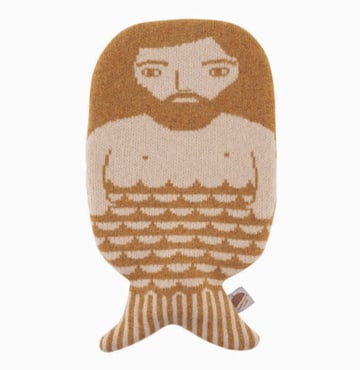 Donna Wilson Merman Hot Water Bottle, £61, Amara
No need to wait for the Little Mermaid reboot – get the under the sea vibes from this fun hot water bottle.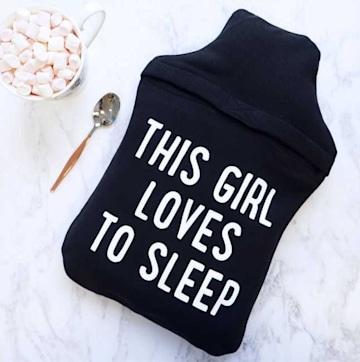 Loves Sleep Hot Water Bottle Cover, £15, NotOnTheHighStreet
Send a clear message with this hilarious hot water bottle cover that lets everyone know what your priorities are. Add a hot water bottle for £10.
Best hot water bottle gift sets with eye mask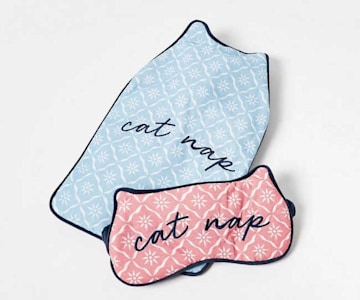 Cosy Cat Pink & Blue Hot Water Bottle & Sleep Eye Mask Set, £32.50, Oliver Bonas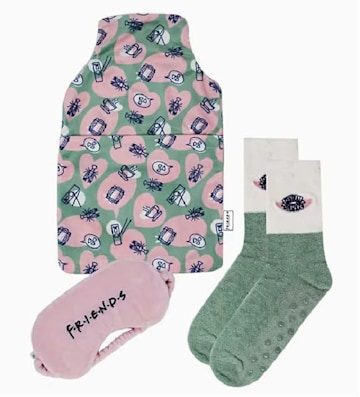 Friends Hot Water Bottle Set, £20, Boots
Looking for a gift for a Friends fan? This fun set comes with a cover plus matching socks and eyemask.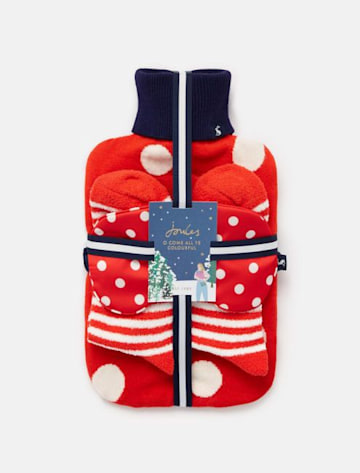 Cosydale hot water bottle gift set, also in yellow, £34.95, Joules
This hot water bottle gift set with socks and matching eye mask makes the perfect Christmas gift.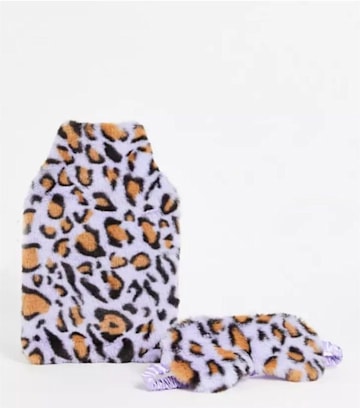 ASOS DESIGN faux fur hot water bottle and eye mask gift set, £16, ASOS
Go wild with this faux fur hot water bottle set that includes a matching eye mask.
Best alternative, eco-friendly heatbag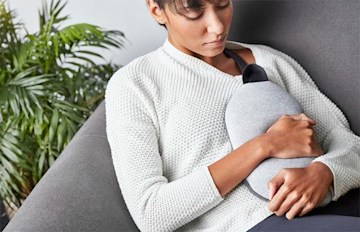 Heatbag, £50, Ostrichpillow
If you're looking for a huggable companion that doesn't waste water, or risk burn injuries, this Heatbag is so much more than a heating bag. Warm it up in the microwave and it becomes the perfect hugging partner, or freeze it for pain relief. What's more, it's made of recycled foam and soft jersey fabric. The inner core is made out of clay and it stays warm or cold for longer.
Best long hot water bottles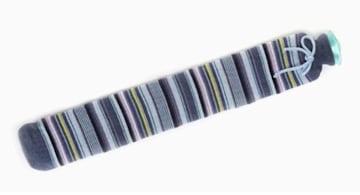 CozyPlush Long Hot Water Bottle, from £18.20, Amazon
Available in 13 different colours, this long hot water bottle has a very impressive 4.9-star rating on Amazon.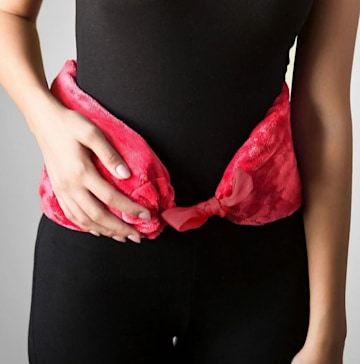 YuYu Fleece Long Hot Water Bottle, £30, QVC
The YuYu fillable hot water bottle has an extendable strap so you can comfortably wear it, the heat lasts for up to six hours. In the summer it can be used as a cold compress. This long hot water bottle also has a waffle cover version, in pastel pink or blue, priced at £41.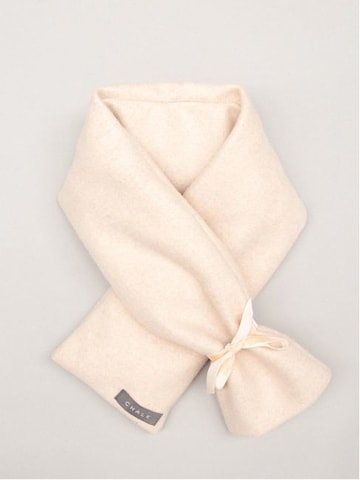 Chalk UK Henry long hot water bottle, £35, Trouva
This hot water bottle comes in a cotton branded drawstring bag and features a coordinated velvet ribbon tie.
Best hot water bottles for kids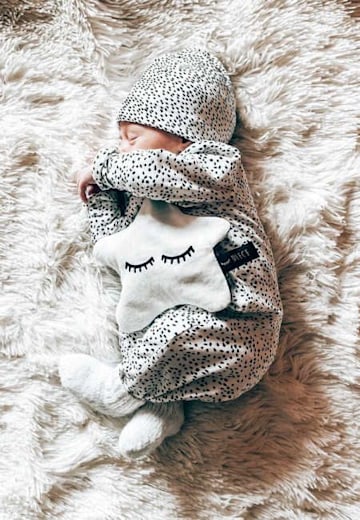 ULECE baby heating pillow, £21, Etsy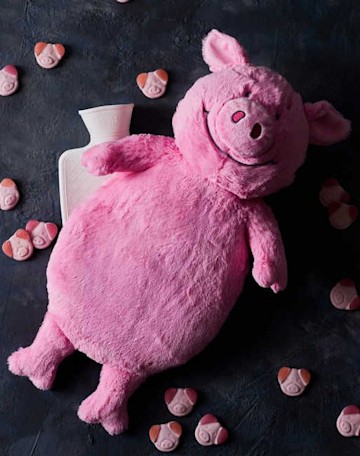 Percy Pig Hot Water Bottle, £19.50, Marks & Spencer
Everybody loves Percy Pig! This adorable 'pig in a blanket' contains a small hot water bottle inside a cuddly pink plush Percy.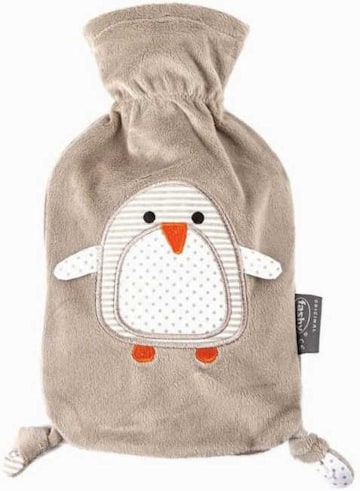 Fashy Hot Water Bottle, £22.50, Amazon
Small hot water bottles can be tucked into your bag or suitcase, so are great for travel and their small size also makes them an excellent option for children. This .8 litre bottle in a cute penguin shape has a five-star rating on Amazon.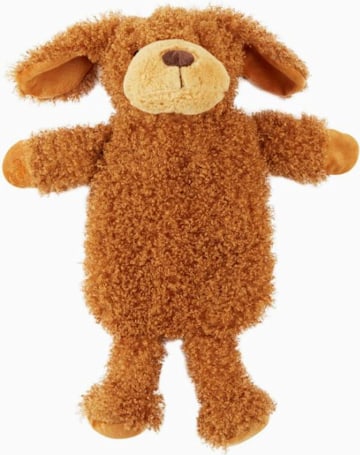 CityComfort Hot Water Bottle, £14.99, Amazon
Amazon has a number of hot water bottles that resemble stuffed toys – perfect for children.
Best traditional hot water bottle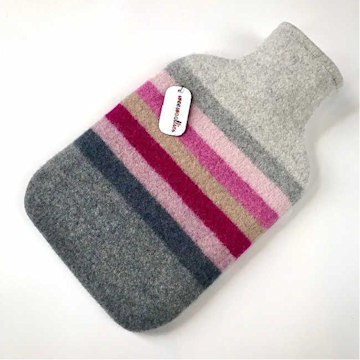 Felted Merino Lambswool Hot-water bottle, £38, Etsy
This may be a traditional hot water bottle – there's a standard size 2L BSS rubber hot water bottle included – but the design, with a stylish handmade wool cover in fun stripes, certainly sets it apart! This lambswool water bottle from UK Etsy seller Weewoolliesuk has earned a five-star rating and there are more than 10 other colour motifs to choose from.
Best designer and luxury hot water bottles to keep it chic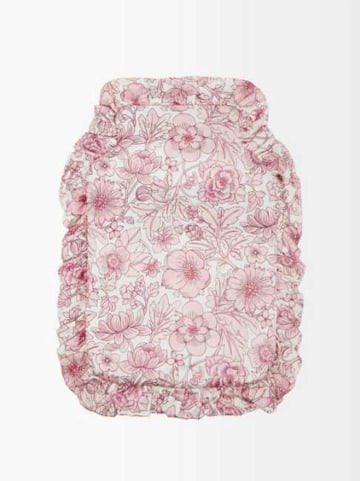 The Vampire's Wife silk hot water bottle cover, more colours, was £165 now £49, Matches
One of Princess Kate's favourite designers, the Vampire's Wife, has a lovely silk hot water bottle cover – it would definitely be royally approved!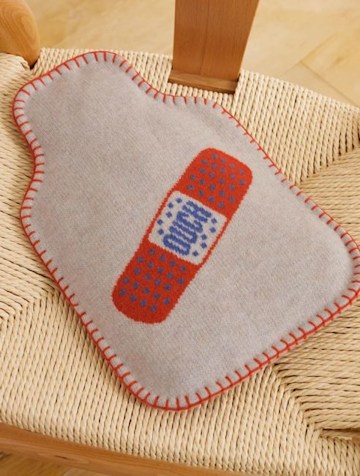 Anya Hindmarch hot water bottle cover, £175, Net-a-porter
Anya Hindmarch brings her quirky style to water bottles with this soothing and healing look emblazoned with a bandage.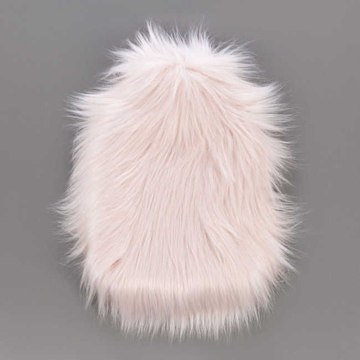 Evelyne Prélonge Himalaya Faux Fur Hot Water Bottle in blush, £103, Amara
If Emily in Paris had a water bottle to keep her cosy in her tiny flat, we think this would be it. This French-made warmer is super glam – oh là là!
MONEY-SAVING TIPS: 20 easiest ways to save at home each month when you're on a tight budget
Best hot water bottle for pets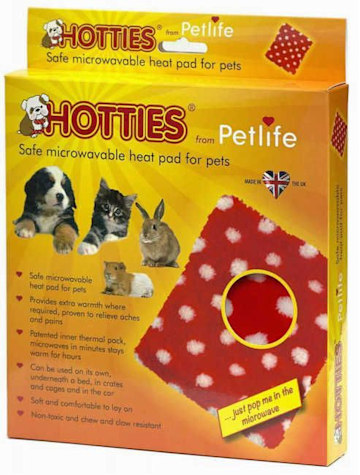 Hotties Microwavable Pet Warmer, £14.95, eBay
Hot water bottle brand Hotties also makes a microwavable hot water bottle for your pet! Non-toxic and chew/claw-resistant, the Hotties from Petlife warmer can be used for dogs, cats and smaller animals, and is suitable for use anywhere from crates to pet beds.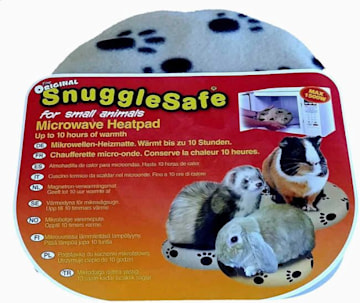 SnuggleSafe Microwave Wireless Heatpad, £18, Amazon
Weatherproof and washable, this microwave heat pad will keep your small pet cosy for up to 10 hours.
HELLO!'s selection is editorial and independently chosen – we only feature items our editors love and approve of. HELLO! may collect a share of sales or other compensation from the links on this page. To find out more visit our FAQ page.
Read More: World News | Entertainment News | Celeb News
HelloMagazine