From trying to return broken or used items to scamming the cashier for a few bucks, people have done all kinds of things to try to fool retail workers. Some of these workers shared the wildest ways people have been attempting to scam them.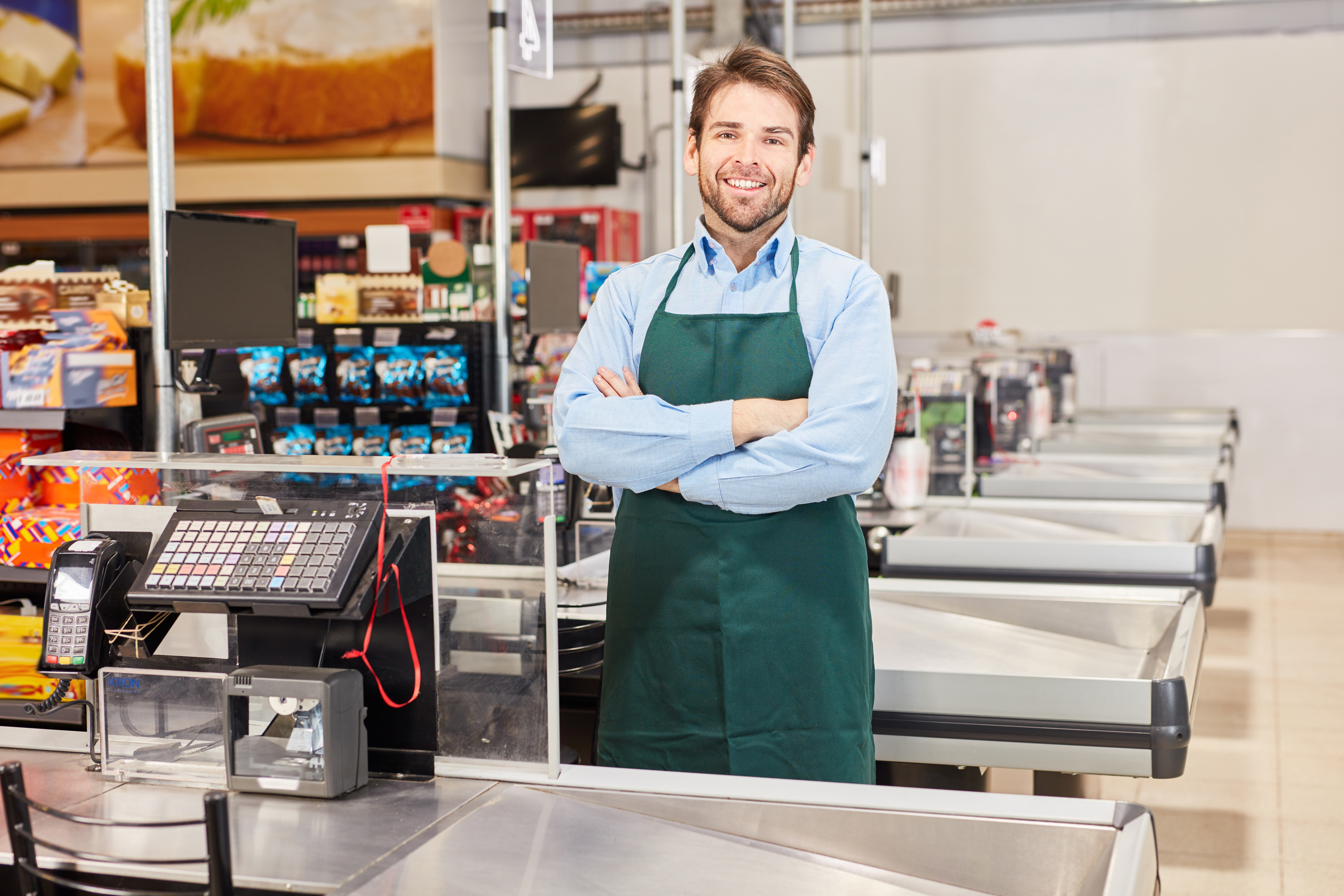 A man working as a cashier | Source: Shutterstock
Working in the retail business means interacting with people from all walks of life. Some of these interactions are positive and fruitful, while others are so terrible that they make these retail workers question their career choices.
A few people with retail experience opened up on Reddit about how some customers tried to scam them. Some of the most compelling narrations have made it to this article.
Comments have been edited for clarity and grammar.
1. My Happiness Faded When I Saw the Credit Card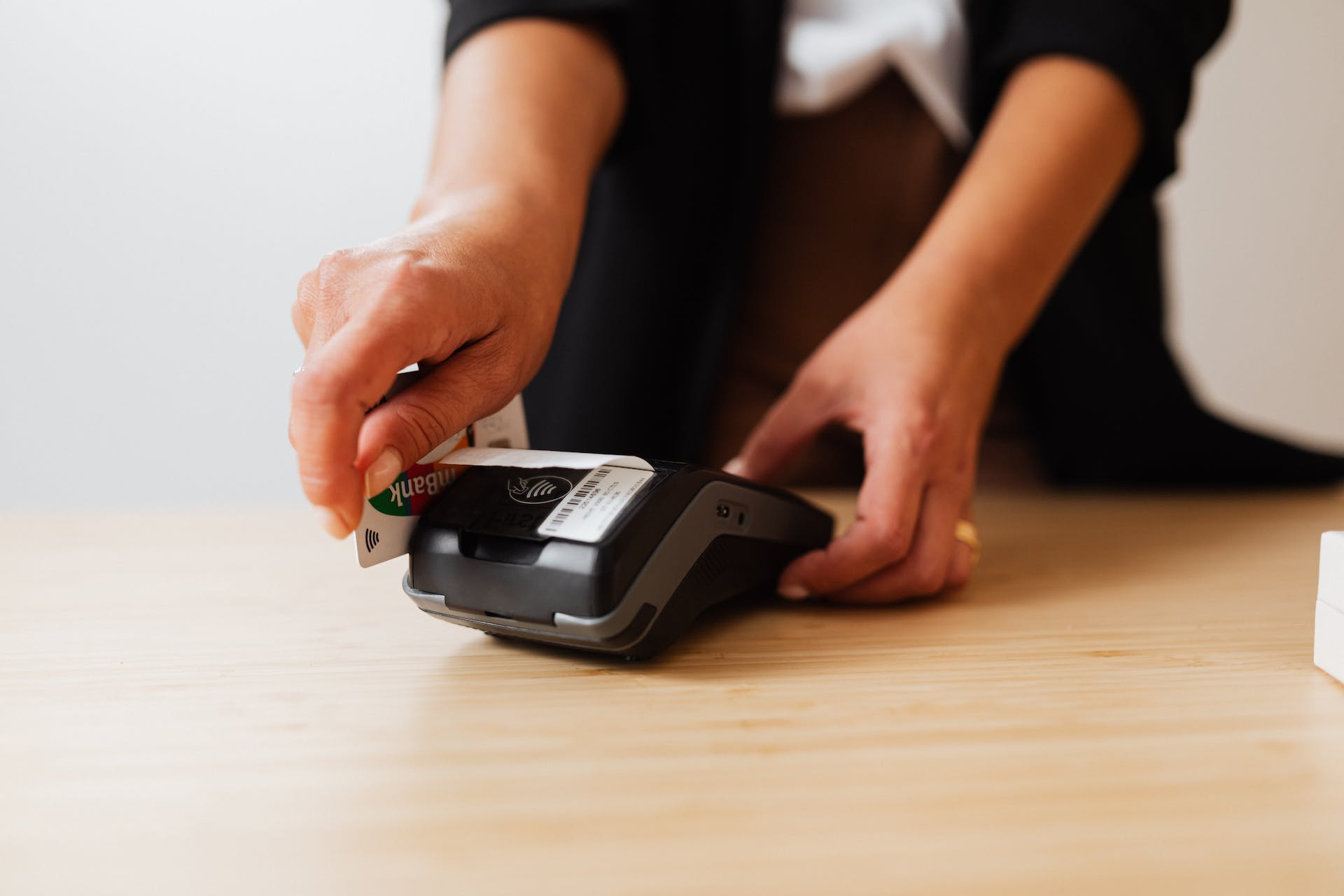 A person swiping a credit card | Source: Pexels
u/RudgerZ: I worked at a game store where I once had a woman come in dressed somewhat trendy and ask for two PlayStation Portables (PSP), two Xbox 360s, and a handful of games and accessories.
My store was pretty slow, so this would be a big sale for the day, and I was excited about it. She goes to pay and hands me a credit card, which was not laminated and appeared to be printed out on a home color printer.
I told her it wouldn't work, and she said just scan it anyway. So I scanned her fake credit card, which did not have a magnetic strip, and it didn't work (of course).
She told me to just "put the numbers in" on the computer. I refused, and she asked why, seemingly legitimately confused. I told her I just couldn't. She told me she would be back with cash. I put everything back on the shelves. She did not return.
2. The Stolen Roll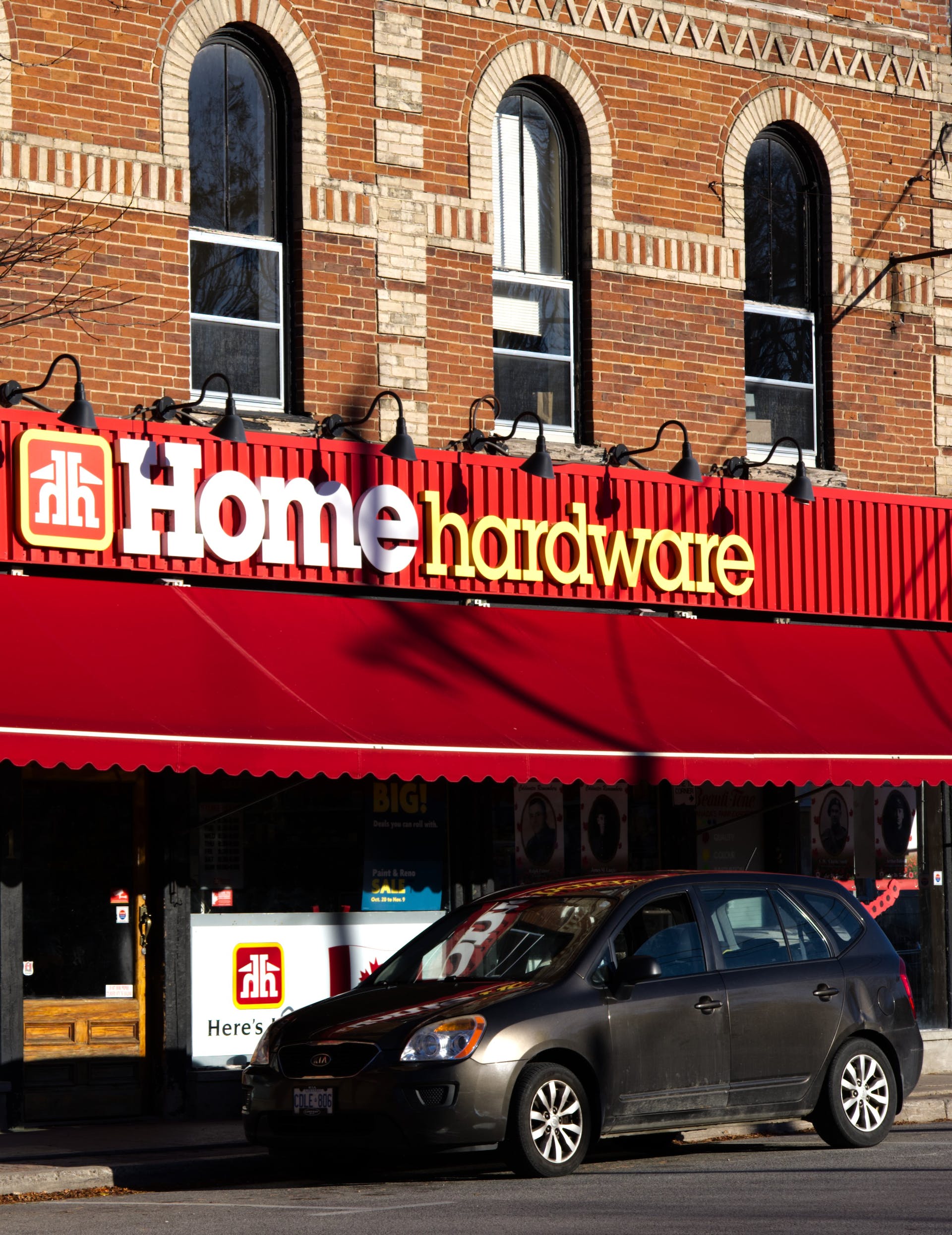 A car parked outside a hardware store | Source: Pexels
u/celesticaxxz: Years ago, I worked at a small hardware store where they were constantly getting huge rolls of copper wire stolen.
One day, this guy and his girlfriend come in to return a roll. I was a few months in on the returns counter. They had no receipt, and when I scanned the item, it only showed the price per foot.
Since I needed help figuring out how to get the SKU or the price for the whole roll, I called the manager. He immediately came out and knew there was no way these people bought a roll and returned it.
So, he asks when they bought it, and they say two weeks ago (the typical response). My manager tells them, "Oh, really? Because the last time we sold an entire roll was over three months ago."
The guy starts to get brave and asks, "So you're saying I stole it?" And my manager says yes. They exit the store, leaving the roll behind.
Before they leave the store, the guy says, "I'm coming back and bringing the cops." My manager says, "Go ahead. That way, you can explain to them how you stole the roll."
3. Did Their House Burn Down?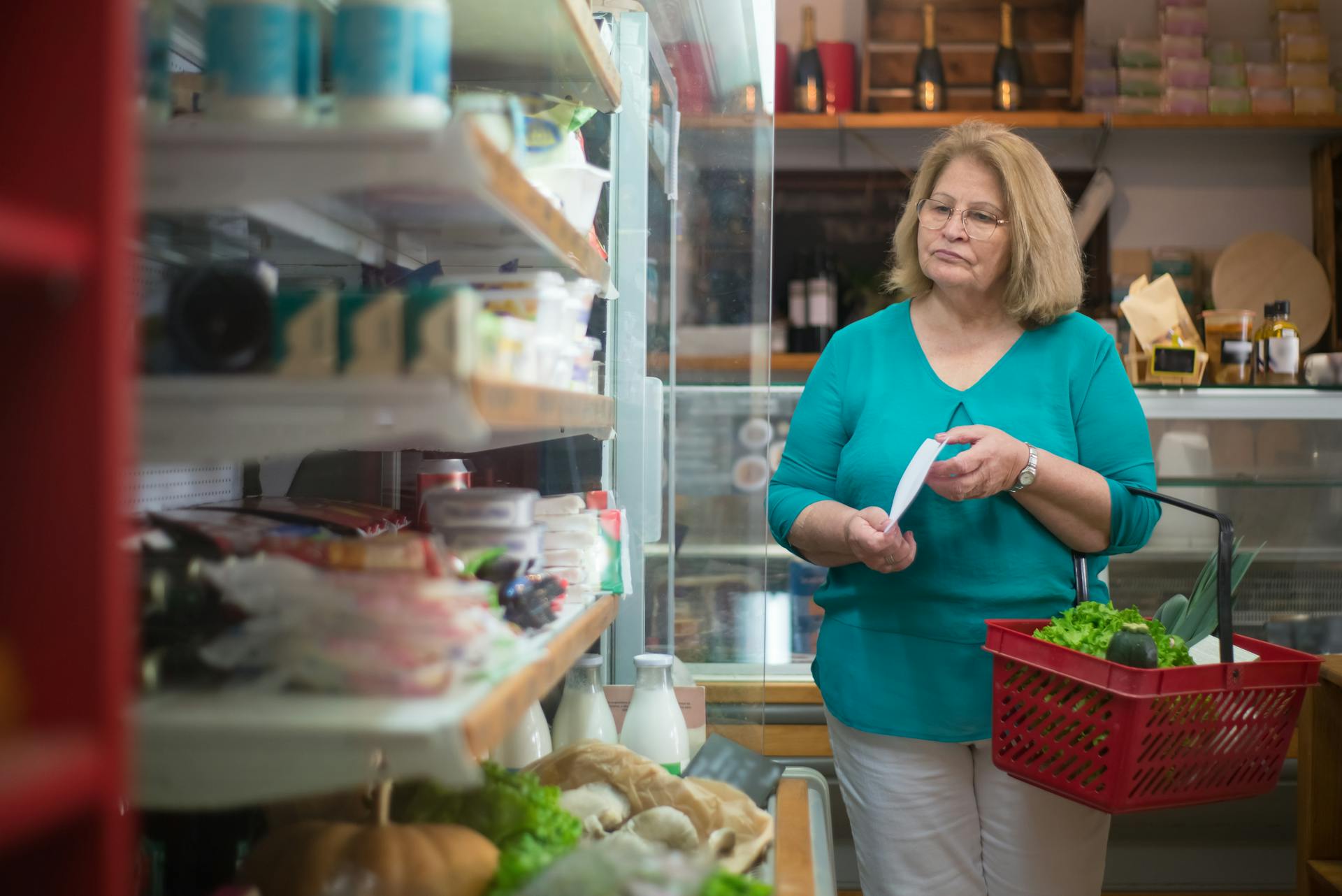 An older woman buying groceries | Source: Pexels
u/icantdrawcircles: A family of five comes in, and the grandma pulls me aside to tell me her son's house burnt down, leaving her grandchildren with nothing. So, she wanted a discount.
I told her that I could give her 25% off her purchase. She wanted more, but that was the best I could do.
They shop around for a while and eventually come up to the register. The whole time, one of the little girls says things like, "I'm so sad all my stuff is gone," with the grandma replying, "I know, I wish I had more money OR A COUPON to help."
One of my coworkers knew her and informed me after they had left that their house did not, in fact, burn down.
4. I Witnessed Multiple Scams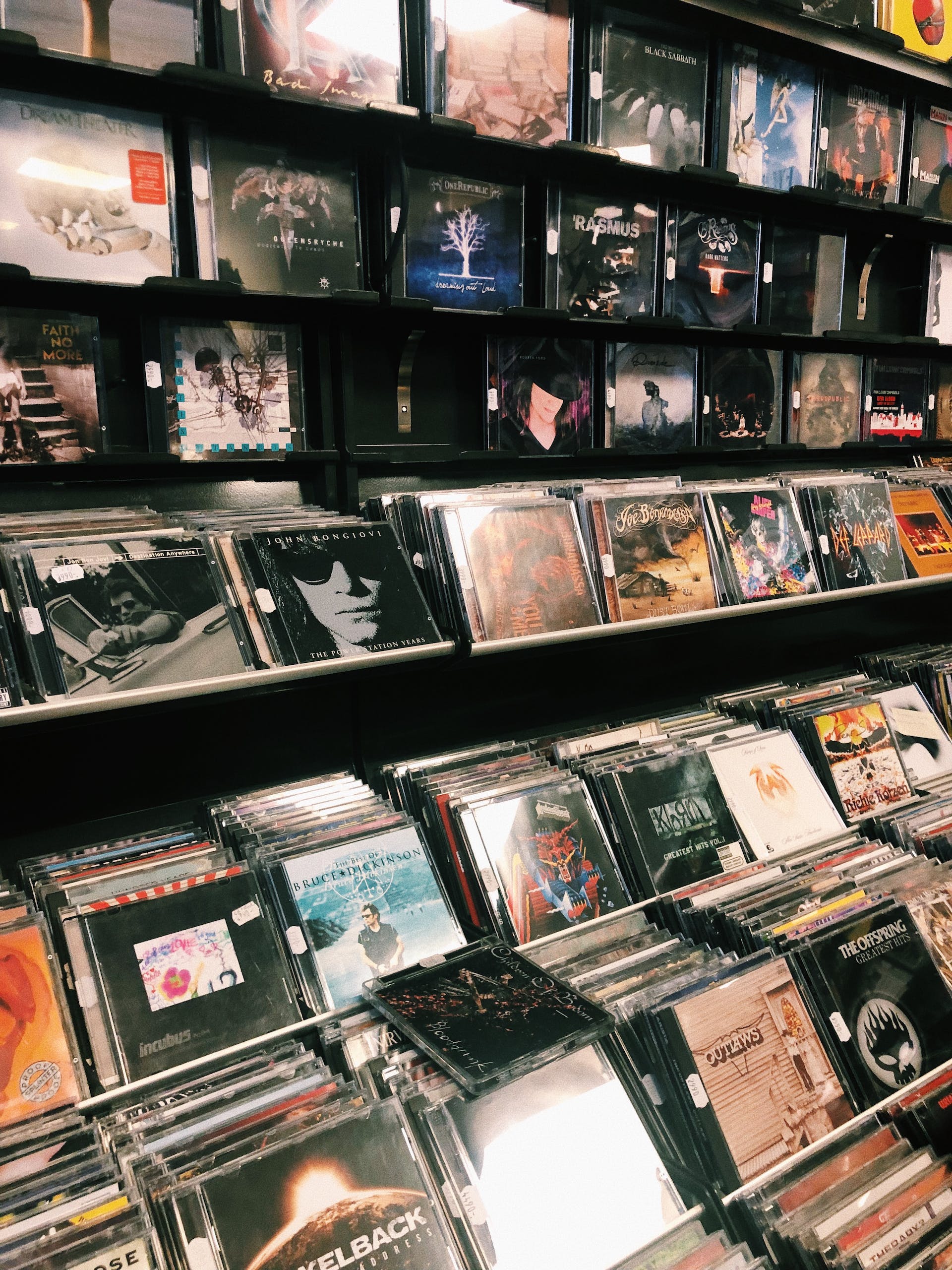 A CD store | Source: Pexels
u/mr_humansoup: I was working at Kmart, where I had a guy try to return a CD (with the receipt). Someone had taken out the CD after slicing the shrink wrap.
The guy claimed it was like that when he bought it. I told him I couldn't return it for cash but could swap it for the same thing.
He went to get a new CD by some other artist. I told him it had to be the exact same thing. I had the electronics employee bring up the correct CD.
As I checked that they were the same and told him I would give him a new one, a smile grew on his face… which quickly melted away when I took out a knife and cut open the plastic on the CD. No, you can't return that one later.
Another scammer that I caught was this guy who was paralyzed on the left half of his body. He strolled around the store, dropping stuff and drooling. (I never found out if he was paralyzed or if it was just part of the scam).
One day, I caught him bagging Oxy-Clean in his cart. I notified LP, and she watched him. He went through self-checkout and told me he bought the Oxy-Clean in electronics.
To check his claim, LP called electronics, but no such sale was made. I think she let him go that time, but the next time he came in, he got a police escort.
This one was an insider job. This guy who worked in electronics also did layaway. One of the service desk girls would put a giant bag of dog food in layaway.
Then, the electronics guy would empty the bag and fill it with expensive electronics. It turns out they had been getting away with this for years, then the LP staff changed, and the new lady knew how to police the place.
5. I Knew Something Was Off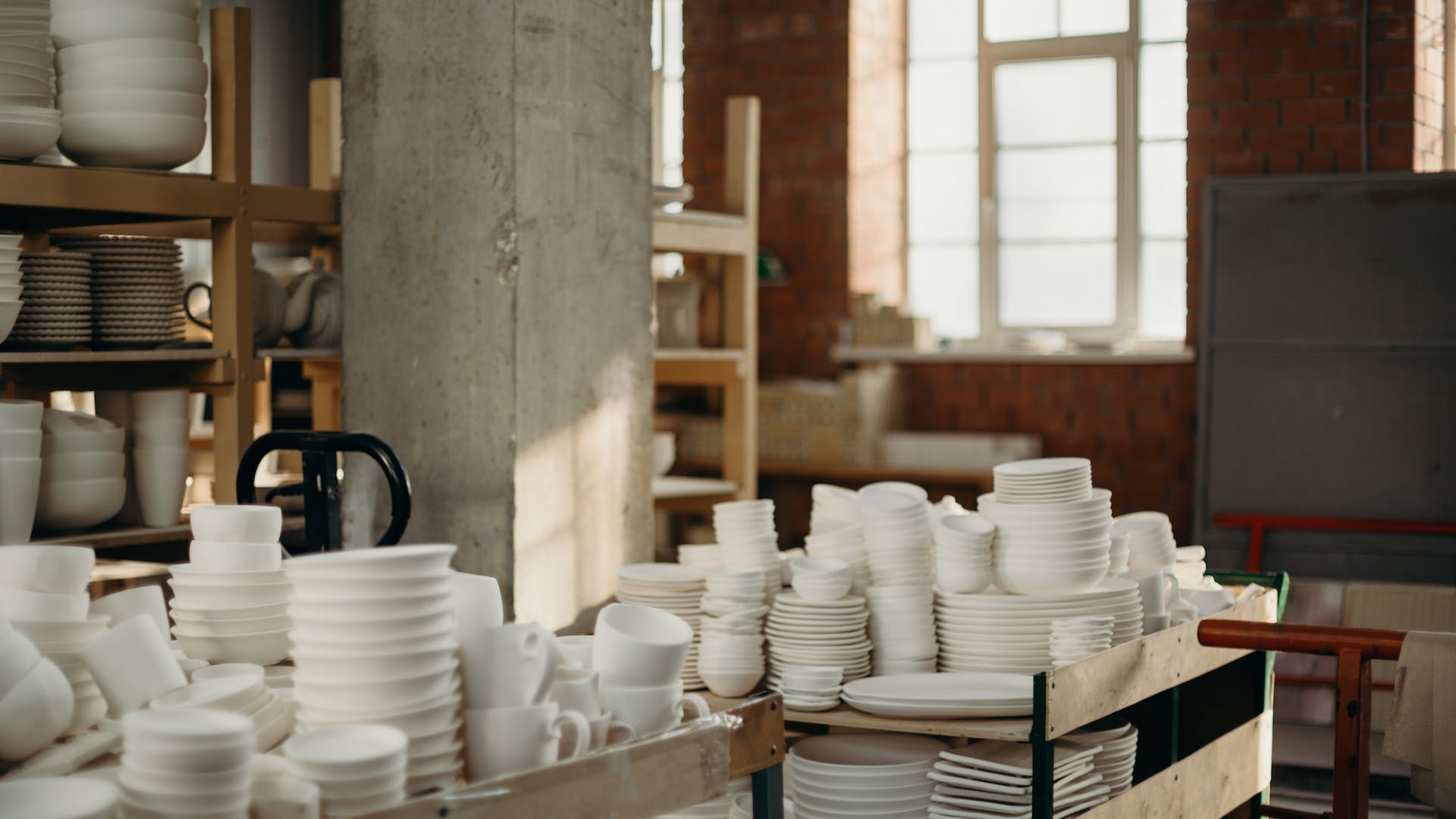 A kitchenware store | Source: Pexels
u/red_balloon_animal: I was covering the break for a customer service employee when a lady brought a box of cookware to return.
I know it was a brand we had just received the previous week because I put together the display and lugged all the boxes out. It was one of the most expensive sets we ever sold.
I asked why she wanted to return it, and she said she got another one as a gift. I pull the box off before starting the return in the register, and the weight feels off.
I asked her if it had ever been open, and she said no. The tape on top had not been disturbed, but it's possible to open some of the boxes through the bottom without cutting them open.
I tell her, "Oh, well, let me just check it to see if it is still sellable." As I cut the tape, she started telling me how that was "not necessary and that I could get my cash back."
The box was filled with bricks. I exclaimed in my best Disney princess falsetto, "Oh, goodness! We didn't sell you this! Here are your bricks back! I can proceed with your return as soon as you bring in the pots and pans!"
6. The Breadstick Lady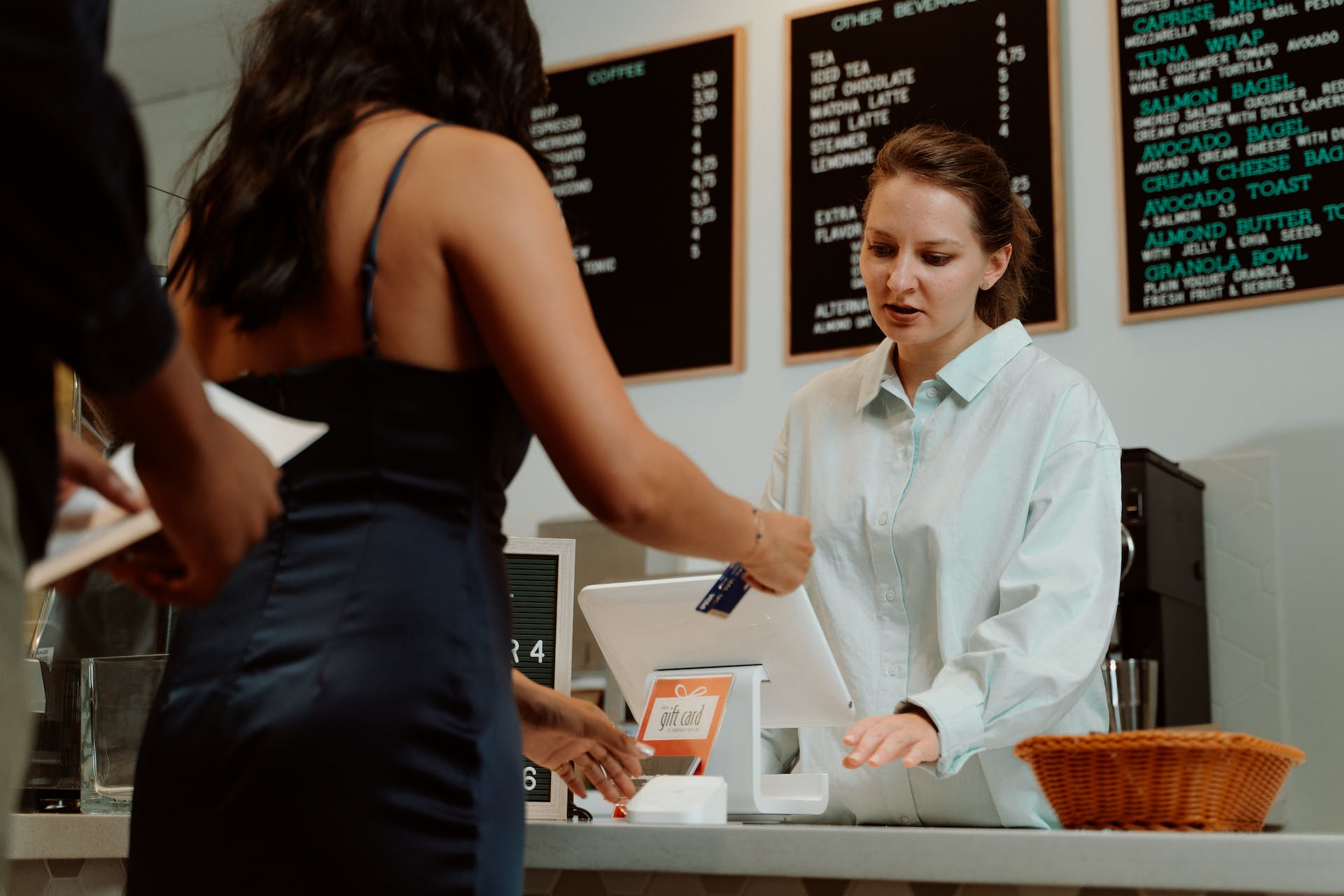 A cashier at a cafe interacting with customers | Source: Pexels
u/SneakyDonut23: I work at a cafe inside a big store, and we have some regulars. Some are really nice, and some… not so much.
We call This one lady "the breadstick lady," who comes in probably every other day. She gets the same order every day she comes in. 2 breadsticks (like a little pan of them).
She has got to the point where she will walk into the store, hold up two fingers, and we know to throw them in the oven since they take about 10 minutes to make.
We also sell drinks, which are also near the registers to check out groceries. So, the woman will buy the breadsticks, grab two or three cups from a register, and not pay for them.
Whenever we ask to see the receipt for the cups, she says, "I thought the breadsticks were a combo. Two breadsticks and three drinks?"
And every day, the answer is no. It's unbelievable how many times she tries this and continues to fail but continues to try as well!
7. I Got Rewarded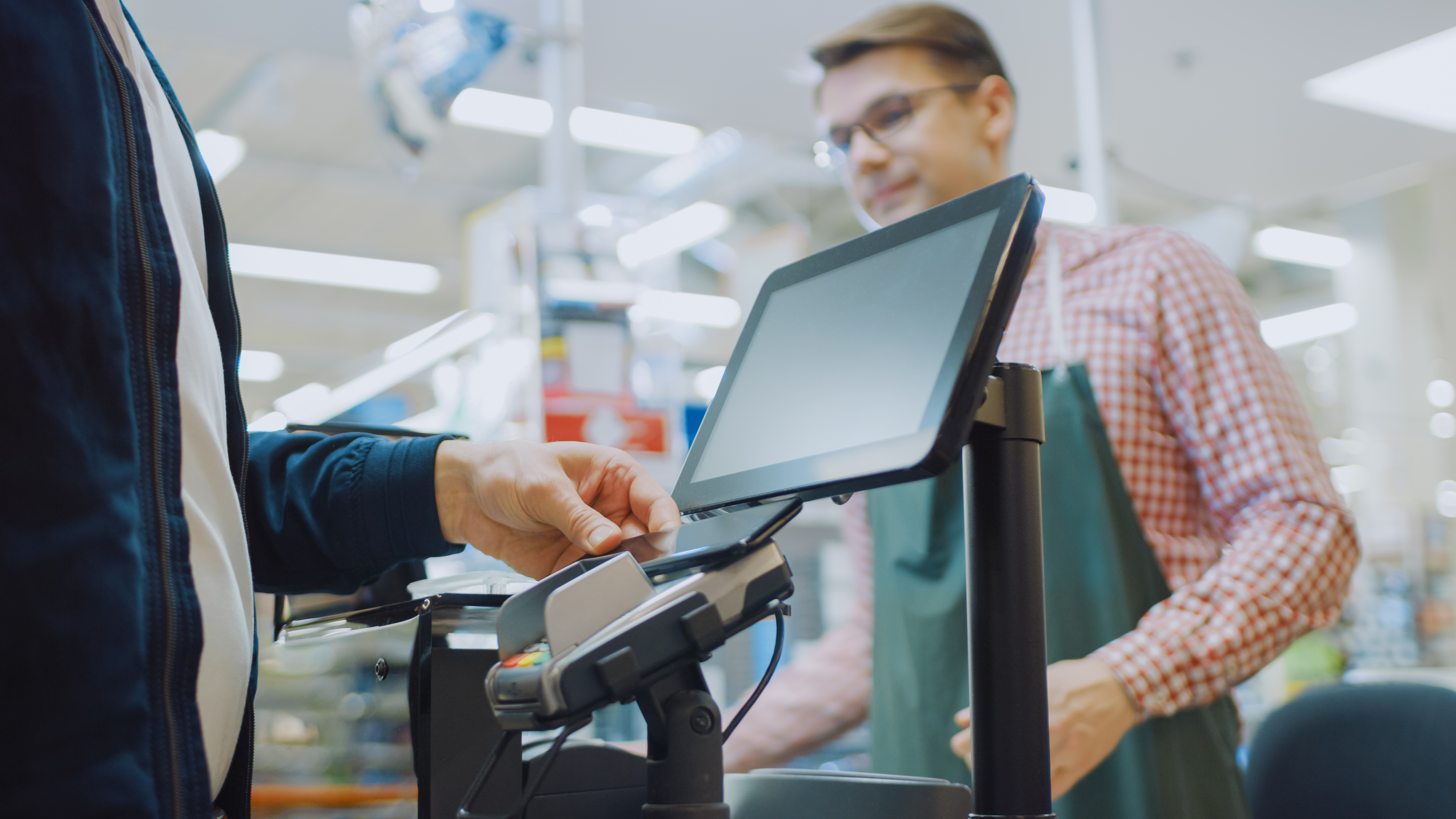 A person working at a checkout counter | Source: Shutterstock
u/puddingandp1e: When I worked on a checkout counter, a woman pulled a barcode label from a container of $4 tinned fruit and stuck it over the barcode of a $25 container of Medjool dates. She pretended that she didn't do it.
Another time, a man carried a $30 bag of dog food to the customer service counter without paying for it and asked for a refund. My manager gave it to him even though we both knew he had stolen it while we watched him.
Another time, a group of people used fake credit cards to steal. I don't know exactly how it worked, but they typed a different card number into the POS terminal while another guy tried to distract you.
These guys were super friendly and chatty and probably thought I was young and dumb, but I caught them trying to take off with about $500 worth of groceries.
They all said, "Just let us go and get some cash. We'll be back soon to pay." They never returned, and my manager rewarded me with a box of chocolates. It was the proudest moment of my retail career.
8. I Had No Idea about It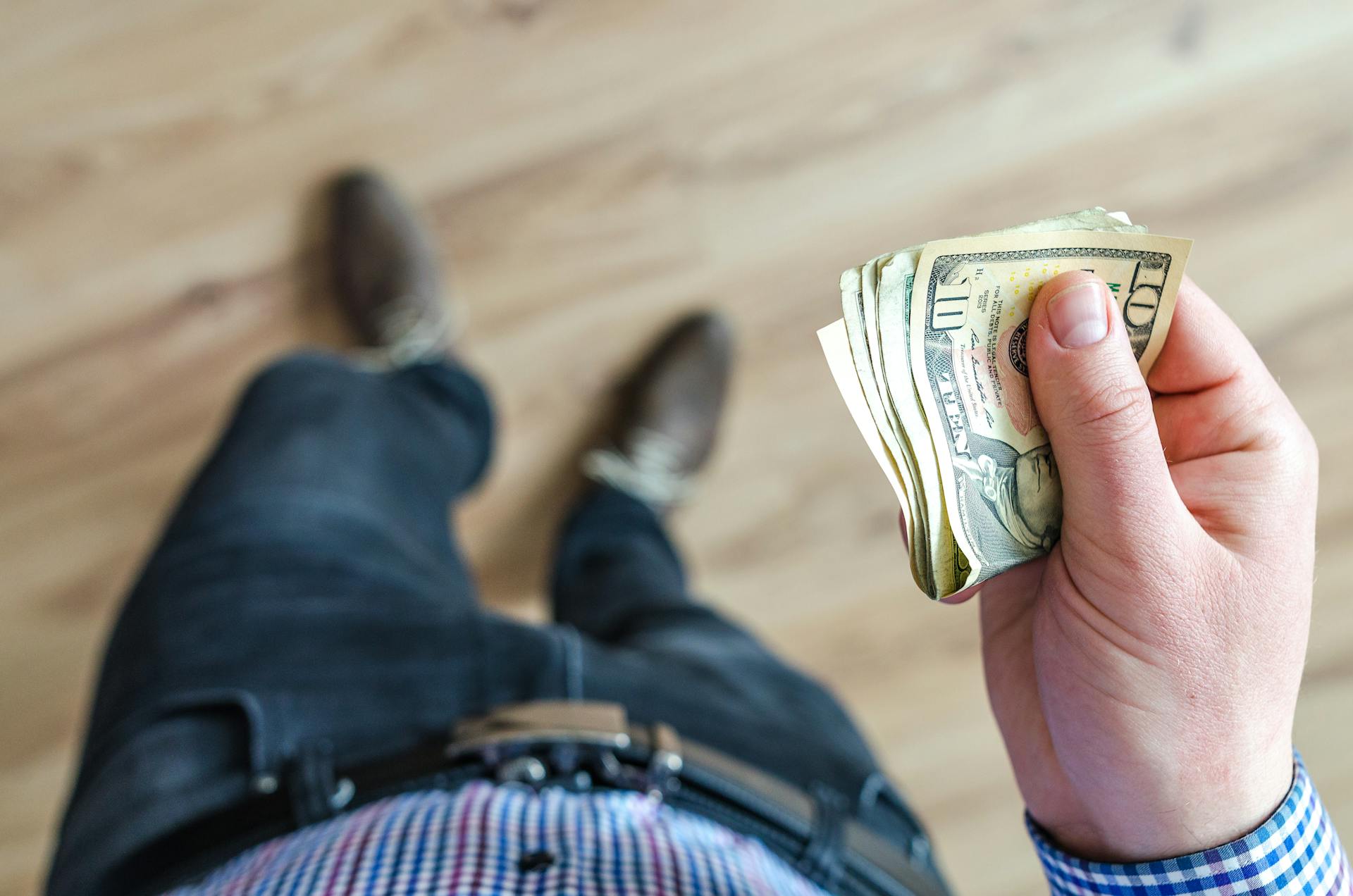 A person holding dollar bills | Source: Pexels
u/forsaleortrade: One of my embarrassing memories from working retail is falling for one of these scams.
I had been a cashier for about five years and had never heard of this method. I had seen people come in with cloned credit cards, barcodes switched and placed on the wrong product, returns filled with junk, counterfeit money, etc., but I had never heard of this type of thing.
Some guy came in and wanted to pay for a cheap item with a $100 bill. I count out his change and am about to hand it over (let's say $95.15) when he changes his mind and says, "Oh wait, give me that $100 back. I have exact change. I can give you the .85 cents so that you won't need to give me the coins and you can just give me the $95".
He spaced it out just long enough that I was still holding the $95, and because I had to take time to put the coins away by that point, I completely forgot that I had returned him his $100.
I had no idea it happened until the next day when my manager brought me in to review the video and asked if I remembered the customer on the screen.
I did (because he was friendly, and we chatted while I started ringing him up). I even told my manager, "Oh yeah, nice guy," and then was informed of what had happened.
It's one of the few times in my life I can remember being honestly startled and blown away that I hadn't realized what happened.
9. I Didn't Short-Change Anyone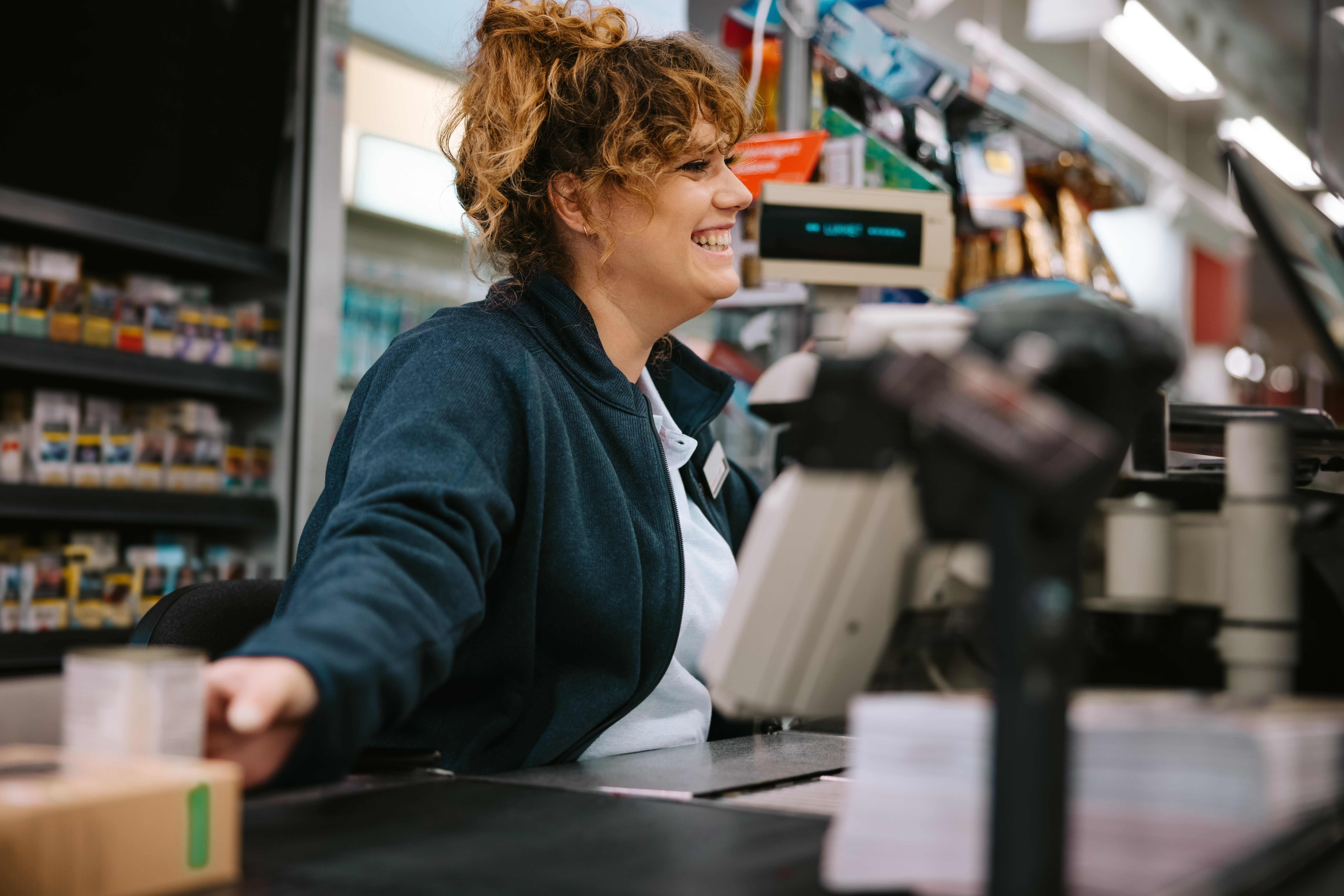 A woman working at a checkout counter | Source: Shutterstock
u/Bakingjingo: I worked at a jewel many years ago. Opening shift as a cashier, a man comes through with two 24-packs of Pepsi.
It's the opening shift, so at that time, we count our registers and confirm they've got the correct opening cash. We didn't carry too much money, and we all know how much is in the drawer to start.
He ends up paying a $100 bill for these sodas. I counted back his change with mostly 20s (all the 20s I had just counted. There were no more of them I could have given him), and I don't know how he did this, but he shuffled them in his hand and showed me that I supposedly short-changed him. Now, I immediately understood he was lying.
My store was cooperative, so I told him I would call a manager and have them double-check the register.
The manager came, counted down the register, and explained that the drawer was balanced. It meant I didn't short-change anybody. However, if, for whatever reason, the drawer turned up $20 over at night, we could give him a call.
The manager tries to take his info down, and he asks for his name, and the guy thinks about it and says, "Steve…Bush!"
10. The Damaged Phone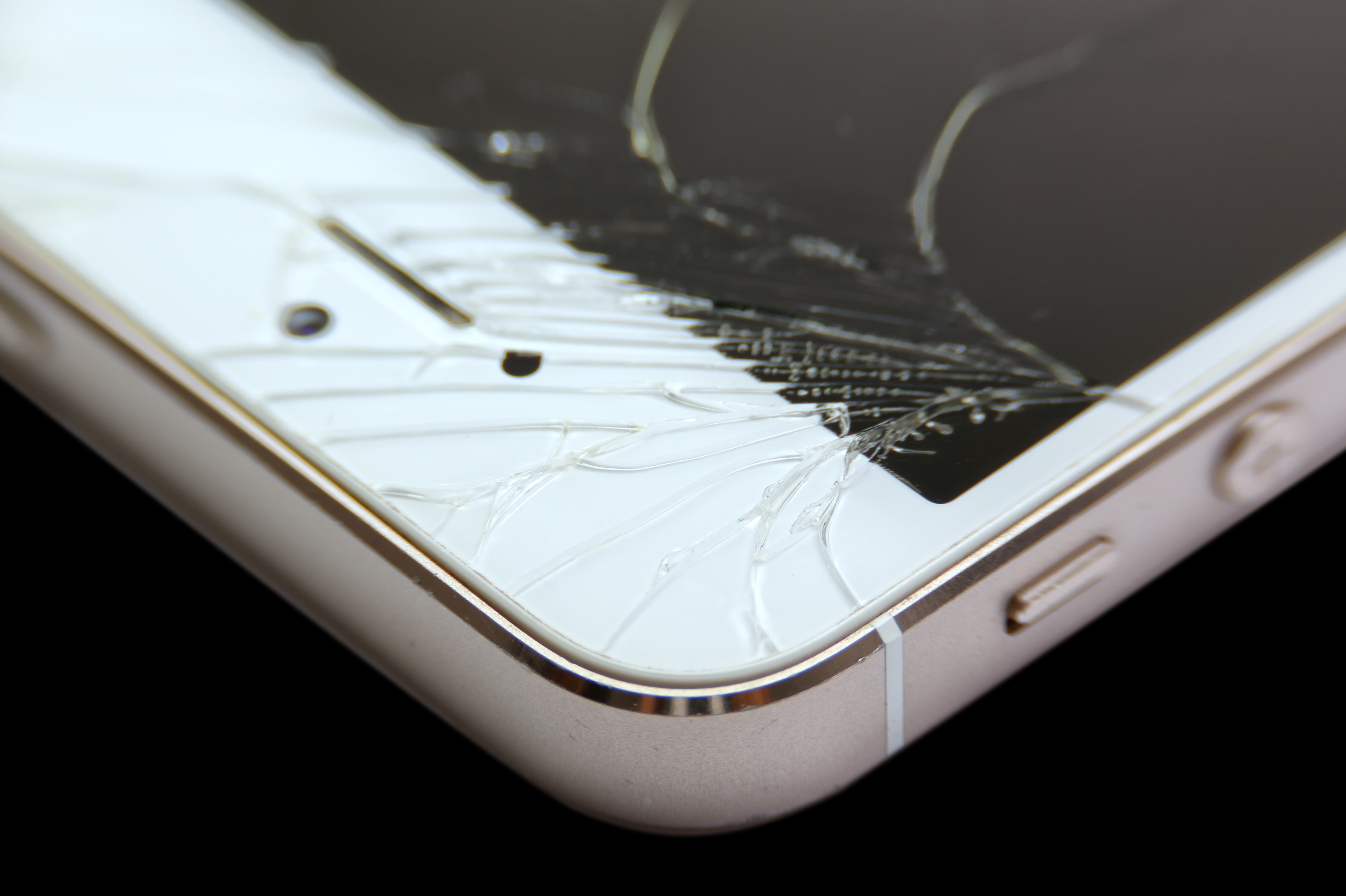 A damaged phone | Source: Shutterstock
u/Wrashionis: I work at a major cell phone retailer. I once had a man come in with his wife to upgrade whatever the new iPhone was at that time.
While they were sitting in the store working with one of my reps (I was in management at the time), the wife started getting text messages from someone claiming to be her husband's mistress. This did not go over well.
They took it outside before it got overly nasty, and we all assumed they were gone for good. Not so, the husband comes back in. Alone. He finished upgrading his phone (priorities) and left.
The next day, he tried to return the phone, claiming that we had sold him one with screen damage. He brings it in, and it looks like someone took a diamond ring or something to the screen and scratched the heck out of it.
We have a strict "open the box and hand it to the customer before they leave" policy to avoid these situations.
I was able to pull tape, show the customer where he held the phone for a good five minutes without pointing out any flaws, and tell him that my company offers no warranty on that brand even if it's bad out of the box, and especially when he didn't show it to us before leaving the store.
I suggested he take it up with the manufacturer if he genuinely believed the phone was damaged out of the box. He did. Right there in the store, he called them.
They also told him to kick rocks. The best part? I was new to management and still needed to get a manager's name tag.
He asked to speak to the manager, and I got to give him my best evil grin and say, "I am the manager." He left after that, and we never saw him again.
11. The Old Laptop
A man feeling upset | Source: Pexels
u/vick7171: I used to work at Best Buy. This guy came in and returned a laptop, saying that the box had some old laptop in it.
He yelled and screamed that we didn't know how to do business. The manager gave him a full refund. We started to check that old laptop he brought in. It won't turn on. Looks like the motherboard was toast.
We pulled the hard drive out and started checking the data. The hard drive was completely fine with everything on it. We started looking for the clues and found the pictures of the guy who returned the laptop. It was his old machine. We had all his info.
The manager called him and said he had 15 minutes to bring the new laptop back or he would call the police. That guy came in and dropped the laptop at the front desk. We never saw him in the store again.
12. She Called Me a Liar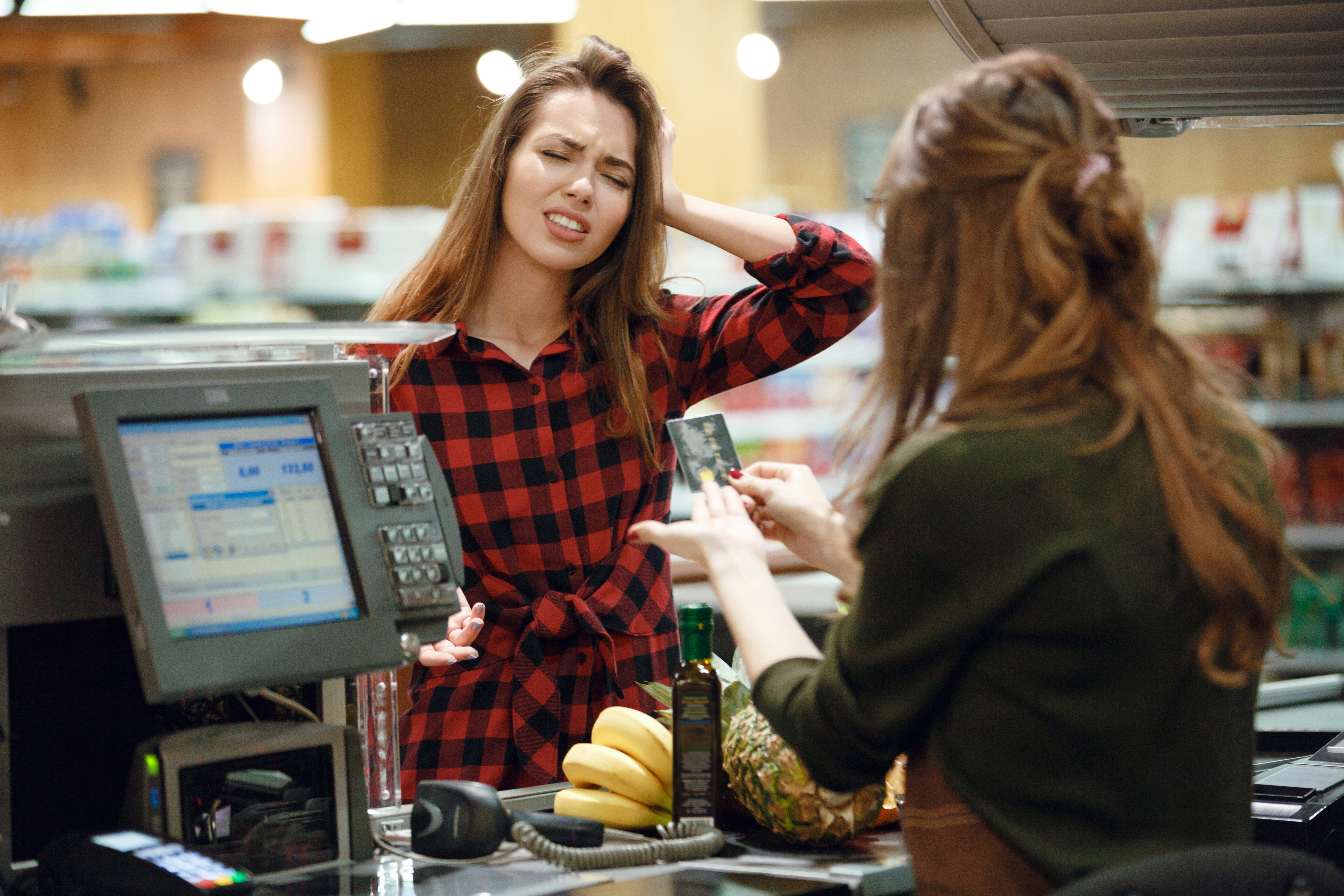 An annoyed woman standing at a checkout counter | Source: Shutterstock
u/ShadyLady709Q49: At my old job, they used to have sales pretty often and would also give out coupons for specific dates.
For Boxing Day, they had a 30% off sale, and we had also given out coupons that would start the next day. A lady came in on Boxing Day, and we figured out that she'd get more of a deal if she used the coupon instead, so I offered to hold her items. I told her she couldn't get the 30% off, and she decided to use the coupon instead.
She comes back the next day, goes to cash to purchase her items, and gets angry because they wouldn't give her both the 30% off and let her use the coupon.
She told the cashier that the person she'd spoken to the day before had told her she could do that, saw me, and said, "It was that girl who told me!"
I went to speak to her, and her story changed thrice through the whole thing. First, she said that I told her she could combine the discounts, then she claimed I never told her she couldn't, and then, finally, it was, "Well, I don't understand why I'm not able to do this."
Another manager came over to help sort it out, and as I walked away, I heard her saying that I was a liar.
I now work at Sephora, and we always get people trying to return fake products. My favorite was when someone returned a face mask but put a can of tuna in the box instead of the actual face mask.
13. The Box of Cockroaches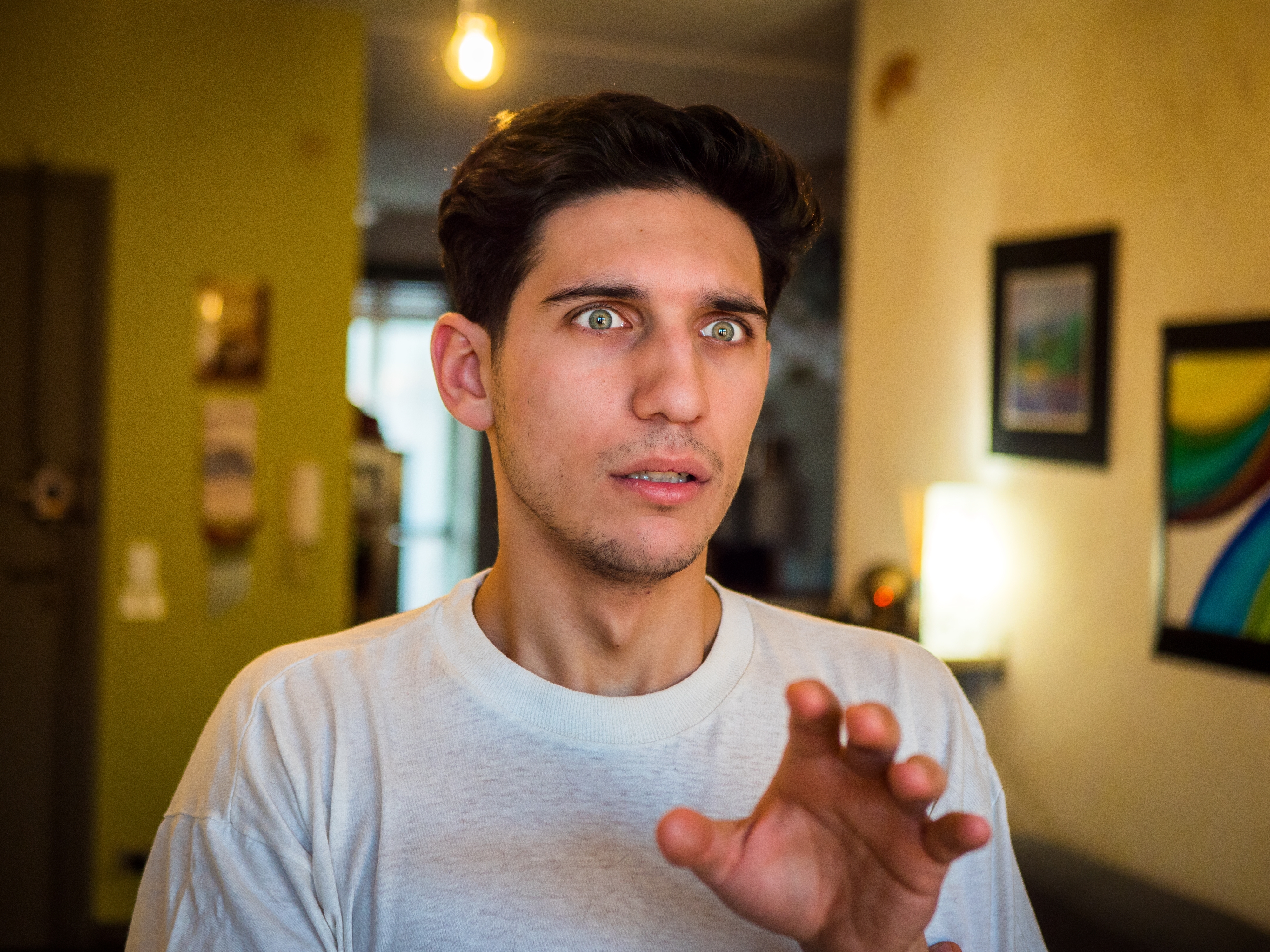 A surprised man | Source: Shutterstock
u/zahliailhaz: I used to work for a store that did trade-ins for old gaming systems. One day, a man comes in trying to trade in his Xbox 360 to get credit for the (at the time) new Xbox One.
We're pretty lax about the condition of the product. As long as it turns on, we'll take it. I'm talking to the man as I'm taking the Xbox box out of the bag he brought it in. He's pleasant.
I open the box up, and… cockroaches just come crawling out. I almost drop it and tell the guy we can't accept this.
He asks where in our terms does it specifically say they can't accept this. The manager gets involved, and the guy eventually leaves, only to return the next day to try it on another employee.
I radio the manager when I recognize him. Guy makes a fuss again, and the manager eventually tells him he'll give him the trade-in credit IF he takes his bug-ridden machine with him and never brings it back. I still get creepy crawlies thinking about those cockroaches.
14. The Surprising Response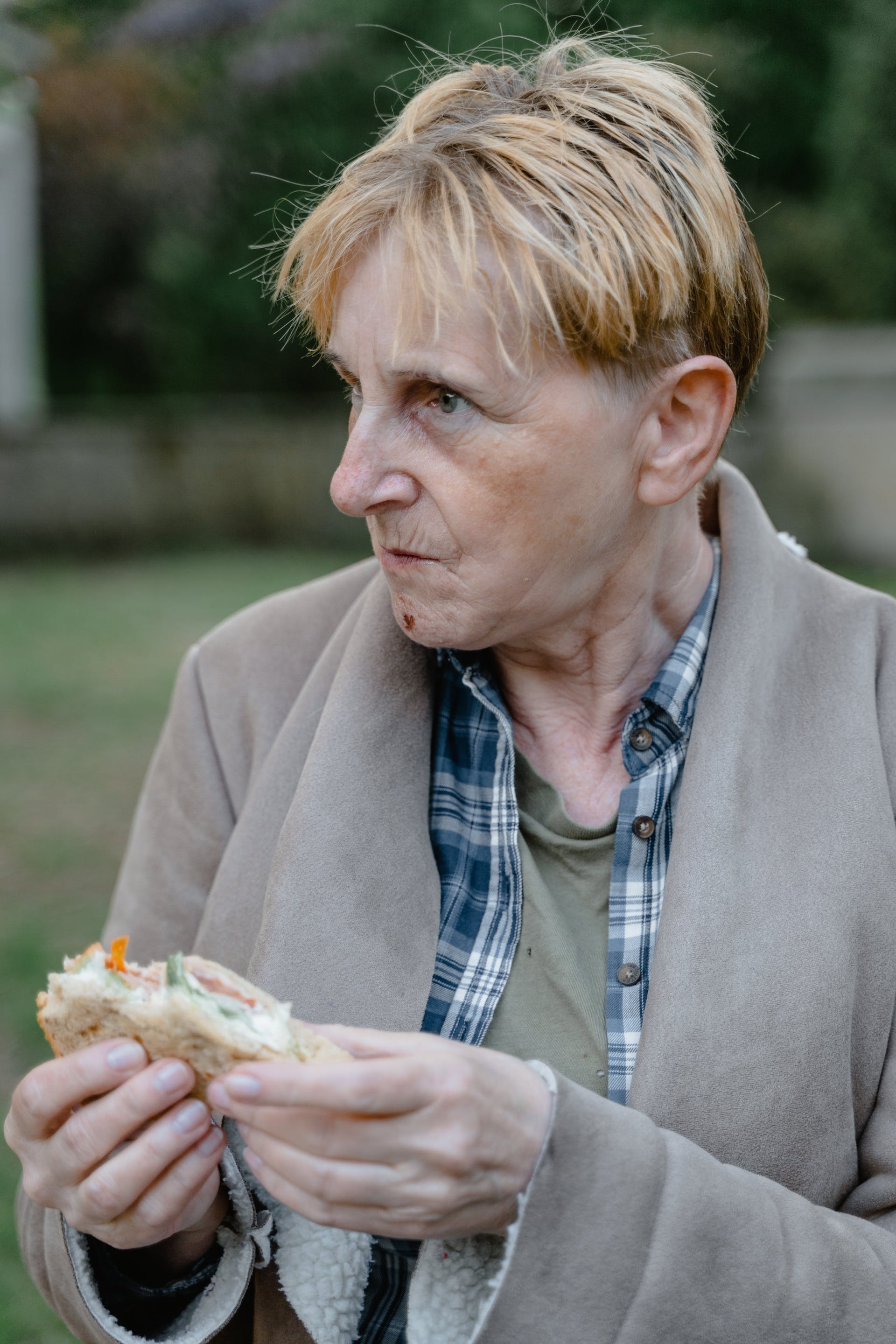 An older woman holding a sandwich | Source: Pexels
u/SirPickell: I work at an Italian deli/specialty market. It's family-owned and has a super tight-knit cast of employees.
It's also in a rougher part of town. One day, a presumably homeless woman came into the store. No big deal, we're by the shelter, and many homeless folks are friendly and just getting something nice to eat.
However, this lady was clearly out of her mind. Whether it was substance abuse or mental illness wasn't clear. Honestly, it was probably both.
She was in the store for an hour just harassing employees and customers. Eventually, the owner (the Italian man after whom the store is named) had to intervene.
He firmly asked the lady to leave, but she had a surprising response: "Oh, it's okay, I work here." Imagine the surprise on the owner's face. He certainly didn't remember hiring her.
Dumbfounded, he told her that was impossible since he was in charge of the hiring, to which she responded: "Oh, are you hiring?"
15. Where Is My Chain?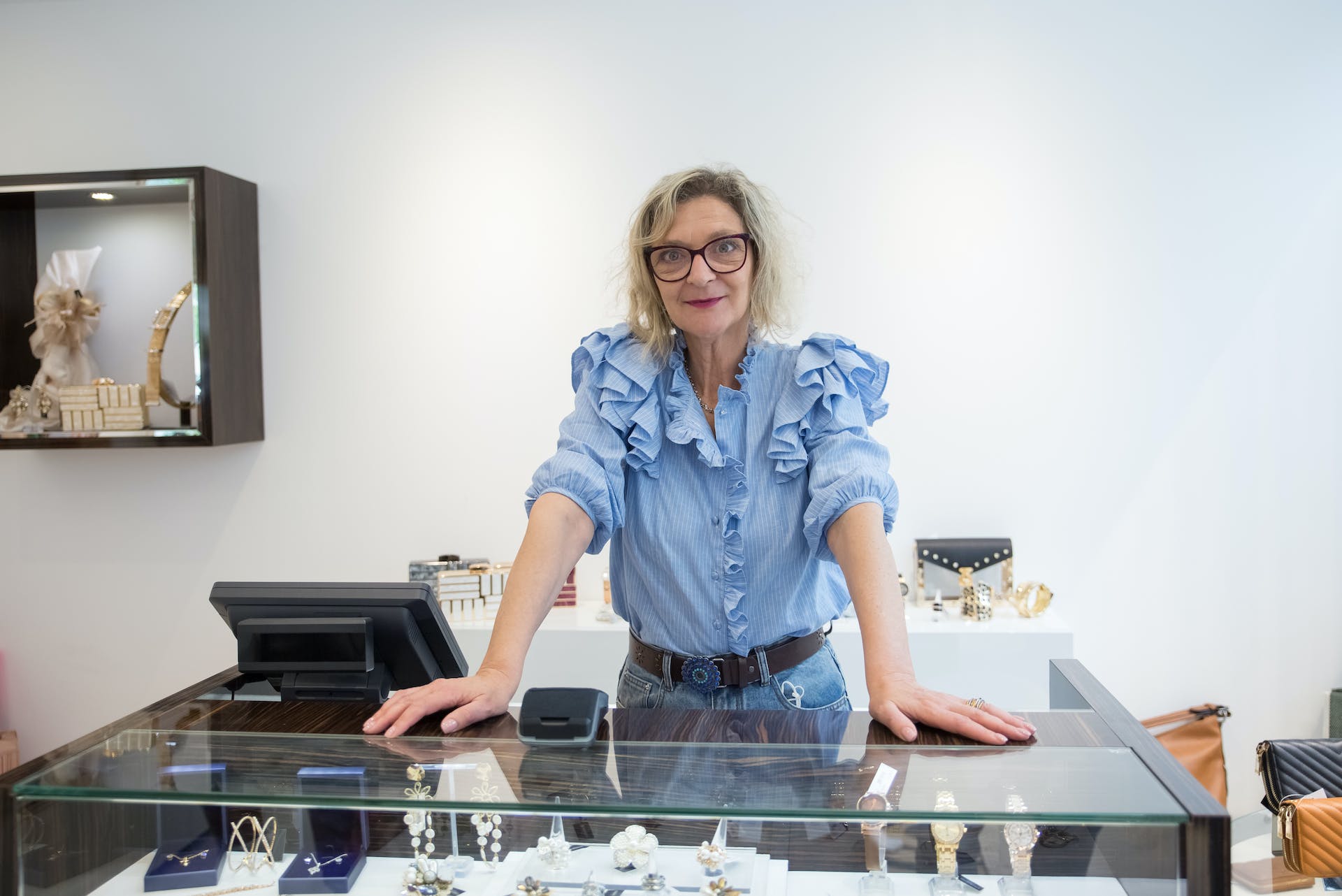 A woman standing at the counter of a jewelry store | Source: Pexels
u/Twistedlittlelady: I work in a high-end jewelry store that does on-site jewelry repair. I had a lady come in and drop off an older 80s-style Omega chain for a simple solder and fix.
We have our customer sign the envelope that we write a description of the piece, and then they sign the same envelope when they pick up their merchandise and are satisfied with the work.
This woman saw what I wrote and signed the bottom, no problem. She was ecstatic when she picked up her chain and said it was the best work she had ever seen.
She pays for the repair and signs the envelope, agreeing that the work was all in order. She leaves.
Ten minutes later, she calls and says we switched her chain. I'm like, "Look, lady. We haven't carried this type of chain in over ten years because no one buys them. I wouldn't even have a chain to give you. Also, we have cameras in the store, including the jeweler's room. Please come in and look at the video surveillance, assuring you that we didn't switch your chain."
She would not let it go and insisted that we reimburse her the money for the chain that we switched.
She said that any other store would have done it. I politely let her know that we would be doing no such thing since there was no way we could switch her chain.
She said she was going to write me the nastiest Yelp review. That was a month ago. I'm still waiting for her to come in and demand her chain.
She was clearly scamming since she did not want to see the videotapes and expected us to pay her out. But as a small, privately-owned jewelry store, we can't just accept the customer is always right like the big corporate stores do.
16. Inside the Coffee Maker Box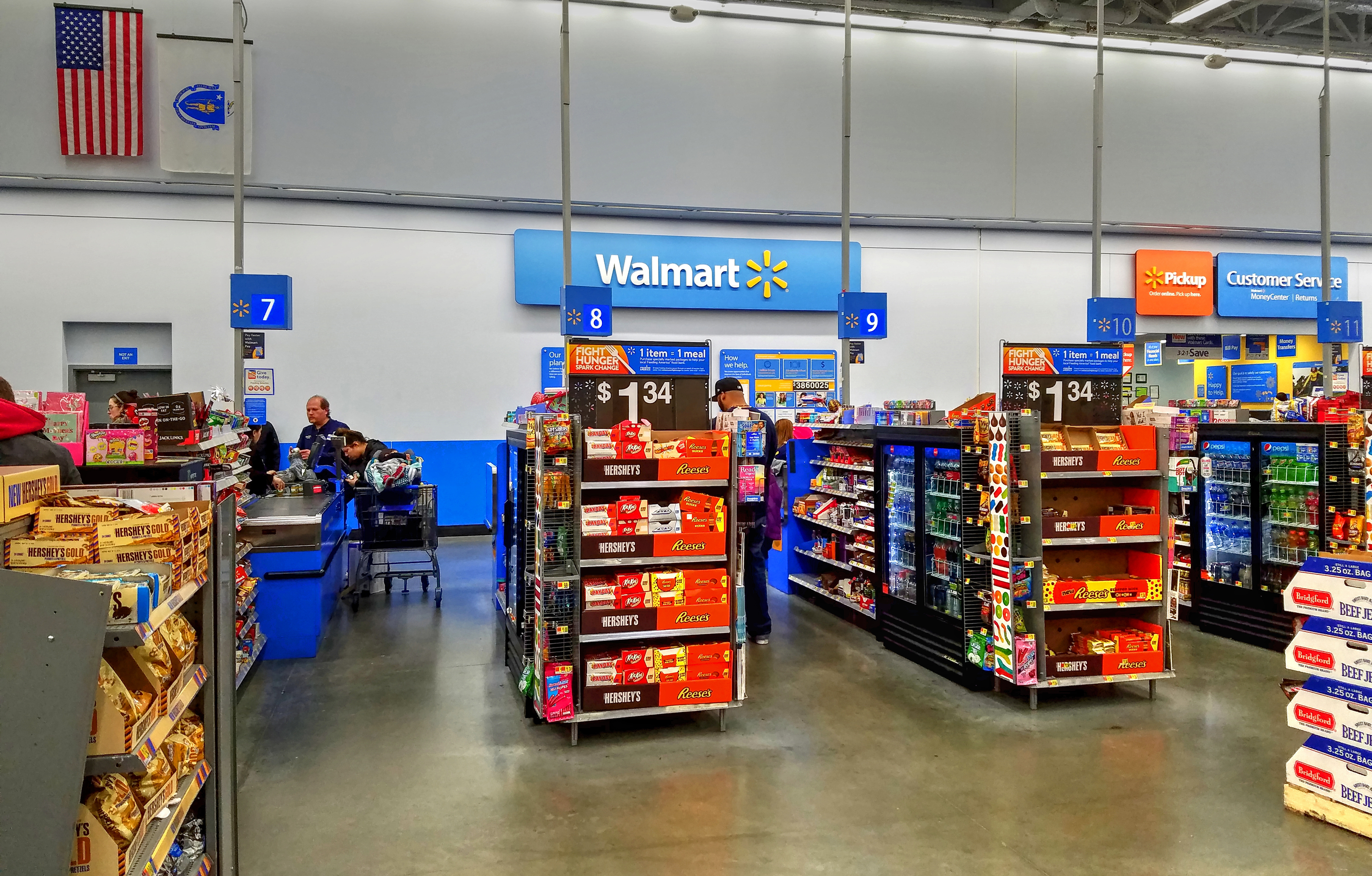 A walmart store | Source: Shutterstock
u/TJP8ZL: When I was a cashier at Walmart, someone came through my line with an assortment of items. All was normal until I got to this coffee maker.
Immediately upon picking it up, I knew something was fishy. The weight was off, and there was clearly some slight shifting inside.
When I scanned it, the device that deactivated the security tags went off. But it keeps going off. Clearly, it was not deactivating whatever set it off.
So I opened it up, and it was PACKED with a bunch of games still inside the plastic security cases that need to be popped open to remove the game.
I told them I wouldn't be able to let them leave with the "coffee maker" and proceeded to sell them the rest of the items while putting the box full of games under my till. I alerted my manager afterward, and they came to retrieve the games.
I stopped them from stealing around $300 worth of games in this coffee maker box and got a small reward as a Walmart gift card. I wonder why they thought they'd leave the store with that box full of those security cases, though.
17. The Watch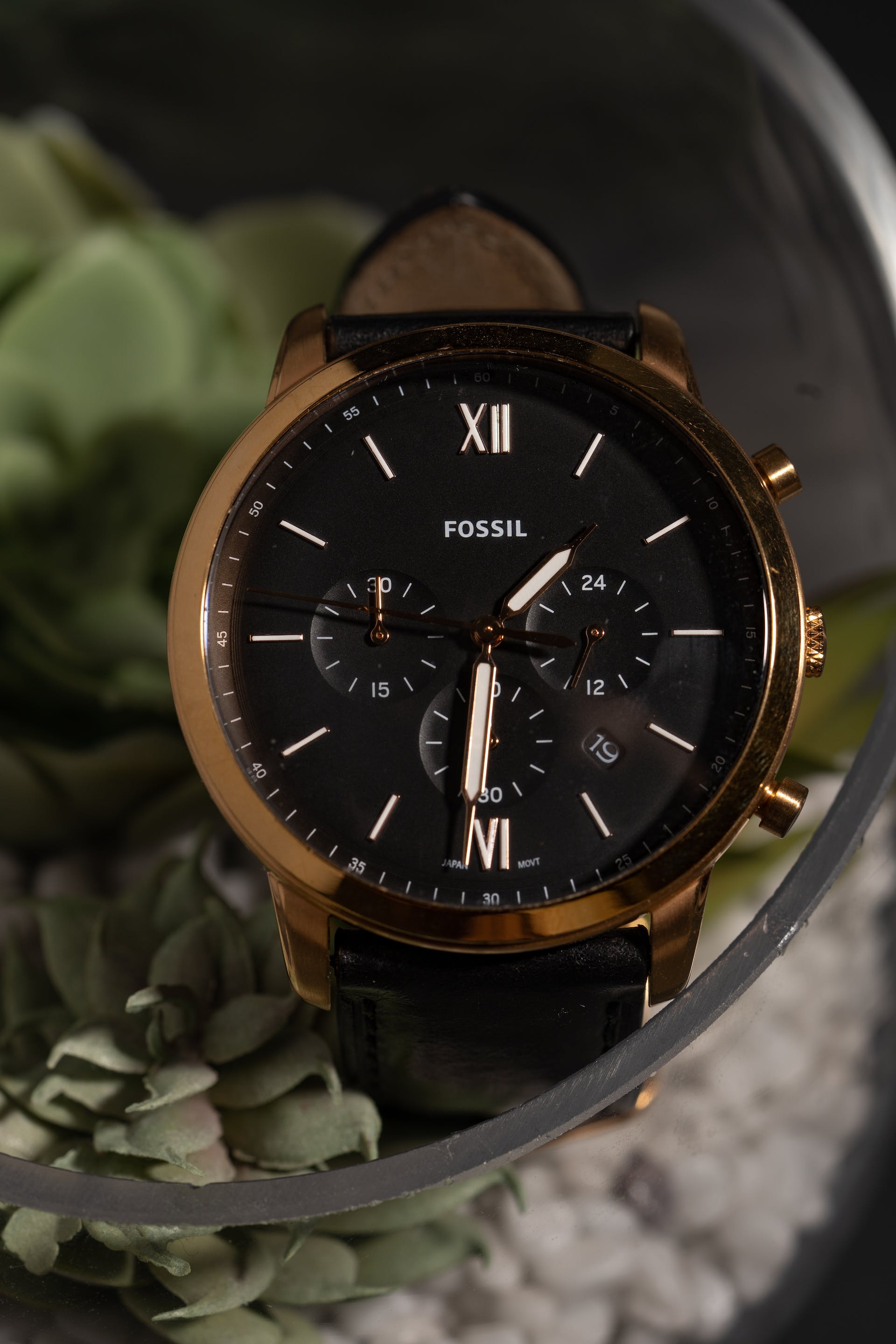 A wristwatch | Source: Pexels
u/alexander_karamazov: I worked at a Fossil store for a while, and if customers brought in their Fossil pieces, we would replace the batteries.
So, this guy brings in his watch, which needs the battery replaced. No problem. I take his watch to the back and replace the battery. Bring it out front and hand it to him.
He looks at it for a moment, then looks at me and says, "That's not my watch." I didn't know what to say. I legit said to the guy, "I'm sorry, sir. I don't know what to tell you. That's your watch. It didn't leave my hands from the moment you gave it to me."
He looks at it again and says, "No, that's not my watch." We spent a painfully awkward moment just staring at each other (I had no idea what to say) and then just sort of repeated the above interaction a few more times.
Eventually, I said, "I can ask for clearance from my manager to show you the repair station if you want to take a look back there."
My manager walks over and asks, "Everything okay?" and the guy just walks out the door. I still have no idea what he was trying to do.
18. Grandma, Is That You?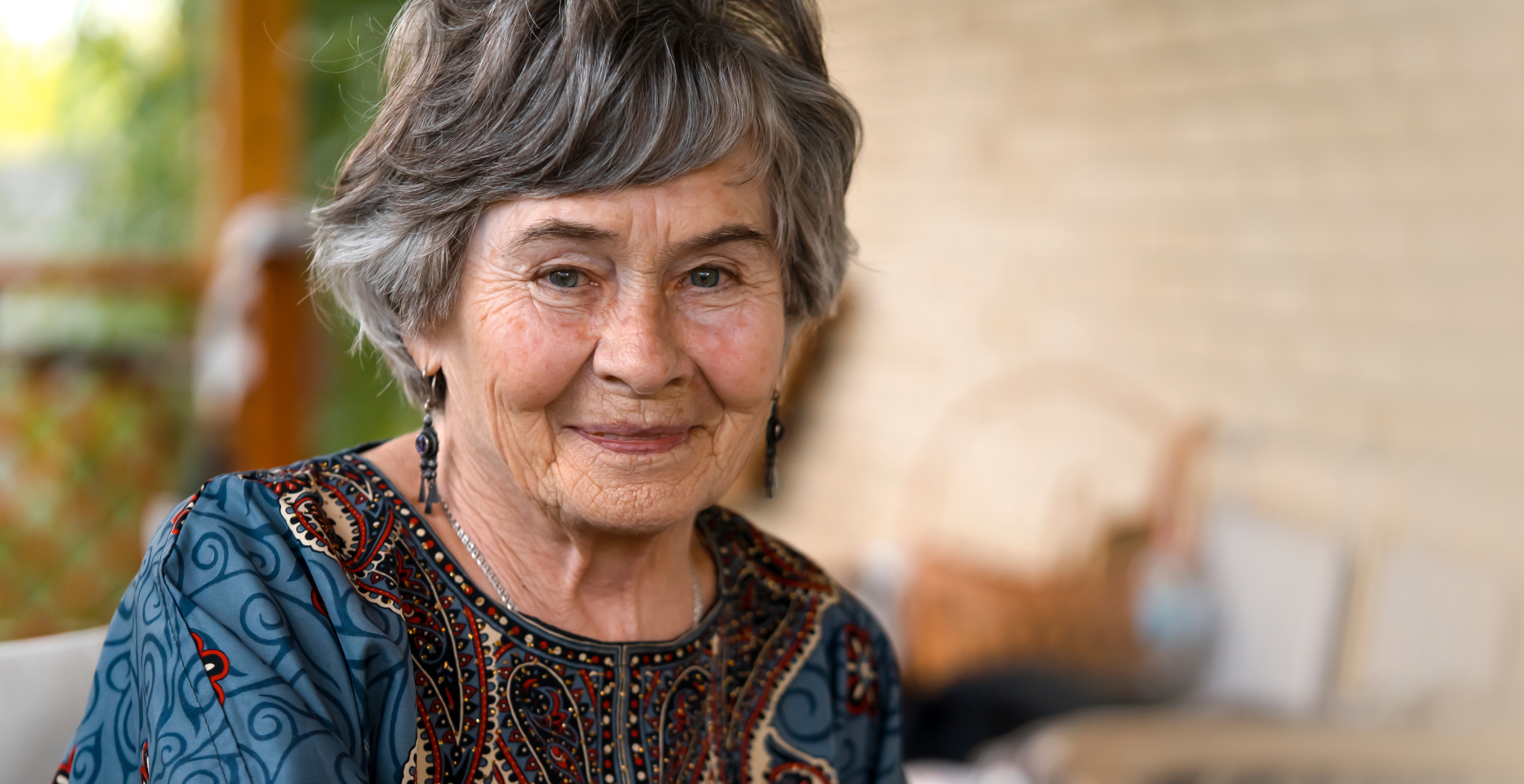 An older woman | Source: Shutterstock
u/[deleted]: I worked for my mom-in-law at her home decor store. I had an older woman come in, and when I rang her up, she said she got a discount because she was the owner's mom.
My immediate reaction was to yell, "GRANDMA!" and throw my arms out like I wanted a hug. She left very quickly. BTW, it was not my grandma-in-law.
19. The Man and His Pregnant Wife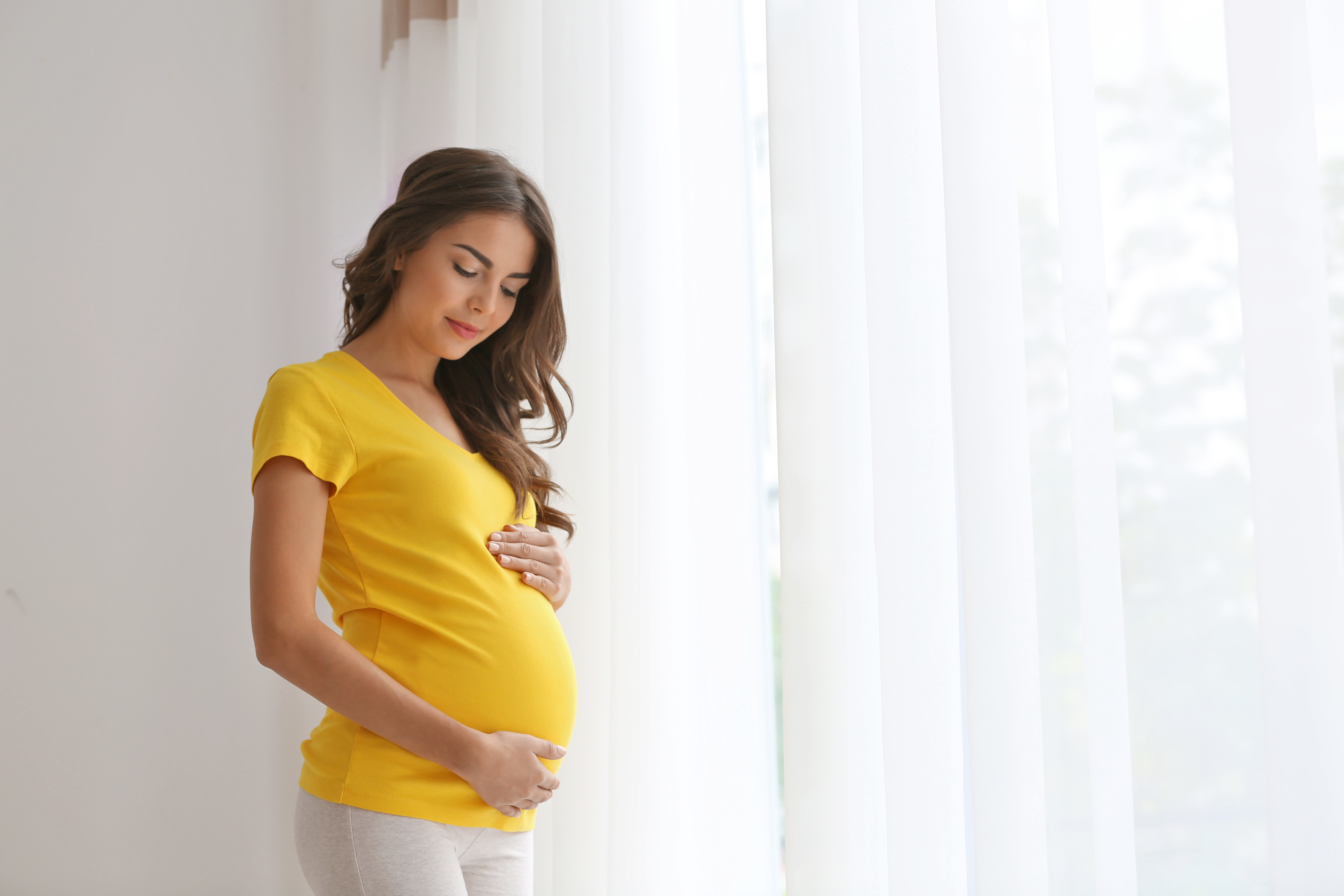 A pregnant woman standing by a window | Source: Shutterstock
u/schabe: Some guy came in with his pregnant wife—a traveler from the caravan site half a mile away. We knew him, and he was dodgy, but he'd been in a few times and hadn't caused trouble.
Anyway, he asked to see a preowned PS3, which was in the back of the store in its box. My colleague brought it out and got it out to show him its condition.
While studying it, he asked my colleague if he had any other preowned controllers. My friend went in the back, stupidly leaving him alone with the console to check.
When he returned, the guy had put the console inside its box and closed it. He asked how much the preowned controller would be and said he might come in later with cash (not unexpected for a traveler) to buy them both.
He never came back. A day later, somebody else was interested in the console. When we opened it, it was full of books.
We checked the security cameras. Turns out, during the 20 or so seconds my colleague was away from the desk, the 'pregnant wife' pulled out around 3 or 4 books from her stomach from under her dress and stuffed the console into this hidden pregnancy pouch under her clothes, the books went in the box, and the traveler closed it.
Thankfully, he was too stupid to notice the camera. We called the police, and they caught him in half a day. We got the console back, and he got some prison time. It was his third offense.
20. Frozen Shrimps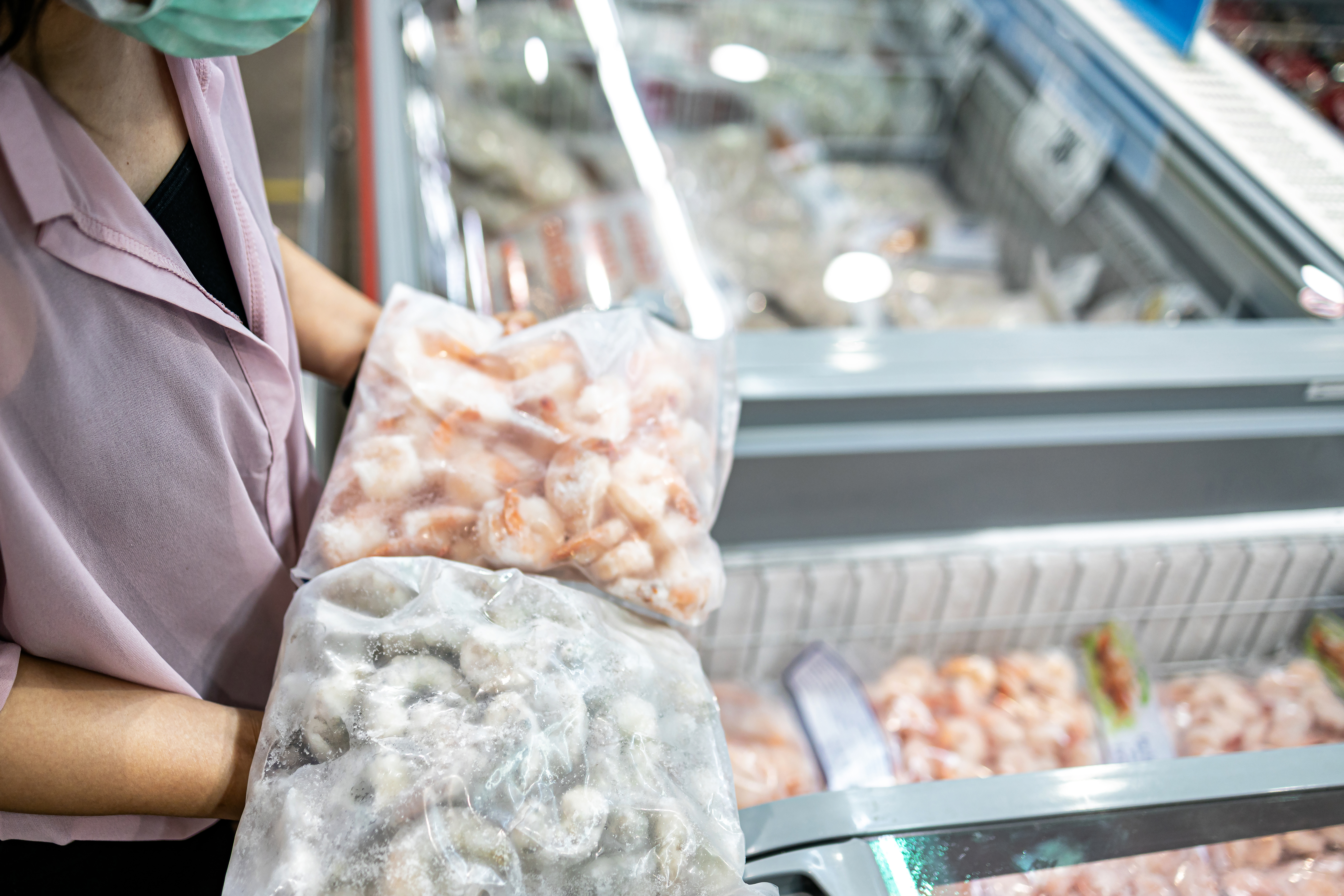 A woman holding bags of frozen shrimp | Source: Shutterstock
u/kanuvpayne: I had a customer who would send her aide to the store. Amongst the groceries bought were two bags of frozen shrimp.
About a week later, the aide would return with a Ziplock bag with the ones she didn't want, which was less than a single bag, for a refund on both bags of shrimp.
We allowed it, and it happened a couple of more times until the aide explained to us that she would constantly take them out of the freezer, dethaw the whole bag, eat some, and refreeze it, and said that she would be ok, in fact, happy if we said no.
So we did, and the lady filed a complaint against us weekly, now trying to get a $10 gift card for her complaint.
I had a guy argue with my associate about a Playdough feature with a factory sign that said ".50" with the cents symbol. The guy said it meant half a cent each and wanted two for a penny. He was doing it out of spite.
One of my peer assistant managers was baffled and said OK, but when my store manager approached him at the register, he told him he was not right.
21. The Shady Character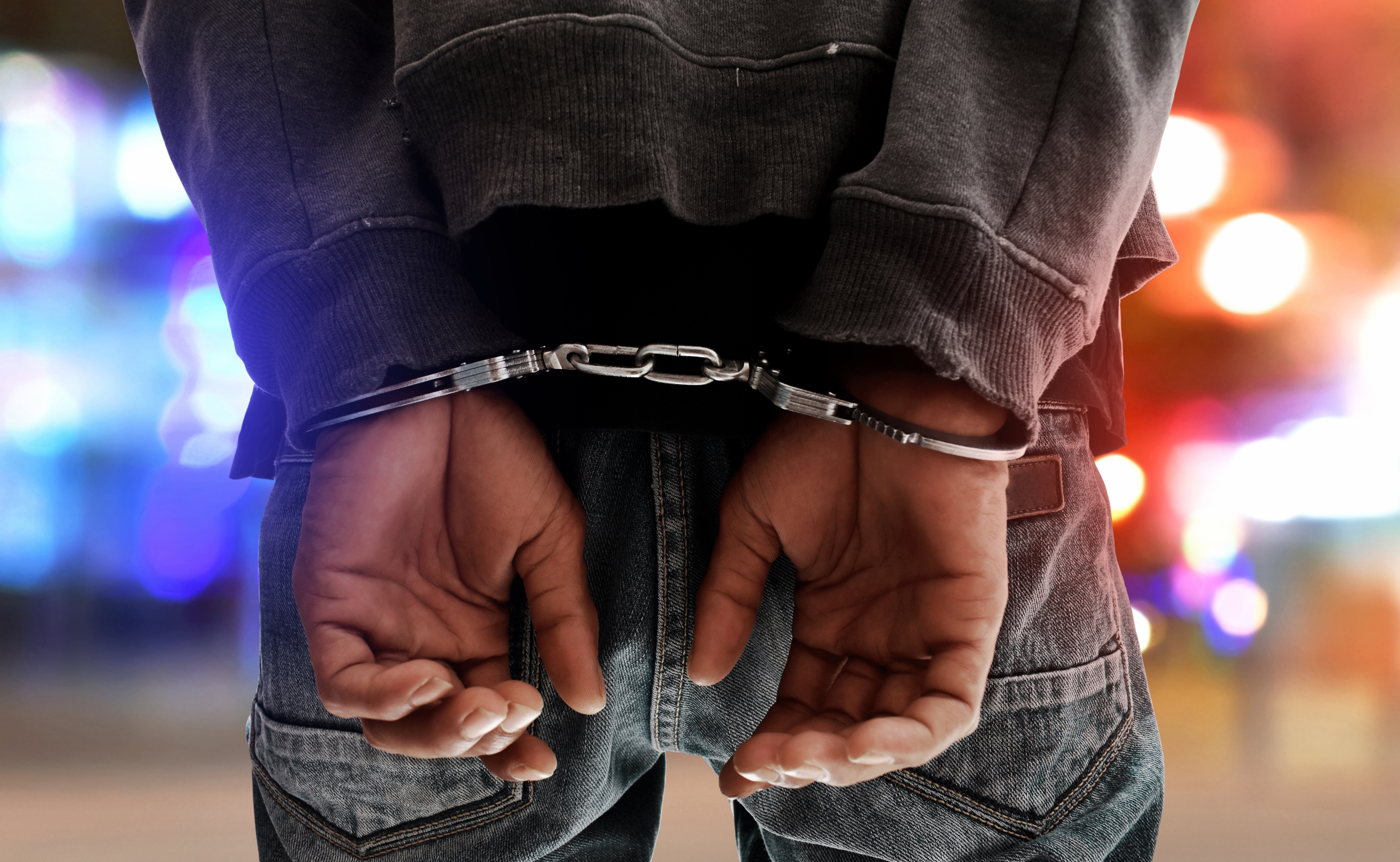 Close-up of a man's hands in handcuffs | Source: Shutterstock
u/AtelesJubatus: I worked in a bottle shop. One afternoon, a shady character entered and spent 10 minutes browsing the liquor section.
I stayed at the checkout and watched him on the CCTV. He shoved two bottles down his pants and walked out. The store policy is not to confront shoplifters; that's what insurance is for.
I called the police and put the footage onto a DVD for them to collect. About an hour later, the same guy returns with the bottles, demanding a cash refund because he 'purchased the wrong type.'
Just as I told him I could only do a refund with a receipt, the police walked in to collect the footage. He left with them in handcuffs.
22. The Card Was Declined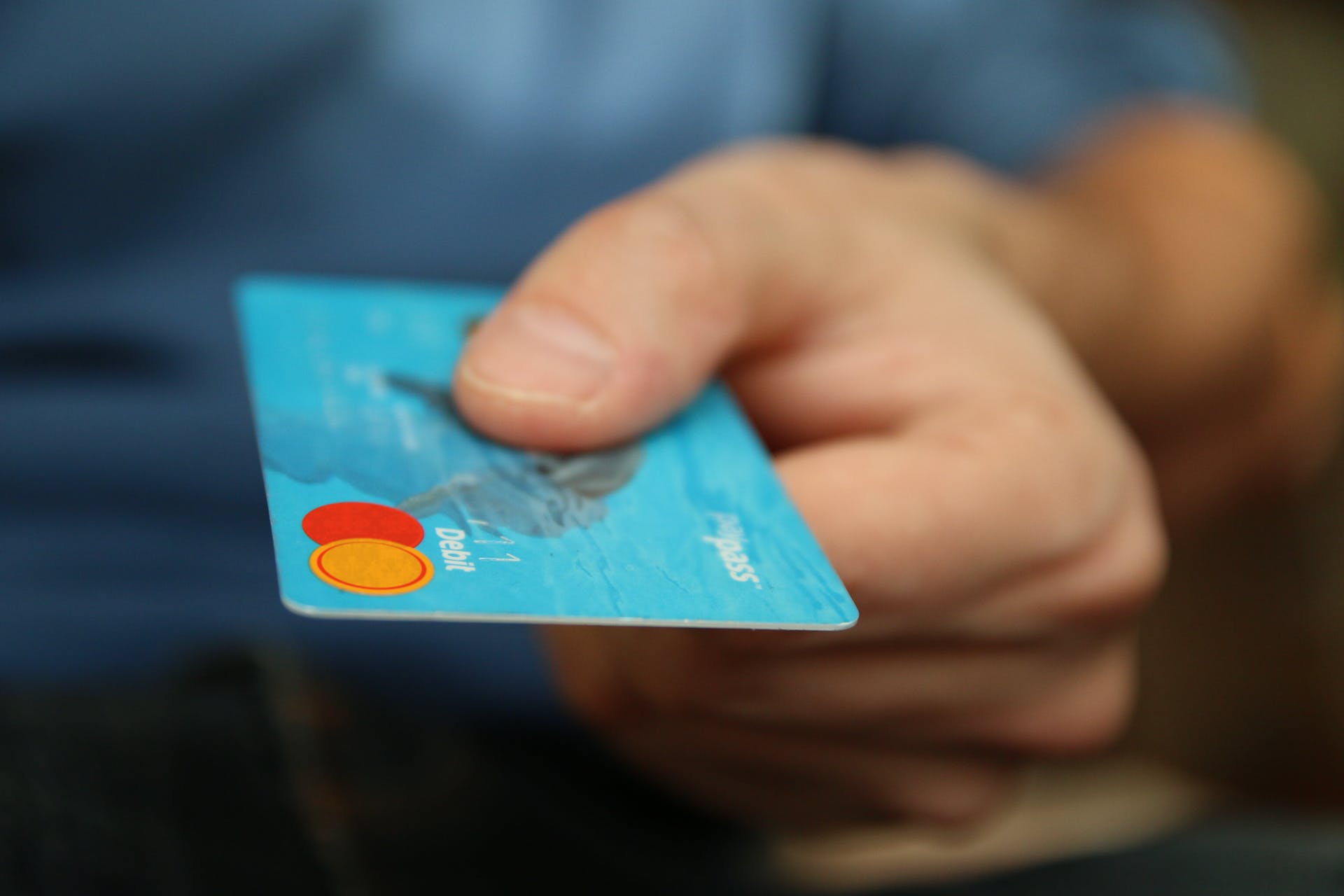 A person holding a card | Source: Pexels
u/xTheatreTechie: One time, I had a guy come in and try to pay for a $500 phone with a card, but the card was declined.
"Sir, your card was declined. Do you wanna try a different card?" I asked. "Nah, man, let me just call my bank to see what's the problem," he replied.
He then called some number from his phone and gave it to me. On the other end of the line was a guy who was very, very well-spoken. CLEARLY not in cahoots with the man in front of me who was not well-spoken.
The guy on the other line walked me through the steps to push "force sale" on the card and assured me that there were funds in the account and that it was a problem on their end.
I'm sure it would have forced the transaction, said approved, and a day or two later, it would have failed or declined. Anyway, I said no and gave the customer back his phone and took back ours.
23. The Knickers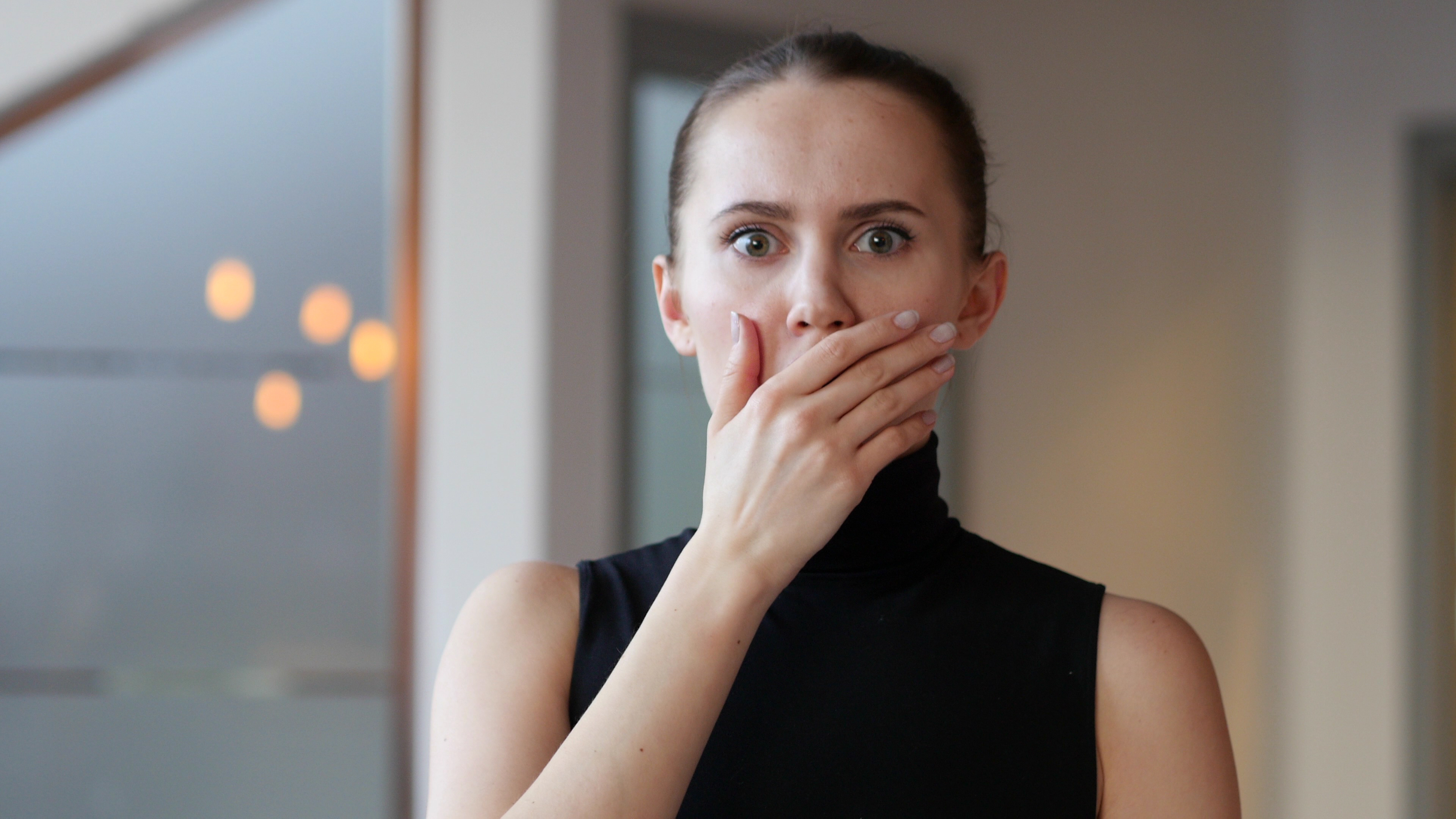 A shocked woman | Source: Shutterstock
u/[deleted]: A woman was returning a Spanx (I think that's the name of those knickers that hold in your fat). She had obviously worn them before and forgot to take off the USED SANITARY PAD.
I refused a refund, and she asked to see my manager. She said she put the pad on them to try them on. She was causing a huge scene, and the manager eventually agreed to store credit and told me to put it through.
I refused to put it through on the basis that I wasn't touching the knickers to get the barcode from them. Honestly, some people have no shame.
24. A Bag of "Two"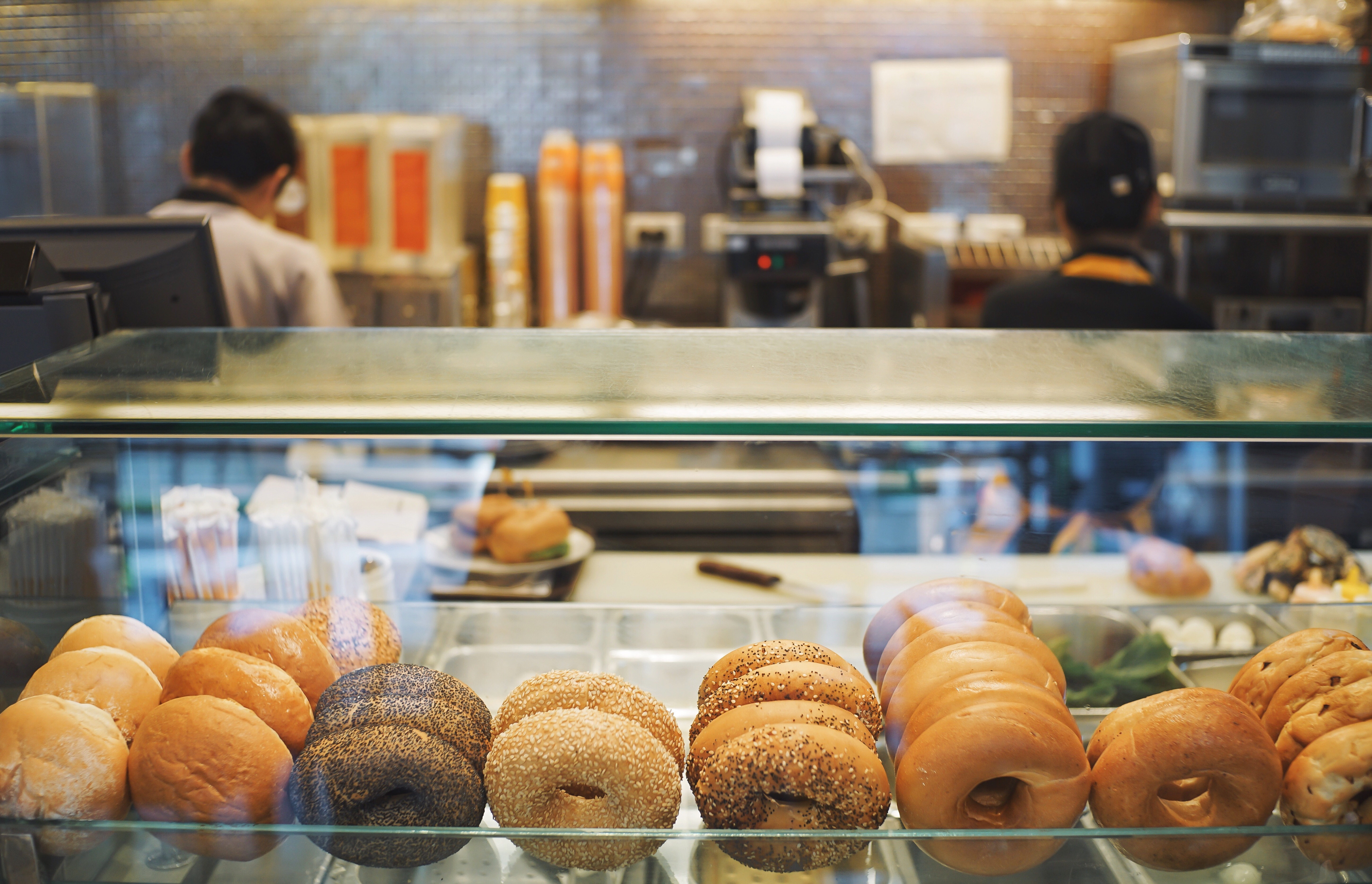 A bagel shop | Source: Shutterstock
u/Drakal11: I was a cashier when a woman entered my line with a paper bag used for our bakery section. I ask what's in there. "Two," she replied.
She doesn't say two bagels, two donuts, just two. The bag could barely be closed because it was filled to the top.
I unroll the bag to look inside, and she tells me not to. I glance at her and continue looking inside to see what it is.
I rang it up as a dozen bagels since that's the most you can fit in the bag. The gall to try and pass off an entire bag as two of anything is honestly impressive.
25. Some Interesting Incidents
A woman working at a cash counter | Source: Pexels
u/lilyluc: I worked for ten years in fast food and five years at a grocery store. These are my favorites from each:
At Chicken Store, we sold a 16-piece meal for over 30 bucks. We would only give a refund if they returned the product but would usually replace it without proof because of corporate.
So, a common scam was to go to one store, get a replacement, and then take that to a second store for a refund.
One day, I had a guy come in for a replacement. I was pretty sure the guy was there to mess around, but I went ahead and did the replacement.
I initialed the bottom of his coleslaw, and after he left, I called around to our sister stores to watch out for a refund meal with my initials. Sure enough, he hit the nearest one, where they laughed him out.
At the grocery store, the funniest was a lady who tried to replace corn syrup last winter that expired in 2005. "I bought two of these last week on accident!" she said.
I had countless people over the years clean out their cabinets and try to get cash for all the expired things that they supposedly bought the week before, but 12 years old was definitely the winner.
26. At the Bookstore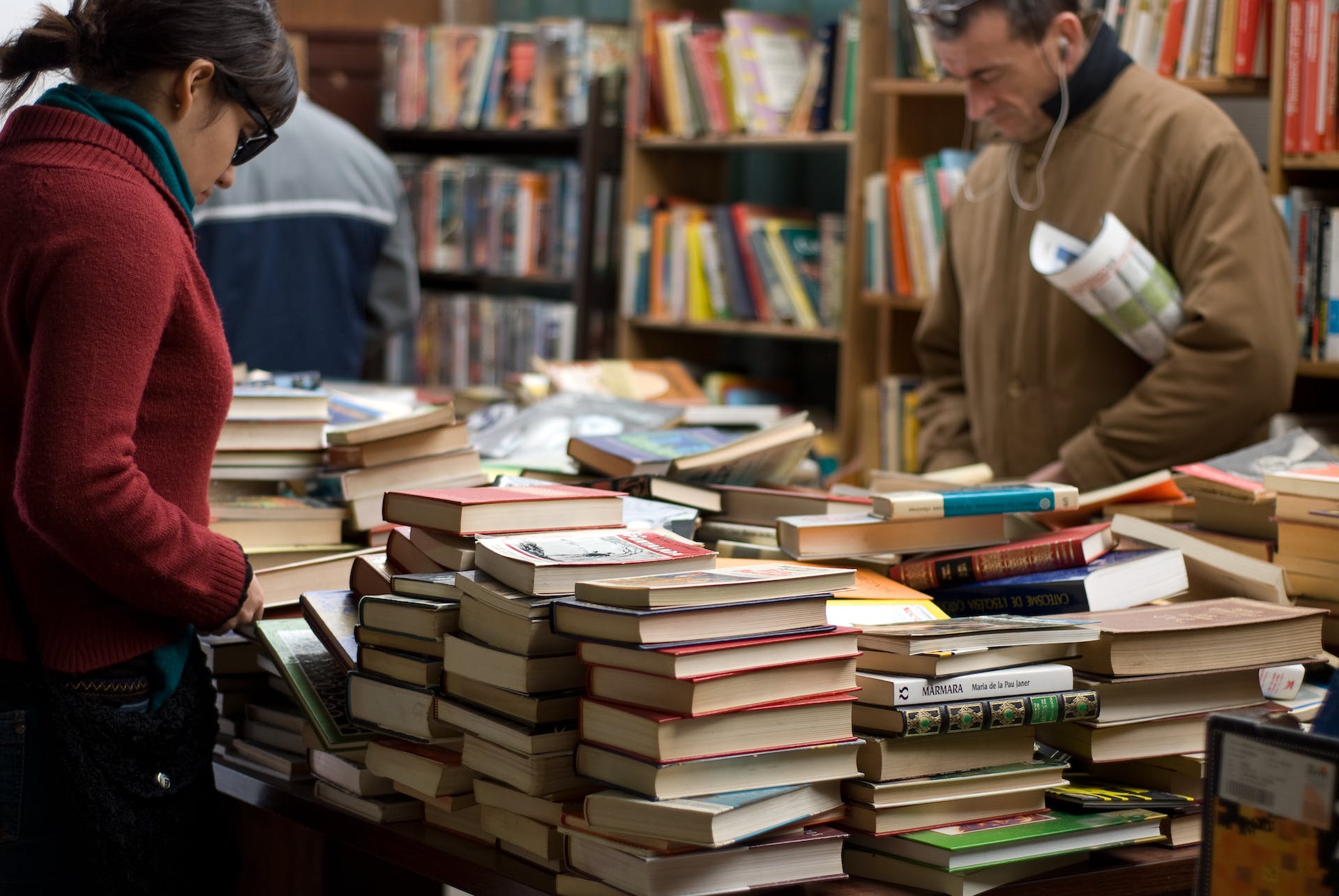 People in a bookstore | Source: Pexels
u/johnnywarp: I worked at a bookstore for a bit. My manager told me a guy had come in trying to return the first book in a series and exchange it for the second one because he claimed that was what he actually meant to buy.
The spine was all bent, and the book was obviously thoroughly read. The guy did not get to exchange it.
27. My Daughter Dropped Her Ice Cream
A little girl eating ice cream | Source: Pexels
u/blindskate101: I was working at a place that has soft serve as a part of the menu. I was working one day when a lady came up to the counter and said something along the lines of, "Hey, I'm really sorry my daughter dropped her ice cream, and she's really sad about it. Do you think you could give me another?"
I was about to, but then I realized an important fact: the ice cream machine was broken that day, and we weren't selling any.
I looked back at her and said it must not be from us because of the machine. She turned bright red and mumbled, "Oh, then I guess it must be from Dairy Queen or something…" and left quickly. Nice try, lady.
28. I Knew What He Was up To
A receipt lying on grass | Source: Pexels
u/man_iamtired: I get a lot of guests that pick receipts off the ground, parking lot, or trash and then go into the store to pick the item off the shelf and return it.
I'm usually pretty good at calling our security and stalling the transaction for as long as I need. The other night, this guy who regularly does this came to our store. I feel like he has an accomplice(s) because our AP is always watching someone else when he is in the store, and for some reason, I always happen to be at guest service.
So anyway, he got loud with me the time before, so I didn't even want to deal with it and notified my manager even though I am technically a supervisor.
We deny it by forcing the system to come up with an error message, and he starts yelling again. As if his three different beat-up cash/debit card receipts didn't make us suspicious enough, he pulled out a bag of probably 100+ beat-up receipts to prove to us how often he shops here. Like, no, man, but thank you for a laugh.
The only annoying thing is I know that multiple of my guest service team members have done returns for him before.
He mentioned them by name to me by claiming "so and so" never gives him a problem, only me. I really hope we can catch him for good soon because I am tired.
29. My Son Needs the Pills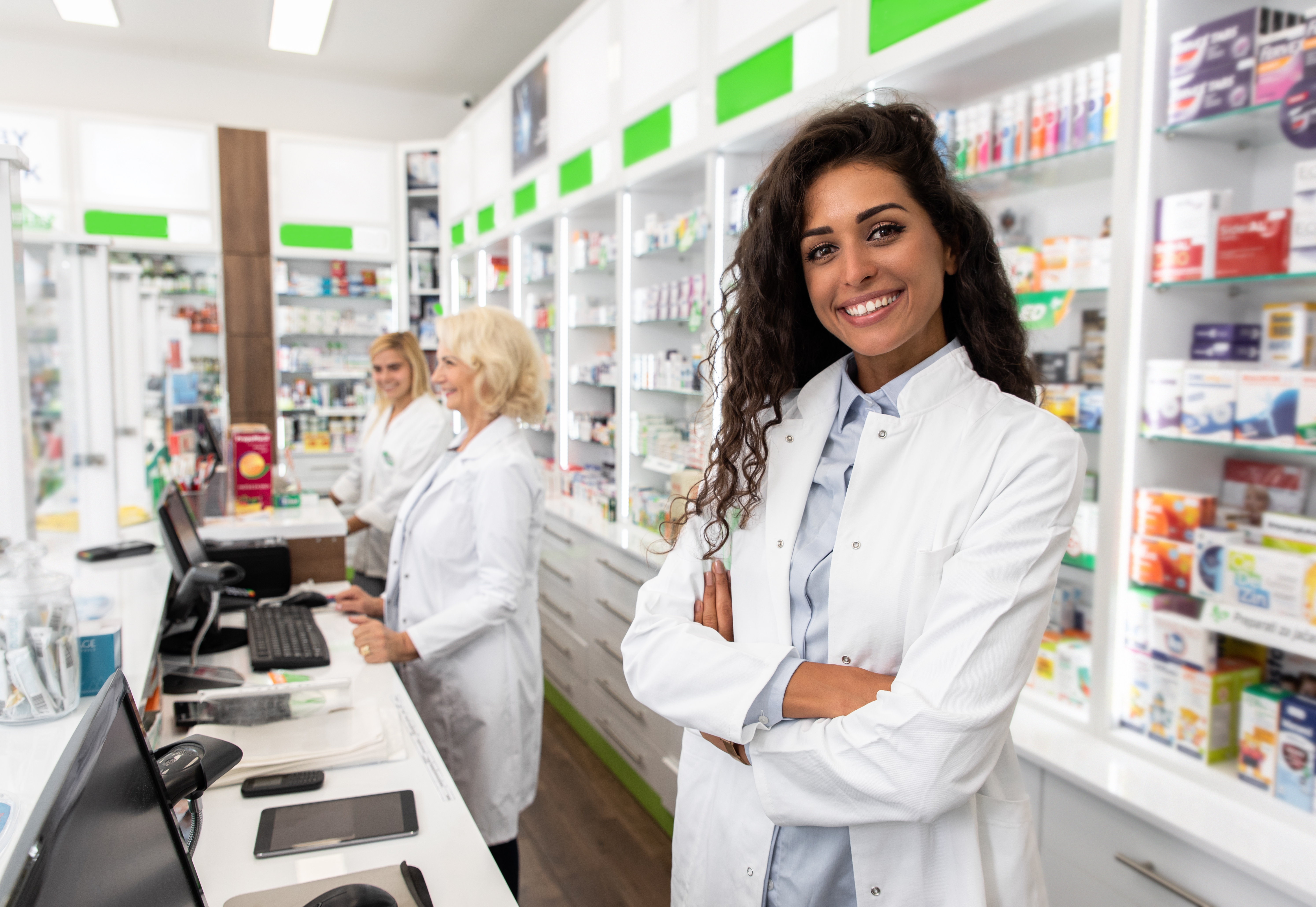 A woman working at a pharmacy | Source: Shutterstock
u/moogula1992: A guy comes in to fill his son's Adderall script. The guy is super twitchy, and his son is as chill as possible.
For all controls, we are supposed to run a report that shows everywhere in the state they have filled any. Of course, the report is a mess.
There were multiple pharmacies, scripts, and doctors—all the red flags. To top it off, an Adderall script within that week had been filled, so we really couldn't fill this one.
The man returns, we tell him that we can't fill it, and he starts going on about how his wife must have filled it, but they need some for today, etc.
We decline, and his last words are, "My son needs them for a birthday he has to go to today. Can't you help?"
No. We can't help. You're clearly taking your son's pills. Get help and stop using your son to abuse prescription drugs.
30. Trying to Get a High-End Phone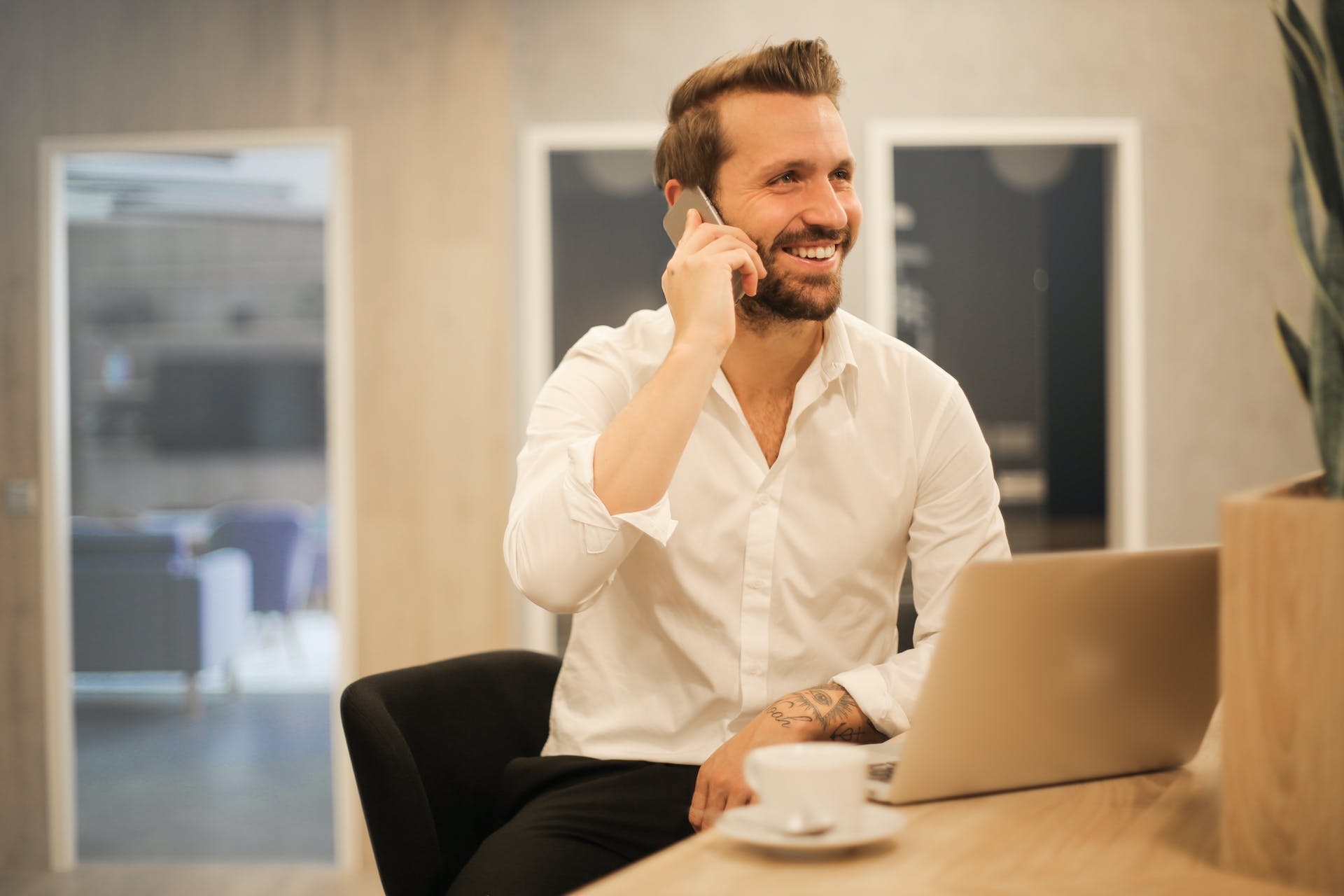 A man talking on a phone call in an office | Source: Pexels
u/Yujiza: I work in sales at a telecommunications company. Oh man, do I love scammers, especially on a quiet day?
You can tell a mile away their point is to get a high-end phone for $0 while keeping their hands free with fake or someone else's ID.
Although they are not as outrageous as what I've read here, I get a huge kick listening to them struggle. Usually, I'll tell them the credit check will take a few minutes as my system is slow and immediately call fraud management.
I hand over the information and conference the scammer to surprise them with a new person full of questions.
I have a few examples of a customer looking for a new device. I said the plan would be $200 a month when it was really $85 a month. "Oh, do you have anything cheaper?" Nope! Then, "Oh, um, okay, but the phone is free, right?" Yup.
Today, I get a call. It's the same old traditional young scammer, so I do my routine by surprising them with my favorite department.
He offered a driver's license amongst the ID, and the fraud rep asked him, "What's your nearest major intersection?". It was the first time I ever heard that. The customer became frustrated and said, "I don't know, I don't drive!". I nearly died.
I have stories daily. I could process the order fully and flag it or tell them I have to speak to another department, where they just hang up and end it there. That's no fun.
31. I Got Out of My Pajamas, Got Dressed, and Came Here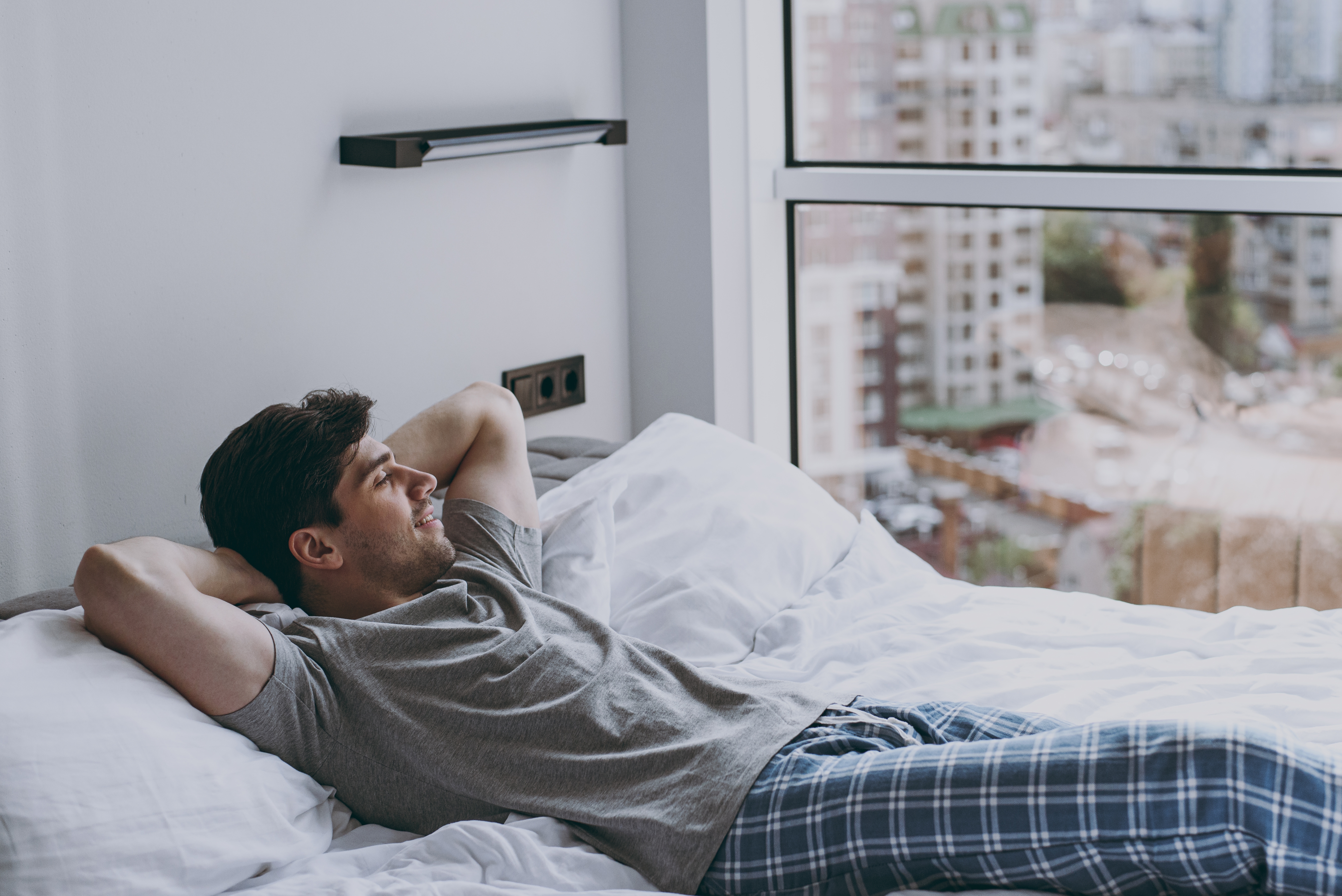 A man in pajamas | Source: Shutterstock
u/Mr_A: The store was open until midnight on the two last nights of the financial year calendar. Apparently, the store thought someone might come in at 11:59 and that it was their last chance to deck out their entire office with new laptops and chairs.
After about 9 p.m., the store was pretty much a complete ghost town. By around 11 p.m., the store was the cleanest it ever was since it was built.
On this one night, the phone rang at about 11:30 p.m. The guy wanted to know if we were still open because he wanted to buy something specific.
It turned out we had it in stock, and he told me several times that he would get out of his pajamas, get dressed, and come down to the store. I said, "Sure. The item will be at the front counter whenever you're here to collect it."
So he turned up and told me again that he had to get out of his pajamas, get dressed, and come down to the store to pick up this item. It was about 11:45 p.m., so I told him how much it would cost, and he asked for a discount.
I asked, "Why?" he said, "For being your last customer of the evening!" I told him there's no reason for giving that kind of discount. Besides, we were still open. There might be other customers, you know.
He might not have been the last one that night, and besides, it costs what it costs. He told me again that he had to get out of his pajamas, get dressed, and come to the store to buy this item. He paid the full price for all his troubles.
32. I Need a Refund!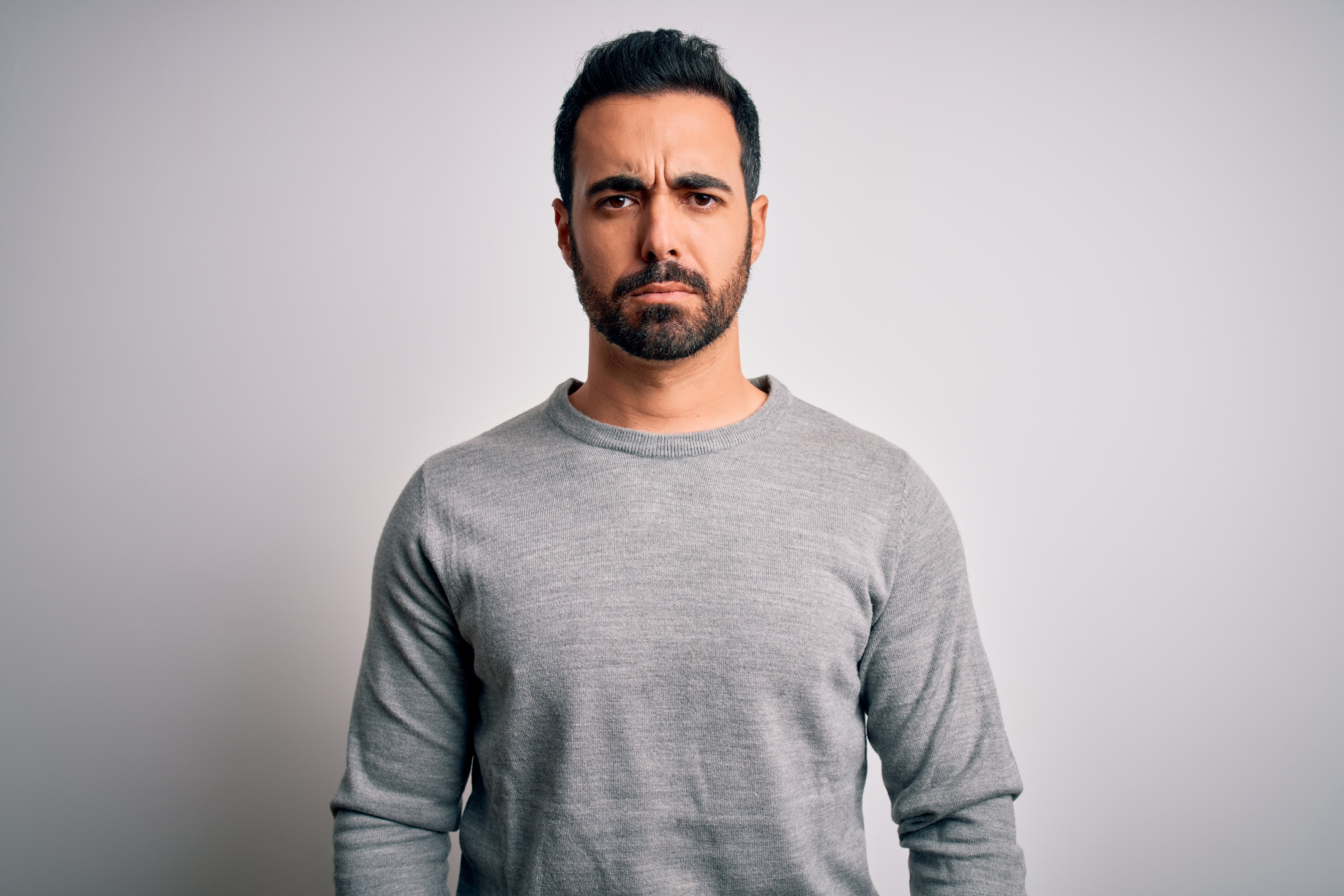 An angry man | Source: Shutterstock
u/Tulabean: As a teen, I worked at a convenience store. A man walked in and quickly grabbed a package of pantyhose off the shelf, walked up to the register, and informed me that he had purchased them for his wife, but they were the wrong size.
I responded that I had watched him take them off the shelf, so I couldn't give him a refund as he never bought them. He argued that he had and said that rather than a refund, he'd take an adult magazine in exchange.
I laughed, saying that the pantyhose cost wouldn't cover the cost of the magazine, even if he had paid for them.
The man considered this, grabbed another package of pantyhose from the shelf, and asked, "How about now?" Wow. Just wow.
33. The Stinky Jumpsuit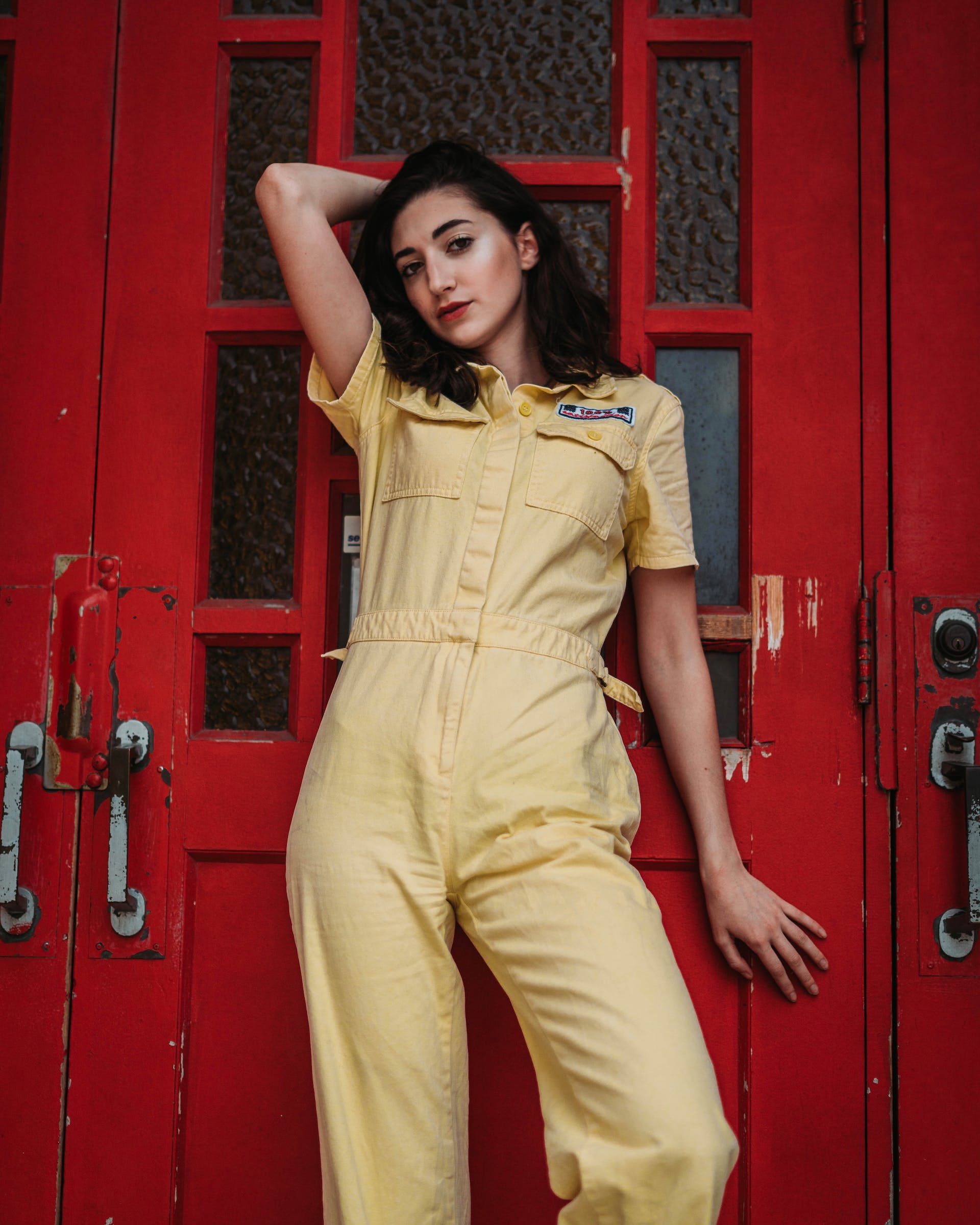 A woman in a jumpsuit | Source: Pexels
u/MateriaBubbles: A customer returned a jumpsuit for a refund because it had feces. Apparently, it had been like that when she bought it.
It stank so bad that you could smell it through the taped-up plastic bags she had put it in. It is impossible that it went unnoticed by the changing room staff, was put on the shop floor, picked up by the customer, and bought via a cashier.
The worst part is some guy on the refunds counter downstairs accepted it and put it on top of the trolley full of other returned items for us to put back upstairs, complete with a note stapled to it that said, "Warning: Feces inside."
34. The Nut Biscuits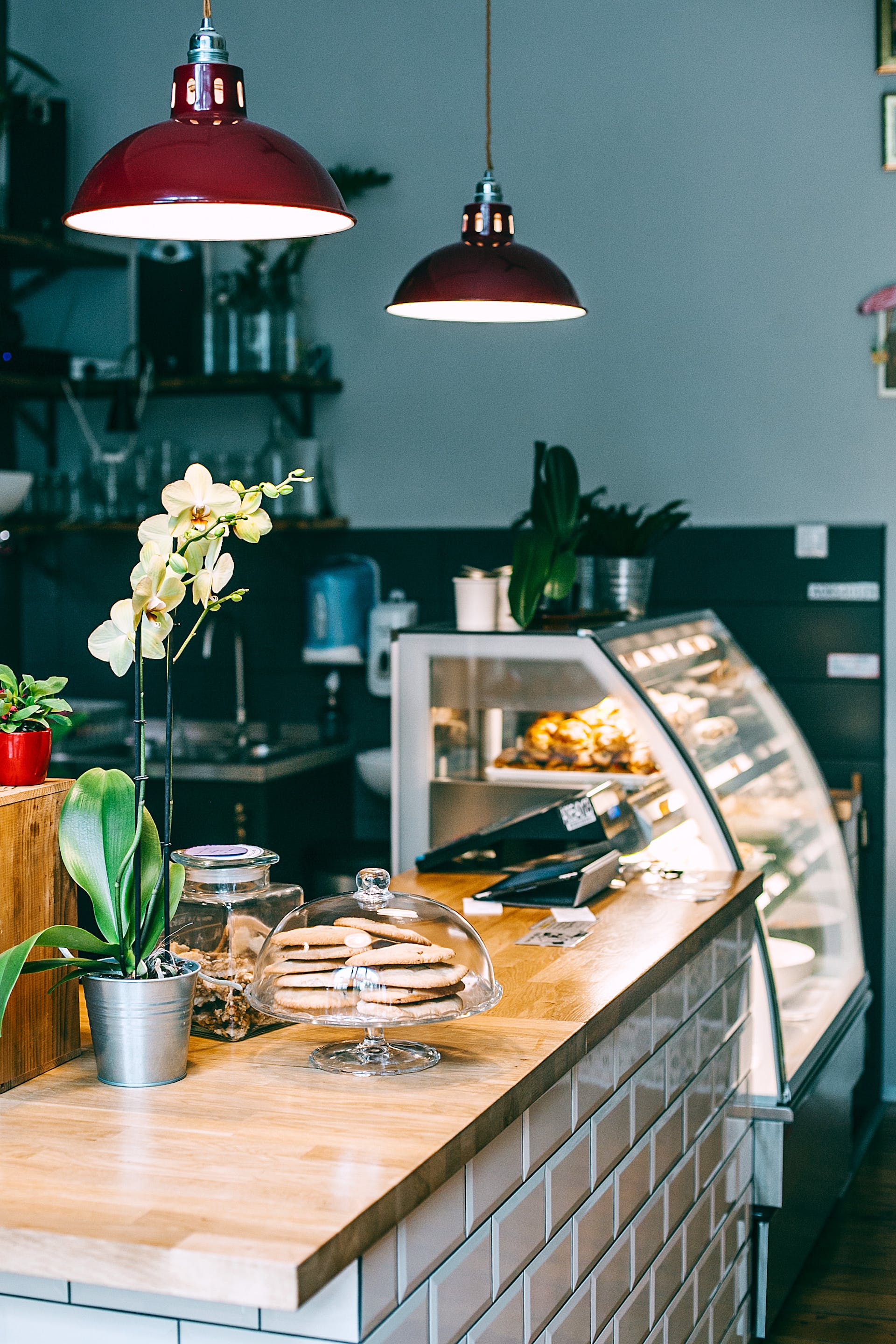 A bakery | Source: Pexels
u/Caitsyth: I worked at an upscale treats shop, where they had chocolates, biscuits, etc. We were having a clearance sale (red price – sales are final) on boxes of our nut biscuits going out of season, and one woman bought the last nine boxes we had. I'm the cashier, so I ring up the sale, and she leaves.
Two days later, I'm the opener, and this woman is WAITING at the gate for us to open. I let her in to get her gone so I could prep for the day, and she accused me of ATTEMPTED MURDER.
She was threatening to get the police involved. While doing so, she ate a whole box of the CLEARLY LABELED nut biscuits in one sitting, and then her throat got tight, and she was itching all over.
But no way does she have a mild nut allergy. She's claiming we poisoned them and demands a full refund as well as equal value in merchandise as an apology for trying to kill her.
By the time I had convinced her she had a nut allergy, her claim had shifted to us intentionally not labeling allergens on our packaging.
At that point, I took one of the boxes from her and, with a sharpie, circled the three places on the front of the box that said they were assorted nut biscuits, as well as the warning on the back of all the possible allergens they may have come in contact with.
Her final play that set me off was when she threw her hands in the air and screamed, "FINE, just give me the refund then! I don't want any more products from you!" Because, you know, the refund was totally on the table.
She didn't even have a receipt, and when I asked for it, she said I must have stolen it. I said, "Fine, but I must text my manager since I can't process returns."
I texted a buddy in the security office what was happening, and they called the real police since she had been caught trying to steal several times in the mall.
What made my day, though, was that when they tried to escort her away from my store, she slapped one of the REAL cops. They busted out the handcuffs, and I was so happy to see her squirm.
35. Combing the Store Every Night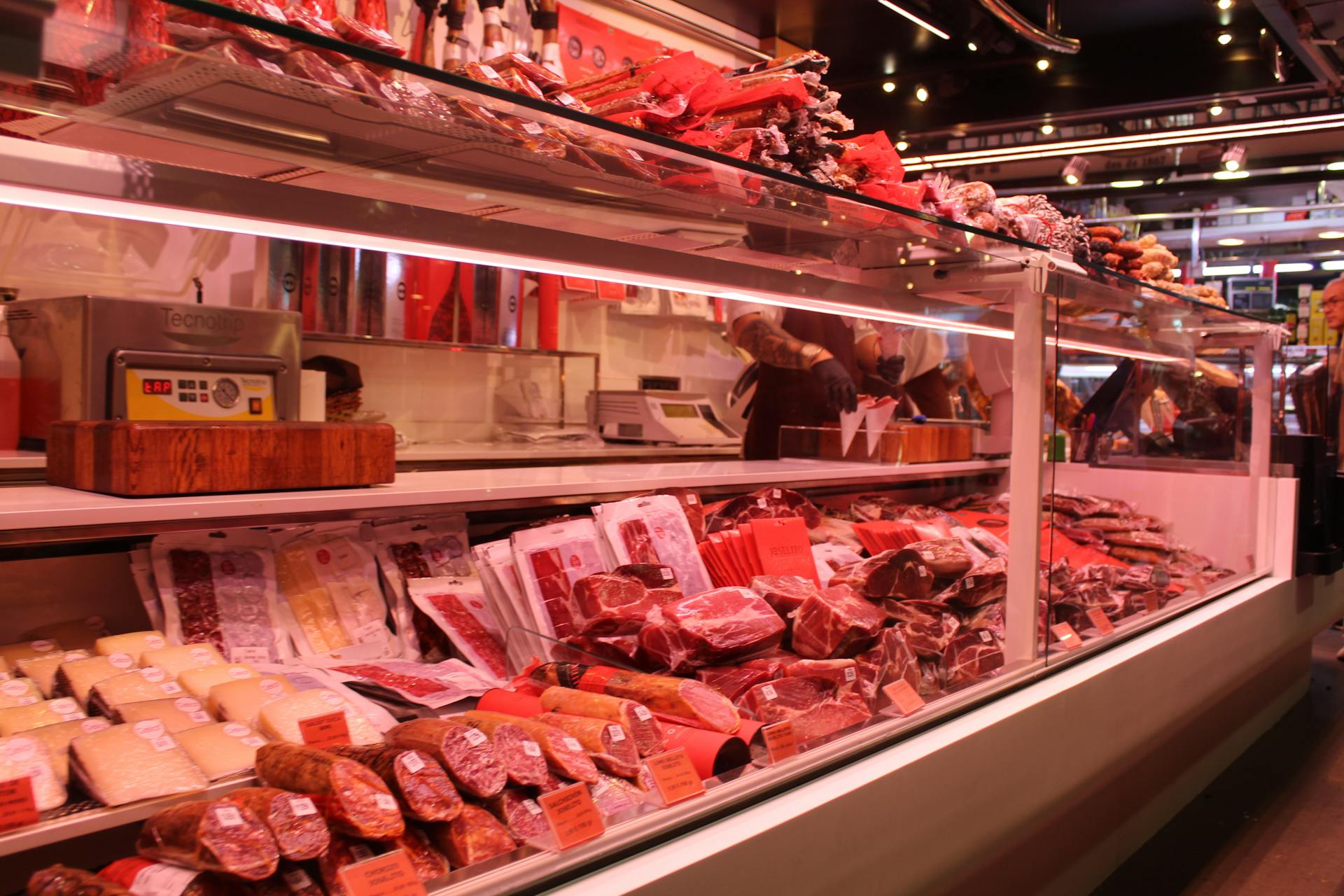 Meat section inside a supermarket | Source: Pexels
u/dalgeek: I worked at Winn Dixie as a teenager. They had these great sales on crab meat, like $5 for a 1lb can.
One day, this woman came in with four cans, asking for a refund. The cans were bulging and hot to the touch. She claimed that they were like that when she bought them. Really? Sure you didn't leave them in the car all day?
The store also had a policy to sell meat that was about to expire for 50% off. People would grab steaks from the meat department and hide them in the freezer section, under or behind other products, then return later to buy them.
Not only is it obvious when someone is digging through frozen peas to pull out a steak, but it's undeniable when they come through the register with a frozen steak.
They also had a 'buy one, get one free' offer if someone found expired bread. People would hide bread in other store sections and then return for it a few days later. I remember one lady had a cart overflowing with bread, and half of them were expired.
As a result of these shenanigans, we had to comb the store every night for products hidden in the freezers.
36. Stealing Fried Chicken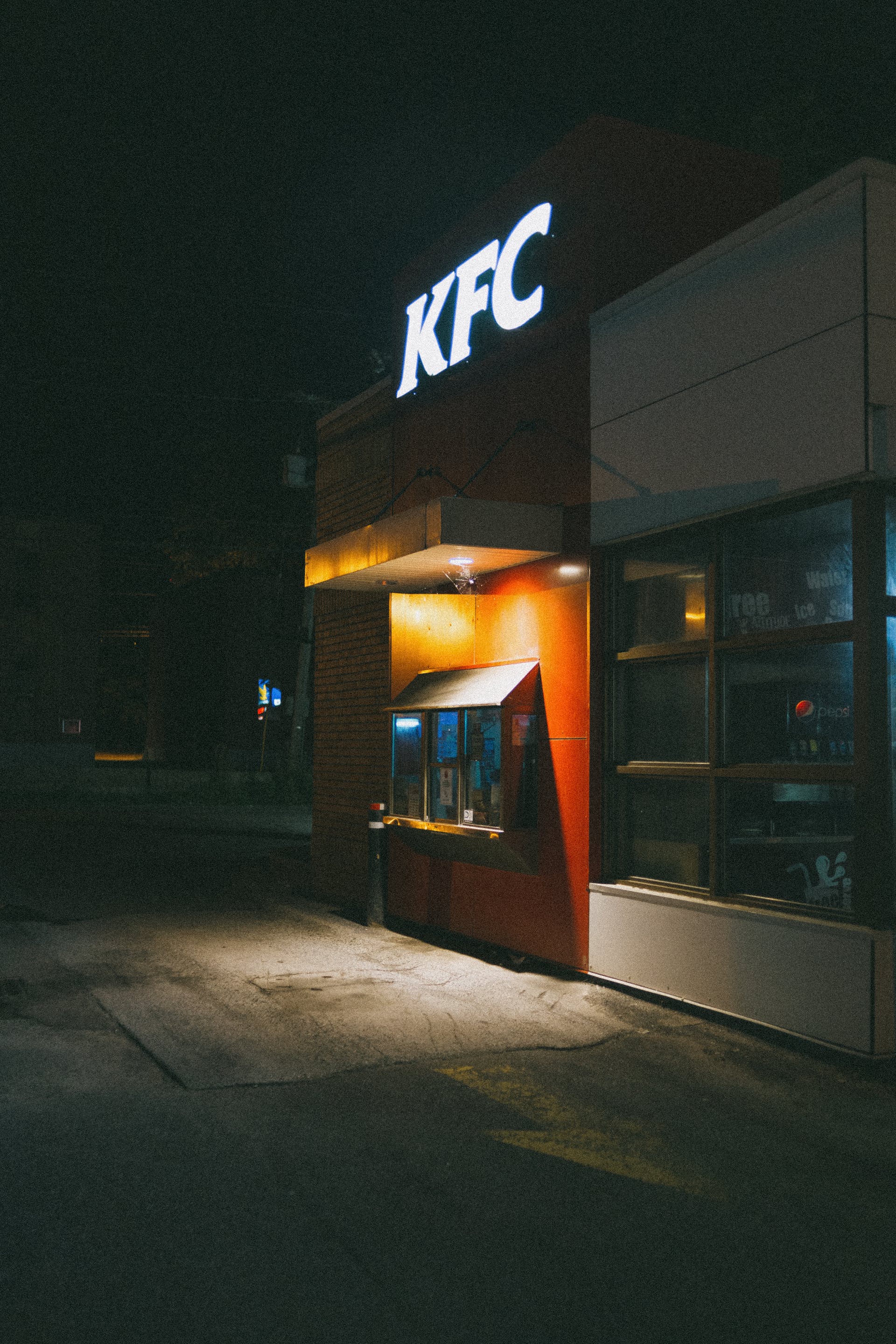 A KFC restaurant at night | Source: Pexels
u/ampmetaphene: Oh boy, back in high school, when I worked part-time at a KFC, there was this one chubby man who would come in, order a two-piece quarter pack, and then claim we forgot his chicken.
When we turned around to fetch his drink at the end of the order, he would open the box, take out the chicken pieces, and hide them in his pockets. Hot chicken. Right in his pockets.
I got so fed up with everyone just giving him extra chicken that I demanded he turn out his pockets one day when he tried to pull it, and WOW, LO AND BEHOLD, this guy has his pockets full of drumsticks.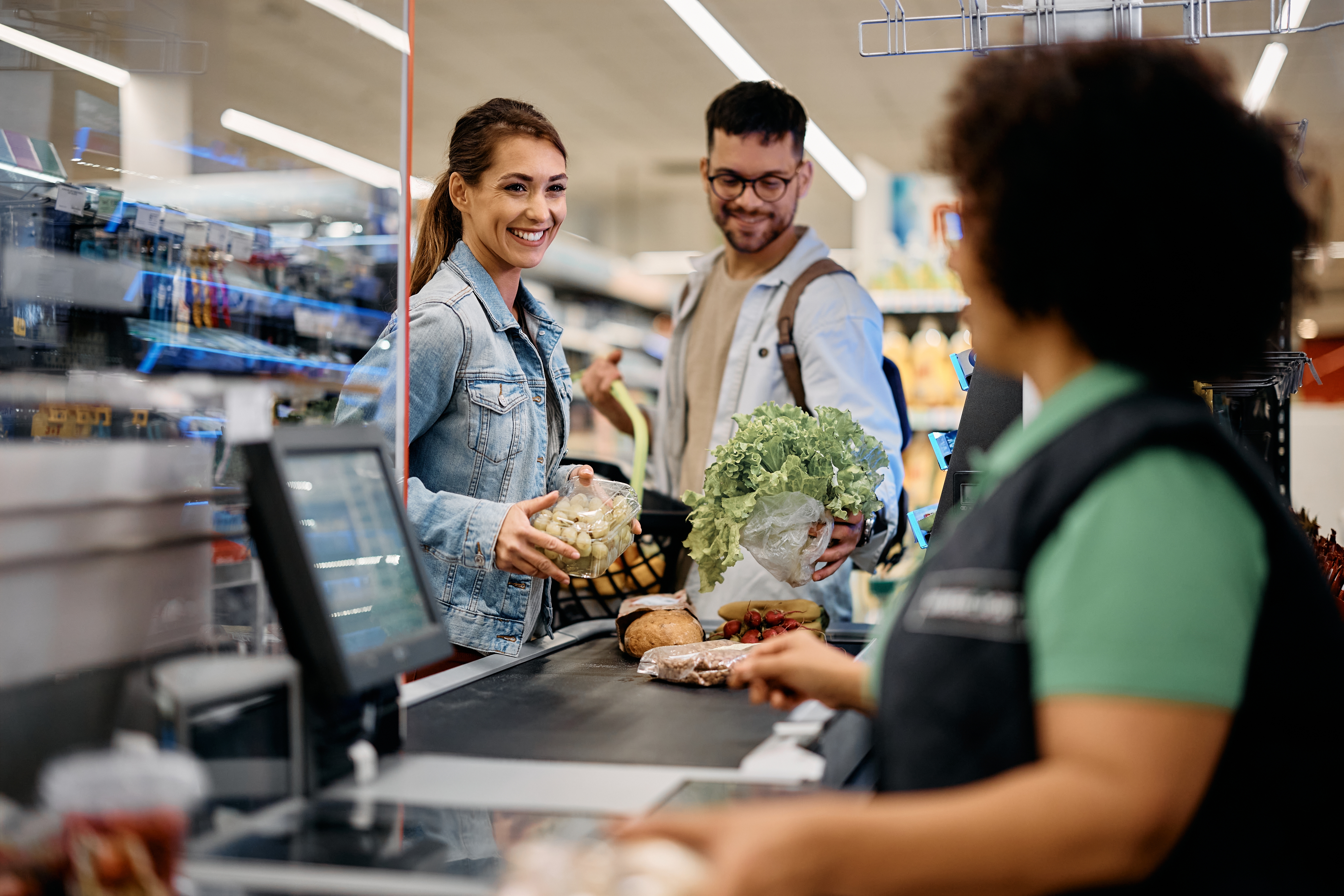 Customers greeting a cashier | Source: Shutterstock
While it's hilarious to see how people try to scam store workers and business owners, it's disappointing how dishonest people become during such times. Trying to scam a retail worker is not the best idea because it means one has to compromise their self-respect in case one gets caught.
Read More: World News | Entertainment News | Celeb News
Anomama