Andre Rison almost married late rapper Lisa Lopes, but years later, he settled down with a woman with the same first and last name as his ex. The couple are now parents to five children!
Lisa Lopez-Rison's husband is Andre Rison, who was once in a relationship with the late musician Lisa "Left Eye" Lopes. The former TLC member died in a car crash in Roma, Honduras, in April 2002. The 30-year-old lived in Atlanta but owned a condo near a Honduran village.
Her spokesman, Jay Marose, said African healing was practiced near the village and his client was behind the wheel of a rented Mitsubishi sport utility car when the accident happened. Sadly, The rapper lost control of the vehicle and veered off the road.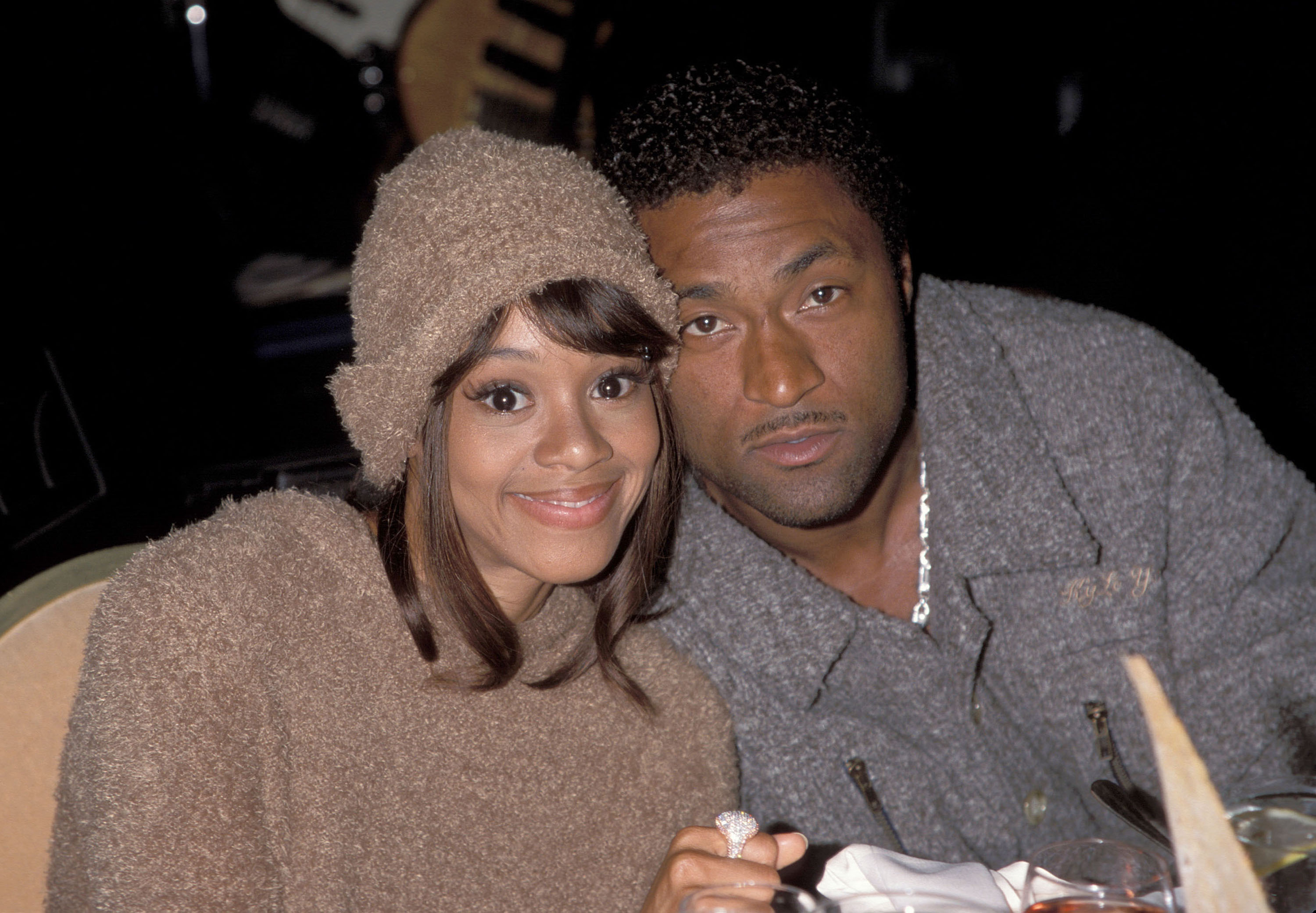 Lisa "Left Eye" Lopes and Andre Rison during the Arista Pre-Grammy Party in an undated photo | Source: Getty Images
The car rolled over a couple of times, and Lopes died at the scene while all the passengers survived. Years later, Rison met his future wife. On May 27, 2023, Lopez-Rison uploaded an Instagram photo of herself piggyback riding on Rison's back.
She revealed that the image was taken in March 2009, the night she met the former National Football League (NFL) star at a Scottsdale, Arizona, club. Lopez-Rison said at that point, she was content and didn't wish to be bothered, figuring her life was destined only to be a "cool auntie" who flew worldwide.
However, Rison walked over to her table, and when she admitted that her heels were killing her, he took her on a piggyback ride back to her car.
The woman who shares the same name as his late girlfriend revealed that they've been stuck together ever since then. The pair eventually married had children, and battled an illness as a unit.
When Did Andre Rison Marry His Wife, and What Disease Did She Battle with His Support?
On September 1, 2023, Rison's wife shared their wedding day photo on her Instagram and revealed that they are 11 years married. She also noted how they were together for 15 and wondered where the time went, jokingly adding:
"@andrerisonofficial drives me nuts."
The couple are parents to five children. On May 18, 2023, Lopez-Rison uploaded several images of their eldest child, Alesandra, and celebrated her becoming a teenager by turning 13.
Lopez-Rison celebrated being a five-year survivor of breast cancer…
A few months later, on July 22, 2023, she uploaded a photo of a newborn baby being checked over with a stethoscope and revealed that their daughter, Catalina, was born ten years ago that day. The child was welcomed, weighing 8.14 lbs 20.25 inches, and was the couple's biggest baby.
On August 7, 2023, she celebrated the birth of their lastborn child, Davinci Sosa, born on August 3, 2023, around two weeks ahead of his anticipated birthdate.
Days later, on August 11, 2023, the family's former lastborn child, Santna, was recorded holding her newborn baby brother in her arms.
Her older sister appeared on their mother's feed on August 15, 2023, when Rison's wife celebrated Amada's birthday and revealed the child was welcomed 11 years ago. Amada appeared staring at the camera and all dressed up in the Instagram post.
In April 2023, Lopez-Rison confessed that after having four daughters, she and her husband wished for a baby girl. However, she was diagnosed with breast cancer and had to undergo 16 rounds of chemotherapy and a double mastectomy.
After that scare, the couple discussed the possibility of not freezing her eggs because they were content with not having another child.
In December 2022, the couple discovered she was pregnant, but there was no heartbeat, and they lost the child.
On March 9, 2023, they decided to have a gender reveal and to tell other people they were pregnant again. The woman, 14 years younger than Lisa Lopes' ex, shared an Instagram post that showed the family celebrating her finally carrying a baby boy, Davinci!
Lopez-Rison celebrated being a five-year survivor of breast cancer with a bald photo, confessing that she found a lump when she was 36.
She said because of her family history, she kept doing check-ups and detected the disease early, leading to her survival.
In May 2022, on Mother's Day, Rison took to his Instagram account to pay tribute to his brave wife. Before little Davinci joined the family, he included a picture of his four children and Lopez-Rison, lovingly wishing "the wife of his life" a happy day and thanked her.
Read More: World News | Entertainment News | Celeb News
Anomama