Angie Bautista was professional wrestling champion-turned-actor Dave Bautista's second wife. The former couple went through many ups and downs, the most significant being Angie's cancer battle, which began during their separation.
Dave Bautista gave the world a glimpse into his past in his 2007 memoir "Batista Unleashed." Among the various aspects he delved deep into was his relationship with his second ex-wife, Angie Bautista — he'd been previously married to Glenda Bautista.
Dave and Angie met while Dave was still romantically committed to another woman named Marianne. Although he was heartsick over how that relationship ended, the Marvel star couldn't help how much he loved Angie. It was a love that persisted even after they divorced.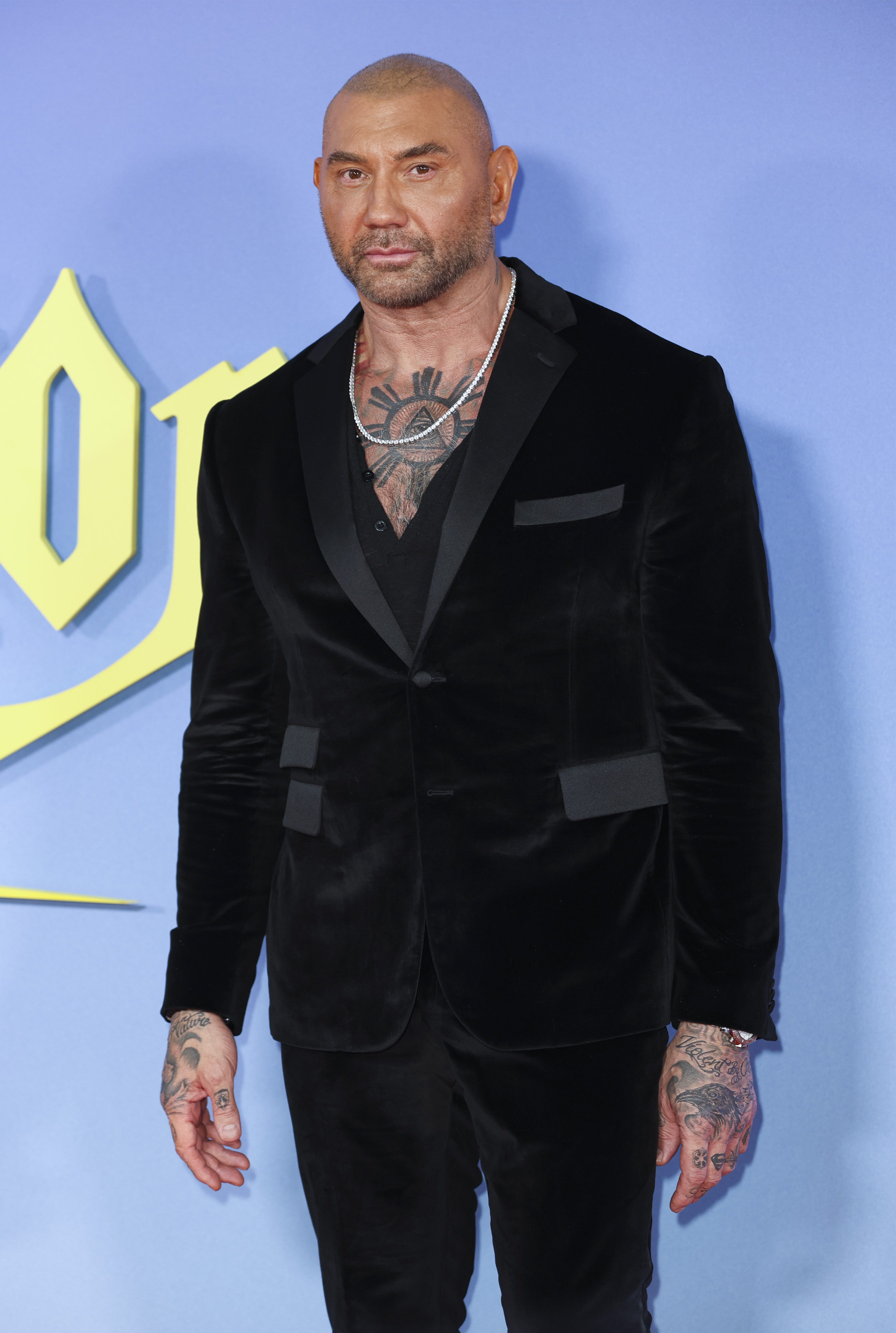 Dave Bautista attends the "Glass Onion: A Knives Out Mystery" European Premiere Closing Night Gala during the 66th BFI London Film Festival at The Royal Festival Hall on October 16, 2022, in London, England. | Source: Getty Images
Dave Bautista 'Couldn't Live' without Angie Bautista
When Dave first noticed Angie at Gold's Gym in Alexandria, Virginia, he was immediately smitten by her beauty. The actor said he was "extremely attracted" to her, but he hesitated to introduce himself, especially since he was seeing Marianne.
Arnold Schwarzenegger's annual bodybuilding competition, the Arnold Schwarzenegger Classic, was coming up, and that finally gave Dave a chance to talk to Angie. A friend had told him that she was also attracted to him, and she, too, was attending the Classic.
"I hear you're going to the Classic with us," Dave said to Angie after summoning the courage. The pair started talking on the phone afterward and began an affair. Dave was still dating and living with Marianne.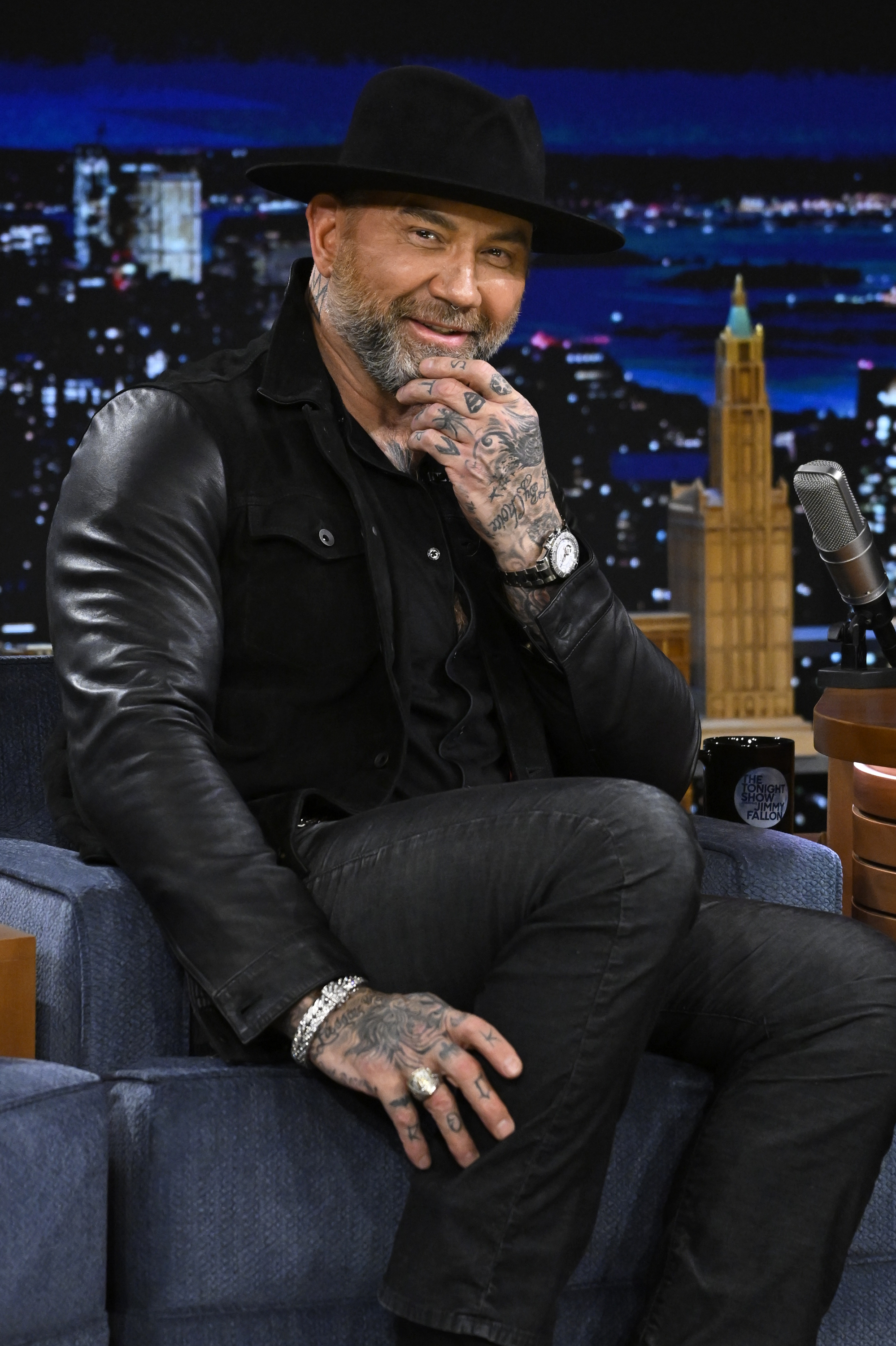 Dave Bautista during an interview on "The Tonight Show Starring Jimmy Fallon," on January 31, 2023. | Source: Getty Images
Marianne eventually found out, and Dave felt incredibly guilty for breaking her heart. He briefly ended his romance with Angie to try and make things work with Marianne, but "I couldn't get Angie out of my mind," he said.
He still tried to fix his relationship with Marianne. "Finally, I figured out that I couldn't live without Angie," he expressed. Dave went back to Angie, and they continued where they left off. The year was 1998, and the movie star fell deeper for Angie as he reflected:
"You know? It's one of those things: You can't choose the one you love."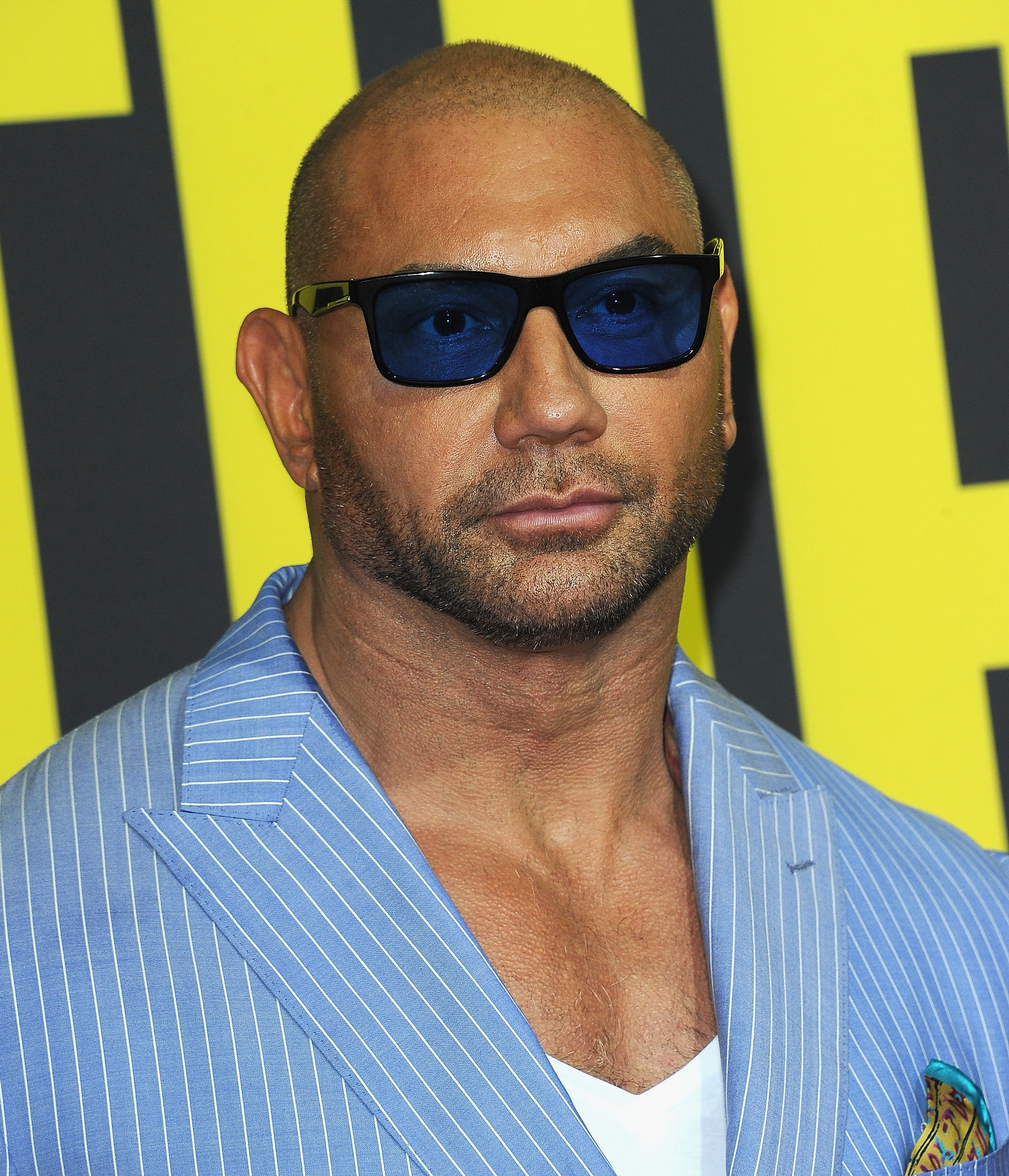 Dave Bautista arrives for the Premiere Of 20th Century Fox's "Stuber" held at Regal Cinemas L.A. Live on July 10, 2019, in Los Angeles, California. | Source: Getty Images
Angie Bautista Bought the Rings When They Married
When Dave proposed to Angie, he asked, "What do you think about us getting married?" In his book, he said he wasn't proud of how he asked for her hand in marriage. Still, Angie was ecstatic about the idea and immediately agreed.
The pair tied the knot in jeans at a courthouse in Alexandria. Angie had bought two plain silver rings with a modest waitress salary for the ceremony, though Dave's ring could only fit halfway up. The then-newlyweds celebrated with chili dogs and orange Gatorade afterward, which became a tradition for their anniversary.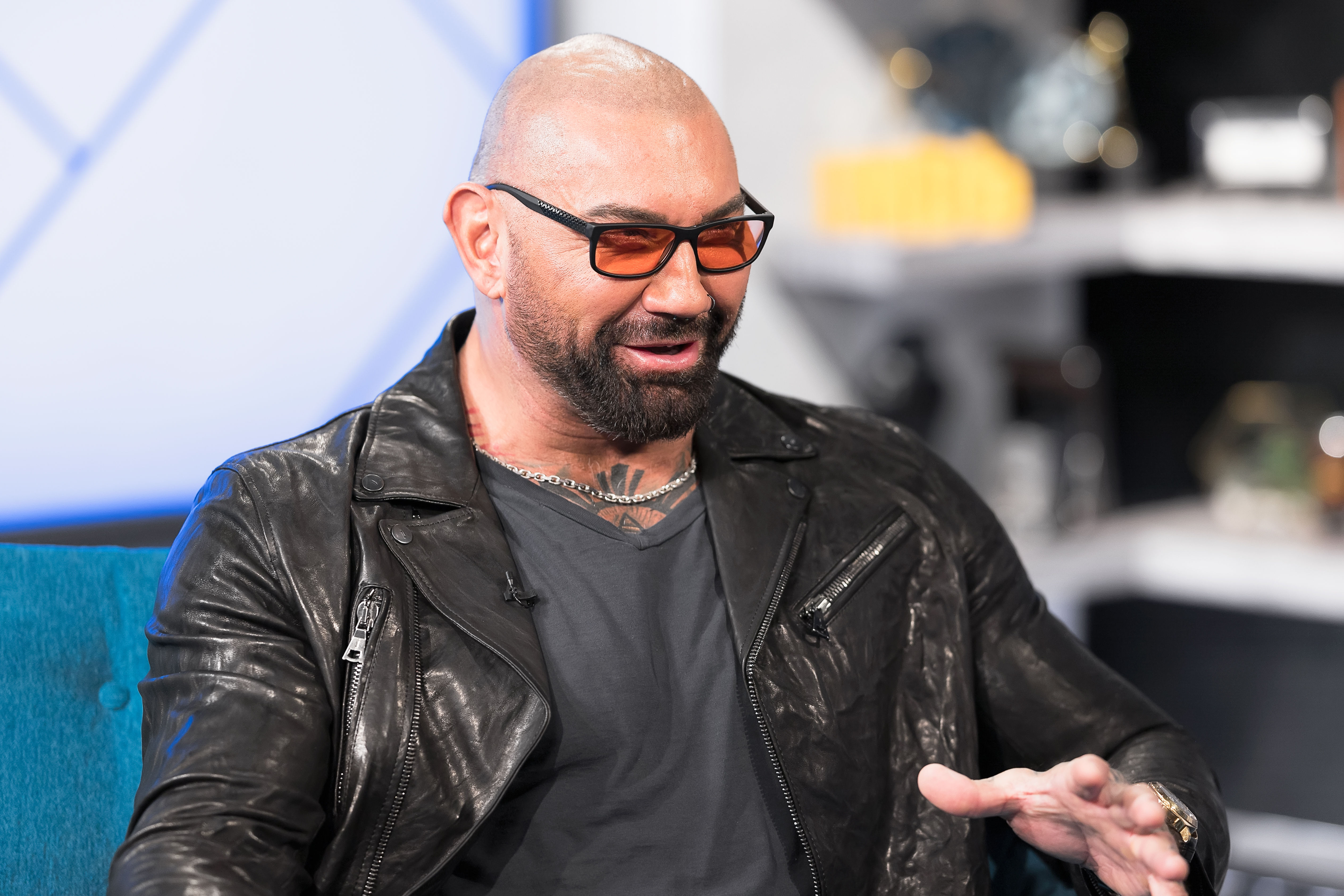 Dave Bautista visits 'The IMDb Show' on February 21, 2020, in Santa Monica, California. | Source: Getty Images
This part in their love story was before Dave became a wrestling superstar. Once Dave gained that recognition, he proposed a second time, this time asking if she would marry him with a ring from Tiffany's.
However, while there were some memorable moments, Dave's career eventually took a toll on their relationship. He was rarely home, and Angie grew distant. Amid their additional financial struggles, Angie blew off work, which upset Dave, who felt he was "killing" himself trying to provide. This led to their separation.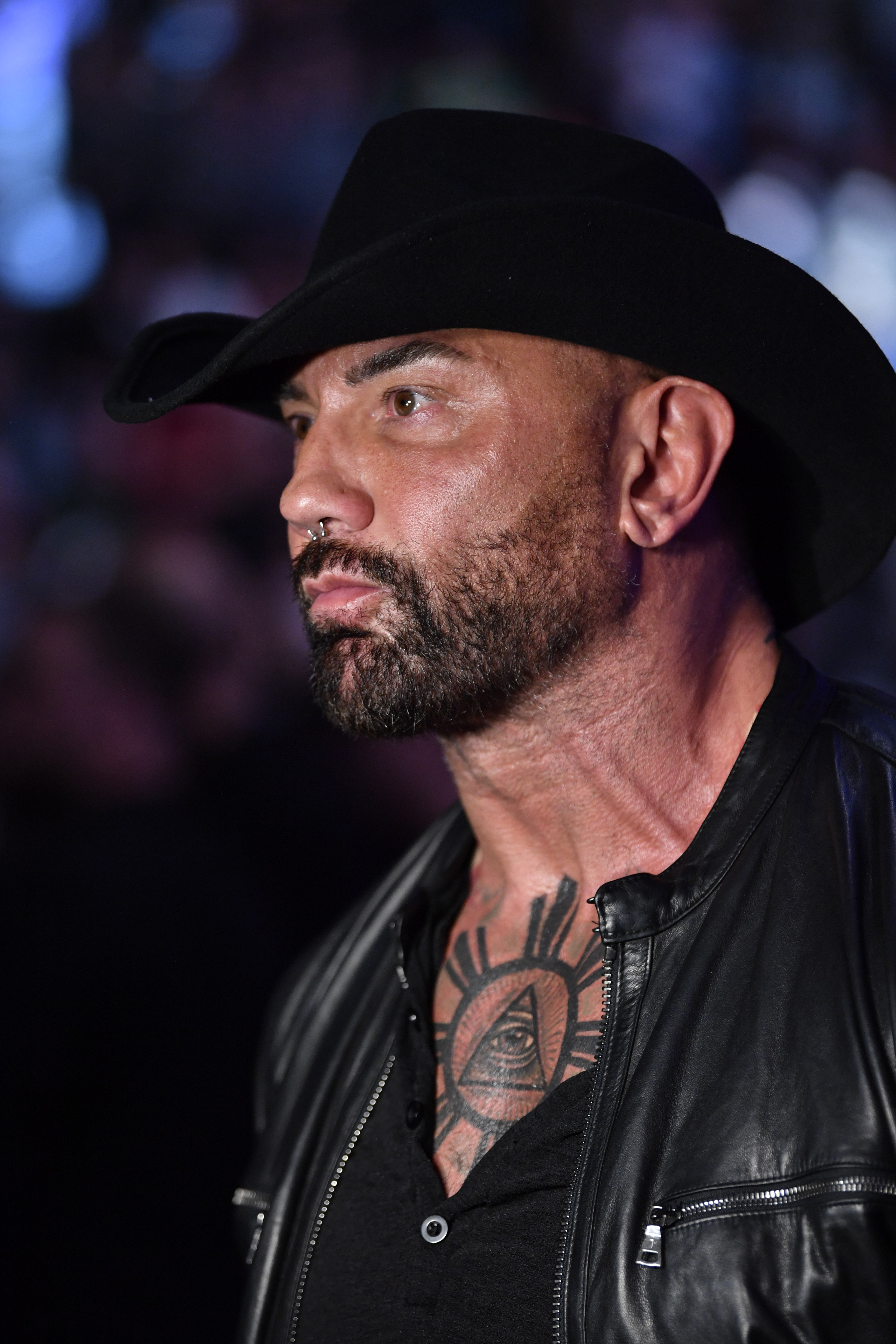 Dave Bautista attends the UFC 246 event at T-Mobile Arena on January 18, 2020, in Las Vegas, Nevada. | Source: Getty Images
Angie Bautista Had a Son during Her Battle with Cancer
Angie was diagnosed with ovarian cancer in 2002. When Dave learned of her illness, he rushed to be at her side. "I just had to be with her. I had to help her get through it. I just had to," he wrote.
In a "strange way," as he put it, caring for Angie brought them closer again and saved their marriage. Still, it broke his heart to witness the toll the treatment took on her. Angie has since been in and out of remission.
In 2007, during remission, she welcomed a son, Oliver, via in-vitro fertilization. Three years later, Dave did a fundraising campaign for the Ovarian Cancer Research Alliance in her honor. By then, the two were already divorced — Dave remarried Sarah Jade several years later.
Read More: World News | Entertainment News | Celeb News
Anomama