<!– Last modified on June 14, 2022 – 12:23 BST –> Last modified on Jun 14, 2022 12:23 BST Katherine Robinson Paddling pools are a garden must-have for summer 2022: these are the best buys

The weather is finally picking up so it's time to get the paddling pool out. If yours has seen better days or you fancy a new garden pool, why not invest in a new one?
RELATED: Hello heatwave! This cute 3-in-one handheld fan doubles as a power bank and a torch
You won't find a better outdoor toy in the hot weather and we'd go as far to say that for parents of toddlers and children, it's a must-have! But which ones are best and what should you consider before you buy?
We've got all the vital info for you, just keep reading…
LOVE SHOPPING? Sign up to the HELLO! Edit Newsletter
Scroll down for our list of top paddling pools for 2022. But remember, children should be supervised at all times when they're in use.
WATCH: Ola Jordan gives tour of her impressive pool
RELATED: I searched Amazon for the best garden toys and the kids will be excited
SHOP: Best swimwear for girls: Top styles for babies and toddlers
How often do you need to change the water in paddling pools?
If you've got a hot weekend ahead it might seem like a good idea to fill up your paddling pool on Friday and leave it out till Sunday. However, multiple hygiene experts agree that the best thing to do is use fresh water in your pool every day to avoid the risk of a child picking up an infection. You'll likely be filling your pool with tap water, so although this is obviously disinfectant free, the plus side is you can use it to water your garden.
What size paddling pool should I get?
There are so many pools on the market now that you can get paddling pools in almost every size imaginable, but you need to consider the size of your family, the age of your kids, and of course, the space you have available. And of course, remember the bigger the pool, the more room you need to store it. It's a good idea to check if it folds up into a compact shape for the cooler months when it won't be in use.
Where will you be using your paddling pool?
If you're laying it out on grass, then it will be fine as it is, but if you're using it on top of concrete you might want to invest in something to go underneath, like a rubber mat.
Does it come with a pump and repair kit?
Some paddling pools do, but the budget models may not. You can buy both a repair kit and a foot pump online and they're both really handy to have.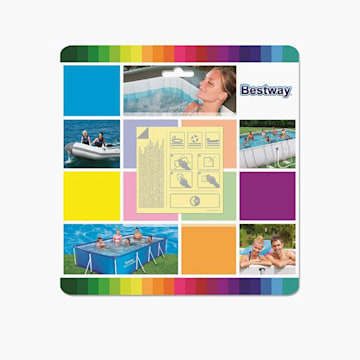 Bestway underwater adhesive pool repair kit, was £2.55 now £1.70, Amazon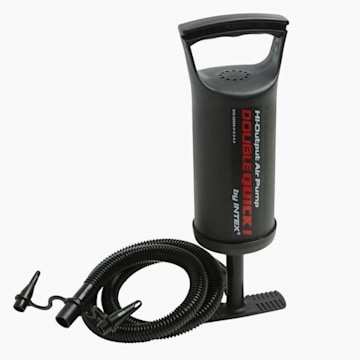 Intext double-quick high output hand pump, was £6.99 now £6.65, Amazon
Where to buy the best paddling pools online in the UK: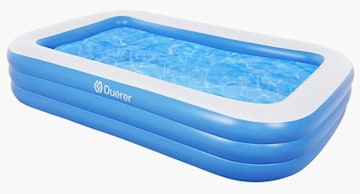 Duerer Inflatable Swimming Pool, £51.99, Amazon
Age: 6+
What is it? A large inflatable paddling pool measuring 92x56x22 inches and twice as thick as most on the market. It features three individual air chambers that can withstand extra weight and inflates in just three to four minutes.
Why we love it? This is a good size family pool which could happily fit a family of five. The cushioning makes it super comfy and durable, and it could even double up as a ball pool or sand pit.
MORE: The best family holiday deals to book right now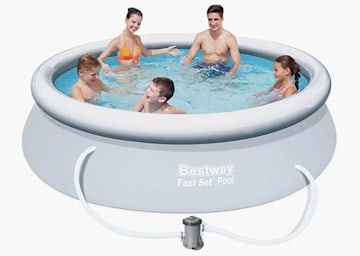 Bestway paddling pool for the family, £88, Amazon
Age: 6+
What is it? A large inflatable family pool which measures 305cm x 305cm x 76cm and is made of heavy-duty PVC. It holds up to 3638 litres of water and includes a repair kit, drain plug, filter pump and protective cover.
Why we love it? This superb family sized paddling pool inflates in just two minutes and it's one of the few on the market with a water filter – meaning you don't need to empty it after each use. The cover just goes on to keep it clean and you can crack it open the next day.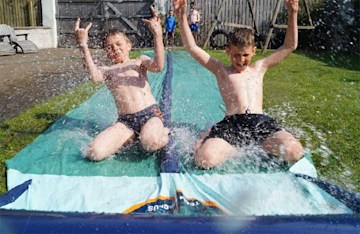 Team Magnus slip and slide XL with inflatable crash pad, £62, Amazon
Age: 5-12
What is it? A 9.5m x 1.6m double lane water slide made of durable heavy PVC with a water-spraying bumper and splash pool at the end.
Why we love it? Again, this isn't exactly a paddling pool, but you haven't lived until you've slid full speed down a water slide!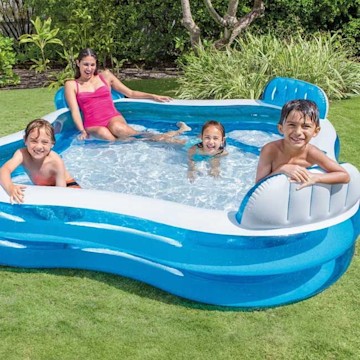 Intex swim centre family pool with seats, was £49.99 nonw £35.50, Amazon
Age: 3+
What is it? An inflatable vinyl pool measuring 229cm x 229cm x 66cm vinyl pool which holds 882 litres of water and features 'chairs' at each of the four corners. It comes with two cupholders, a drain plug and repair kit.
Why we love it? It's spacious, easy to inflate and the comfy chairs are a unique selling point – along with cupholders – it's perfect for chillin' and enjoying a beverage.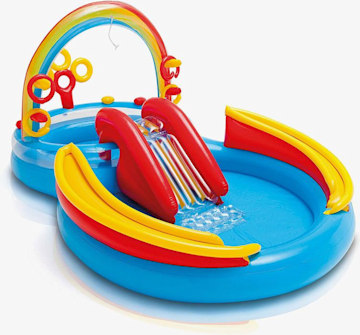 Intex Rainbow Ring Play Centre, £47.99, Amazon
Age: 2+
What is it? A 297cm x 193cm x 135cm vinyl paddling pool which includes a range of interactive elements from a water slide, a water sprayer, a ring toss game and a wading pool.
Why we love it? This pool is perfect for entertaining children on sunny days as it has so much to offer. The interactive games will provide hours of fun, and the best bit is that it can double as an indoor play pit too, so the fun doesn't have to stop even if the sunshine does!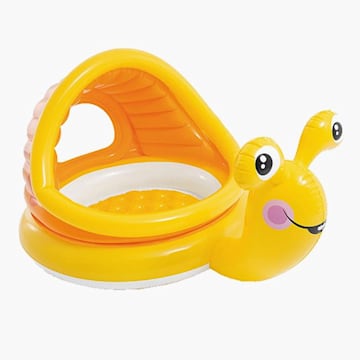 Intex lazy snail shade paddling pool, was £22.96 now £21.99, Amazon
Age: 12 months+
What is it? A 145cm x 102cm x 74 cm vinyl paddling pool which holds over 50 litres of water and features a built-in shade. It's in shape of a cute 'lil snail and you can also get it as a whale and a shark.
Why we love it? The cushioned floor makes it super comfy for little ones and it can double as an indoor play pit. The shade is handy for super sunny days and, oh and did we mention it's shaped like a cute 'lil snail?
RELATED: 7 best kids beach shoes & water shoes: From Crocs to M&S & baby Birkenstocks
Like this story? Sign up to our HELLO! Edit newsletter to get other shopping stories delivered straight to your inbox.
HELLO!'s selection is editorial and independently chosen – we only feature items our editors love and approve of. HELLO! may collect a share of sales or other compensation from the links on this page. To find out more visit our FAQ page. This article has been updated with amended price details.
Source: HelloMagazine