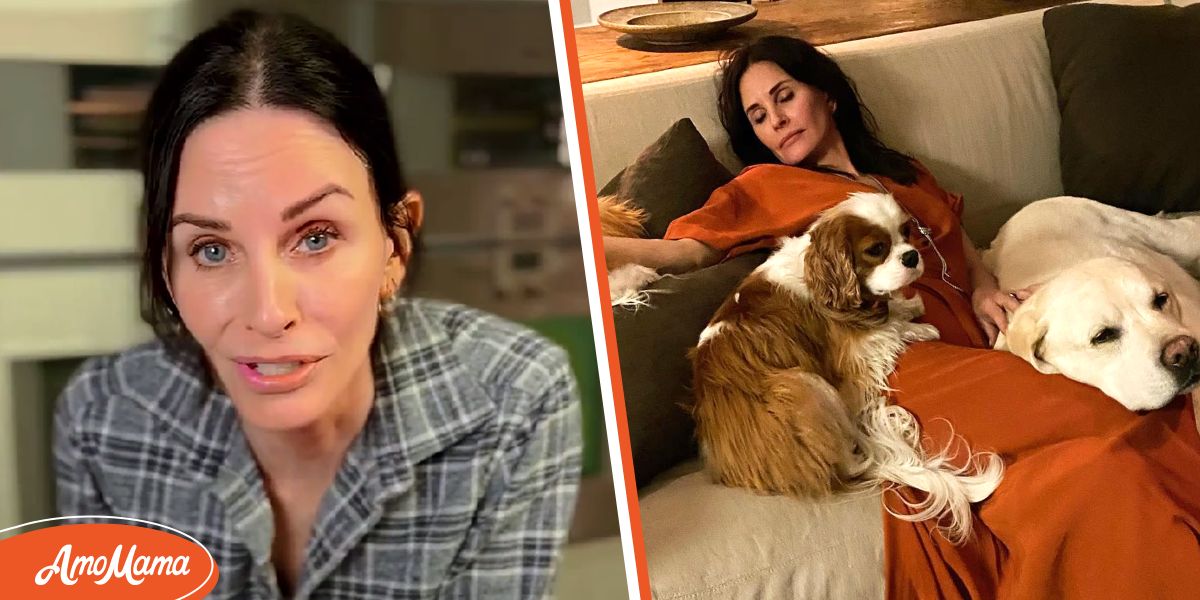 Courteney Cox has found solace and style in her "modern barn" home in Malibu, California.
Cox has a deep connection to architecture and home design, and her residence reflects her passion for creating a space that's both elegant and welcoming.
With her daughter off to college, Cox lives with her dogs in this private haven where she finds peace and comfort.
Courteney Cox, the beloved actress and co-founder of Homecourt, has been a prominent figure in Hollywood for decades. Her journey from an aspiring architect to a household name has been a remarkable one.
Before Cox became a household name in Hollywood, her dreams were set on an entirely different path. The actress, best known for her iconic roles in "Friends" and the "Scream" series, once harbored ambitions of becoming an architect. However, her journey took a different turn as she ventured into modeling and eventually embarked on a career in showbiz.
Despite her initial aspirations, Cox's love for architecture and design never waned, and she made sure to infuse her personal touch into her home. It's a fascinating twist in her journey, considering her deep connection to the world of design and home decor.
She is a proud owner of a magnificent home in Malibu, California, where she lives with her dogs and shares her passion for architecture, design, and living life to the fullest. As a proud host, actress, and entrepreneur, Cox has opened her heart and home to new and old friends, forging connections and creating unforgettable memories.
From Aspiring Architect to Hollywood
In the early days, Cox started college coursework in architecture, but fate had other plans for her. After a summer of modeling jobs in New York and a few gigs, including a New York telephone ad, she decided to postpone her college education to explore the world of entertainment.
This choice would catapult her into stardom, leading her to endorse major brands in magazines and commercials and end up becoming a familiar face on "Friends."
Apart from her acting career, Cox is also a co-founder and lead investor of Homecourt, a sleek line of household products. It's her way of filling her time as an empty nester now that her daughter, Coco, is in college. They maintain their connection through FaceTime calls, which sometimes include their dogs, and though their reunions aren't as dramatic as expected, Cox says:
"I miss that girl every minute."
Cox's strong sense of community and hospitality shines through her character. When she moved to California and felt the absence of family, she decided to create her own community. For the past 25 years, she has opened her home almost weekly for casual dinner parties, welcoming both old and new friends.
The gatherings have become a cherished tradition, creating an environment where people can bring friends along, expanding the circle. It was at one of these gatherings that she met her partner of 10 years, Johnny McDaid, a musician and a member of the rock band Snow Patrol.
Courteney's Private Sanctuary
Cox's home in Malibu, California, is a testament to her love for design and architecture. Despite not becoming an architect, she's made sure to put her personal stamp on the house, which has hosted notable figures like Ed Sheeran, Taylor Swift, Prince Harry, Sacha Baron, and Brandi Carlile.
It's not just her impeccable sense of hospitality that makes this place special; it's also the privacy it affords her. Her famous purple apartment from "Friends" may have inspired interior design for years, but Cox's real-life style is equally impressive.
Her home is a blend of midcentury-modern silhouettes and layered textures, embodying the essence of California cool. Cox herself avoids pigeonholing her style into a specific aesthetic, instead prioritizing personality in her decor choices.
"This is a house I'll never move from—it really is so special to me," Cox says with a sense of genuine affection. Her current home offers sweeping ocean views, a stark contrast to her previous residence, which was level with a public beach. The previous home, designed by modern architect John Lautner, left her feeling constantly exposed. She recounts:
"I couldn't take a walk without having my picture taken."
With her new home, Cox sought a different path. She wanted it to resemble a "modern barn." The traditional shape and rich brown color of the house, chosen by the previous owners, didn't entirely align with her taste.
Actress Laura Dern recommended architect Michael Kovac, and her friend Trip Haenisch handled the interior design. The result is a simple, elegant design with bronzed-steel trim, white walls, and wood floors. It's a manifestation of Cox's vision, where less is more.
Courteney Cox's Exacting Vision
Cox's involvement in her home renovation was not superficial. She displayed a level of involvement and exacting detail that left a strong impression on her collaborators. Weekly planning meetings, lasting three hours, were intense and focused. She had specific ideas for every aspect, down to the color of the tennis courts.
When the tennis court surface company representative presented ten stock colors, none met Cox's expectations. She took it upon herself to create the perfect color by mixing pigments, involving everyone on the building team. This level of exactingness impressed her collaborators, who found her passionate and clear about her vision while being open to suggestions.
Living the Dream with Family and Friends
Cox's strong connection to family and her passion for building a community has always been a part of her life. She fondly remembers growing up with 20 first cousins and Sunday afternoon family gatherings at her grandmother's house.
That tradition has lived on as she has been hosting family-and-friends gatherings for years, with Sunday dinners complemented by karaoke sessions. The sense of openness that permeates her gatherings extends throughout her home. Glass walls allow natural light to flood the rooms, creating an inviting atmosphere.
Her master bedroom opens onto a deck with a view of the water, further blurring the lines between the outdoors and indoors. Artwork by prominent artists like Harland Miller, Massimo Vitali, and Kent Williams adds color and humor to the living space. Cox's home is a reflection of her preferences and desires.
In a recent Instagram Stories post, Cox shared a previously unseen corner of her home, showcasing the abstract artwork and plants that breathe life into her white-walled space. The bathroom, as one would expect in a celebrity's home, exudes luxury with marble accents.
In Cox's living room, a calming neutral color scheme dominates, with cream sofas adorned with chocolate-colored cushions. Artwork, vases of fresh flowers, table lamps, and accessories complete the decorative touches. Her kitchen, modern and stylish, boasts pale grey cabinets, white countertops, and open shelving that displays kitchenware and accessories.
The spacious two-acre garden includes a terrace with sun loungers, providing a space for relaxation and enjoyment of the Californian weather. The outdoor kitchen and dining area next to the pool offer a perfect spot for entertaining.
Cox has indeed crafted a space where her vibrant personality shines through every corner. Her journey from aspiring architect to Hollywood star and her dedication to creating a loving community has culminated in a home that reflects her essence. It's a place where simplicity meets style and where her heart truly resides.
Read More: World News | Entertainment News | Celeb News
Anomama