February 26, 2023 – 17:00 GMT Laura Benjamin England footballer Ellen White has expressed her joy as she shares glimpse of her baby bump for the first time in this HELLO! exclusive

Pregnant Lioness Ellen White and her husband Callum Convery have taken part in an exclusive interview and photoshoot with HELLO! magazine, with the champion striker talking about how excited she is to welcome the couple's first child.
The baby will be the first one welcomed by a member of the England women's football team since they won the Euros last summer, with the new addition expected to arrive in April.
WATCH: Relive the moment the Lionesses won the Euro 2022
"We're super-excited about being parents; it's something we've spoken about for so long. We are nervous to be in charge of a tiny baby, but we'll make a really good team and we'll figure it out ourselves," she said.
"It does feel a bit more special that it's the team's first baby since the Euros. We don't know what sex it will be, so I think everyone's really hoping for another Lioness, but we'll be delighted either way."
And she revealed how her teammates can't wait to meet the new baby when it's born.
MORE: Lioness Rachel Daly and teammate Millie Bright reveal all about their close friendship
"They were really happy when we told them," Ellen, who announced her retirement from football in August, one month after the Euros victory, said. "The ones I'm closest to knew how much we wanted to start a family so everyone was excited for us.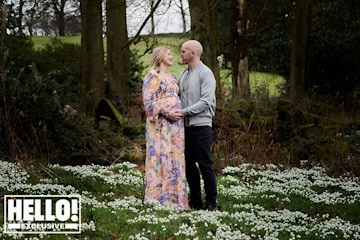 Ellen White and her husband Callum are expecting their first child
Referring to Millie Bright, Beth Mead and Rachel Daly, Ellen added: "I think Millie, Rachel and Beth are looking forward to being aunties and meeting the baby. Will they be godparents? I don't know; I'll see how good they are when the baby comes out."
Ellen also tells HELLO! how she has enjoyed relaxing into her pregnancy and giving up her busy exercise routine after initially experiencing morning sickness.
"At the start I was going on runs but then the nausea overtook and exercise made me feel worse," she explained. "So I listened to my body and took a step back and I haven't been doing a hell of a lot. I think it's actually been good for me, to decompress and relax a bit rather than going at a million miles an hour with football and training."
To read the full article, pick up the latest issue of HELLO! on sale now. Subscribe to HELLO! to get the magazine delivered free to your door every week or purchase the digital edition online via our Apple or Google apps.
Read More: World News | Entertainment News | Celeb News
HelloMagazine