A still-frame from "Horror in the High Desert," | Source: Youtube.com/Luminol Entertainment
"Horror in the High Desert" has left many wondering if the horror film is true due to its bone-chilling scares and the documentary-esque way it was filled. The movie follows the disappearance of an outdoorsman and was inspired by another man who was never found.
Writer and director Dutch Marich is the creative force behind "Horror in the High Desert," a 2021 film shot in a pseudo-documentary style with found footage elements and follows the mysterious disappearance of an outdoors enthusiast in the High Desert region of Nevada.
Nevada has developed a reputation for being the site of multiple conspiracy theories, and its eerie, vast lands and dark wilderness tied well with the movie's ominous feel.
Is 'Horror in the High Desert' Real?
While "Horror in the High Desert" is not an actual documentary and was only shot to feel like one, the film's plot was partially based on a true story. The film is set in July 2017 and is centered around a character named Gary Hinge, an experienced outdoor enthusiast.
Gary mysteriously vanishes while on one of his outdoor hikes in the wilderness, triggering an extensive search for his whereabouts. However, the horror movie's protagonist is never found.
Instead, on the third anniversary of his disappearance, actors who play Gary's sister and roommate, as well as a Private investigator and a reporter, give interviews about Gary's chilling case.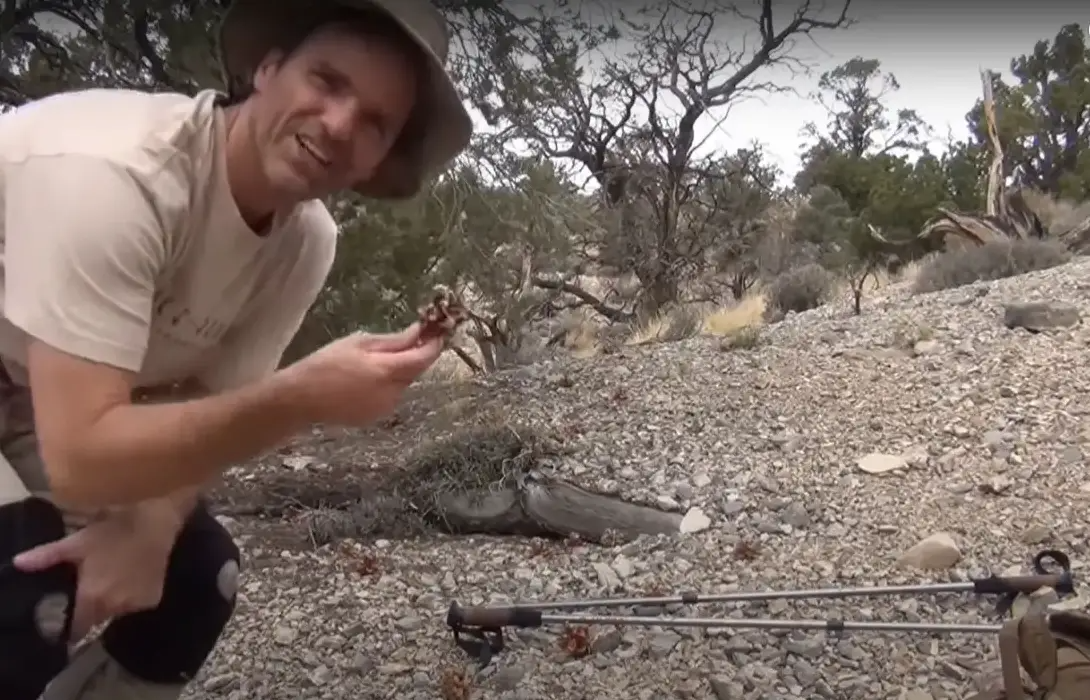 Kenny Veach on one of his hikes. | Source: YouTube/snakebitmgee
Marich's film is partially based on the real-life story of Kenny Veach, who, like Gary, disappeared while on a solo hike. In 2014, Kenny shared a 21-minute video of one of his hikes, which has garnered millions of views in light of his death.
However, unlike Gary, Kenny's girlfriend believed that he had set out into the vast lands of the desert, intending to take his own life. According to his girlfriend, Kenny suffered from depression, and she had a feeling her late partner did not want to be found after committing suicide.
The Ending of 'Horror in the High Desert' Explained
Before he is swallowed into the dark shadows of Nevada's wilderness, Gary documents a scary experience he had in the woods after coming across a makeshift cabin and being followed back to his camping site on his blog.
However, internet users did not believe him, leading the outdoorsman to venture back into the woods for proof. And, on his camera, Gary captures the chilling footage of a disfigured, human-like man holding a machete. The film features many gaps, leaving the audience to fill in the blank.
However, the horror's ending sees the eerie creature believed to have captured Gary, leaving his severed hand clutching his camera at a camping site. Once Gary's story catches the attention of many, internet users vow to find the creature thought to be the cause of Gary's disappearance.
How the Creators of 'Horror in the High Desert' Made the Movie Feel like a True Story
Found footage horror films are a subgenre of horror that dates back to the '60s and is featured in other well-known films such as "Paranormal Activity" and "Cloverfield," starring Lizzy Caplan.
However, Marich takes this subgenre to new heights in "Horror in the High Desert" by featuring believable interviews and reports like ones found in any true-crime show, giving the movie a scary realism.
The movie ends on somewhat of a cliffhanger, leaving viewers in an unnerving state of suspense that the film might be real and that the creature that killed Gary might still be out there.
Read More: World News | Entertainment News | Celeb News
Anomama