In her journey through life and stardom, Joan Collins has seen it all. From the highs of fame and success to the lows of broken marriages, her life has been a rollercoaster of emotions. But through it all, she's maintained a remarkable resilience and a sense of humor that could rival even the wittiest of comedians.
Joan Collins is not just a Hollywood legend but also a style icon. Her illustrious career includes starring roles in movies and TV shows such as "The Girl in the Red Velvet Swing," "The Stud," and the iconic "Dynasty." Beyond her acting prowess, she has penned several books and memoirs, revealing the glamorous and tumultuous aspects of her life.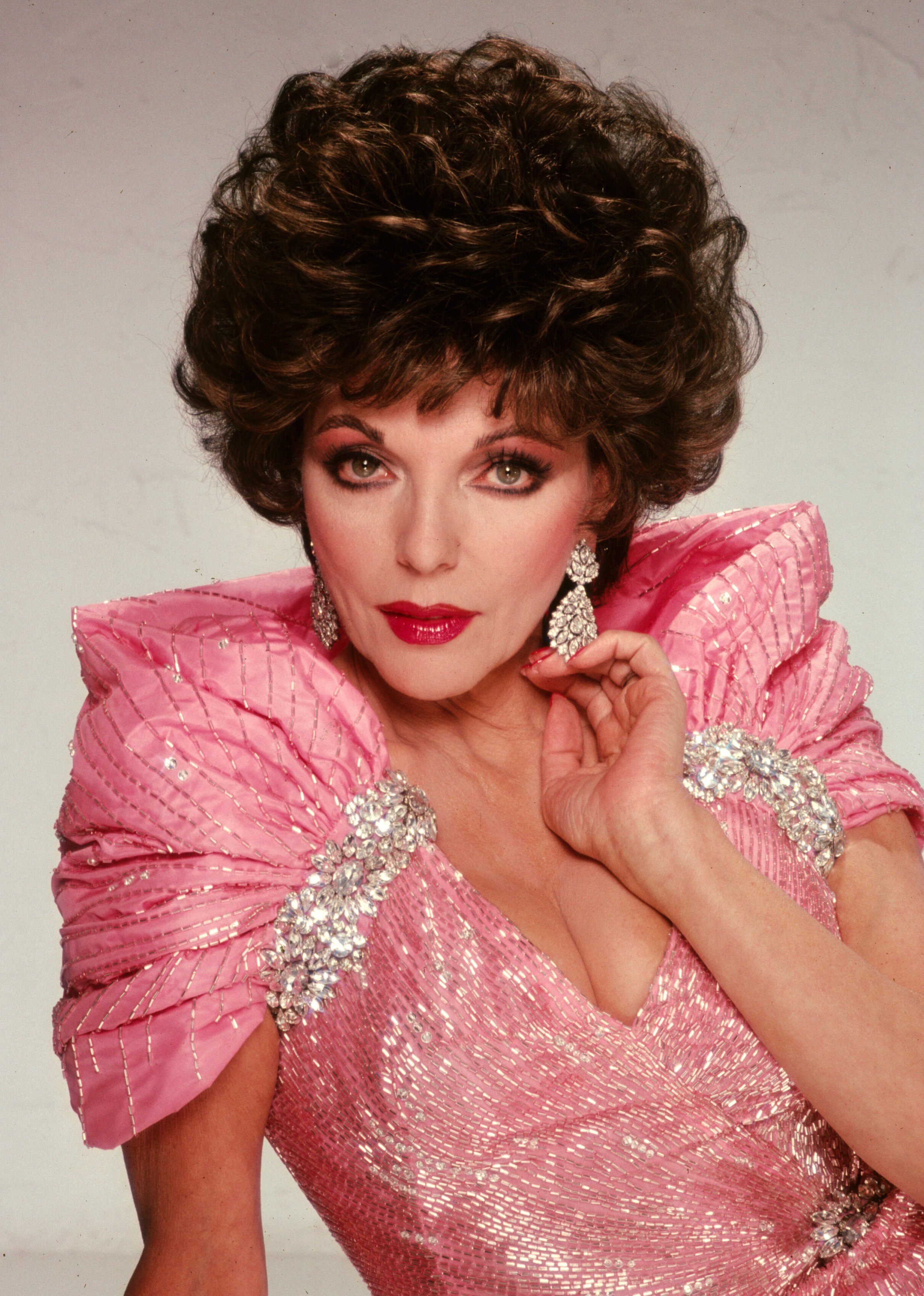 Joan Collins posing for a portrait circa 1987 in Los Angeles, California | Source: Getty Images
One of Collins' most endearing traits is her infectious laughter and her ability to find humor even in the bleakest of moments. Her laughter is like a ray of sunshine, a beacon of light that can brighten even the gloomiest of days.
Yet, behind her dazzling smile and sparkling eyes, there is a story of pain and insurmountable strength. Her journey through marriage is a remarkable testament to her unshakeable spirit. Collins has been married five times, and her first four husbands all failed her in shocking ways.
But Collins, true to her character, didn't see herself as a victim. Throughout her life, whenever she faced adversity or mistreatment by the people in her life, Collins found a way not just to cope but to rise above it. Her great throaty cackle of a laugh remained her steadfast companion, even when the subject matter was grim.
Collins' Nightmare First Marriage
At the tender age of 17, Collins met her first husband, Maxwell Reed, a 31-year-old actor. Their story began in a manner that would shock even the most jaded observer. Having never received sex education, Collins was naive about sex and men. She innocently went on a date with him, and what followed was a disturbing incident that left her scarred.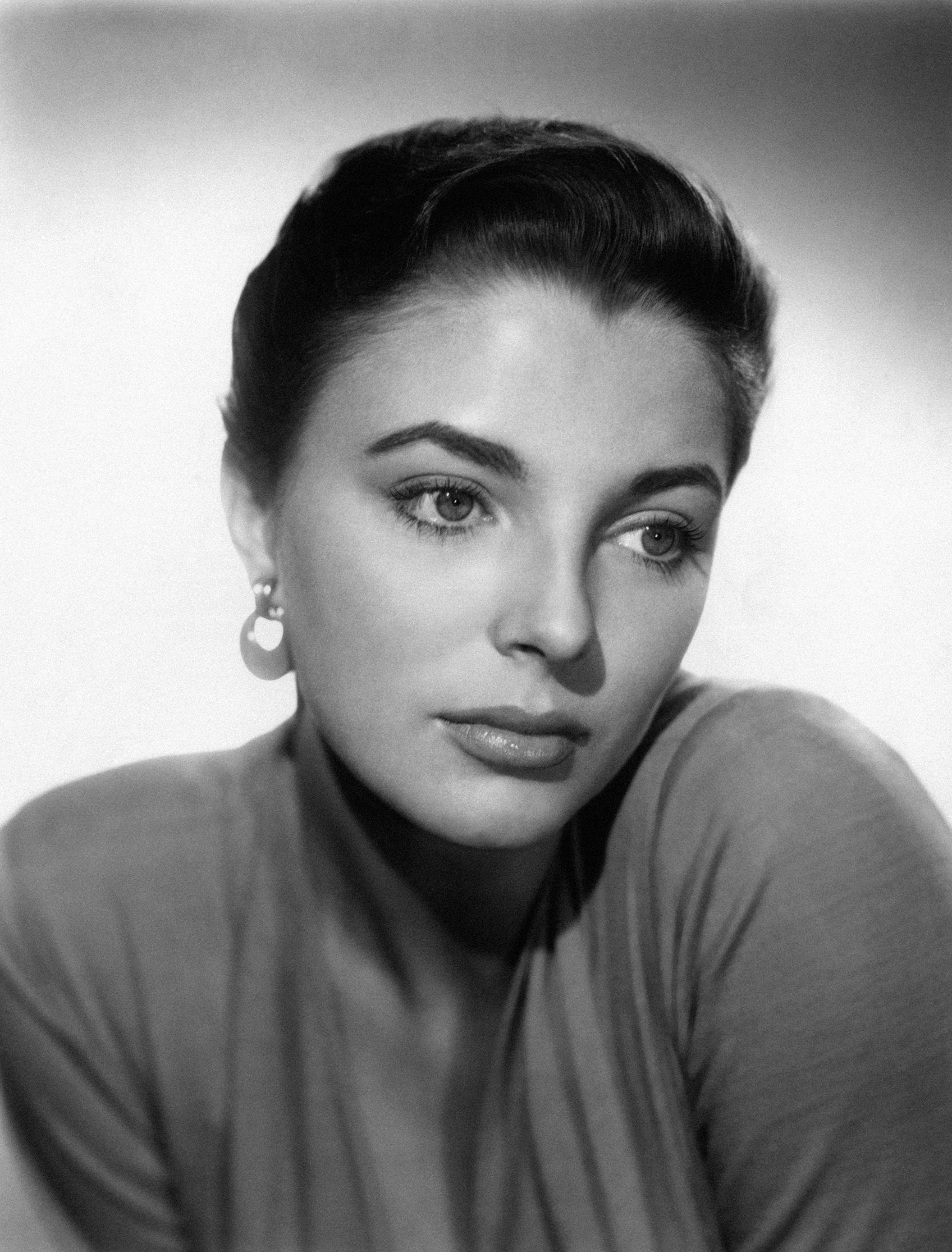 Joan Collins in a publicity portrait for the film "The Good Die Young" in 1954 | Source: Getty Images
Reed took advantage of her innocence after spiking her drink. And though she was traumatized by the assault, she felt pressured due to the social norms of the time. Astonishingly, Reed went on to become her first husband. When asked about this perplexing union, Collins responded with her characteristic candor:
"I come from a generation where if you're going to have sex, you get married."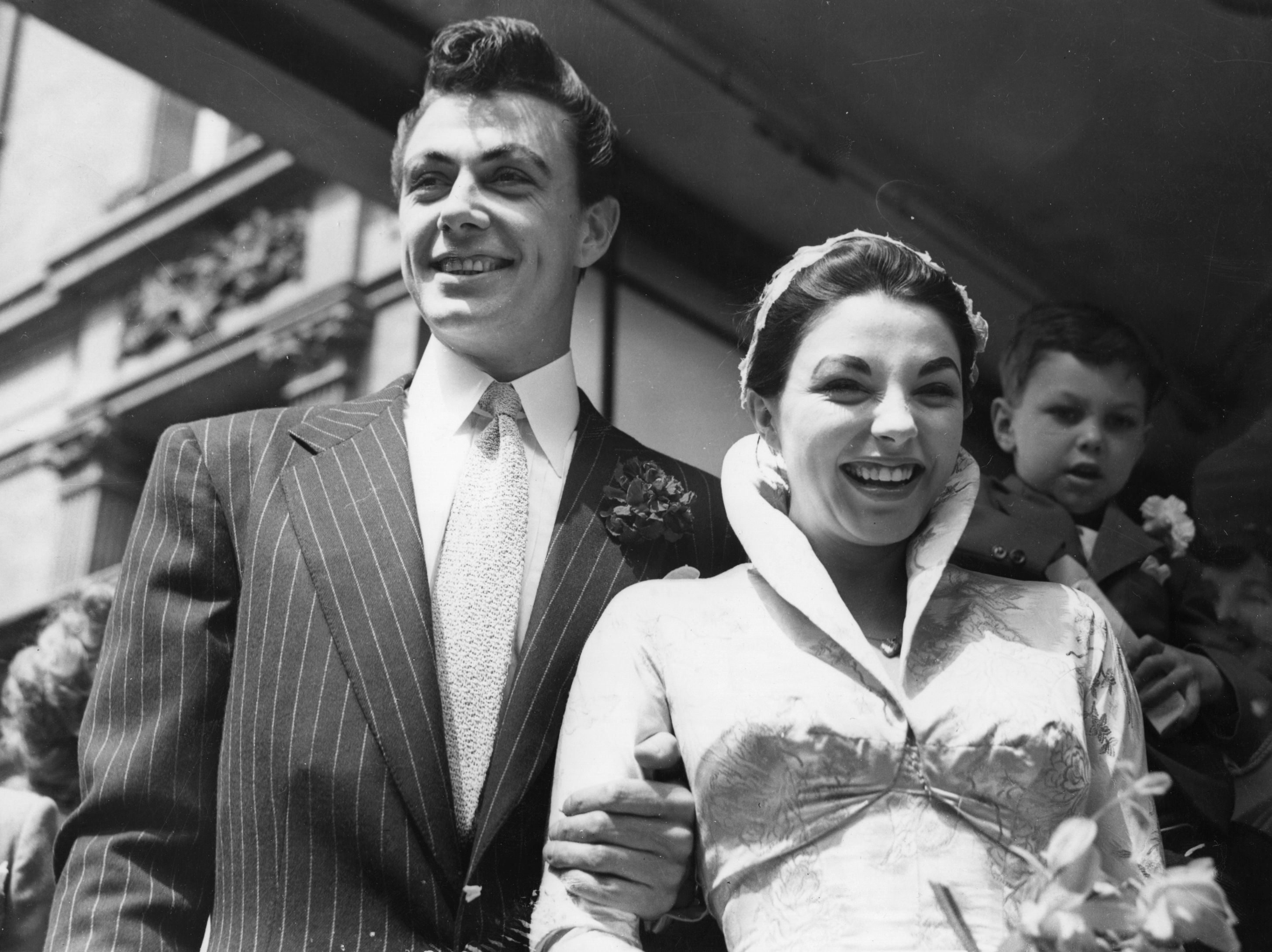 Maxwell Reed and Joan Collins on their wedding day | Source: Getty Images
The marriage was a nightmare from the start. Reed was abusive, unfaithful, and greedy. Their marriage took a disturbing turn when she discovered that he was trying to sell her to other men for a price on the condition that he could watch. Collins endured four years of misery before she divorced him four years into their marriage.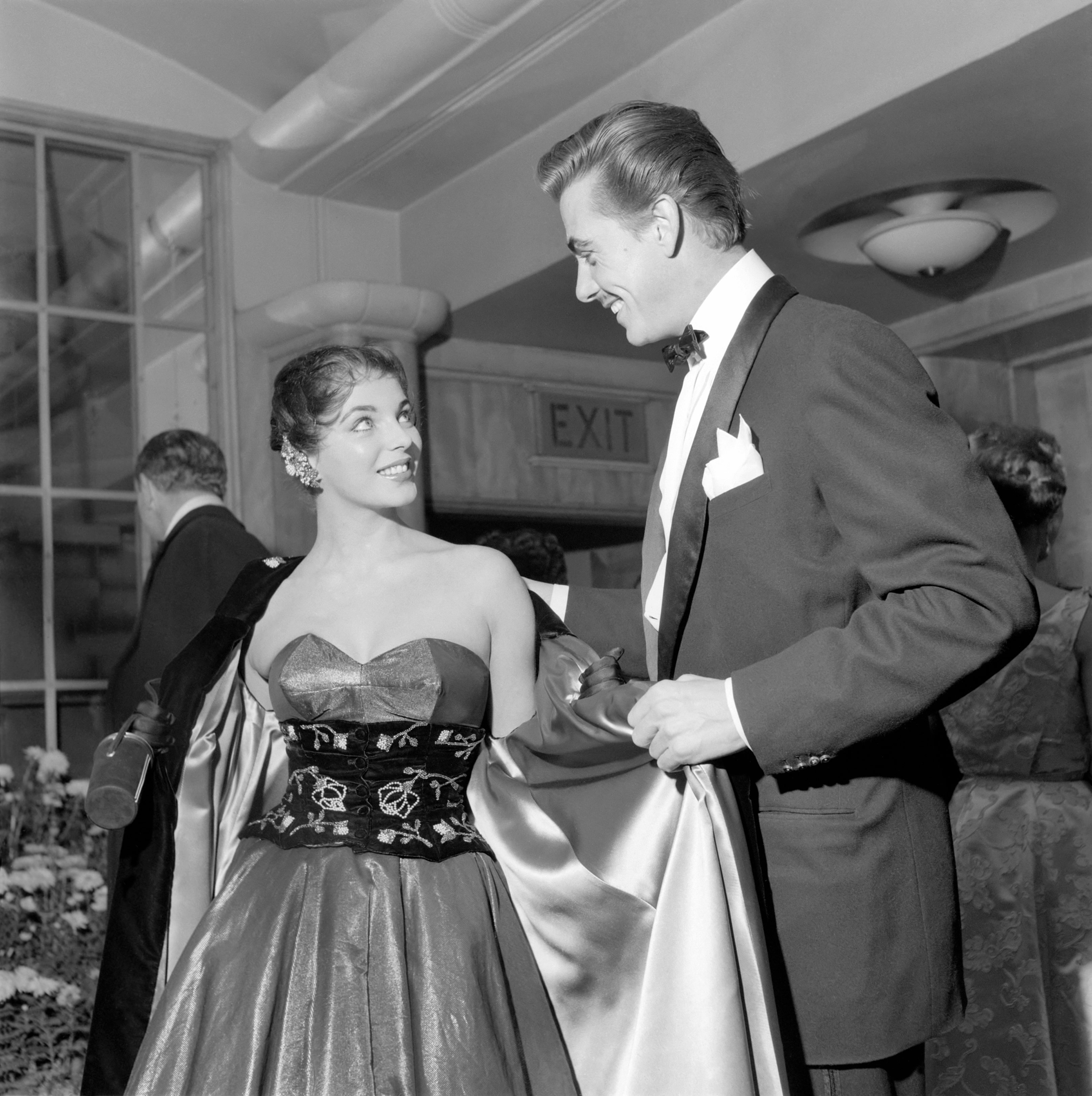 Joan Collins with her then-husband Maxwell Reed in November 1953 | Source: Getty Images
Joan Collins' Subsequent Marriages
Collins was determined not to get married again, but she ended up meeting and falling in love with Anthony Newley, an actor and singer-songwriter. They married in 1963 and had two children, Tara and Alexander. Collins loved Newley, but he had a dark side. He was a compulsive womanizer who cheated on her with 72 women.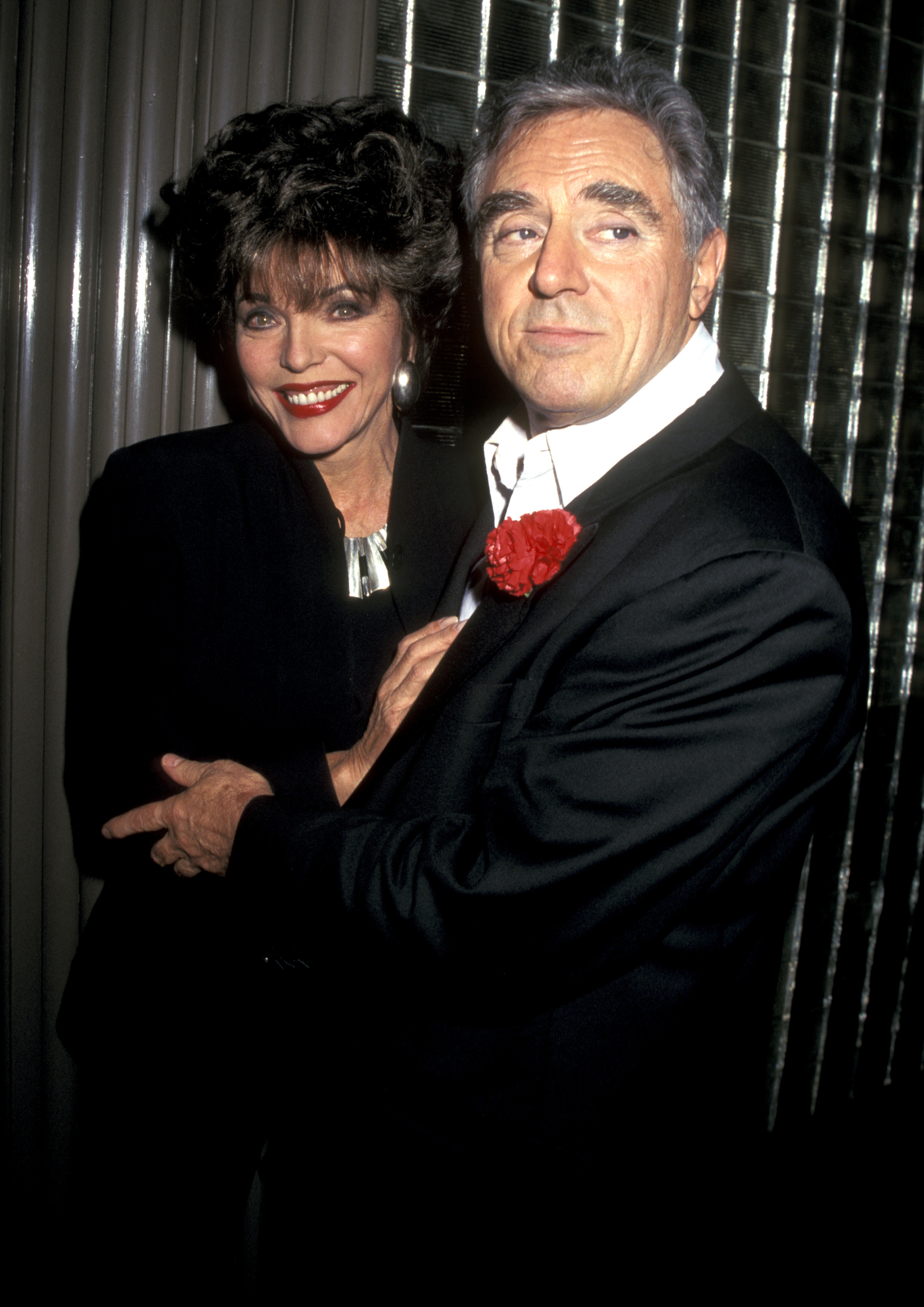 Joan Collins and Anthony Newley photographed during Closing Night of "The Anthony Newley Show" in New York | Source: Getty Images
He also cast Collins in his film "Can Heironymus Merkin Ever Forget Mercy Humppe and Find True Happiness?", a semi-autobiographical story about his sexual exploits. Collins realized that the film was a confession of his infidelity and that their marriage was doomed. They divorced in 1970.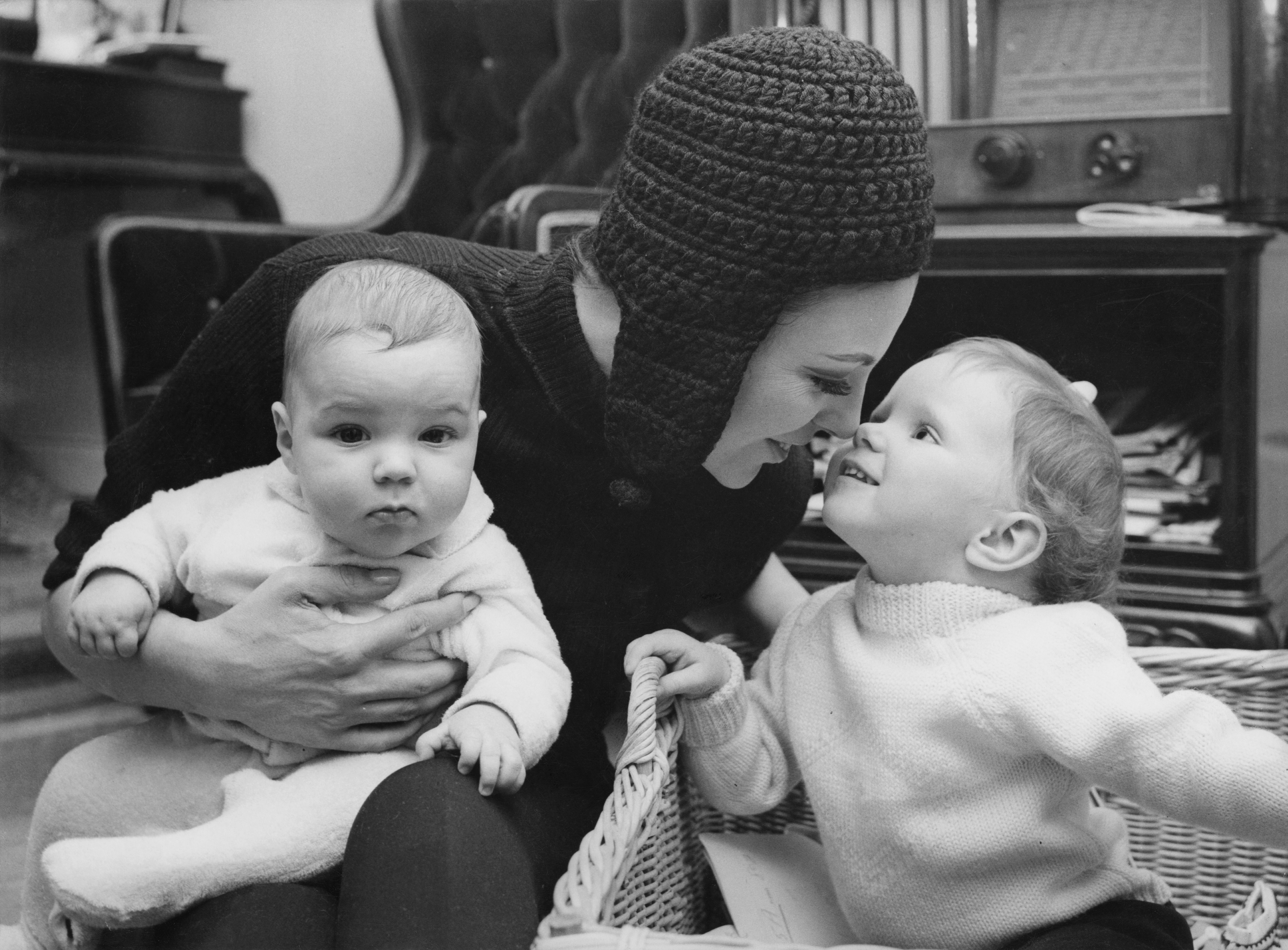 Joan Collins with her daughter Tara Newley (right) and son Alexander Newley, (known as Sacha) in St Moritz, Switzerland, 1966 | Source: Getty Images
Collins met her third husband, Ron Kass, a businessman and former head of the Beatles' label Apple, through a mutual friend. They married in 1972 and had a daughter, Katyana. At first, Kass seemed to be a stable and supportive partner for Collins, but he had a secret addiction to heroin.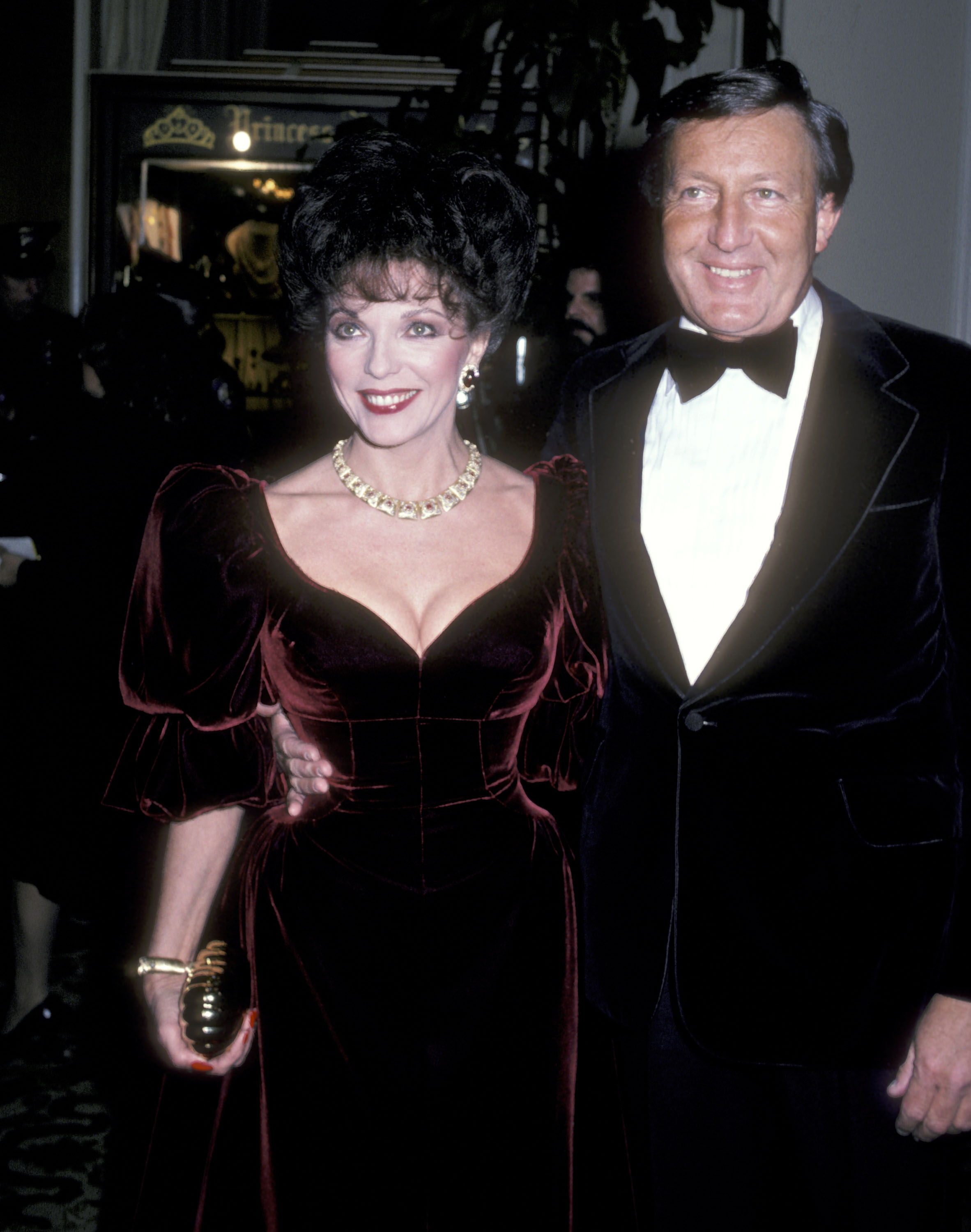 Joan Collins and husband Ronald Kass during the 39th Annual Golden Globe Awards on January 30, 1982 | Source: Getty Images
Their marriage was particularly trying, as he had recently lost his job as the head of the Beatles' label, Apple, and became dependent on her for money to buy drugs. In 1985, Collins married her fourth husband, Peter Holm, a former pop star from Sweden.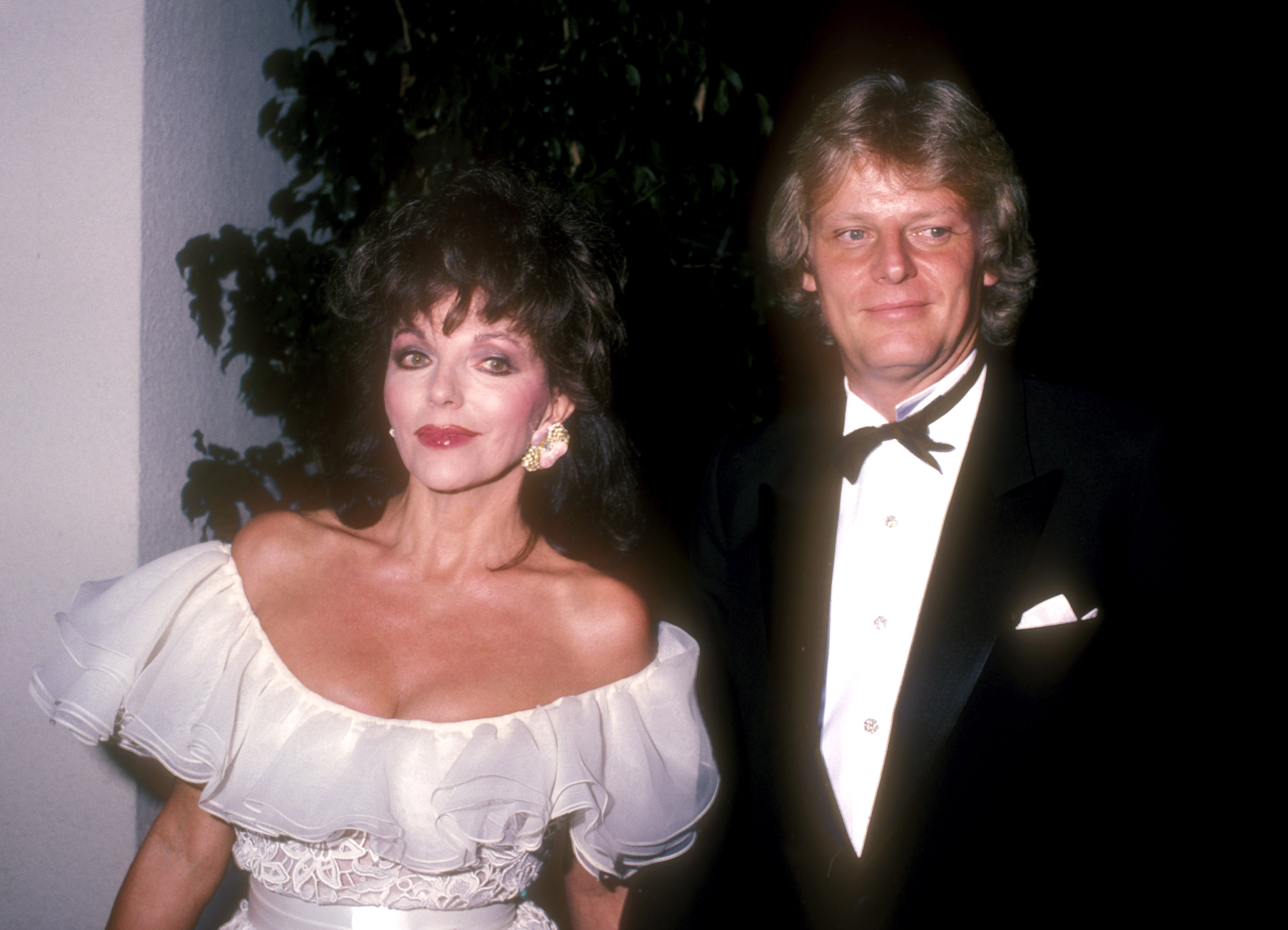 Joan Collins and Peter Holm (The Swede) during Nolan Miller Party on August 24, 1985 in California | Source: Getty Images
She was at the peak of her fame and fortune, thanks to her role as Alexis Carrington on "Dynasty". Holm seemed to be a charming and handsome lover for Collins, but he turned out to be an abusive, money-hungry cheat. Collins refers to him only as "the Swede". They got divorced in 1987, a mere two years after their marriage.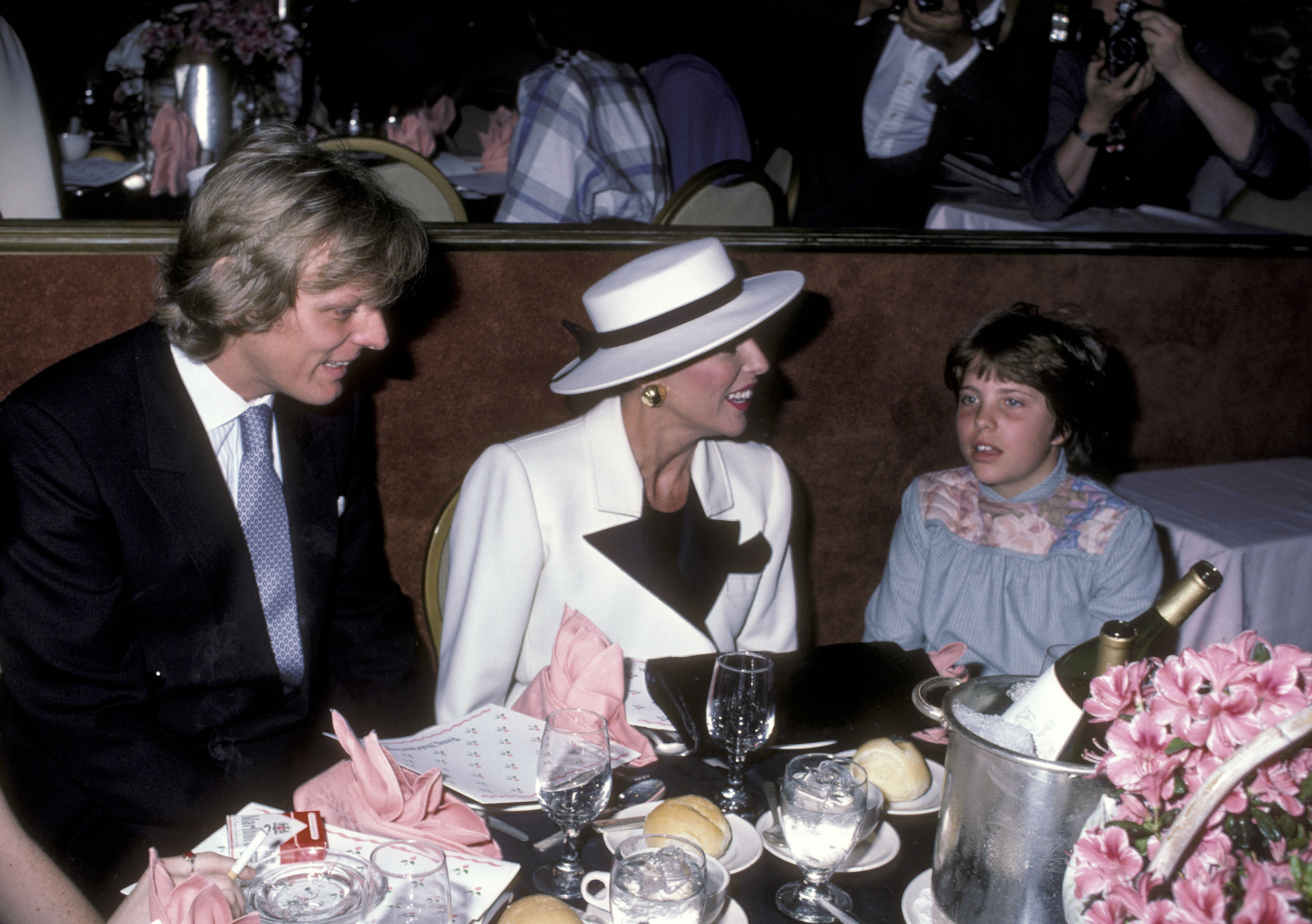 Joan Collins, Peter Holm and her daughter Katyana Kass during a Mother/Daughter Fashion Show on March 8, 1984 in Beverly Hills, California | Source: Getty Images
When she was asked to rank her husbands, she responded playfully by stating, "Well, you know who the best is – I don't have to go there." Regarding the least favorable, she mentioned "Maxwell Reed" as the worst and "The Swede" as the second worst.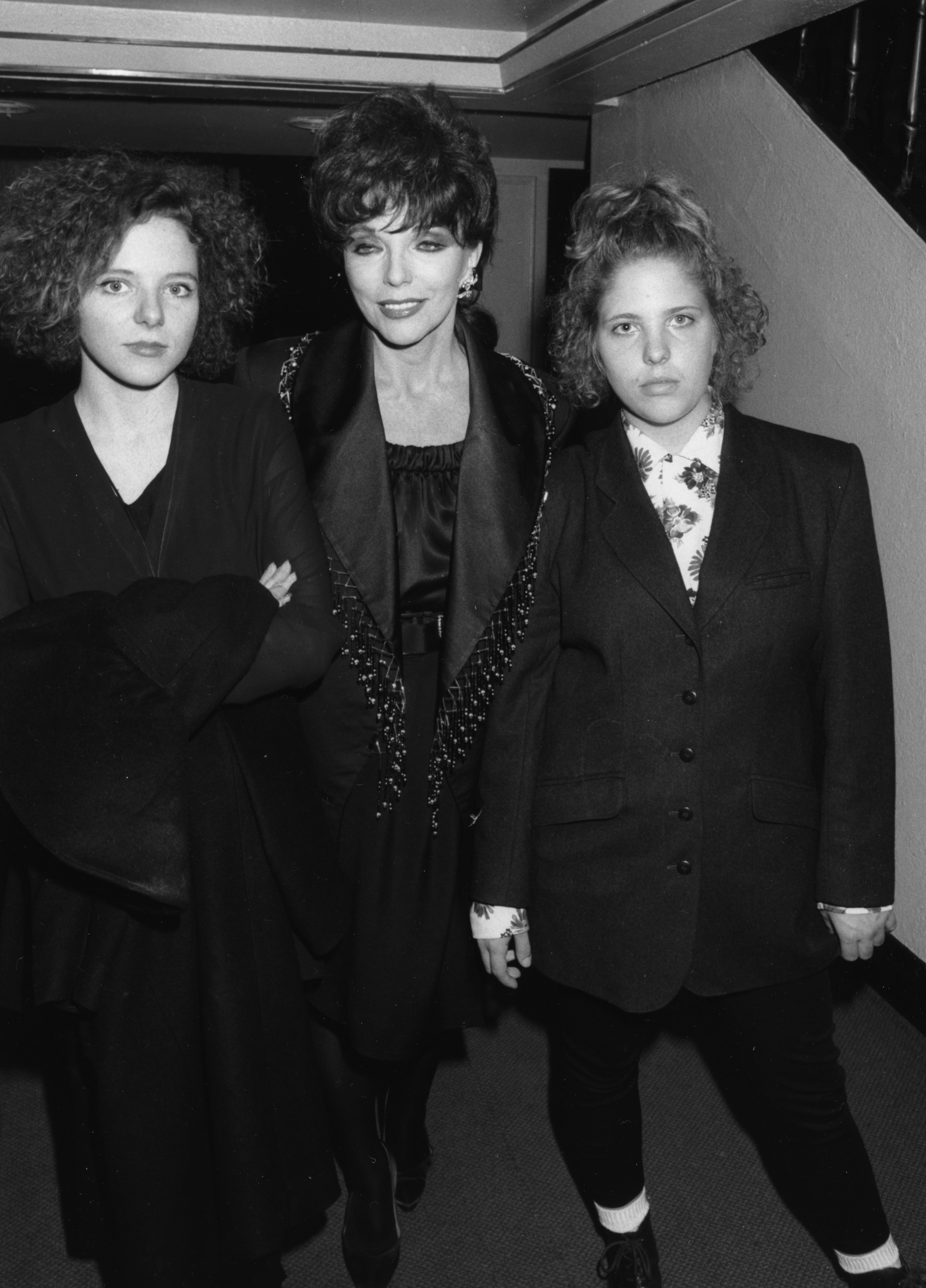 Joan Collins, with her daughters Katie and Tara, attended a performance of her ex-husband Tony Newley's musical in London on October 27, 1989. | Source: Getty Images
The rest were fathers to her children, a chapter in her life that she doesn't wish to revisit. While sharing all these experiences, Collins maintained her sense of humor. When asked if she's met many fools in her life, the quirky Collins quipped, "I've married too many of them!"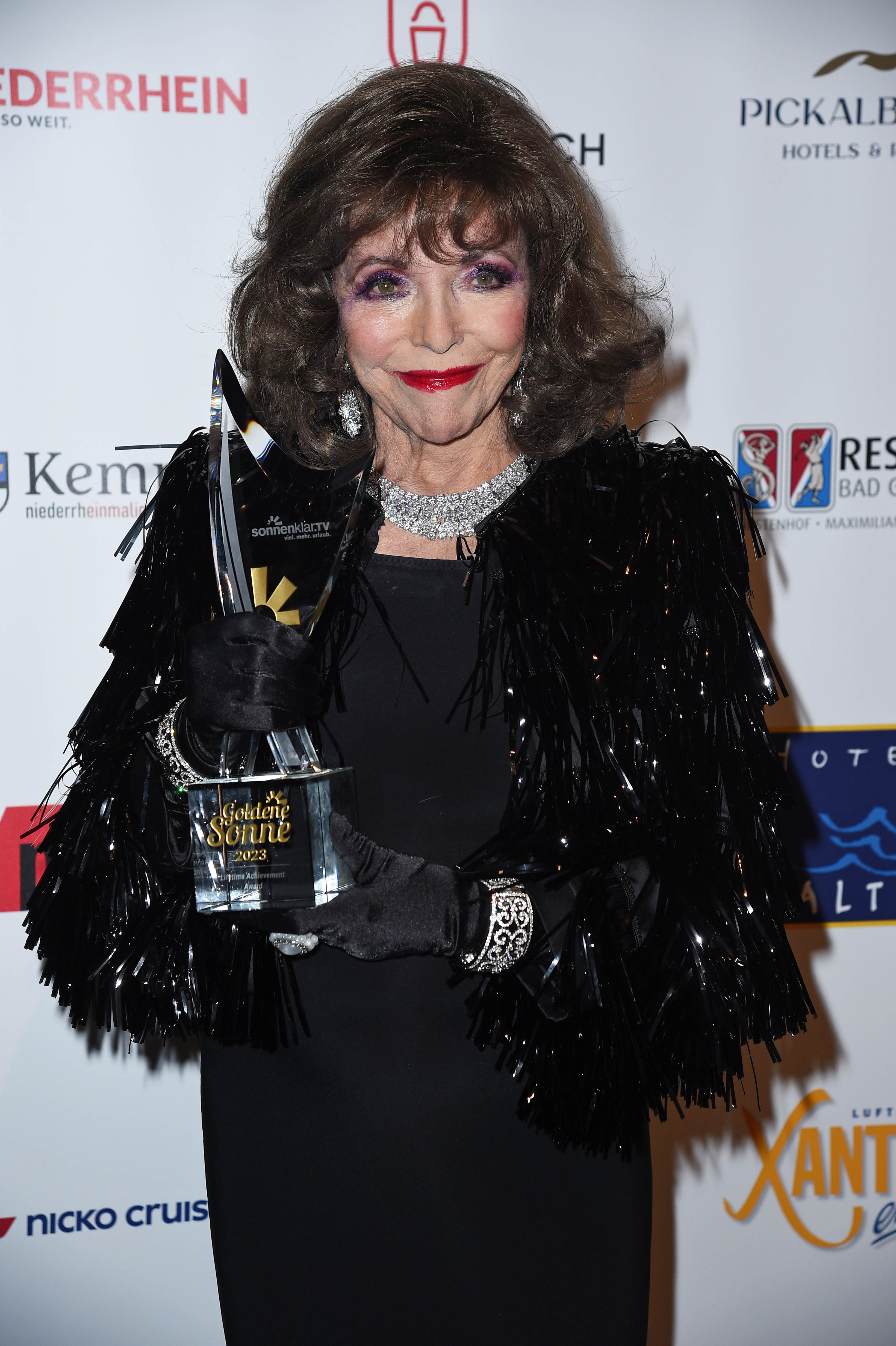 Joan Collins during the Goldene Sonne Award 2023″ on April 22, 2023 in Kalkar, Germany Source: Getty Images
The Love That Stood the Test of Time
After her four disastrous unions, Collins swore off marriage for good. But amidst all the ups and downs, Collins found her lasting love in her fifth marriage. Their love story began when they met in New York, where Collins was doing a book signing and about to tour with George Hamilton.
Collins' assistant pointed out two men to her, and they introduced themselves as Max, the stage manager, and Percy Gibson. Collins playfully told Max, "You look very young," to which Gibson responded, "What about me? Am I young??" Joan's reply? "You'll do." Gibson, charming and youthful, caught her eye.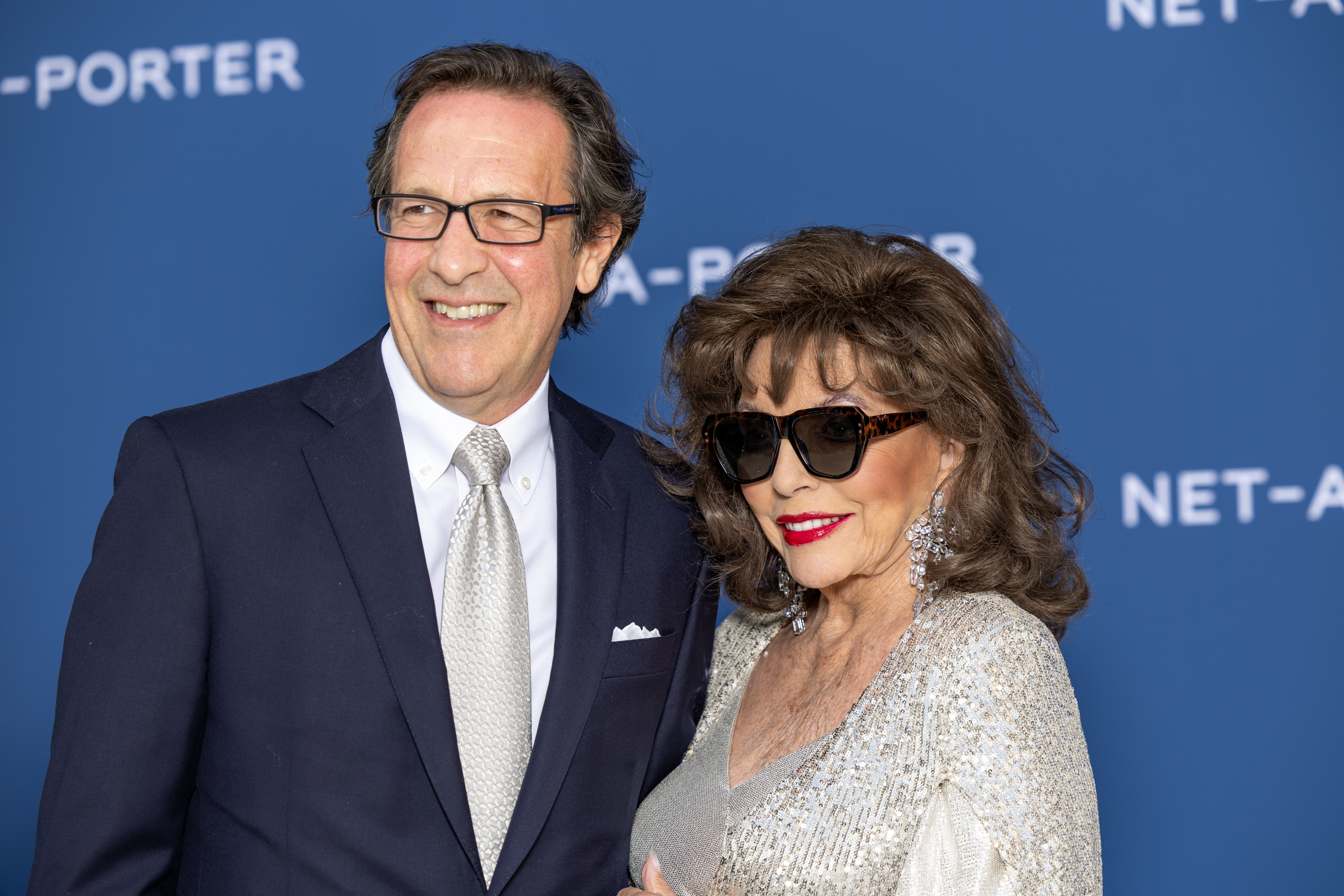 Percy Gibson and Joan Collins at the V&A 2023 Summer Party on June 21, 2023 in London, England | Source: Getty Images
They hit it off instantly and became great friends before they got involved romantically. Collins was attracted to Gibson's kindness, humor, and intelligence. When asked if she considered Gibson as the absolute love of her life, she said: "He's just so wonderful and so kind and so loving and giving."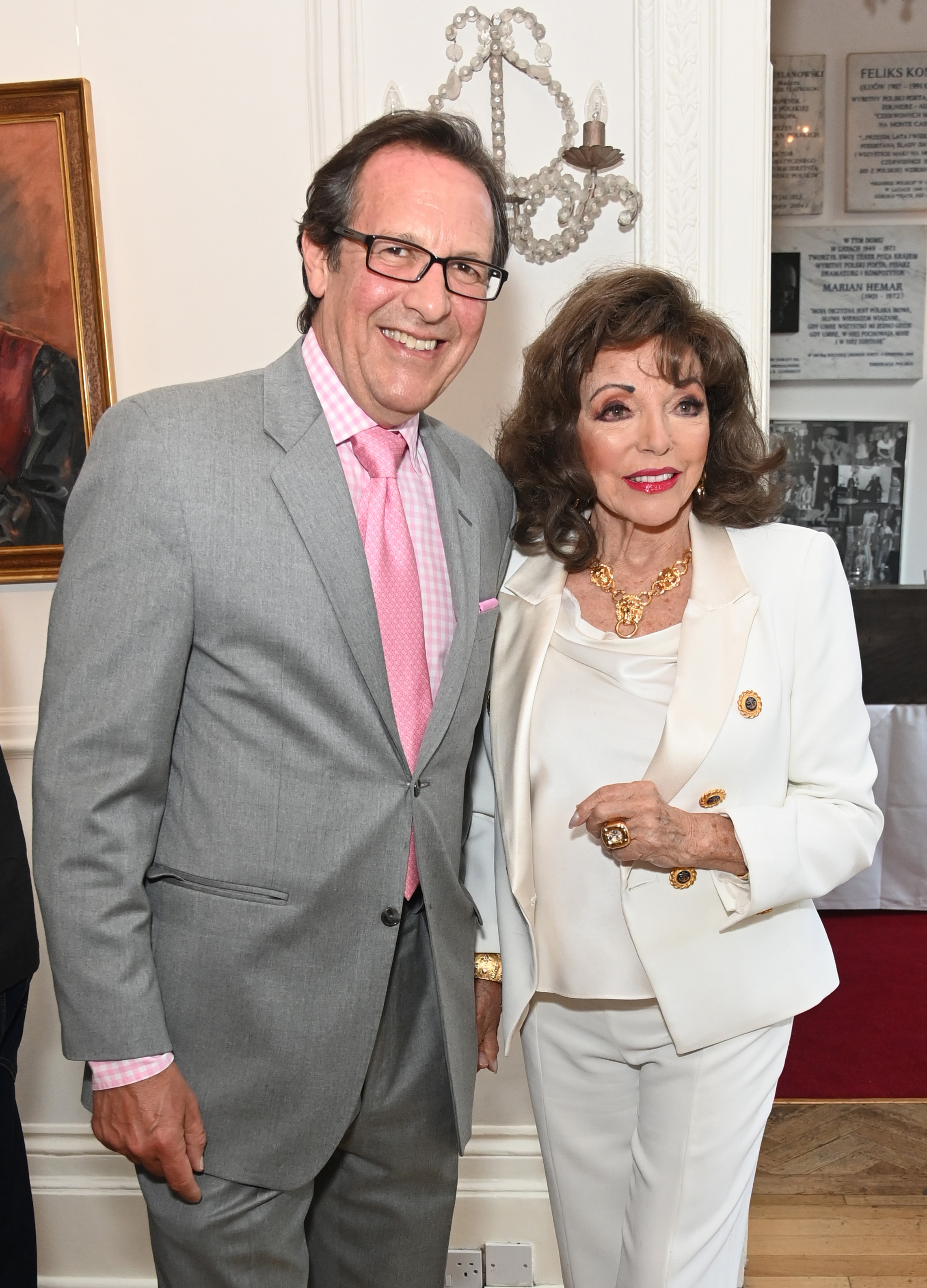 Percy Gibson and Joan Collins attend a book launch on June 8, 2023 in London, England | Source: Getty Images
In a different interview, when the interviewer complimented Collins' personality and laugh, she stated, "That's what Percy said when he fell in love with me." Gibson and Collins married in 2002 at Claridge's Hotel in London, where they also had their wedding anniversary party on February 17, 2022.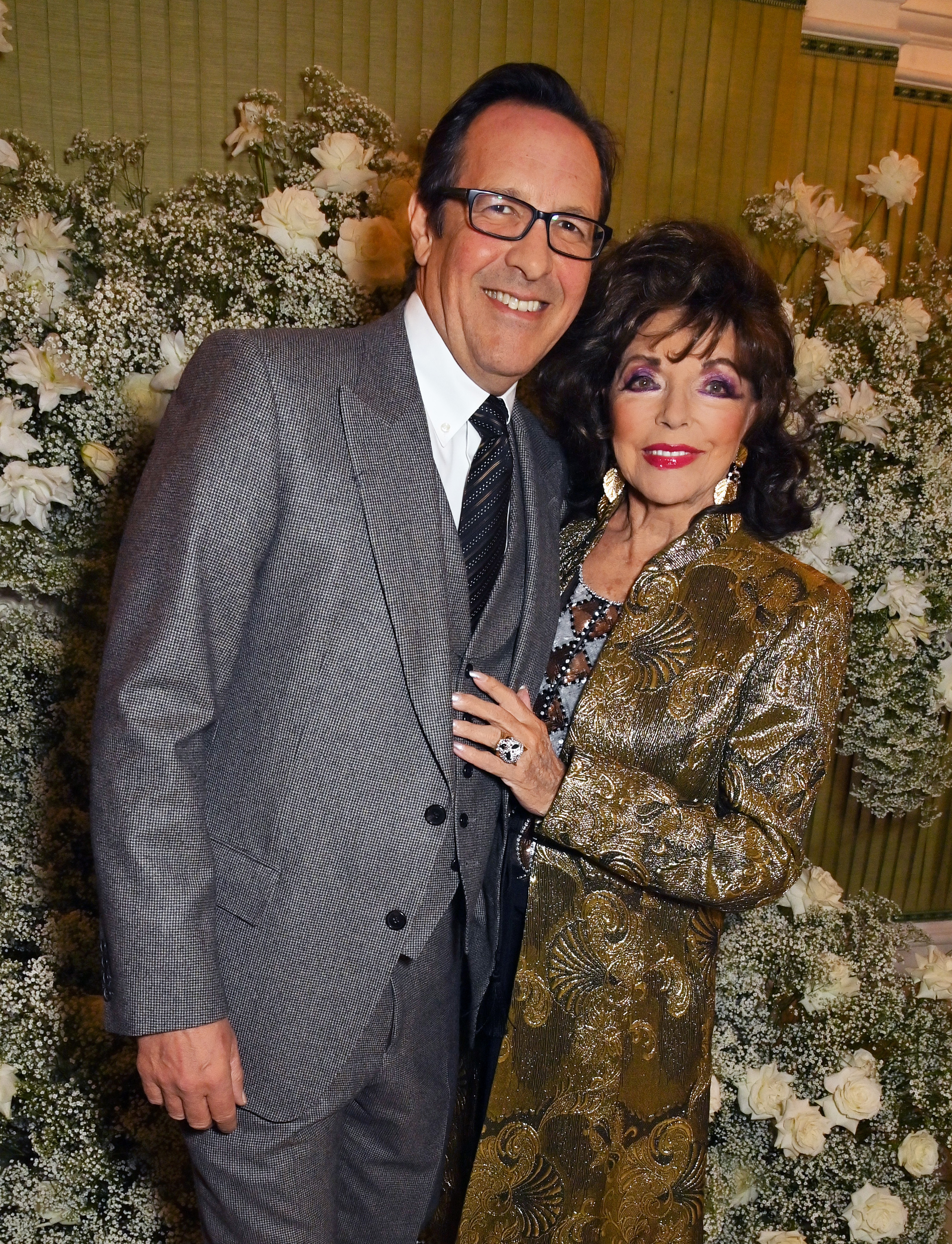 Percy Gibson and Joan Collins at the British Vogue And Tiffany & Co. Celebrate Fashion And Film Party 2023 on February 19, 2023 in London, England | Source: Getty Images
They have been married for 21 years now, which is the same amount of time that Collins was married to her other four husbands combined. They have overcome the 32-year age gap and the media scrutiny with their strong bond and mutual respect.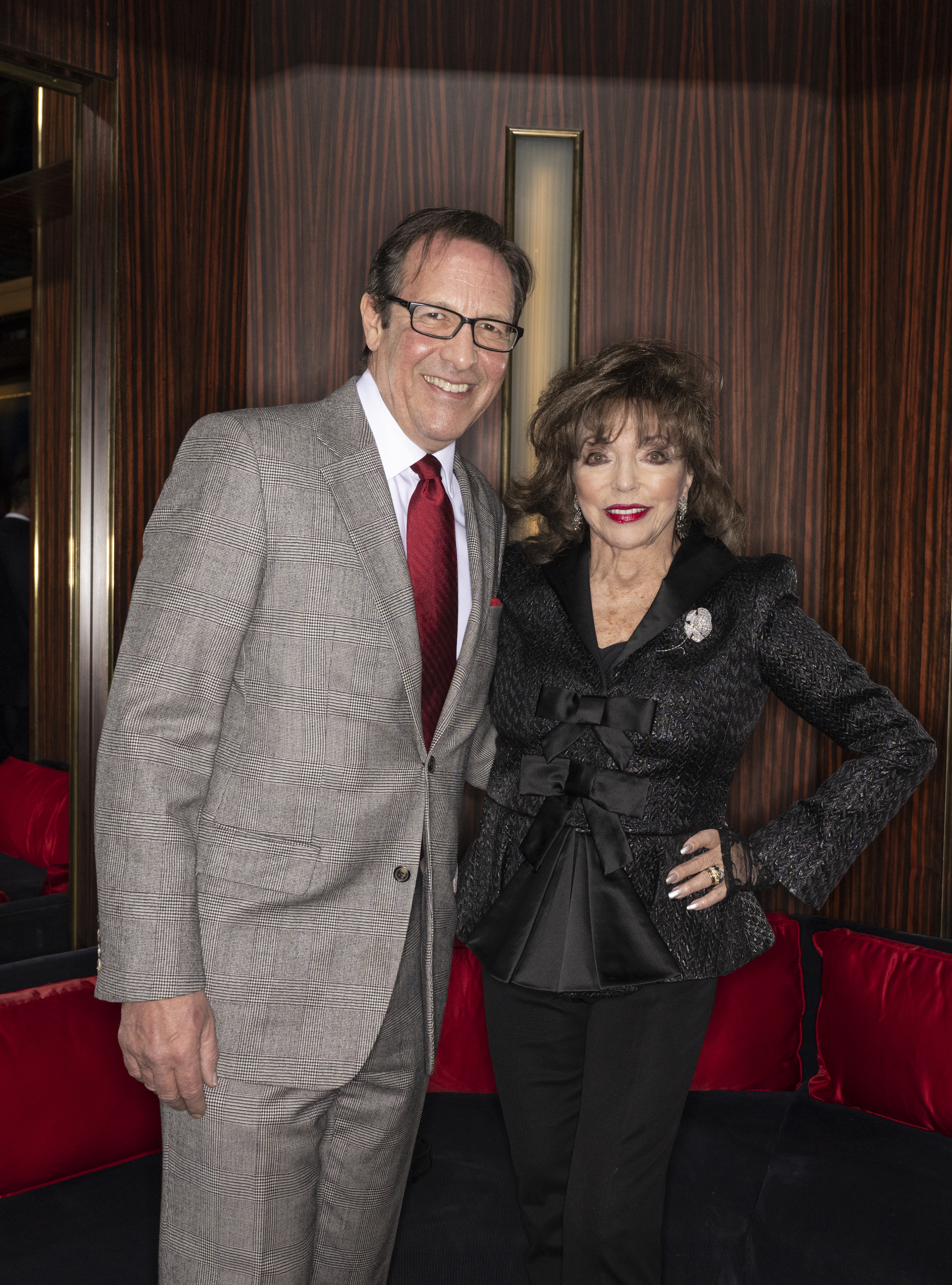 Percy Gibson and Joan Collins at the dinner for A Rabbit's Foot presents "Power of Film" on February 28, 2023 in London, England | Source: Getty Images
Collins and Gibson are living proof that love can conquer all. They are happy and content with each other and enjoy their life together. Collins shared, "Oh yes, Percy and I have been married for 21 years, and it's just marvelous." The secret to their lasting relationship, she shared, is that they got to know each other well and started off with a great friendship, which gradually morphed into love.
Collins has had a remarkable life full of highs and lows, joys and sorrows, and has survived abuse and betrayal, but she never gave up hope for finding love. Her patience paid off, and she finally found lasting happiness in her fifth marriage. Besides finding the absolute love of her life, Collins has also achieved fame, success, wealth, and fulfillment.
Despite all the things that life threw at her, Collins has always coped with the challenges and bettered herself. She has never seen herself as a victim but a survivor. Her humor and positive attitude are admirable.
Read More: World News | Entertainment News | Celeb News
Anomama