People from the entertainment industry have paid tribute to the empowered, phenomenal woman that was Rosalynn Carter. Marlon Thomas, Barbra Streisand, and Katie Couric are only some of the many who have spoken out amidst Carter's death.
Former First Lady Rosalynn Carter was a passionate humanitarian even after her husband Jimmy Carter's term as US President. Her genuine love and care for those around her made her special not only to those she helped but also to those whom she encountered through her many initiatives.
The former First Lady died at the age of 96. She is survived by her husband Jimmy, their children Jack, Chip, Jeff, and Amy, and their 11 grandchildren and 14 great-grandchildren.
It isn't just the Carter family mourning the loss. The rest of the world mourns with them after losing such a phenomenal woman.
Barbra Streisand was one of those who paid tribute to Rosalynn upon hearing of her death. "How many marriages last 77 years? What an amazing couple," she noted.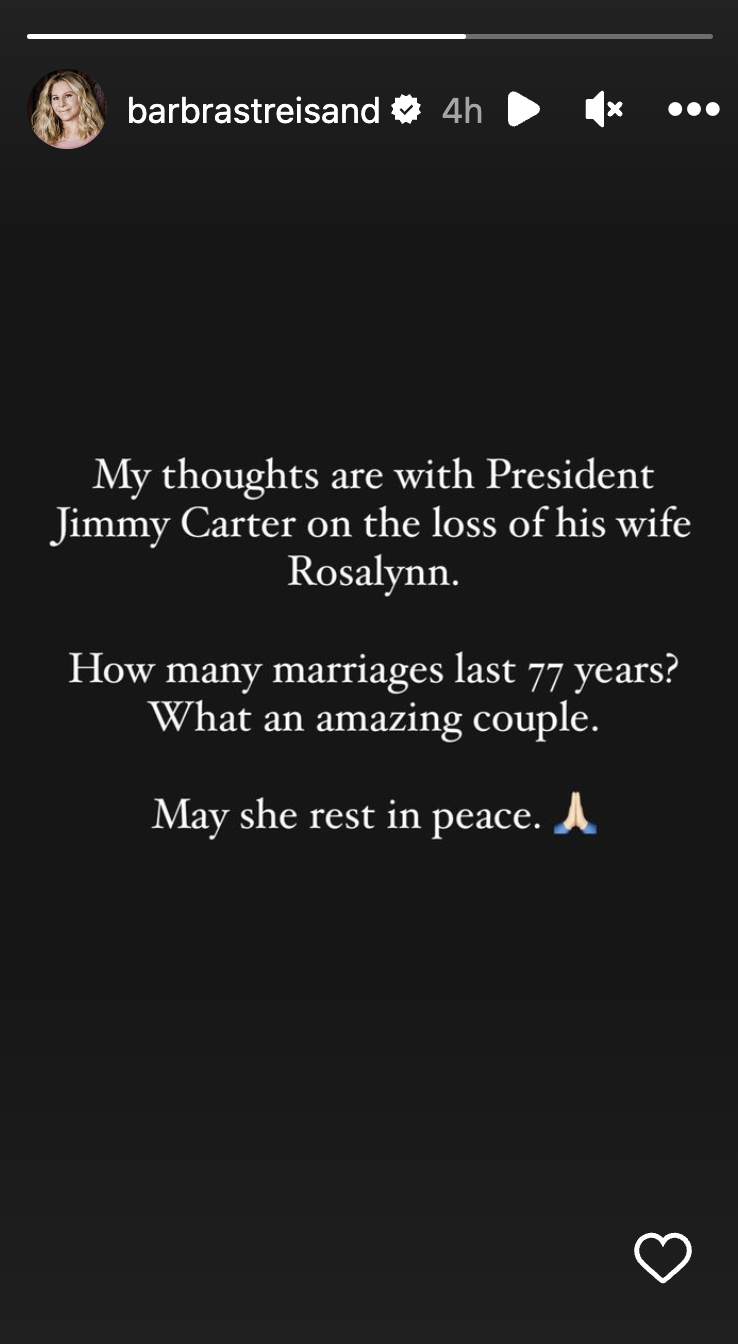 Barbra Streisand's tribute to former First Lady Rosalynn Carter | Source: Instagram.com/barbrastreisand
Rosie O'Donnell paid tribute to Rosalynn as an "amazing woman." Jamie Lee Curtis thanked the former First Lady for her "kindness and grace."
Rosalynn was a mental health champion. Loni Love and Katie Couric wanted to highlight this fact in their tributes, which remembered the late humanitarian for her contributions to public service.
Mika Brzezinski celebrated Rosalynn as a woman "ahead of her time" like her own mother. She revealed that upon hearing of Rosalynn's death, she started to look for photos of the former First Lady at work.
"What a darling woman she was. And a very strong partner to her beloved Jimmy," actress Marlo Thomas penned. As the world mourns Rosalynn, nothing compares to what her husband is currently experiencing.
Through the years, the former President constantly credited his longevity to his wife. "The best explanation for that is to marry the best spouse: someone who will take care of you and engage and do things to challenge you," he once said.
Jimmy and Rosalynn Carter were together under hospice care during their last few months together. Rosalynn suffered from dementia and needed round-the-clock care.
Read More: World News | Entertainment News | Celeb News
Anomama