January 20, 2023 – 22:41 GMT Matthew Moore Nadiya Bychkova wowed her fans during the week with a steamy photoshoot, but it was her boyfriend, Kai Widdrington, who had the best response

Nadiya Bychkova could easily be a goddess with her divine beauty and towering stature, and she wowed fans during the week with a show-stopping photo.
The Strictly Come Dancing professional shared a snap from a recent photoshoot where she showed off her never-ending legs, all while posing in a golden dress that exposed her bare shoulders. The fabric of her frock stretched all the way to the ground as she gave the camera a seductive glance while keeping her arms resting on her legs.
WATCH: Nadiya Bychkova and Kai Widdrington hold hands in sweet video
Nadiya was all glammed up with her makeup and had her blonde locks swept to the side for the photograph.
In her caption, the mum-of-one simply wrote: "Born to shine," alongside a sparkle emoji.
Fans went into meltdown over the image, but it was Nadiya's boyfriend, Kai Widdrington, who had the classiest response, as he simply shared a string of heart emojis.
One follower enthused: "S T U N N I N G!" while a second commented: "Beautiful gorgeous sexy princess."
Nadiya looked gorgeous in the photo
A third posted: "Golden goddess," while a fourth added: "Beautiful babe," and a fifth said: "Regal beauty."
Kai is currently on the Strictly Live Tour, where he will be dancing with Helen Skelton, but when that tour wraps up, he and Nadiya will be heading on their own one.
SEE: Strictly's Nadiya Bychkova sparks fan reaction with rare photos of daughter
Nadiya confirmed the news in a hilarious video, where she channelled her inner 'Yorkshire barmaid' – a character made popular from her time on the show with Dan Walker.
She went on to say: "We are going on tour," at which point Kai popped up from below the desk and said: "Hey up love, tour starts in May and goes all round UK".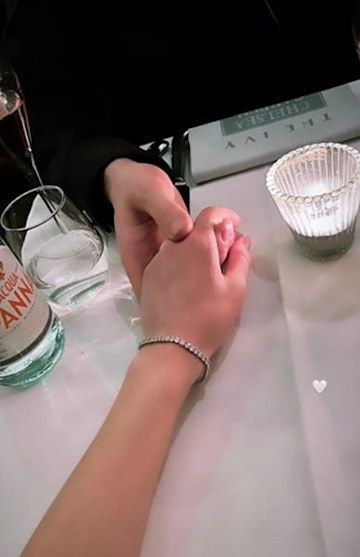 The pair confirmed their romance last year
Rallying behind the dancing duo, Dan captioned the entertaining clip: "Big #YorkshireBarmaid news… She's got a new job, for the New Year… with a 'new lad' (who you might recognise) [laughing face emoji].
"If you'd like to go and see 'Once Upon A Time' get on the link in Nadiya or Kai's bio. It's going to be amazing."
MORE: Nadiya Bychkova and Kai Widdrington enjoy loved-up Christmas getaway
WOW: Strictly couple Nadiya Bychkova and Kai Widdrington announce major news!
Thrilled by the news, fans flocked to the comments section to congratulate Nadiya and Kai on their career update. "Welcome back Yorkshire barmaid [clapping emoji] we've missed you," gushed one follower, whilst a second enthused: "Fabulous… always makes me smile."
"Such a cute couple," noted a third, and a fourth simply added: "Booked in April so looking forward to seeing them.
Like this story? Sign up to our HELLO! newsletters to get other stories like this delivered straight to your inbox.
Read More: World News | Entertainment News | Celeb News
HelloMagazine