Stephanie Gosk was Jenna Wolfe's partner of ten years before the former lovebirds separated in 2021. Jenna revealed their relationship and their first pregnancy the year they married, and sadly, the news of their breakup earlier in 2023.
Stephanie Gosk, like her former partner, Jenna Wolfe, is a news correspondent at NBC. The New York City native became romantically involved with Jenna around 2010, and the couple went public with their relationship in 2013.
Their coming out coincided with their pregnancy announcement, as they expected their first child, a daughter. Nearly two years following their baby girl's arrival, Stephanie and Jenna completed their family with another baby.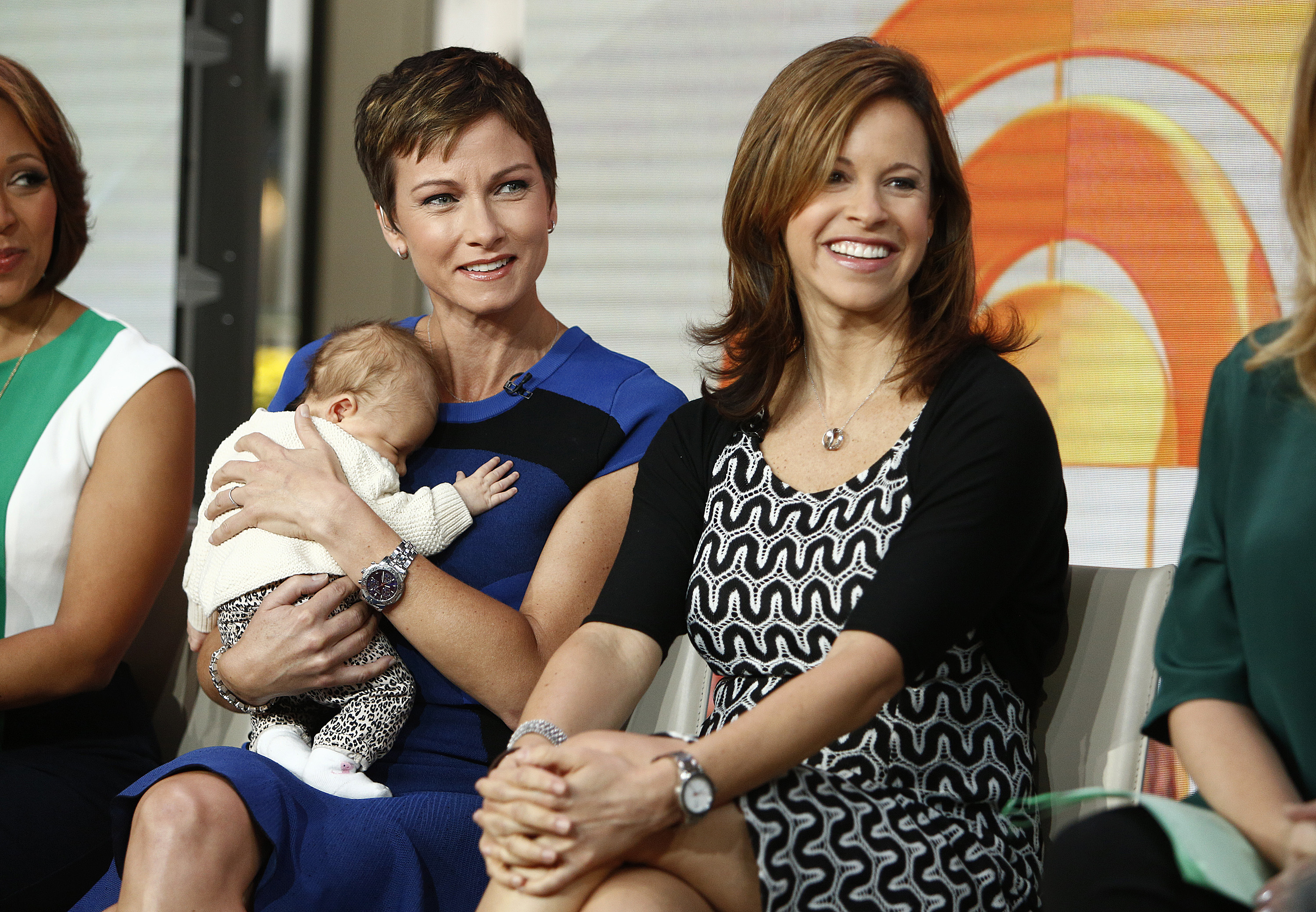 (L-R) Stephanie Gosk and Jenna Wolfe appear on NBC News' "Today" show on September 27, 2013. | Source: Getty Images
Stephanie Gosk's Family: The News Correspondent Is Mom to Harper and Quinn Lily
Stephanie and Jenna had been together for a few years when they began discussing expanding their family. They decided Jenna would carry their child and underwent artificial insemination with an anonymous donor.
"This is the most exciting thing that has ever happened to us," Jenna gushed about expecting their first kid, adding that she didn't want to bring her daughter into a world where she wasn't comfortable in her identity or telling everyone who her mother was.
Stephanie echoed that sentiment, "The beauty is that we live in a time where there's no need for secrecy. This is a spectacular moment for us." Stephanie and Jenna welcomed Harper Wolfeld-Gosk in August 2013.
The following year, again in August, Jenna announced they were expecting another baby girl while on air. The former "TODAY" anchor gave birth to Quinn Lily Wolfeld-Gosk in February 2015. The youngster weighed six pounds and 12 ounces.
Stephanie announced Quinn Lily's arrival on X (formerly Twitter) alongside an adorable photo of the then-newborn, writing, "Quinn Lily Wolfeld-Gosk born at 4:06 6lbs 12ozs Everyone is great. Woohoo!!"
The Pandemic Put a Strain on Stephanie Gosk and Jenna Wolfe's Marriage
Jenna revealed her split from Stephanie in a chat with People in July 2023. Things came to a head during quarantine, when they had to work from home, and their daughters attended school via Zoom.
"When there's two people on television, plus both kids trying to do Zoom school in a Manhattan apartment, there's just no space anywhere," Jenna shared. She and Stephanie agreed that to "preserve the relationship," Stephanie had to move out.
So, she did. The former lovebirds officially separated in September 2021. Jenna added that she and Stephanie were good friends while co-parenting their kids and still got together for family outings.
Stephanie Gosk Has Maintained a Low Profile
Although Stephanie has a social media presence, the news anchor is relatively private about her personal life. She rarely posts on her Instagram but has been more active on Facebook. And a few family photos remain on her and Jenna's pages.
Read More: World News | Entertainment News | Celeb News
Anomama