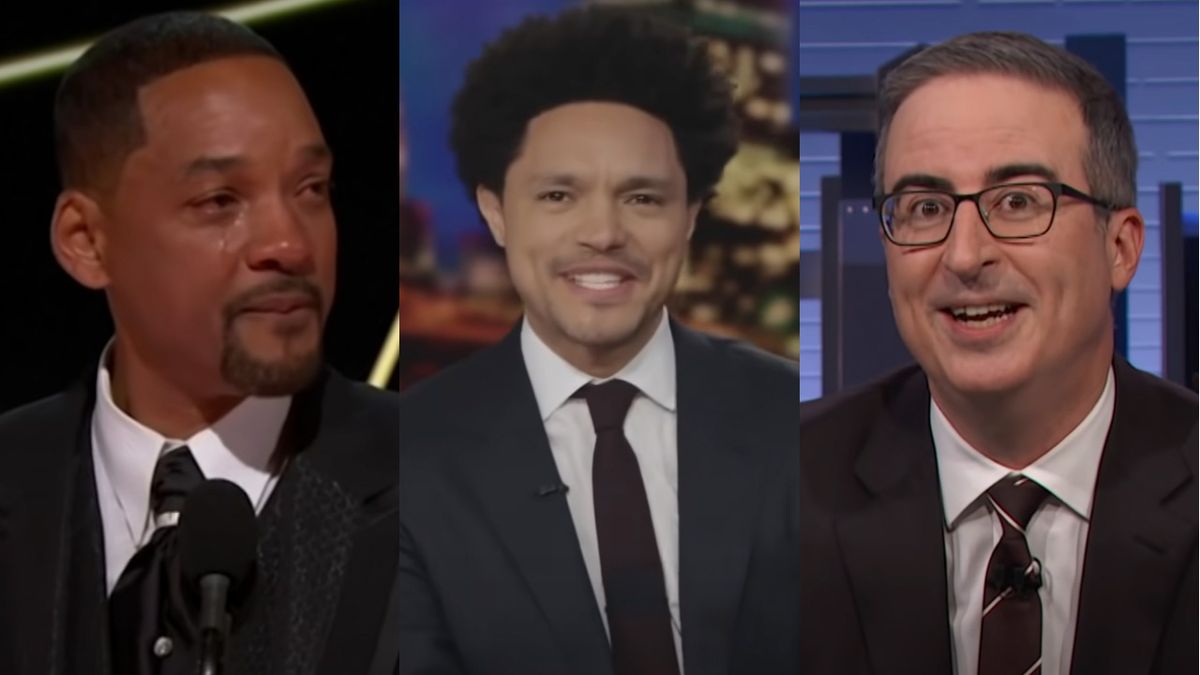 While Will Smith slapping Chris Rock at the 2022 Oscars ceremony was no laughing manner, the discourse in the aftermath certainly inspired a lot of takes from myriad people – from actors to those who have hosted awards shows like Billy Crystal and more. Of course, comedy hosts were not immune to bringing up what happened, either, and Trevor Noah was among those with thoughts. His comments largely focused on the the Oscars banning Will Smith for a period of 10 years rather than the initial incident, and he used them as a jumping off point to roast himself when it comes to competing with John Oliver's popular Last Week Tonight, too.
After the viral moment aired live on television, the Academy ultimately conducted a formal review of the incident and came up with a ban that would keep Will Smith from attending the Oscars but would not keep him from being nominated. As Trevor Noah pointed out, that's hardly a punishment. In fact, for some people who attend awards shows often and lose just as often, it might be the ideal situation. Per Noah's comments on The Daily Show:
In other words, the ban may be meant to be a punishment, but for someone like The Daily Show host, it may be a blessing in disguise. That's likely due to the fact that Trevor Noah's show is oft-nominated at awards ceremonies and oft loses. In fact in 2018, 2019, 2020 and 2021, The Daily Show with Trevor Noah has landed a nomination in the Outstanding Variety Talk Series category. Every single one of those years the show has lost to John Oliver. Every. Single. One.
Now, Trevor Noah has used the Will Smith ban to joke around about his own Emmy nomination failures. It may be a little tongue-in-cheek, but there's certainly some truth to the pain of putting on a good face when one loses over and over too.
But who knows, Trevor Noah, 2022 could be your year!
Meanwhile, Will Smith and Jada Pinkett Smith actually bowed out of the 2016 Oscars during the #Oscarssowhite controversy. This year the famous couple attended to support King Richard in which Smith portrayed Williams family patriarch Venus and Serena, who notably helped the girls achieve superstardom in tennis. Though Smith slapping Chris Rock became the story of the night, Will Smith did go on to win Best Actor at the Academy Awards and gave a lengthy acceptance speech. Smith later apologized to the Oscars host and comedian.
Cinema Blend