Like father, like son!
Matthew McConaughey is a well-known family man, but he and wife Camila Alves tend to keep their kids (Levi, 12, Vida, 10, and Livingston, 7) off the radar. On Thursday, Camila's Instagram followers caught a rare glimpse of one of the McConaughey brood in a post commemorating the actor's new book release, and it had fans seeing double!
Related: McConaughey Reveals He Was Blackmailed Into Losing His Virginity At 15 In Memoir
The model posted a snap of herself and son Levi admiring a dessert. She captioned the pic:
"The look on our faces says it all..the BEST SUGAR FREE chocolate chip cookie skillet recipe from our friend @roccodispirito! It's been a week full of celebration with @officiallymcconaughey's #Greenlights book release so we had an excuse to make this amazing dessert. Judges at home give it a 10/10! Linked the recipe in my stories so you can all try it now!"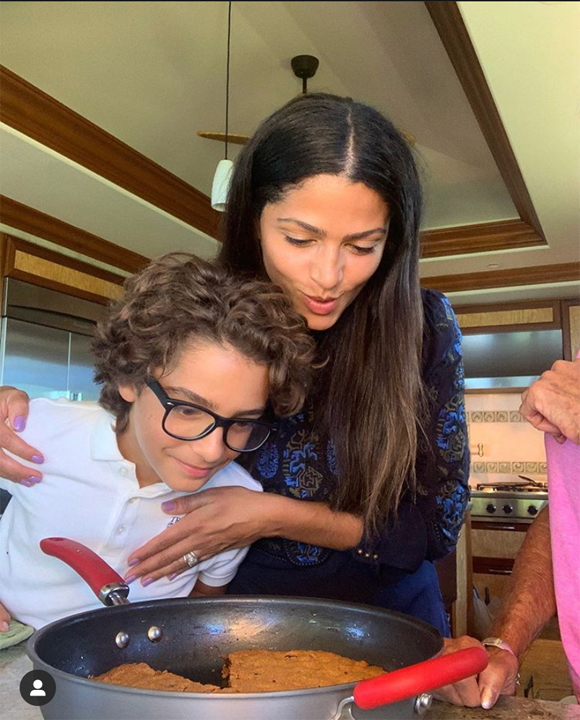 OMG, he's a dead ringer for Daddy!
Levi can be seen sporting his poppa's wavy hair AND mischievous grin — now we just need to hear him say, "Alright alright alright"!
So cute!
Camila has indeed been celebrating her husband's new memoir. Earlier in the week, she posted a pic of the True Detective star posing with his mother Mary Kathlene McCabe and a copy of the book. She wrote:
"One proud mamma! #Greenlights book out TODAY!!!! Uau!!! Words can not express how proud I am of this work of love that Matthew did!! Laugh out loud, to tears, to wisdom, to the bumper stickers it is a journey you just have to read!!! Turn your red lights into greenlights!! Go get it at www.greenlights.com or anywhere books are sold!!!"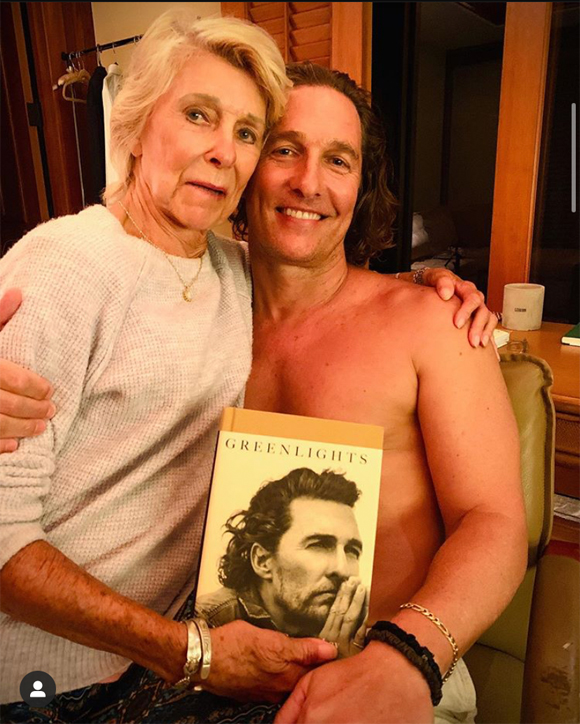 While the author has a strong relationship with his mother now, he recently opened up about a an 8-year period of estrangement between the two. During an appearance on The Howard Stern Show, he shared:
"I was calling my mom at that time after I'd gotten famous, needing to talk to my mom. [I was] trying to figure out, 'hey, I'm a little unbalanced here, these things are going on, what do they mean.' And my mom was not the only one on the phone. The woman that was on the phone was a fan. Of my fame. So I would have conversations and then all of a sudden — whoop — what we'd talk about would end up in the paper three days later. [I was like] 'What, Mom, that was between us.'"
After coming to what he thought was an understanding with his mother about sharing with the press, a friend later alerted him to his mother making a TV appearance. Tuning in, he saw:
"There's Mom, giving someone a tour through the house. 'Here's where I caught him with so-and-so in bed. Here's where I saw him in the shower, you know what he was doing in there, ha ha ha. … And I call her up, and I go, 'Mom, what did you do?' And she goes, 'What are you talking about?'"
Related: Eva Mendes Reveals She 'Never Wanted' Kids Before Falling For Ryan Gosling!
He continued:
"She was always still my mom, but she became a different person. … I've forgiven her. It wasn't her fault. I mean, I just had to make some boundaries, and it was a strenuous relationship for eight years. We're back completely now."
Luckily, it seems like all is well with the McConaugheys these days, and the family gets to celebrate this milestone in the Oscar winner's career together. We hope they enjoy every minute of it!
[Image via Jaime Espinoza/WENN]
Related Posts
Oct 23, 2020 17:23pm PDT
Source: Perez Hilton |BBC News & Gossip