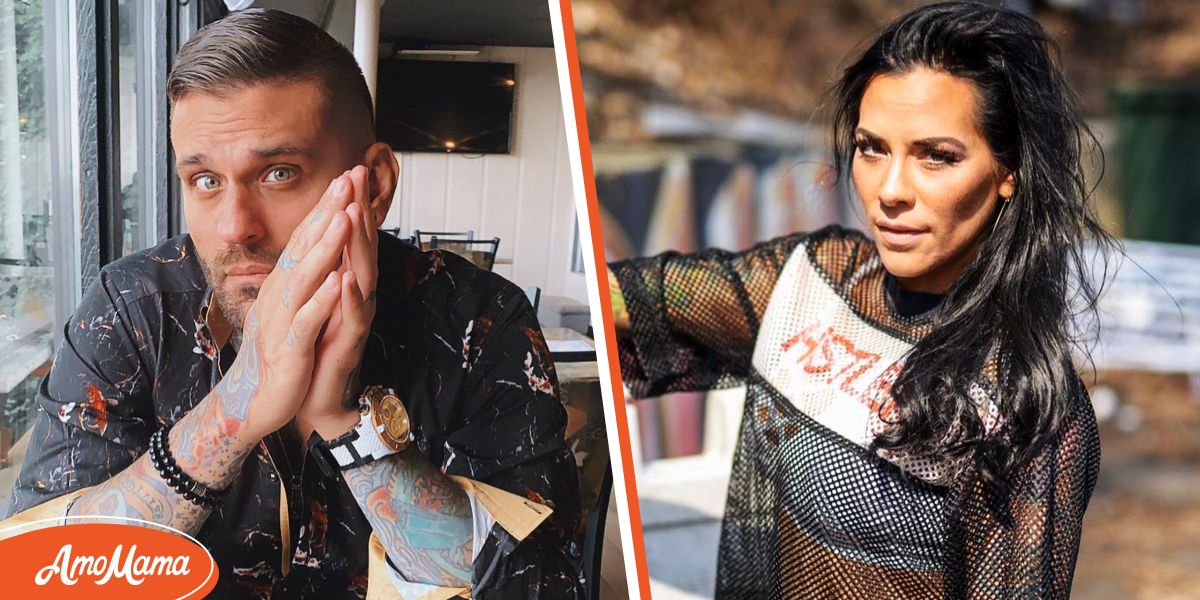 Corey Graves | Amy Polinsky | Source: Facebook.com/staydowninc | Instagram.com/wwegraves
Amy Polinsky and her ex-husband were together for over ten years, during which she supported his career, and the former couple welcomed three children. However, in 2019, Corey Graves' ex-wife turned to Instagram and accused him of cheating.
Matthew Polinsky, commonly known by his ring name Corey Graves, is a WWE star who left wrestling following a career-ending injury to become a commentator. However, before finding success in the ring, he and his ex-wife, Amy Polinsky, struggled financially.
According to Corey Graves' ex-wife, she supported the former WWE star for years and was by his side through many ups and downs. However, that ended when she was devastated by his alleged infidelity.
Amy Polinsky Played a Significant Role in Her Husband's WWE Career
When Polinsky (née Schneider) first met Graves in 2007, she worked as a traveling BMW spokesmodel and a barmaid while her future husband took odd jobs to support himself and chase his wrestling dreams.
Although she initially did not think the relationship would go anywhere, Graves was moving in after a week, and the couple was engaged three months later.
By the time they were expecting their second child, their financial situation had gotten so dire that the former couple was on welfare and utilizing special services for pregnant women. Polinsky said:
"I remember paying for $10 worth of gas in quarters, dimes, and nickels and thinking, 'This has to get better.' But we were so in love."
It eventually did get better, as after insisting her husband did not give up on his wrestling dreams and encouraging him to reach out to WWE, what was meant to be another odd job for Graves turned into a contract with the professional wrestling company.
And in 2017, Polinsky was the picture of a supportive wife in the photos she shared of her by Graves' side as they attended a Hall of Fame WWE event.
Corey Graves' Ex-wife Publically Accused Him of Cheating with Another WWE Star
In 2019, Polinsky made headlines after turning to Instagram and calling out her former husband for cheating. According to Graves' ex-wife, he had been unfaithful with fellow WWE star Carmella, born Leah Van Dale.
In a since-deleted emotional Instagram post, Polinsky shared that while she knew it was below her to air her and her ex-husband's marital dirty laundry on the internet, she was hurt and felt like she had punched in the stomach.
After admitting to dating Graves during an episode of "Total Divas" in 2019, Carmella and Polinsky's ex-husband have since gotten married.
On the other hand, Graves was much more light-hearted, as in December 2019, he tweeted, "The didn't play MY entrance music for my divorce hearing. I feel short changed (sic)."
What Has Amy Polinsky Been up To?
For years, Polinsky regularly took to Facebook to document her journey as a certified personal trainer and fitness instructor. Alongside revealing that her secret to staying lean was clean and healthy eating, Polinsky also posted breakdowns of her workouts.
In another post, Polinsky revealed she incorporated her kids into her workouts in what she called "Toddler Tuesday." However, the fitness trainer has been inactive on Facebook for years.
After admitting to dating Graves during an episode of "Total Divas" — formerly co-starring Brie and Nikki Bella — in 2019, Carmella and Polinsky's ex-husband have since gotten married. In 2022, the female wrestler called their wedding day the best day of her life, and Graves also shared a picture of their special day.
On May 2, Graves' wife posted a video surprising his three children he shares with Polinsky with the news that she and Graves are expecting, and the couple later confirmed that they are expecting a baby boy.
Read More: World News | Entertainment News | Celeb News
Anomama