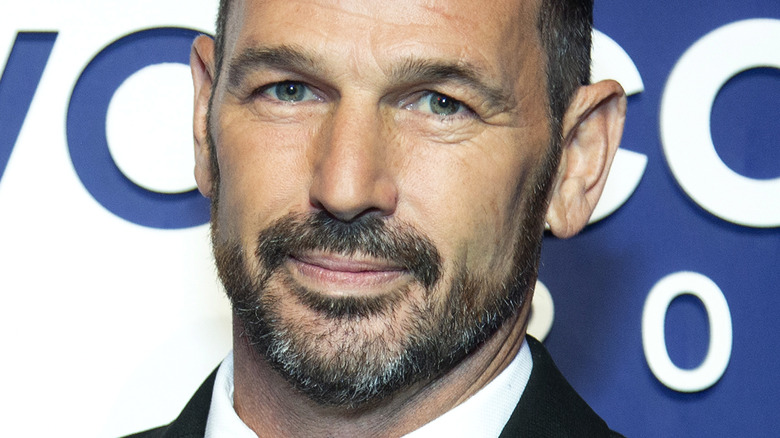 Santiago Felipe/Getty Images
"Below Deck Down Under" premiered its first season in 2022 and instantly became a hit with fans. With the exception of Aesha Scott, who was in "Below Deck Mediterranean," the entire cast were new faces. Captain Jason Chambers caught viewers' eyes and hearts with his dashing good looks and charming Australian accent. As the youngest captain in the "Below Deck" franchise, Chambers even had the stewardesses swooning, earning him the nickname "Captain Cutie," per Bravo.
Although Chambers led the crew with a firm hand, he took off his captain's hat at times and showed his soft side when he spoke about his daughter, Saskia. During a particularly touching moment, viewers saw him chatting on video with her, with Scott popping up to say hello. During Season 1, he shared that he hadn't seen Saskia, who lives in the Philippines with her mother, for over a year because of border restrictions due to COVID-19, according to Distractify. At the end of the season, viewers got to watch Chambers finally reunite with his daughter and he shared how being apart from her was the hardest part of his job.
Captain Jason Chambers struggles to balance his career and family
Being a yachtie means long periods away from friends and family, and Captain Jason Chambers misses his time away from his daughter Saskia. "It's difficult. I've been struggling to do that for seven years none, being away from her … I'm doing everything I can to bring her more into my life as the years go on. Hopefully, this journey that I'm on now allows me to see her a little bit longer," he told Distractify. In February 2022, he shared a heartwarming Instagram reel of moments with Saskia and shared, "Finally breaking borders to see my girl… yesss!!!"
Chambers shares Saskia with Fuchsia Quinn, who runs a resort in the Philippines called The Beach House at Ocam Ocam, per Heavy. It appears that they aren't in a relationship but the captain has only good things to say about Saskia's mom.
Saskia is being raised in a happy environment
Captain Jason Chambers' first priority is his daughter Saskia and he credits her mother, Fuchsia Quinn, for helping raise her in a "happy environment," per Bravo. "Hopefully things will change, and I can be with her more and more. We're all striving to spend more time with our family … All I care about is my daughter," he shared. With the travel restrictions lifted from the Philippines, Chambers is spending all the time he can with Saskia.
Chambers' Instagram feed is full of happy moments between him and his daughter. In July 2022, he shared an Instagram reel of his daughter over the years and wrote, "Happy Birthday little one … Well done mum. She is such a happy, wonderful, respectful caring child with empathy and charisma and strives for adventure." A few days later, he showed a video of him picking out jewelry for Saskia made from natural materials.
In another reel, he shared a father/daughter outing of Saskia getting a henna tattoo on her hand and a dinner date later in the evening. "Starting to find a balance," he wrote. Chambers' devotion to his daughter is heartwarming and fans love that he was able to find time for both his family and "Below Deck Down Under."
Read More: World News | Entertainment News | Celeb News
Nicki