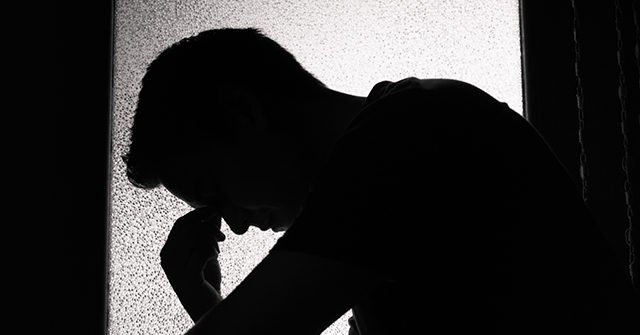 U.S. suicides reached a record high in 2022, with nearly 50,000 people losing their lives to the mental health crisis, data from the Centers for Disease Prevention and Control (CDC) revealed.
A provisional tally from the CDC's National Center for Health Statistics (NCHS) estimates the 2022 American suicide rate at 14.3 deaths per 100,000 people, the highest since 1941.
RELATED VIDEO — State Trooper Embraces Suicidal Army Vet During Routine Traffic Stop:
Connecticut State Police
The health agency said the 2022 end-of-year count will likely be higher, with the provisional deaths adding up to 49,449 so far. This is a 2.6 percent increase from 2021, which saw 48,183 official suicides.
Males made up the biggest portion of suicides by far, with NCHS data showing that 39,255 boys and men lost their lives to mental illness in 2022, compared to 10,194 girls and women.
However, females saw a greater jump in the suicide rate from the prior year, seeing a 3.8 percent increase from 2021 compared to a 2.3 percent increase in males.
While women tend to have suicidal thoughts more commonly, men are consistently more likely to go through with it. Senior men suffered from the highest suicide rate, with 44 per 100,000 males over 75 losing their mental health battles.
Men have a "greater comfort with and access to firearms," Dr. Yeates Conwell, a psychiatry professor at the University of Rochester, told CNN.
Compounding men's tendency to have more access to lethal means, Conwell says they are also more vulnerable to another key risk factor: disconnectedness.
text
"Older men in our society tend not to have the skills in developing and maintaining close relationships with as many other people as do women in our culture," he said:
There's too much identity tied up in one's work, so that is lost [after retirement]. And then there's the cultural script of what maleness means in our culture, so men just won't admit or won't receive care for depression because of that sense that it's somehow not what a man does.
The statistics also reflect the ramifications of the coronavirus pandemic and related lockdowns, experts say.
"There was a rupture in our economic health and social fabric. We're still experiencing the aftereffects of that," said psychologist Jeffrey Leichter told the Wall Street Journal.
The only age groups that saw declines in suicides were children aged 10 to 14 and youth aged 15 to 24, whose rates lowered by 18 percent and 9 percent, respectively, from 2021.
While children and young adult suicide rates are on par with pre-pandemic levels, researchers say other demographics are in need of more mental health attention.
Dr. Katie Hurley, senior clinical adviser at the suicide-prevention Jed Foundation, says more work is needed to reach women between 25 and 34, who were the only female age group to see a significantly increased suicide rate in 2022.
"They're taking on young adulthood while the world is on fire," she told the Journal.
Read More: World News | Entertainment News | Celeb News
Breitbart