The singer Cher announced she's seeing someone new. Although there's a considerable age gap between her and her new boyfriend, Cher defended her love and dismissed the critics. She said, "I'm in love, not blinded by it."
The Goddess of Pop, Cher, announced she's dating someone new. The music icon made a cryptic Twitter post that merely hinted at something new in her life. Fans were left guessing until she opened up and broke the news of a new boyfriend a few days later.
Although they're happy and in love, fans criticized the age gap between Cher and her new boyfriend. Some wondered whether he really loves her, or whether he's dating her for the publicity, while some criticized the 76-year-old for dating someone much younger.
Fans responded to her initial post, asking what was going on. Countless curious followers begged her to elaborate, but Cher kept her cool and refused to break her silence. The pop icon kept it simple by posting one phrase:
"One part of my life is SO AMAZING."
A few days later, she made two posts. In the first, she posted a photo of her new partner and added "Alexander." A slew of fans showed their support and mentioned how happy they were that she found someone new.
However, along with the congratulatory comments, a few hate-filled ones slipped in. Cher ignored them and refused to justify their relationship in her next post. She defended her love and said everybody in her family had already met him.
But Who Is the New Boyfriend?
Cher's new boyfriend, Alexander Edwards, is the vice president of artists and repertoire at the renowned Def Jam Recordings, owned by the company Universal Music Group. His company represents many prominent artists, and the music producer is said to be valued at around $2 million.
Zimmerman was the oldest of the men she dated, and she even had a fling with Tom Cruise in 1980.
Like Cher, he was in a serious relationship previously. In 2015, he started dating the model and TV personality Amber Rose, and the two had a son together, Slash Electric Alexander Edwards. However, things ended badly, and Rose went public with her claims that he had an affair with more than 12 women while they were together.
Despite his rocky history, he and Cher seem captivated by each other, and regardless of the 40-year age gap between them, they seem to be having a great time together. They were seen strolling through West Hollywood, holding hands and having dinner together.
The two were also spotted in the backseat of Cher's car later on, chatting affectionately. The music producer could be seen holding and kissing his girlfriend's hand. In response to those criticizing her relationship, Cher tweeted:
"I'm Not Defending us.Haters are Gonna Hate…Doesn' Matter That we're Happy & Not Bothering Anyone."
According to Cher, the two met at the 2022 Paris Fashion Week in October. They've been inseparable ever since. Edwards is also close friends with some well-known artists and is often seen with the rapper Tyga.
Cher Says She Knows What She's Doing
Despite her fans' worries that she is getting herself into a risky situation, Cher isn't too concerned. The singer has been married twice in the past. She shares a son, Chaz Bono, with her first husband, Sonny Bono, who sadly passed away from injuries after a skiing accident.
She was also married to the singer late Greg Allman, from 1975 to 1978. They also had a son together named Elijah Blue Allman. Cher has also dated a number of famous faces, from Kiss singer Gene Simons to Ron Zimmerman. The "If I Could Turn Back Time" singer once said she dates younger men.
Zimmerman was the oldest of the men she dated, and she even had a fling with Tom Cruise in 1980. Her dating history confirms her claim that she often falls in love with younger men, and Edwards is no exception. Cher commented on the age gap between them by saying:
"Love doesn't know math."
Cher also dated Cal Kilmer briefly before she met Cruise. In 1986, though, she took a break from celebrities and dated Rob Camilletti. He worked in a bagel store, and the media soon started dubbing him "Bagel Boy." The singer claimed he was her "one true love," but the pair went their separate ways in 1989.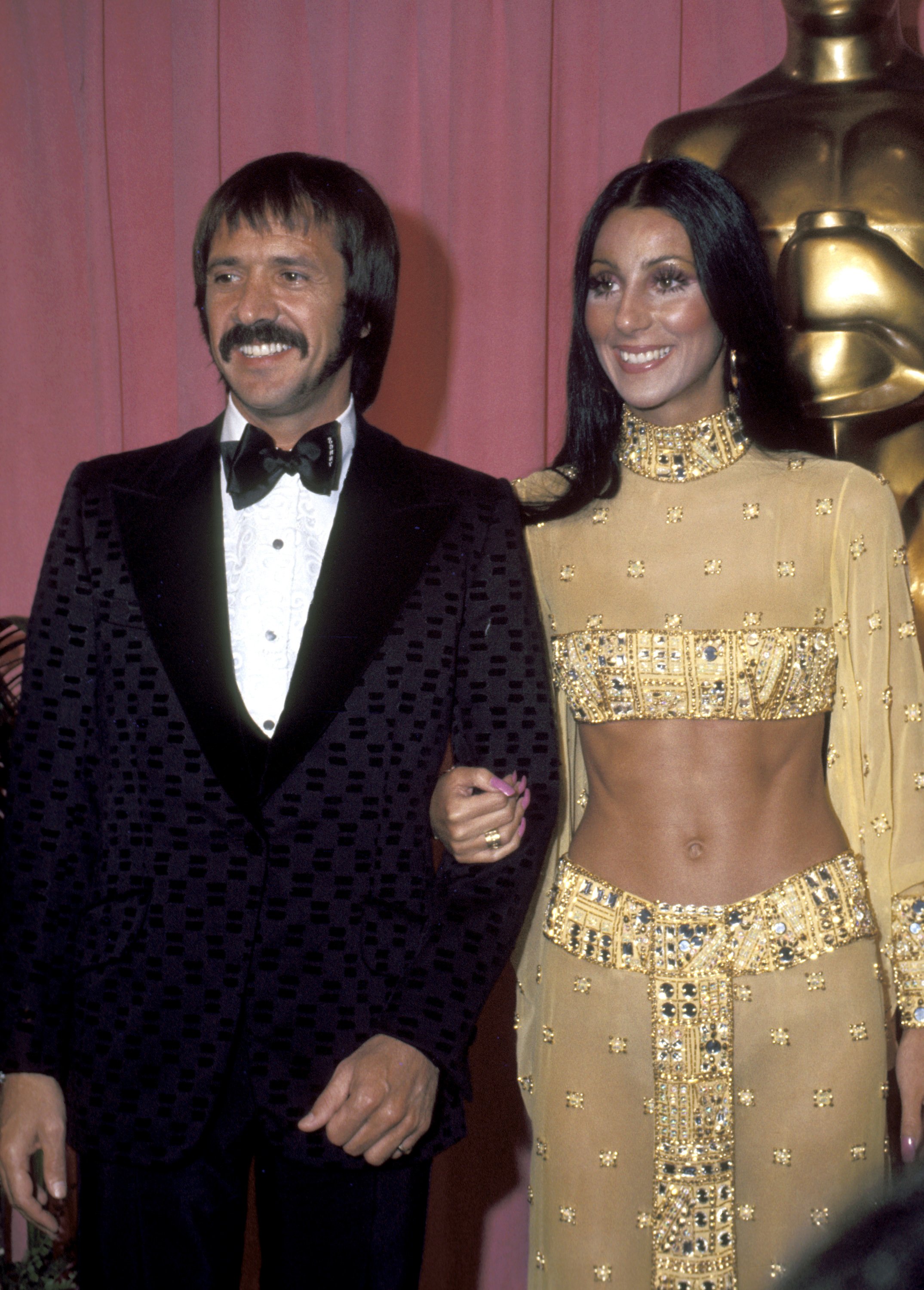 Sonny Bono And Cher at the 45th Annual Academy Awards at Dorothy Chandler Pavilion Los Angeles, California, March 27, 1973 | Source: Getty Images
Considering her past relationships, it's clear why she isn't as worried about her new relationship with Edwards. She isn't as naive as some of her fans suggested, and she said she knows what she's doing. She also gushed that Edwards treats her "like a queen."
Despite their growing romance, Cher has remained persistent that although she's falling head-over-heals for Edwards, she's not doing so without considering the risks. While she's aware of the flaws in her partner, she's also accepting of them. In response to the fans spreading negativity, she said:
"I'm in love, not blinded by it."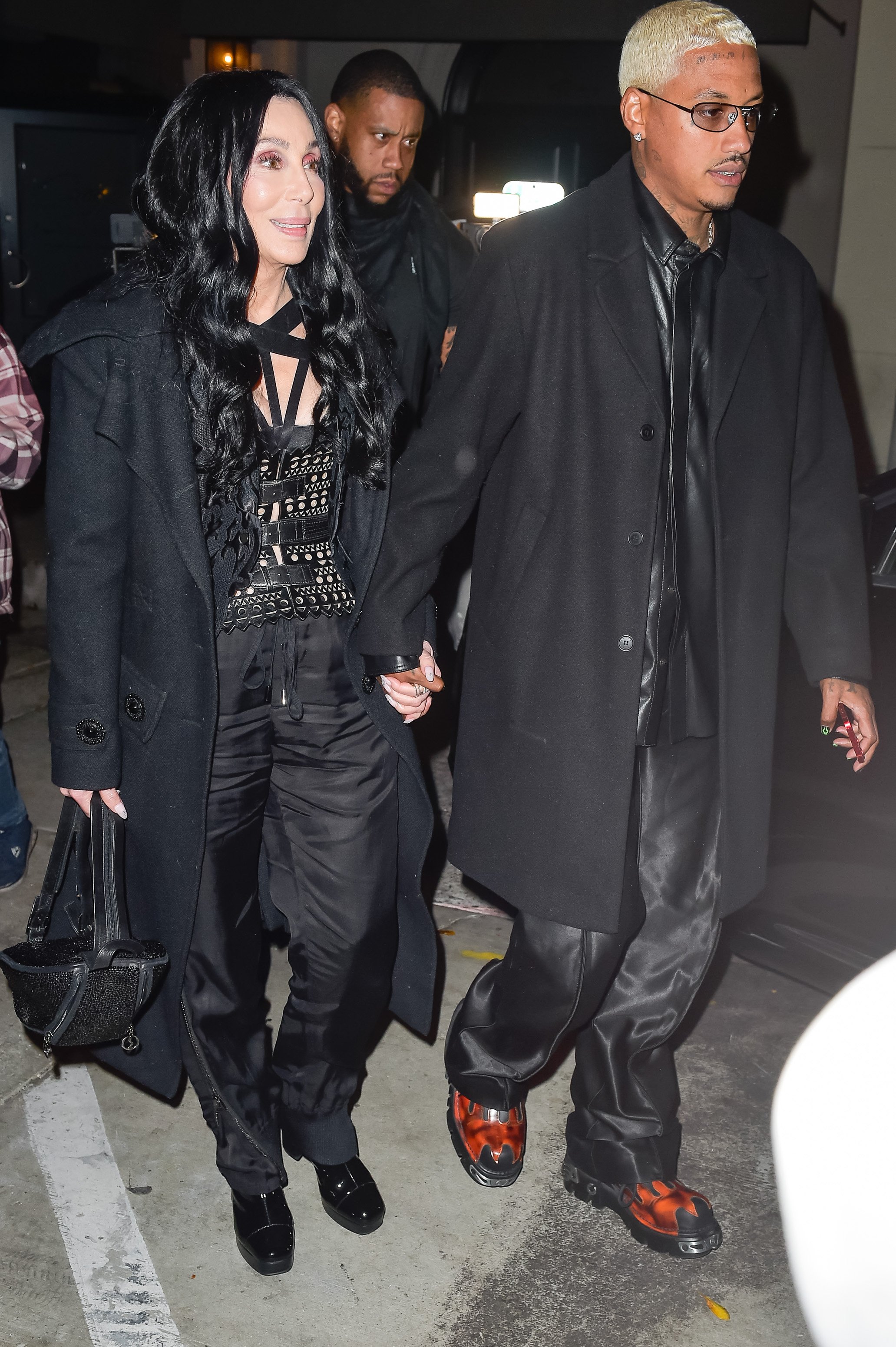 Cher and Alexander Edwards are seen on November 02, 2022 in Los Angeles, California | Source: Getty Images
The singer had to defend herself repeatedly but made it clear that she doesn't care what people think. All she wants is a loving relationship with someone who makes her happy. Their dinner date made it clear that Edwards is the guy to do exactly that.
With a considerable portion of her fanbase standing squarely behind her, Cher continues to ignore the skeptics and naysayers. The two are obviously enjoying their time together, and her family has no problem with them dating.
Read More: World News | Entertainment News | Celeb News
Anomama