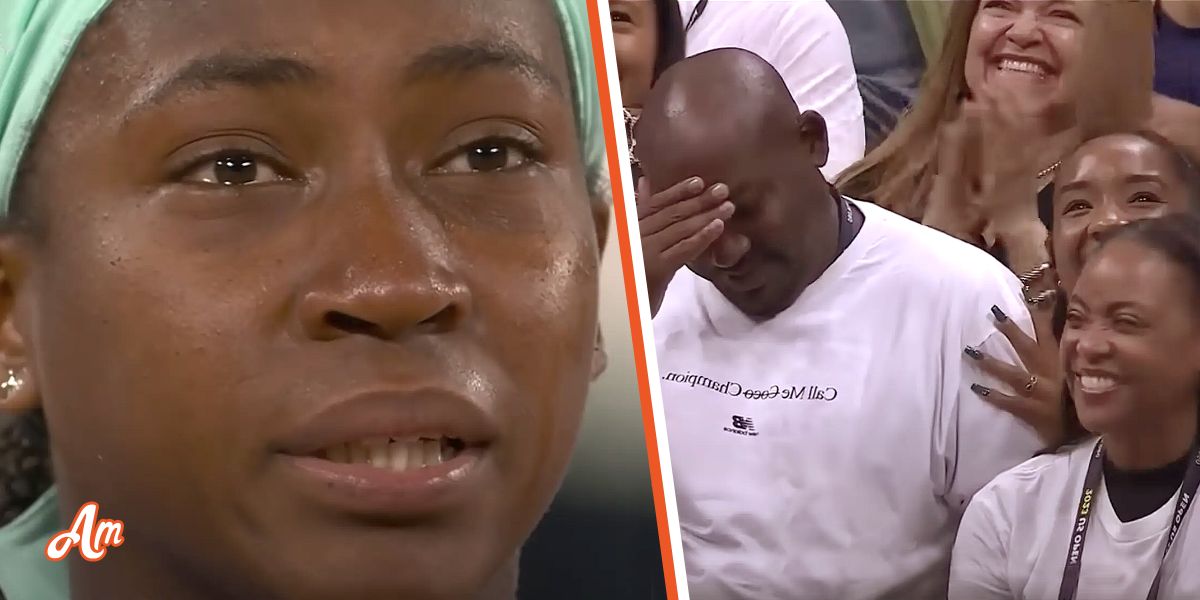 Coco Gauff | Corey and Candi Gauff | Sources: YouTube/@usopen | YouTube/@eurosport_tennis
Tennis star Coco Gauff's parents quit their jobs so their daughter could commit to the sport full-time.
The tennis sensation also shared why she sometimes looks at her parents when she plays her matches.
Coco Gauff, 19, is a superstar American tennis player who rose to prominence after she defeated iconic tennis star Venus Williams at Wimbledon in 2019. As the youngster's career continues to boast more accomplishments, Coco has constantly had her family by her side.
Her parents, Corey and Candi Gauff knew Coco would go on to become an incredibly successful athlete ever since she was a little girl. In fact, when Coco was in the second grade, the doting parents decided to move their family from Atlanta to Delray Beach in Florida so they could help their daughter pursue tennis full-time.
The move back to their hometown meant that Candi and Corey could then count on their immediate family for support. Coco being able to commit to her passion fully entailed a dedicated collective effort from her family.
Candi quit her job as a teacher in order to homeschool her daughter, and as a means of saving money, the family moved in with Candi's parents. Sometime after Coco's tennis career started progressing, her dad, Corey, eventually left his job as a healthcare executive to become her head coach. While reflecting on this time of change and sacrifice, Corey quipped that they had quickly gone from a single-income household to a:
As a result of her parents' devotion to supporting her and Coco's tenacious and ambitious spirit, she has since lit the tennis competition world ablaze. At her matches, her parents are typically seen cheering her on from the stands. In the past, while speaking on the bond she shares with her parents, Coco explained:
"…definitely when I have a big, 'Come on!' or I scream, I look at them because they kind of hype me up. And then sometimes when I feel a little bit tight during a match, I look at them because they give me fist pumps, so that just shows me that everything's gonna be okay."
To say Candi and Corey are their daughter's biggest supporters would be an accurate summation when it comes to her tennis career. When the incredibly talented player won this year's US Open, a part of her speech was dedicated to her parents.
In addition to helping her succeed, she credited them for continuously believing in her throughout her life. Though Coco has made significant strides in her career already, at such a young age, her parents always knew she would be destined for greatness:
"…we're surprised it is coming as soon as it is, but not surprised about her potential."
More Details about Coco Gauff's Parents, Corey and Candi Gauff
Like their daughter, Coco's parents have a knack for sports. In addition to being her primary coach, Corey used to play basketball at Georgia State University. Candi used to be a heptathlete and a hurdler at Florida State University.
Candi and Corey have been married for over 20 years and will soon celebrate their 23rd anniversary next year. After tying the knot in January 2001, they welcomed Coco on March 13, 2004.
Coco is also the eldest of three. After having Coco, Corey and Candi welcomed their sons, Cameron and Cody.
Coco has reached superstardom at the tender age of 19 thanks to her incredible talents as a tennis player and her wonderfully devoted and supportive parents, who continue to remain by her side, cheering her on.
Read More: World News | Entertainment News | Celeb News
Anomama