Ronapreve, the Covid antibody drug, is to be given to vulnerable NHS patients.
Russia has reported 799 deaths from Covid-19 in the past 24 hours.
There were 20,329 new coronavirus cases in the past 24 hours compared with 19,905 cases on the previous day, Reuters reports.
The night-time economy in Wales needs "clarity" and "simplicity" when it comes to the implementation of Covid vaccine passes, an industry chief has warned, PA reports.
David Chapman, UKHospitality's executive director for Wales, said there are unanswered questions about how the scheme will work.
He told BBC Breakfast:
I think it's about timing, about definition, about capability, about people being able to be in position to do all of those checks to make it work.

Will they be effective in the long run, compared to the commercial viability impacts that they have? I don't know. Is it possible that people could take other people's passports and use them? How efficient is this?

There are so many questions for us to have to try to resolve. We've had months where we've been in discussions talking about the impacts of this type of vaccine passport or cards, but we haven't had any definitions in advance of this to be able to get ourselves ready to incorporate it properly."
He added that the industry will make it work, but is already battered and bruised from the effects of the pandemic.
He said:
This industry has just got to take it on the chin. The problem is, it's got two black eyes, a broken nose and it's on the canvas already.

We've got staff shortages, we've got great difficulties within businesses about trying to get our heads not above water, but we're already under water, and to make it happen.

We will make it happen because this industry is great, it's resilient.
Exhausted nurses in the Philippines are struggling to care for Covid-19 patients and many are quitting the profession entirely, reports AFP.
The country is enduring a record rise in infections, fuelled by the Delta variant.
Prior to the pandemic, the nursing profession was dangerously understaffed and those who are working are under increasing strain with staff absences because of Covid-19 infection.
The health department reported a nursing shortfall of more than 100,000 – forcing those left to work long hours for little pay on often precarious short-term contracts.
The "chronic understaffing" was down to inadequate salaries, said Maristela Abenojar, the president of Filipino Nurses United.
An entry-level nurse in a public hospital can earn 33,575 pesos (£488) per month, official data shows.
Australia's police arrested 235 people in Melbourne and 32 in Sydney on Saturday at unsanctioned anti-lockdown rallies and several police officers were injured in clashes with protesters, reports Reuters.
Victoria police said six officers required hospital treatment. Several officers were knocked to the ground and trampled, the police said and television footage showed.
About 700 people managed to gather in parts of Melbourne, as 2,000 officers made the city centre virtually a no-go zone, setting up checkpoints and barricades. Public transport and ride shares into the city were suspended.
In Sydney, riot squad officers, highway patrol, detectives and general duties police were also deployed to the streets, preventing large gatherings.
Australia has been grappling with an outbreak of the Delta variant of the coronavirus since mid-June, with both Sydney and Melbourne, and the capital Canberra, in strict lockdowns for weeks now. On Saturday, there were 1,882 new coronavirus cases reported, most of them in Sydney.
Prof Adam Finn has warned of "very uncertain times" in the pandemic over the coming months, and urged people to take precautions such as wearing masks, even if they are not mandatory, reports PA.
Asked about winter, Prof Finn, who is a member of the UK's Joint Committee on Vaccination and Immunisation told Times Radio:
I think we're all concerned. We're in a position of uncertainty as we have been from the outset.

Things are changing all the time and although we have some insight into the future and we've learned a lot about the vaccine programme and other things, there is still a high level of uncertainty.

With people interacting and behaving more normally, we are going to see the circulation of infections that more or less disappeared last winter, and they are going to provide an additional burden.

We don't really know what's going to happen with the trend in cases of Covid but it's certainly still circulating. So I think we're entering very uncertain times.

I would strongly encourage people to go on taking precautions, even though they're not being required to. I certainly am. On a personal basis, I use a mask when I'm inside with other people and I'm avoiding social contact beyond a fairly low level, and I think if everybody continues to do that we can bring down the risk to some extent.
Unvaccinated university students have been urged to get a Covid jab in freshers' week to protect themselves and their peers against the virus, PA reports.
The NHS's top doctor has called on freshers to get the vaccine at pop-up clinics and walk-in centres set up by universities before their courses begin.
Thousands of students will be arriving at university campuses across the UK over the next few weeks.
Prof Stephen Powis, the national medical director of NHS England, said:
Starting university is a really exciting time and getting your Covid vaccine means you will be armed with maximum protection against the virus.

With many universities set to run pop-ups and walk-ins throughout the first weeks of term it has never been easier to get protected, so I urge anyone yet to be vaccinated to take up the offer as soon as possible.
Alistair Jarvis, the chief executive of Universities UK, said:
We welcome this reminder to students from Professor Powis, which echoes messages from universities to their students that they should make every effort to get vaccinated before the start of the university year.
Victoria police clashed with anti-lockdown protesters in Melbourne on Saturday afternoon, as the Australian state recorded another 535 new coronavirus cases and one death.
About 1,000 protesters gathered in the north-eastern suburbs of Richmond and Hawthorne, forced to make a last-minute change of location after 2,000 police officers formed a "ring of steel" around the Melbourne CBD.
Public transport to and from the city was suspended between 8am and 2pm on Saturday, and police set up road checkpoints, barricades and roving patrols around the city in an effort to thwart the protest.
Holiday bookings are expected to soar after the government announced a relaxation of international travel rules.
Alan French, the chief executive of travel firm Thomas Cook, said October half-term bookings were up 200% compared with August and he expected this figure to increase as a result of the changed system, reports PA.
He said:
Based on our bookings already today, I would expect this weekend to be the biggest of the year so far as people take advantage of the great deals on offer, the new easier rules on testing and the simplified system for international travel," he said.
On Friday, the transport secretary, Grant Shapps, announced that the traffic light system was set to be replaced from 4 October by a single, reduced "red list" of destinations, from which travellers arriving in England will have to quarantine in a government-supervised hotel.
People who are fully vaccinated will no longer need a pre-departure test before returning from non-red list destinations, and from the end of October, they will be able to replace the day two PCR test with a cheaper lateral flow test.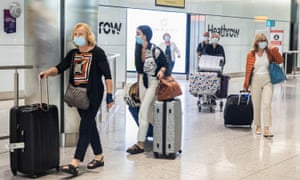 Source: Guardian