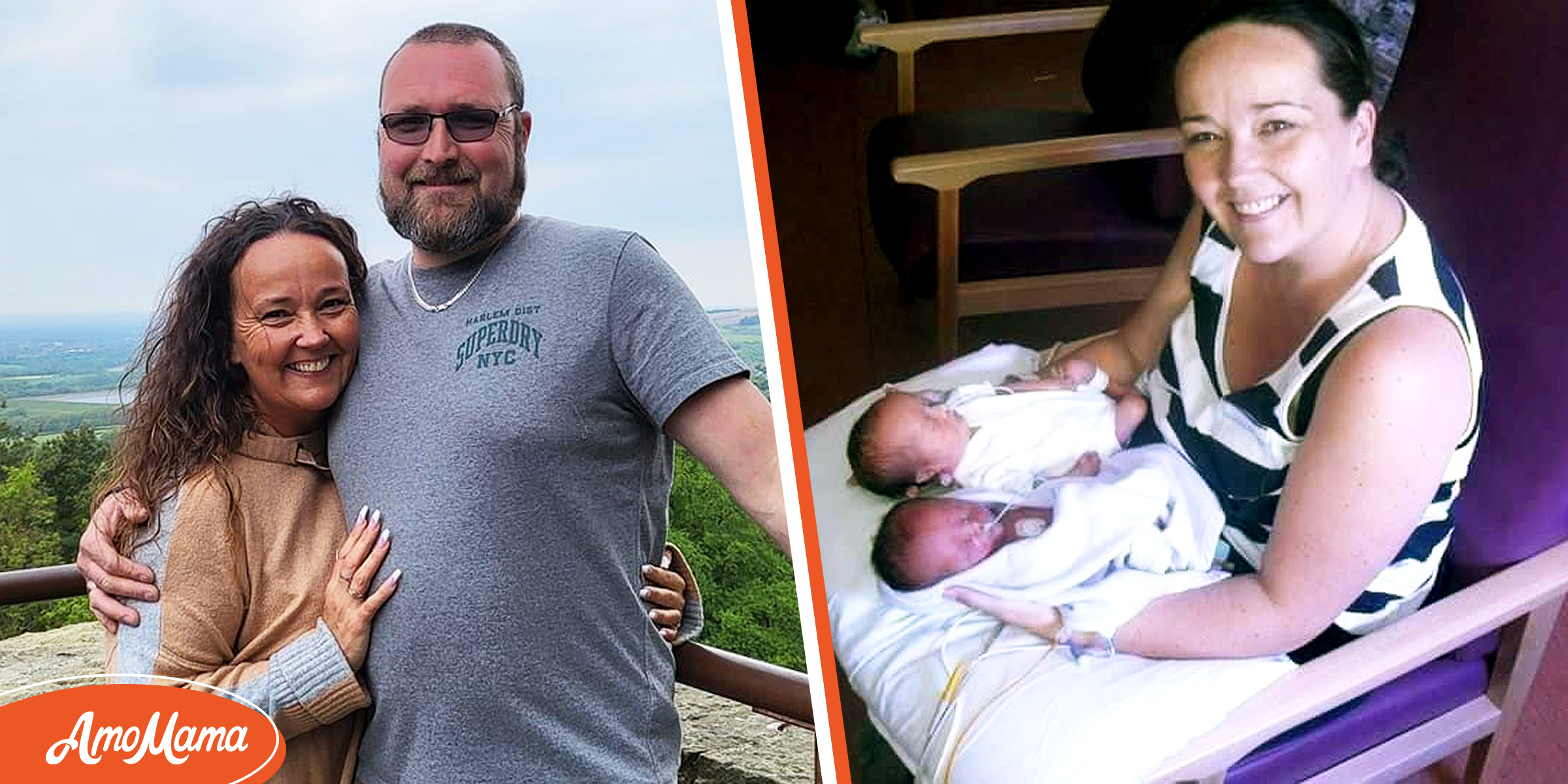 Jodi and Matt Parry | Jodi, Abigail and Isobel Parry | Source: facebook.com/jodi.parrywasbramley | facebook.com/twincess1
A couple is raising three young children, which include a set of twins. They were gutted to learn what had occurred to two of their kids a few weeks after their birth.
Jodi and Matt Parry are parents to a son, Finlay, and daughters, Abigail and Isobel Parry, who are twins. Finlay is the British couple's eldest child.
They were happy to expand their family when they welcomed their identical twins, Abigail and Isobel, in June 2011. However, the siblings were born prematurely.
Jodi divulged that her then-infant daughters spent three weeks in neonatal care after birth and were there for four weeks. In a March 2017 interview, she revealed:
"When the doctors took us to one side to give us the results, the one thing he said to us was that he was sorry."
Jodi said up until now, she would never understand why the doctor said he was "sorry," adding if she were to meet him again, she would ask him that question while showing him her daughters.
She and her husband adore their girls and would not change them for anything. Matt proudly said the couple's daughter brought them together, making them appreciate the present moments.
"We don't wait for what the future brings because living today is far more important," said the father of three. As for their eldest child and big brother Finlay, he has been of great support to his sisters.
The youngster revealed he has to put in more effort when helping out his siblings, adding things would have been easier if they had turned out differently.
Abigail & Isobel Were Diagnosed with Down's Syndrome
Abigail and Isobel were diagnosed with Down's syndrome three weeks after their premature birth. Their parents initially believed this was "a life sentence," as their mother Jodi once admitted:
"When I was told the girls had Down's syndrome, I was devastated. I felt like someone had just ripped my heart out."
However, once she and Matt brought their newborns home, they realized that caring for them was no different from looking after their brother Finlay who does not have the condition – apart from constant hospital appointments, routine check-ups, and them taking longer to do things.
The proud dad once expressed in a September 2015 interview, "The challenges Abigail and Isobel have overcome and how they just get on with it is amazing." Matt also divulged that when his daughters were born, he and his wife were not certain whether they could attend a mainstream school when they grew older.
He said this proves how their understanding of Down's syndrome has evolved because now they realize it is possible. The family patriarch admitted they had preconceived ideas about the condition, which they now want to tackle.
As their girls grow, the happy parents have shifted their mindsets into society by squashing myths and misconceptions around the genetic condition.
Matt and Jodi have launched the Twincess Campaign to provide expectant parents or new parents of kids with Down's syndrome with some advice on moving forward.
Abigail & Isobel Lead Normal Lives
Abigail and Isobel have developed beyond their parents' wildest dreams. Their father is in awe of their "persistence," and their mother has said their speech improves daily.
At four years old, they began their first term at a mainstream school called Chorley primary school in 2015 – the same school as their elder brother Finlay, then aged 6. They had one teaching assistant helping them both.
Matt shared that by sending the girls to a mainstream school, they want to push them to succeed but noted they know they have alternatives if they struggle.
He and his wife, Jodi, have continued to share photos of their beloved daughters on their Twincess website, which include the girls participating in many activities such as football and pony riding.
In March 2021, Jodi gushed over the couple's twins alongside a 3-minute-long montage of memories together starting when they were infants. The clip includes happy moments with the parents and big brother Finlay.
Jodi penned a sweet message about her girls admitting that she was initially fearful and had many questions about their condition but that she has since learned to love them immensely.
In July 2022, she posted several images of Abigail and Isobel and wrote that sending them to mainstream school was difficult. However, they flourished while there, and seven years later, and would now be heading to secondary school.
Abigail and Isobel are now all grown up; their doting mom paid tribute to them on June 29, 2023. "Wishing these 2 gorgeous girls the best birthday ever. Never change ladies. 12 whole years of loving you," Jodi captioned her Facebook post.
Click here to read a similar story about a man with Down's syndrome who got fired after 20 years of employment.
Read More: World News | Entertainment News | Celeb News
Anomama