The final home of Marilyn Monroe – and the only residence she ever owned independently – will remain standing for now after Los Angeles officials intervened to block the property's demolition.
The news that the new owners of 12305 Fifth Helena Drive, where Monroe died at age 36, filed for demolition permits had attracted widespread outrage. Los Angeles city councilwoman Traci Park said she received hundreds of calls urging her to save the Spanish colonial-style house in the city's Brentwood neighborhood.
"Unfortunately, the department of building and safety issued a demolition permit before my team and I could fully intervene and get this issue resolved," Park said at a news conference last week, adding that there was a need for "urgent action".
Park introduced a motion to initiate consideration of the home for historic preservation, and the council unanimously voted to move forward, prompting the city's building department to revoke the demolition permit. The motion also prevents any major alterations to the property while the city reviews its potential status as a landmark.
"This will be the first step in ensuring that we can protect this home against demolition," Park said.
The property, which features a guest house and swimming pool, was purchased in 2017 for $7.25m by Glory of the Snow LLC, then managed by a hedge fund executive, the Los Angeles Times reported. It was sold to the Glory of the Snow Trust for $8.35m earlier this year.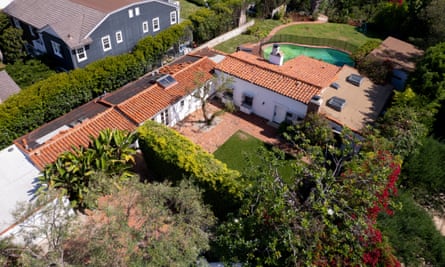 It's unclear what the mysterious new owner intends to do with the property. The owner did not submit any plans indicating what their plans are for the land, Park said at last week's press conference.
Monroe purchased the single-story, 2,900-sq-ft (270-sq-meter) house in the early 1960s for $75,000 after the end of her third marriage to playwright Arthur Miller, according to the Times. It was the only residence the actress, who spent part of her childhood in an orphanage and foster care, ever independently owned.
The screen legend, star of such films as Gentlemen Prefer Blondes, Some Like It Hot and The Misfits, was found dead in a bedroom of the home in August 1962. The cause of death was ruled to be acute barbiturate poisoning.
Monroe had named the home Cursum Perficio, a Latin phrase meaning "My journey ends here", which adorned tiles on the home's front porch.
The global concern about the home reaffirms its significance, Park said.
"For people all over the world, Marilyn Monroe was more than just a movie icon. Her story, from her challenging childhood growing up in orphanages and foster homes to becoming a global sensation, is a shining example of what it means to overcome adversity," she said.
"The overwhelming sentiment here is clear. This home must be preserved as a crucial piece of Hollywood's and the city of Los Angeles' history, culture and legacy."
Reuters contributed reporting
Read More: World News | Entertainment News | Celeb News
Guardian