Fox Sports sideline reporter Erin Andrews married her Canadian former NHL forward husband Jarret Stoll in 2017. The sportscaster and television personality recently bid her husband farewell, promising to see him in a few months.
Jarret Stoll and Erin Andrews enjoy marital bliss, but their relationship has been tested over the years. Three years into their relationship, they arrested the former professional ice hockey player, but it did not cause them to break up.
In 2016, when she received a health scare, even though they were still dating, he stood by her and kept it a secret because of her male-centric workplace.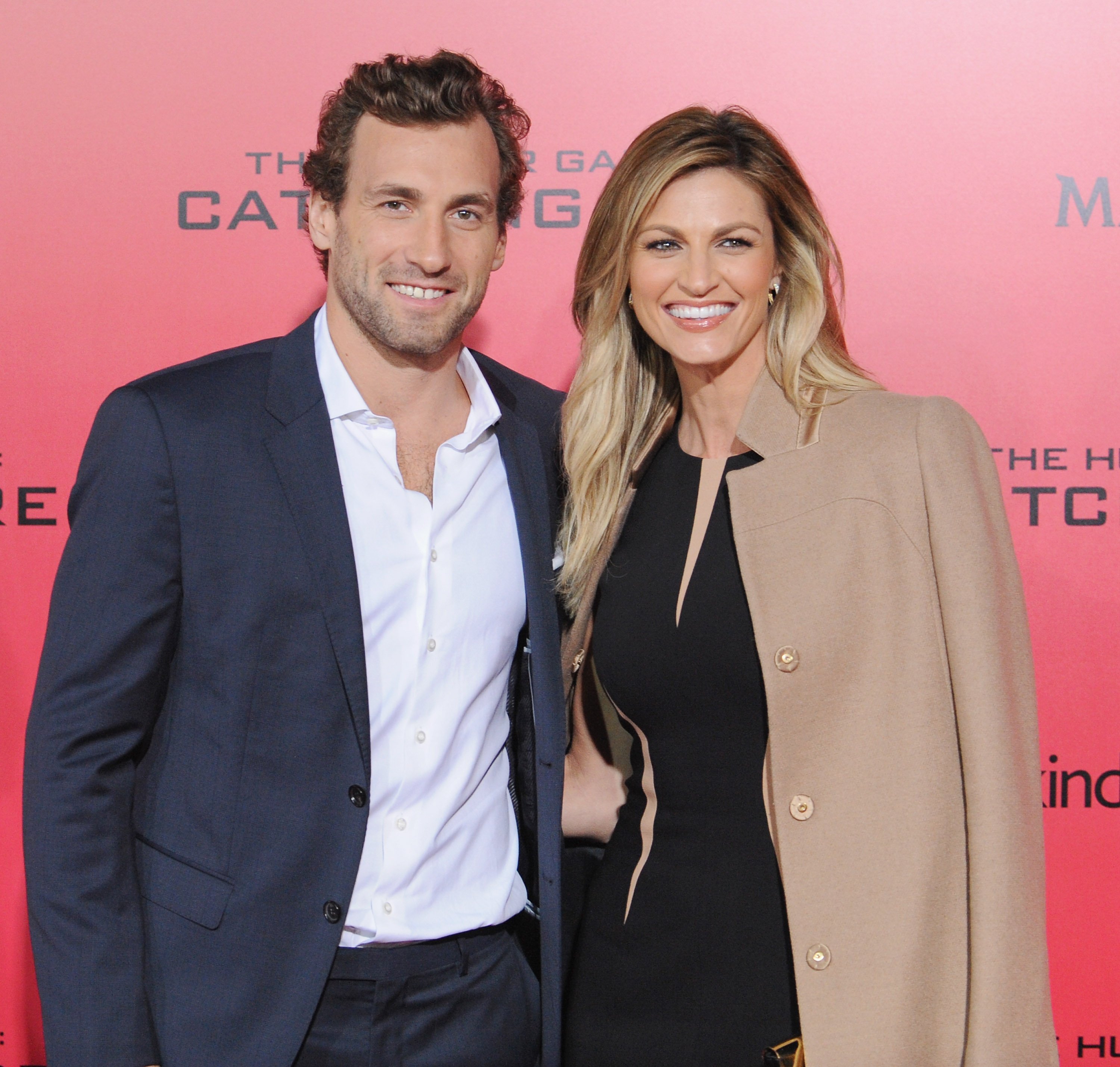 Jarret Stoll and Erin Andrews at the Los Angeles premiere of "The Hunger Games: Catching Fire" on November 18, 2013 | Source: Getty Images
Three years before Stoll and Andrews became a couple, he had canceled his wedding to model Rachel Hunter and was ready to have another serious relationship.
The Fox Sports reporter had piqued his interest, and he reached out to his friend, former professional American football player, journalist, and television personality, Michael Strahan, to set them up.
Strahan reached out to Andrews via text and informed her that Stoll wanted to take her to dinner. Almost five years after they started dating, the couple tied the knot on a mountaintop with a view for their celebrity guests to enjoy.
Who Is Erin Andrews' Husband Jarret Stoll?
Born on June 24, 1982, Stoll played hockey when he was young. From 1997 to 2002, he played for the minor and junior leagues before he joined the Edmonton Oilers and, in no time, made his first appearance in the Stanley Cup Finals.
In 2008, he joined the Los Angeles Kings, and four years later, they won the Stanley. Their victory was repeated in 2014 when they became champions again. Before the end of 2016, he became a free agent ending his playing career.
Shortly before Stoll's retirement, they arrested him in Las Vegas for drug possession at the MGM Grand pool when he attended the Wet Republic pool party. The cops booked him in jail and released him on a $5,000 bond.
Andrews says goodbye to her husband as she starts the 2022-23 NFL season.
Two months after his arrest, he pled guilty to two reduced misdemeanor charges and had to perform 32 hours of community service within four months. After the case, he promised to share positive life lessons.
Long before meeting Andrews, Stoll was engaged to Rachel Hunter. Hunter was married to British rock and pop singer and songwriter Rod Stewart for 16 years, and they had two children before their divorce in 2006.
Stoll and Hunter's relationship started shortly after her divorce, and two years later, they became engaged. Even though Hunter was older than him by over ten years, they lived together with her children and were planning their wedding for August 2010.
However, Stoll ended their engagement without an explanation. Several sources believed her age and high-maintenance tastes played a significant role in his decision. Years later, Hunter revealed it was the right decision even though it was hard for her.
Jarret Stoll's Proposal and Their Marriage
Jarret Stoll decided to propose to Andrews in Disneyland during the 2016 Christmas holiday. He chose the exclusive Club 33 restaurant as the perfect venue but never imagined she would want to enjoy the rides before they were ready to eat.
While he wanted it to be magical, he was already stressed before he could get down on his knees. He thought he would lose the ring in his jacket pocket while they were enjoying the rides.
By the time they got to the restaurant, he was constantly worried about the proposal being perfect, leading to him running around and getting kicked out of the kitchen. When he finally proposed, the surprise was perfect.
A few months before his proposal, Andrews was diagnosed with cervical cancer. After getting the news, she was worried about how the men at her place of work would perceive her, and she did not want to be the girl who always had problems in the news.
The couple decided to keep the diagnosis to themselves. Despite the reporter's diagnosis, Andrews later revealed that Stoll was a fantastic partner, and his standing by her strengthened their relationship.
Their relationship has been tested in many ways, and even when they arrested him, she stood by him. In 2020, the couple celebrated their third wedding anniversary.
For their anniversary, which also serves as Stoll's birthday, Andrews posted a picture of them from their wedding day on her Instagram. She wrote:
"Best day of the year! Happy Birthday and Happy Anniversary @stolly28 Love you!"
Following her caption was hearts and cakes emojis. In the comments, their famous friends and fans wished them a happy anniversary and congratulated them on their milestone celebration.
Erin Andrews Tells Husband Jarret Stoll 'See You in February'
As the 103rd season of the National Football League began on September 8, 2022, the reporter had to say goodbye to her husband as she had to return to the sidelines.
Andrews took to Instagram to say her goodbyes as she posted a picture of them enjoying their vacation on the beach in Punta Mita, Mexico.
In the picture she posted, the couple was dressed in casual attires while Andrews was barefooted. In the caption, she wrote:
"See you in you in February babe. ❤️❤️ @stolly28."
Andrews has started the 2022-23 NFL season, ending with the Super Bowl LVII on February 12, 2023. She will join Fox Sports' lead broadcast team consisting of Kevin Burkhardt, Greg Olsen, Tom Rinaldi, and Mike Pereira.
Read More: World News | Entertainment News | Celeb News
Anomama