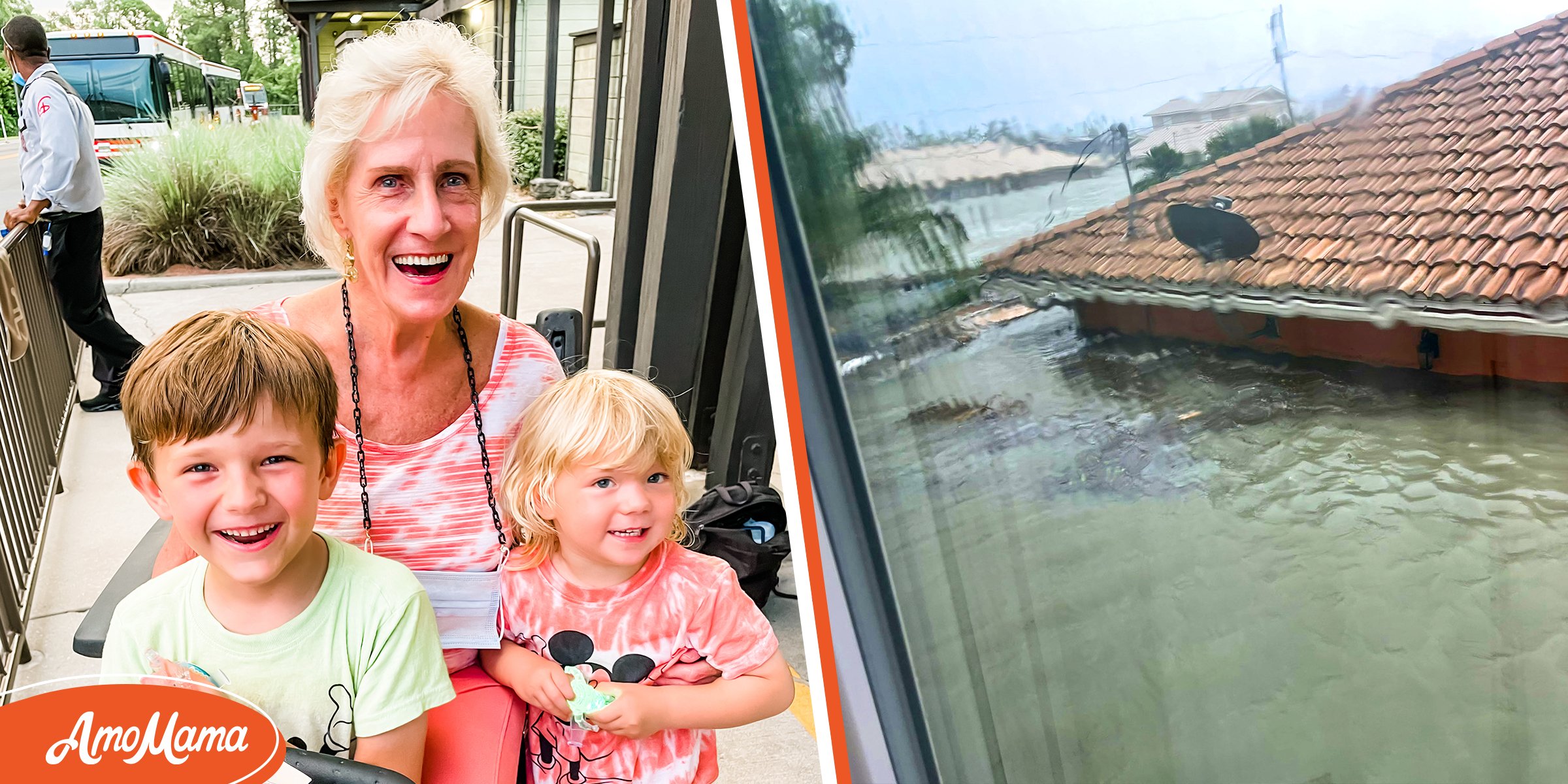 Carole McDanel and Her Grandchildren | Outside Carole McDanel's House | Source: twitter.com/itsbethbooker
As muddy water started to creep up the stairs in a 78-year-old woman's home, she quickly took a photo and sent it to her daughter. Moments later, the elderly woman went missing while her worried daughter kept calling her.
Using technology to connect with our loved ones is a blessing we take for granted unless an unforeseen incident, like a catastrophic storm, leaves us with no power for hours.
The woman in today's story experienced something similar and underwent a whirlwind of emotions when she couldn't locate her mom. The elderly woman was all alone while Hurricane Ian wreaked havoc in her city.
The Mother-Daughter Duo
Beth Booker's parents parted ways when she was too young to understand the concept of divorce. The little girl lived with her father for the first five years of her life before he passed away.
After Booker's father died, her grandmother, Carole McDanel, adopted her and looked after her like a mother. Little Booker never felt connected to her birth mother, but the relationship she shared with her grandmother was unlike any other. Booker said:
"I used to call her mom all the time anyways because my birth mother wasn't in the picture."
The Strong Bond
Growing up, Booker shared a heartwarming bond with her mother, McDanel, and felt their relationship strengthened her. The 32-year-old mother-of-two had a rough childhood, but she felt "privileged" after being raised by McDanel.
At around 4 p.m., a video popped up on Booker's Twitter profile, where she was seen crying.
The mother-daughter duo lived together in their Fort Myers, Florida home before Booker moved to North Naples with her husband. However, the long-distance didn't affect their relationship. Booker often visited her mother, and the two exchanged photos and videos over the internet.
The Last Visit
The last time Booker visited her mother was when Hurricane Ian was about to hit Florida's coastal line. She and her husband helped McDanel install impact windows and shutters to keep her safe from the storm.
The couple ensured McDanel had a stocked pantry and emergency supplies like lanterns and batteries. However, they had no idea that the storm would soon flood her house because they hadn't expected it to enter Fort Myers. Booker said:
"We honestly didn't think it was going to be as catastrophic as it has been."
Disconnected
Booker was in her North Naples home when Hurricane Ian hit Fort Myers on September 28, 2022. Her heart raced when she saw photos of her mother's house submerged in muddy floodwater.
A worried Booker called her mother and told her to stay upstairs. She also asked McDanel to find a whistle to be prepared for the worst. McDanel could climb to the rooftop and blow her whistle for help if the water rose to dangerously high levels.
"I haven't heard from her since," Booker revealed on Thursday while recalling that the line went dead when she asked her mother to find a whistle. The distraught daughter added:
"The fact that I haven't heard from her is extremely hard — I don't know what's going on, and she's by herself."
Help Is Coming
As the torrential rains and strong winds destroyed houses and infrastructure in Fort Myers, Booker kept calling her mother, hoping she would answer. Meanwhile, she also called 911 and posted about her mother on Twitter. She said:
"I've been leaving her voice messages telling her that help is coming and that I love her."
Soon after she posted photos about her mother on Twitter, many people stepped forward to help. They were willing to take out their boats to find McDanel.
The Unknown Person
Despite receiving multiple offers to help find her mother, Booker accepted none. She didn't want to risk other people's lives, knowing how catastrophic the storm had become. All she could do was wait for authorities to send help.
Booker had reached out to multiple rescue organizations, hoping someone would trace her mom. While trying to find McDanel, there came the point where Booker broke down. She cried her eyes out, thinking about her beloved mother.
On September 29, someone told Booker they had found McDanel, but the person asked her to send $596 to book a hotel room for the night. When Booker asked the person for her mother's middle name, she realized it was a scam.
Good News
"Once I see her again, I'll be able to breathe," Booker said while thinking about McDanel. She wanted to hold her mother's hands and tell her how much she loved her, but she had no idea when that would happen.
At around 4 p.m., a video popped up on Booker's Twitter profile, where she was seen crying. She told the viewers that her best friend and husband found McDanel after they went searching for her.
"They have her. And they are bringing her to me," Booker said while sobbing. The moment she had been waiting for was finally here. Booker was eventually reunited with her beloved mother.
Many people were trapped in their homes after Hurricane Ian wreaked havoc, but we hope everyone finds their loved ones as Booker did.
Click here to read how a pregnant woman drove through Hurricane Ian to reach the hospital safely. She said she didn't remember driving through the storm.
Read More: World News | Entertainment News | Celeb News
Anomama