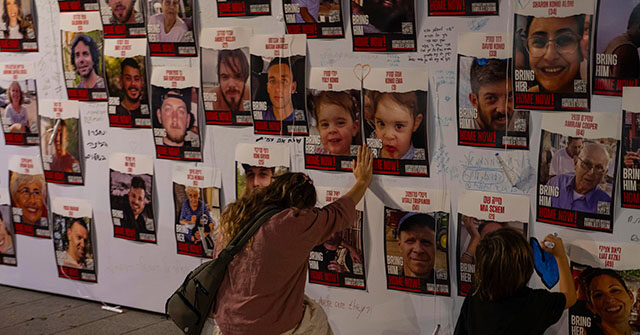 JERUSALEM, Israel — The Israeli government approved a deal Tuesday night that will see the Palestinian Hamas terror group release at least 50 female, child, and elderly hostages over four days, in return for a pause in the fighting in the Gaza Strip.
In return, Israel will release a greater number of convicted Palestinians — though none who have been convicted of murder. Israel will resume the fight as soon as the hostages are delivered and the four-day period is over, as it works to destroy Hamas.
The Times of Israel reported:
Hamas has said it has 210 of the about 240 hostages taken from Israel during the October 7 atrocities. Islamic Jihad is said to be holding the remaining hostages.

According to the developing deal, Hamas will release at least 50 Israeli hostages, mainly women and children, in exchange for a ceasefire of four days, the release of between 150 and 300 Palestinian prisoners, and the entry of fuel and other goods into Gaza.

Some 12-13 hostages will be released per day as the ceasefire takes effect, the source says, adding that Israel will release women and minor prisoners, with each returning to the city or town where he lived prior to imprisonment, including the West Bank and East Jerusalem.
In a briefing to reporters Tuesday, Israeli negotiation adviser Moty Cristal said that Hamas's leader in Gaza, Yahya Sinwar, had likely already decided to die as a martyr when he launched the October 7 attack. That did not mean, however, that he would not use negotiations to achieve other goals in the interim.
Cristal emphasized that the main motivation for Israel in the war was freeing the hostages, even if the stated, equal policy goal was ending Hamas as a military threat in the Gaza Strip.
Joel B. Pollak is Senior Editor-at-Large at Breitbart News and the host of Breitbart News Sunday on Sirius XM Patriot on Sunday evenings from 7 p.m. to 10 p.m. ET (4 p.m. to 7 p.m. PT). He is the author of the new biography, Rhoda: 'Comrade Kadalie, You Are Out of Order'. He is also the author of the recent e-book, Neither Free nor Fair: The 2020 U.S. Presidential Election. He is a winner of the 2018 Robert Novak Journalism Alumni Fellowship. Follow him on Twitter at @joelpollak.
Read More: World News | Entertainment News | Celeb News
Breitbart