Hollywood couple John Legend and Chrissy Teigen lost their third child to stillbirth. However, their luck has changed, as they are expecting another new addition to the family after facing social media scrutiny.
In September 2020, model Chrissy Teigen and her singer husband, John Legend, announced that they lost their unborn son, Jack.
Nearly a month later, Teigen candidly spoke up for the first time about the ordeal in an essay for Medium and wrote that the experience was extremely saddening.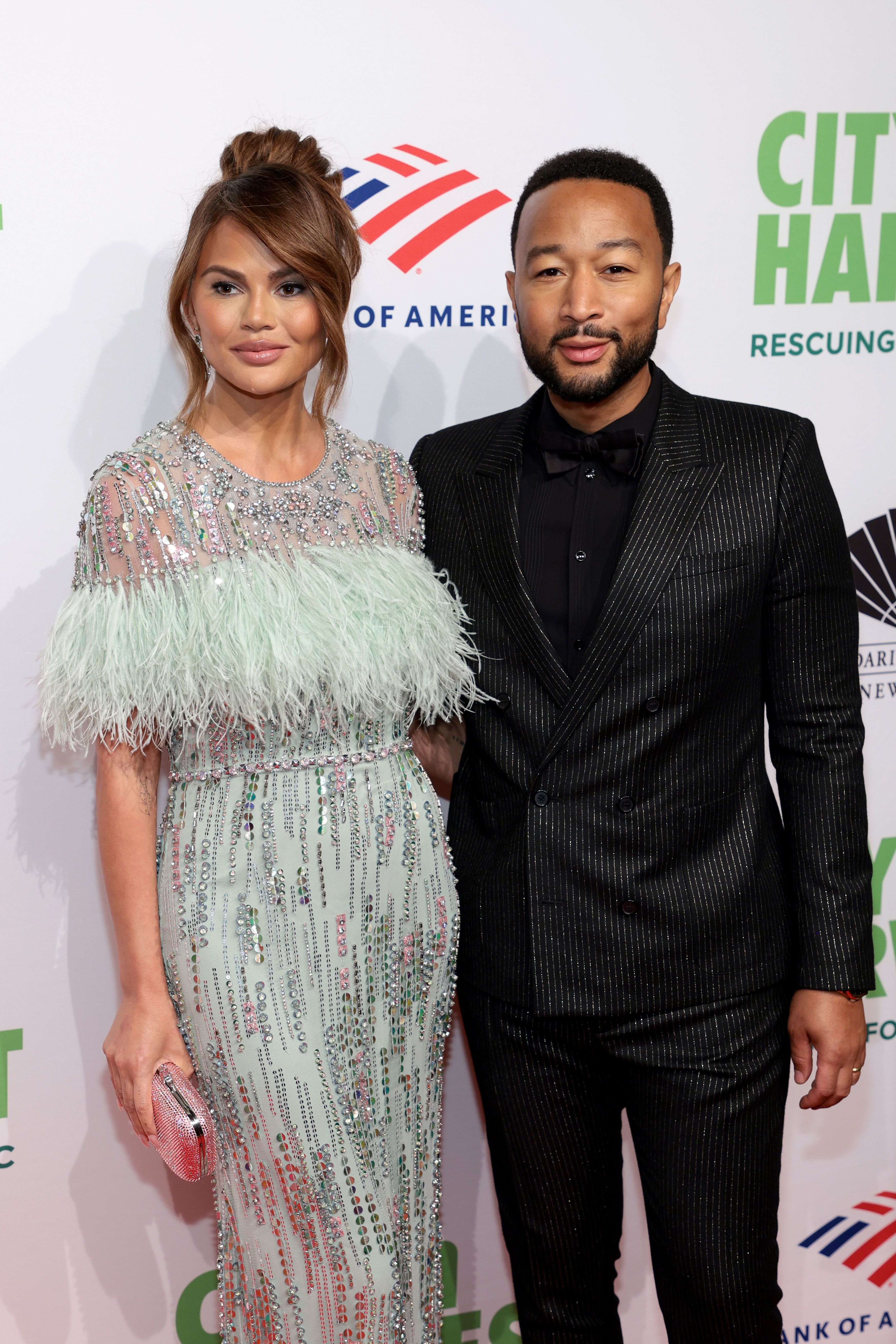 Model Chrissy Teigen and singer John Legend attending the City Harvest Presents The 2022 Gala: Red Supper Club at Cipriani 42nd Street on April 26, 2022 in New York City.┃Source: Getty Images
"It feels right to begin with a thank you. For weeks, our floors have been covered in flowers of kindness. Notes have flooded in and have each been read with our own teary eyes," Teigen wrote.
The TV personality revealed that she was 20 weeks pregnant when she had an epidural and was induced into labor. Teigen was diagnosed with "partial placenta abruption."
According to Mayo Clinic, it is when the placenta separates from the inner wall of the uterus, which blocks the baby's oxygen supply and nutrients and leads to heavy bleeding in the mother.
As a result, Teigen was on bed rest for more than a month as she was hospitalized for excessive bleeding. The mother of two disclosed that after only a few days in the hospital, doctors told her Jack would not survive much longer.
If the process had taken longer, she also could not have survived. They tried many blood transfusions, but nothing worked.
"I cried a little at first, then went into full-blown convulsions of snot and tears, my breath not able to catch up with my own incredibly deep sadness. Oxygen was placed over my nose and mouth, and that was the first picture you saw. Utter complete sadness," Teigen expressed.
The photo she referred to was the one she requested her mother and husband to take – to share on social media when she first broke the heartbreaking news. She wrote a lengthy post on Instagram detailing the agony she and her family went through because of the miscarriage:
"We are shocked and in the kind of deep pain you only hear about, the kind of pain we've never felt before."
"To our Jack – I'm so sorry that the first few moments of your life were met with so many complications that we couldn't give you the home you needed to survive. We will always love you," Teigen added.
Meanwhile, more than a year later, her spouse, Legend, openly discussed the devastating experience in an interview with The Guardian.
The couple publicly shared pictures of their stillborn child on social media and received backlash. Some people said it made them "uncomfortable." Despite that, the songwriter stated he and his wife chose to focus on the "outpouring of love and support."
Legend stressed that he and Teigen were "tested" by their son's death as it was a "tragedy" for them as a family, but it made them even stronger:
"It was a tragedy. But I think it strengthened our resolve and resilience because we were there for each other. We came out even more sure of who we were as a couple and as a family."
He explained that as a unit, they learned how many other families went through the loss. That said, Legend commended the mother of his kids for her "bravery" in sharing their story because other people were comforted by the fact that they were not alone in their grief.
A year after Jack's death in September 2021, Teigen took to Instagram and posted a photo when she was reeling from pain while in the hospital alongside her husband.
She wrote that although a year had passed, it did not make the pain disappear. The Utah native said people told her it would get easier, but she was not there yet, noting that she and Legend would always love their child.
TEIGEN HAPPILY ANNOUNCES THAT SHE IS PREGNANT
In August 2022, Teigen shared the good news with her Instagram followers as she announced that she and Legend were expecting another baby. She posted a selfie showing her visible growing baby bump, writing:
"The last few years have been a blur of emotions, to say the least, but joy has filled our home and hearts again."
The author admitted that after every appointment, she has been skeptical about announcing that she is pregnant after what happened with her previous pregnancy nearly two years ago.
However, after hearing the baby's heartbeat from time to time, she experienced a feeling of relief, but still, fear crept in on her:
"I don't think I'll ever walk out of an appointment with more excitement than nerves, but so far, everything is perfect and beautiful, and I'm feeling hopeful and amazing."
In February 2022, Teigen posted on her Instagram that she had begun her IVF treatment and urged fans to stop asking her whether she was pregnant or not. She said that though she knew people had good intentions, it made her feel otherwise because she was not pregnant, to begin with.
The Sports Illustrated cover star added that although she did not mind taking the shots for the treatment, it only caused bloating, making the experience unbearable.
In March 2022, Teigen told Entertainment Tonight that she had completed her last round of invitro fertilization after announcing that she and her spouse were trying to have another baby.
THE COUPLE'S PARENTING
While awaiting their fourth child, Teigen and Legend are already proud parents of two children. The couple has a six-year-old daughter named Luna, whom they welcomed in 2016, and a son called Miles, who arrived in 2018.
Like all kids, the siblings are growing up fast. In September 2021, Teigen shared on social media that she cried while dropping off Luna on her first day of kindergarten and Miles at pre-K.
That same month, the doting mom revealed that her brood loves "pampering other people" – especially her. Luna gave her mother a foot massage.
In December 2017, Legend opened up about parenting the kids with Teigen in an interview with Us Weekly. Although they have been together for over a decade, he said part of parenthood is learning how to do it together.
"Even though Chrissy and I have been together for a long time, we haven't been parents together until last year [when they had their first child]. You start to learn what kind of responsibilities you want to share and take on," he stated.
The pianist added that as their children grow up, he would support them in achieving their dreams. Legend said when his son and daughter find their passions, they need to "commit" to them.
Read More: World News | Entertainment News | Celeb News
Anomama