Love turned sour between a Japanese woman and her soldier lover when he failed to reach out to her after being moved from Japan. However, he didn't know that the woman was carrying his child.
Parenthood involves a lot of sacrifice on the part of the parents, and no one knows this better than Nobue Ouchi, who had to give up her son because she feared his life would be difficult in Japan because of his mixed heritage.
Here is a brief story of how the boy she left behind found his way back to her and, eventually, his father.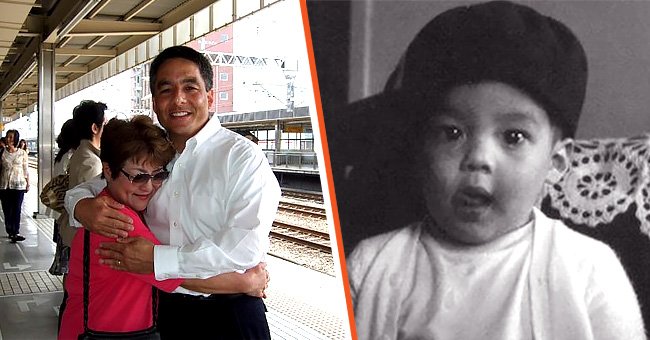 [Left] Nobue Ouchi reuniting with her son Col. Bruce Hollywood while they share a warm embrace; [Right] A baby photo of Col. Bruce Hollywood. | Source: facebook.com/bruce.hollywood. youtube.com/StirredUp_Videos
IT ALL BEGAN WITH AN HEART ATTACK
In 2005, when Air Force Col. Bruce Hollywood found himself struggling to hold on to dear life on the floor of a parking lot in the darkness before dawn, he thought it would be the end. However, he survived the usually fatal ordeal, and it reminded him of how precious life is.
He could not stop the regrets from piling up as he was transported in an ambulance headed to the Walter Reed Army Hospital. One of those regrets was that he wouldn't get to help his son with his college applications, and another was how he had failed to thank the woman who gave birth to him and gave him up.
He had been adopted by an American couple stationed in Japan with the U.S. military because it was believed they would be able to give him a better life in America. Ouchi was right, and her son had grown up to become a respectable man with a beautiful family of his own.
Before the heart attack, Hollywood refused to search for his birth mom because he felt nothing had been missing. While alive, his adoptive mother had always urged him to seek Ouchi out, but he had not thought much about her, so he didn't see the point.
His adoptive parents even offered to cover the cost of transportation to Japan, but Hollywood always turned them down. That is, until after the heart attack.
Having decided to seek his mom out, Hollywood decided to write her a secret letter, just in case she had kept news of her pregnancy secret. He planned to tell her how well his life turned out. He contacted the U.S. embassy in Tokyo and the Japanese embassy in the U.S., but they couldn't find her, so he gave up.
Months later, he ran into a fellow military man headed in the same direction he was, and they talked. His name was Admiral Harry Harris, and his mother was Japanese as well.
Hollywood told him about his futile search, and Harris decided to help him. Hollywood refused to get his hopes high, but ten days later, he got a call from the Japanese embassy – they had found Ouchi.
Hollywood was given little time to prepare; his caller said: "There's not going to be a letter. She's going to call you at this phone number in 10 minutes, and she doesn't speak English. Good luck!"
The veteran soldier quickly looked for a translator and finally communicated with his mother, who couldn't stop sobbing as she revealed that the next day was her birthday and that her greatest wish had been to see her son returned to her.
It turned out that Hollywood's adoptive parents had given Ouchi a picture of him as a baby and revealed that they would name him Bruce while promising he would live a good life. Ouchi never forgot the name, and she never lost the picture.
She would go on to create a restaurant she named after him and kept it operational, raising it like the child she lost. Ten days later, Hollywood traveled to Japan and met his birth mother.
SHE LED HIM TO HIS FATHER
When they met, Ouchi revealed that his father had been her lover until he was ordered to move back home. He had promised to keep in touch, but when she did not immediately hear from him, she had wrongly assumed he had forgotten about her when he had been preparing his family to accept her.
After some months, he had called back, but Ouchi had lost faith in their love and did not reveal that she was carrying his child. So, it was the end of their relationship even though they took no other partners after.
Hollywood enjoyed three years of bliss with his mom before she passed on in 2009, leaving him with a note that held his father's name. Later on, a DNA test from Ancestry.com revealed he had a cousin who led him to an uncle who was his dad, Louis Bazar.
Unfortunately, the man had passed in 2005; however, he left behind a son he had with his first wife, who died before he met Ouchi. The son was named Louis Bazar Jr., and after finding each other, the two chose to adopt each other as family – Louis Bazar Jr. had always wanted a sibling.
Anomama