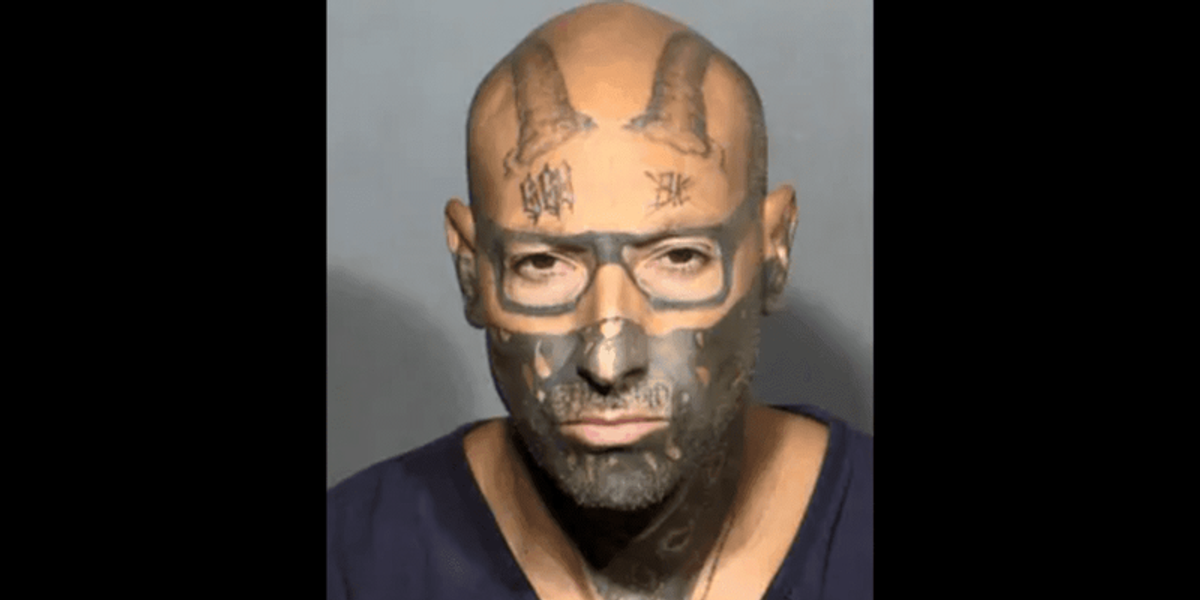 A Las Vegas man with a 20-year rap sheet is accused of murder after police allegedly discovered the dead body of his girlfriend in the Nevada home.
Around 2:30 p.m. on Monday, a man reportedly entered the Southeast Area Command Center for the Las Vegas Metropolitan Police Department to report the murder of a person. The informant allegedly told police that he was "fearful that if anyone knew he was at the police station, he would be killed."
According to the police report, the man informed authorities that two days prior, he had heard a heated argument between James Gina III and his girlfriend, Celina Rebholz.
KLAS-TV reported, "According to the report, Rebholz was calling Gina a pedophile, the witness said it sounded like Rebholz was throwing things. The witness heard Gina tell Rebholz, 'I'll put three in you if you don't shut up,' referring to shooting Rebholz three times."
Gina's mother allegedly attempted to intervene, but James threatened that he would "also shoot her if she didn't go away." The mother and witness reportedly left to go gambling for roughly three hours.
Upon returning to the home, the witness told police that Gina was acting "frantic and distraught," according to the police report. Gina brought the witness to a bedroom in the house where Rebholz was naked on the floor with a hole in her chest, according to the police report. The witness said Rebholz was still alive, but wheezing and "making gurgling sounds," the police report states.
The witness allegedly advised Gina to call an ambulance, but he refused.
Later, the witness alleged that he received a text message from Gina that read: "She's gone, she's dead." The witness reportedly explained to police that he deleted the message because he "did not want anything related to the murder on his phone."
The witness told police that Gina told him that he "killed the woman [he] loved" and hid her body in the attic. Gina purportedly wanted to move the body because it was "beginning to emit a foul odor," and asked the witness to drive him to the airport to get a rental car since all of their vehicles were "inoperable," according to police documents.
The witness allegedly warned police that Gina owned at least three firearms, had a violent temper, and used crystal meth, according to the report states.
Around 7:30 p.m. on the same day the witness told police about the murder, officers with the Las Vegas Metropolitan Police Department went to the home. While searching the house, police discovered Rebholz's dead body covered by a blanket in Gina's bedroom.
Gina was arrested and booked into the Clark County Detention Center on charges of open murder involving a deadly weapon and owning/possessing a gun by a prohibited person, according to online jail records. The 50-year-old with distinct and extensive face tattoos, including eyeglasses, was being held without bail.
The police report says that Gina's mother told police that her son was "fiddling with his gun" and "accidentally" shot Rebholz.
However, the police report notes that Rebholz was shot 12 times.
Gina reportedly has an extensive criminal record dating back more than two decades.
The Las Vegas Journal-Review reported:
Gina has a criminal history in Clark County dating back to 2002, which includes multiple domestic violence cases and convictions for five felonies, court records show. His first arrest in the county was in 2002 on misdemeanor charges of domestic violence, in a case that was later dismissed. He has pleaded guilty to felony charges that include battery resulting in substantial bodily harm constituting domestic violence, battery resulting in substantial bodily harm, coercion constituting domestic violence and possession of a stolen vehicle. His most recent felony conviction was last year, when he pleaded guilty to operating a chop shop, court records show.
Gina's preliminary hearing is scheduled for Sept. 5.
Police are urging anyone with information about the case to contact the LVMPD Homicide Section at 702-828-3521 or by email at homicide@lvmpd.com.
Like Blaze News? Bypass the censors, sign up for our newsletters, and get stories like this direct to your inbox. Sign up here!
[embedded content]Man arrested after allegedly killing girlfriend in central Las Vegas Valley, police saywww.youtube.com
Read More: World News | Entertainment News | Celeb News
TheBlaze