Joe Biden has famously "been wrong on nearly every major foreign policy and national security issue over the past four decades," and, as I write in my New York Times bestselling book, Breaking Biden, he has no one but himself to blame.
That said, Biden has not surrounded himself by the most capable minds our country has to offer. On the contrary, his top advisers are typical Washington establishment functionaries who are living more for their next seven-figure pay day from the security state than for a more secure America.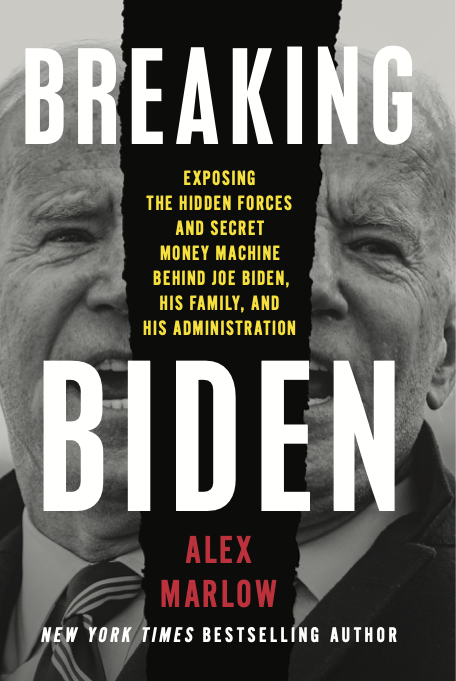 I recently profiled "Secretary of Boeing" Tony Blinken, the ultimate consultant class oligarch who has an atrocious diplomatic record but has proven incredibly competent when it comes to capitalizing on the defense industry opportunities afforded to past and future bureaucrats. He is, after all, the Patron Saint of the Military Industrial Complex.
I've also noted that others in key administration posts like Secretary of Defense Lloyd Austin and Director of National Intelligence Avril Haines have conflicts of interest within their policy portfolios.
The list goes on.
Another person in Joe Biden's inner circle who has not served the president well but has amassed vast levels of power and wealth is National Security Adviser Jake Sullivan. Biden called Sullivan a "once-in-a-generation intellect." If so, the fruits of Sullivan's alleged erudition are not apparent to even informed observers. Far from it. As I recently wrote here at Breitbart News, the Biden administration doesn't appear to care about national security at all. I cite the open southern border, the reengagement with terrorist-funders in Iran, the enabling of Communist China, the botched Afghanistan withdrawal (for which Sullivan was specifically blamed), and the Biden administration's undeniable role in Putin's decision to invade Ukraine, among many examples.
Sullivan even bragged about the U.S.'s partnership with other democracies, but snubbed Israel's elected government. He also pledged to open an consulate in "East Jerusalem" for Palestinians.
Whether Sullivan has a world class mind or not, Joe Biden would be better off choosing his national security strategy at random than listening to anything Jake Sullivan has the say. The whole world is unquestionably less stable since this duo teamed up.
Sullivan should be fired yesterday.
But even if he was, Sullivan has put himself in prime position to bag corporate cash after he exits the White House. In fact, he's done it before.
Deep State Profiteer
Let me provide some essential background information on the Biden administration's international man of mystery. Jake Sullivan worked as an adviser to Hillary Clinton's failed 2008 campaign before going on to work under her at the State Department during the Obama administration. He would later find himself under investigation for removing classified markings from documents on Clinton's email server.
When he was in his mid-30s, he joined Biden World, becoming then-Vice President Biden's national security adviser during Obama's second term. Sullivan's rise was almost implausibly meteoric. He went on to become a key player in crafting the disastrous Iran nuclear agreement (JCPOA) and has remained a mainstay of discussions surrounding the deal ever since.
He advised Hillary Clinton on her Libya policy in the run up to the Benghazi attack when Ambassador Chris Stevens and three other American were slain. He subsequently comforted the then-Secretary of State amidst her media damage control efforts.
After Clinton's failed 2016 presidential campaign, Sullivan became a leading proponent of the Russian collusion hoax and, reportedly, a key conduit for the disinformation operation exposed in Special Counsel John Durham's report on the origins of the Russiagate investigation.
All of this disrepute to this point, and he was barely even 40.

Then-Secretary of State Hillary Rodham Clinton walking with a then-Deputy Chief of Staff Jake Sullivan in Singapore on November 11, 2009. (AP Photo/Ng Han Guan)After the Obama administration, Sullivan left government employment for a gig in the private sector — which is practically a requirement for modern D.C. "experts." He joined Macro Advisory Partners, a company that "provides clients with the strategic insights to navigate the intersection of global markets, geopolitics and policy," according to its website. Among clients seeking "strategic insights" are mining companies in the third world, sovereign wealth funds, and financial giants. Macro Advisory's patrons include Apple, GlaxoSmith-Kline (now GSK), Mastercard, PWC, and Deutsche Telekom, some of the most powerful corporate interests on earth.
Sullivan personally advised for heavy-hitting multinationals like Lego and Uber, as well as a bevy of financial giants such as Bank of America and Standard Chartered, raking in $138,000 in "advisory fees" in 2020.
He also landed a $45k/year adviser gig at Microsoft, a major defense contractor.
Sullivan joined the board of trustees for the International Crisis Group (ICG), a foreign policy think tank that is co-chaired by Frank Giustra, the Clinton donor behind the infamous Uranium One deal. During Sullivan's tenure at ICG, its president was Robert Malley, the now-embattled Mideast envoy whose inner circle appears to have been infiltrated by an Iranian influence operation.
Luckily for Sullivan, success in the "expert" industry does not depend on results or integrity.
In 2020, Sullivan was paid $138,000 in consulting fees from Macro, $152,000 from various academic positions, and a $72,412 salary from the Biden campaign.
Though all of these deals paid moderately, Sullivan and his wife managed to accumulate assets worth between $7.5 million and $27.5 million by 2021. (His wife, attorney Margaret Goodlander, was a law clerk to Attorney General Merrick Garland when he was a judge.)
The consulting business was very good to Sullivan — as it has been for so many of the people responsible for Joe Biden's foreign policy.
Sullivan's Big Lie: 'We Have De-escalated Crises in Gaza'
After the 2020 campaign, Sullivan returned to the White House from his private sector profiteering to become President Biden's National Security Adviser. The media has hailed him as a guru. The globalist publication The Economist literally declared: "Jake Sullivan to the rescue."
Just last month, Sullivan wrote a piece in Foreign Affairs taking a victory lap for Biden's foreign policy, even claiming credit for "deescalating" the Israel-Gaza conflict. The timing of the piece was indisputably horrendous. Just days after the article went to print, the largest organized mass murder of Jews since the Holocaust took place as Hamas terrorists swarmed Israel. The media snapped into action — to bail out one of the Americans who bears actual responsibility for the atrocities: Jake Sullivan.
The online version of Sullivan's Foreign Affairs article was scrubbed of now mortifying references to Biden's triumph in the Middle East. As noted on Xitter by Tablet Magazine journalist Jeremy Stern, the un-scrubbed version of Sullivan's article included this sentence: "The Israeli-Palestinian situation is tense, particularly in the West Bank, but in the face of serious frictions, we have de-escalated crises in Gaza and restored direct diplomacy between the parties after years of its absence."
"We have de-escalated crises in Gaza."
This is the modern-day equivalent to Neville Chamberlain's 1938 declaration of "peace for our time."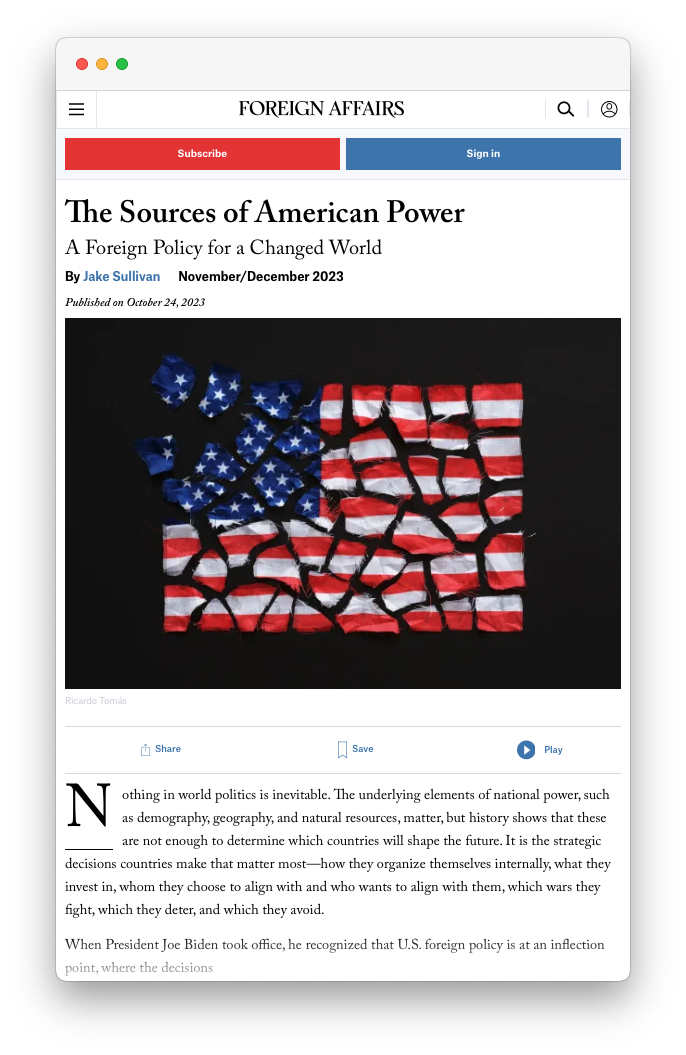 Also in the piece, Sullivan claimed that "U.S. troops were under regular attack in Iraq and Syria" when Biden was sworn in but "such attacks, at least for now, have largely stopped." That statement aged nearly as poorly as his "de-escalation" claim. In late October, the Pentagon reported that 21 U.S. troops were injured in drone attacks in Iraq and Syria.
Sullivan also claimed that the U.S. had successfully discouraged Iranian aggression and quieted the region more so than at any time in decades. Since the article, Iran has reinforced that "death to America" is not just a slogan, it's a matter of policy.
All of the aforementioned sections were scrapped from the online article.
What remains of the piece is nearly as awful:
Sullivan brags about the U.S. readiness to confront Putin's aggression, despite the ample evidence Biden was caught flat-footed (if I'm being charitable) by Russia's invasion of Ukraine.
He claims that "we seek to 'derisk' and diversify, not decouple" from China.
He praises the recent China-backed deal between Saudi Arabia and Iran, crediting it with "reducing tensions" between the two countries.
He claims Biden's approach will "free up" U.S. resources from long term conflicts, even though evidence suggests that our resources are spread thinner than they have been for decades.
Mark my words: this article will stand the test of time no better than a banana. Yet, Foreign Affairs published it all in its print edition, then sneakily edited it so that Sullivan could try to save face.
This is all a disgrace.
Unburdened by his own failures, Sullivan wasted no time placing the onus of "de-escalation" on Israel, warning that the conflict could "spiral" into a larger war between Israel and its allies and Iran. This is effectually a pro-Hamas posture, which is transitively pro-terrorism.
One of the core reasons I spent over a year researching and writing Breaking Biden was to elucidate the nature of the Washington that Joe Biden built, where for professional "experts" like Jake Sullivan, failure is no obstacle. So long as he does not defy the security state or the party-line status quo, so long as he abides by the prevailing narratives and kisses the right butts, not only is Sullivan's job secure, but there will assuredly be a seven or eight figure payday waiting for him as soon as he takes a sojourn to the private sector.
Yes, even if the national security adviser's disastrous "advice" ultimately costs Joe Biden the White House, Jake Sullivan will just return to the private sector to bag mountains of cash, only to return to the next Democratic administration as a much wealthier, if not wiser, man.
Breaking Biden is available now in hardcover, eBook, and audiobook read by the author.
Alex Marlow is the Editor-in-Chief of Breitbart News and a New York Times bestselling author. His new book Breaking Biden is available now. You can follow Alex on Facebook, Instagram, and Twitter at @AlexMarlow.
Read More: World News | Entertainment News | Celeb News
Breitbart