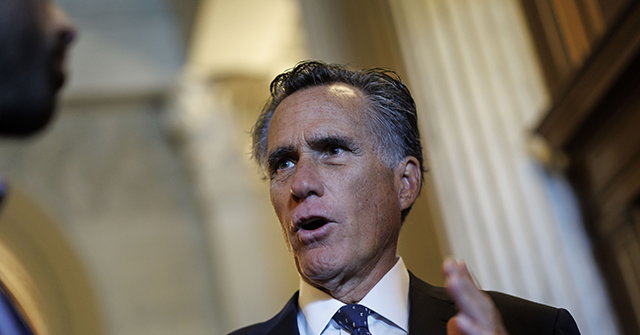 Sen. Mitt Romney (R-UT) announced on Wednesday that he will not run for reelection.
Romney released a video statement explaining why he has declined to run for reelection, stating that he helped pass reforms such as the so-called bipartisan infrastructure bill, the Electoral Count Act reform bill, which was conceived in the wake of the January 6 protests, and emergency coronavirus aid funding.
Now, he said it is time for a "new generation of leaders" to shape public policy. In his statement, he said both President Joe Biden and former President Donald Trump are ready to take on today's issues:
We face critical challenges — mounting national debt, climate change, and the ambitious authoritarians of Russia and China. Neither President Biden nor former President Trump are leading their party to confront them. On the deficits and debt, both men refuse to address entitlements even though they represent two thirds of federal spending. Donald Trump calls global warming a hoax and President Biden offers feel-good solutions that will make no difference to the global climate. On China, President Biden underinvests in the military and President Trump underinvests in our alliances. Political motivations too often impede the solutions that these challenges demand. The next generation of leaders must take America to the next stage of global leadership. [Emphasis added]
[embedded content]
Romney's tenure in the Senate has been marked by controversy, which includes his move to help negotiate the controversial so-called bipartisan infrastructure bill.
During Sen. Mike Lee's (R-UT) reelection campaign, Romney declined to endorse Lee, instead claiming that he would not back Lee while he fought off a bid from the independent and Never Trump candidate Evan McMullin.
Romney infamously announced that he would break ranks with Senate Republicans and vote to convict Trump during his first impeachment trial. His vote to impeach Trump earned him a censure from local county GOP officials and conservative groups.
Now, Utahns move to pick who may replace him in Congress's upper chamber.
National Republican Senatorial Committee (NRSC) Chairman Steve Daines (R-MT) said in a statement, "I join my Republican colleagues in expressing gratitude to Senator Romney for his years of service to our country and the state of Utah. We are going to nominate a candidate who will keep Utah red in 2024."
Utah Senate Republican candidate and Riverton, Utah, Mayor Trent Staggs trolled Romney for standing in solidarity over the impeachment inquiry against Biden.
"I'm glad to see Mitt Romney crossing party lines and joining the Republicans on this," Staggs wrote.
Sean Moran is a policy reporter for Breitbart News. Follow him on Twitter @SeanMoran3.
Read More: World News | Entertainment News | Celeb News
Breitbart