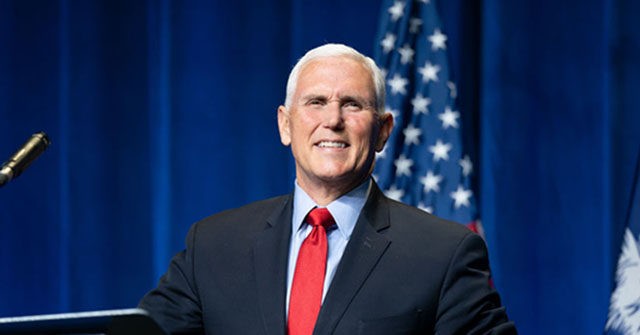 The presidential campaign of former Vice President Mike Pence shared Tuesday that it has reached 30,000 individual donors and that his team is "very confident" he will make the first Republican debate stage later this month.
Pence, who entered the race later than some of his rivals, has met the Republican National Committee (RNC) polling requirements to reach the stage and seeks to pass the 40,000 unique donor threshold.
"I was asked by the press today whether I'd make the debate stage, and I said, 'By our lights, we think maybe the next seven to 10 days, we'll lock it down,'" Pence told donors on a call Thursday that Breitbart News listened in on.
His campaign manager, Steve DeMaura, shared his confidence that Pence will not only qualify for the first debate but also the second debate in September. DeMaura pointed out that Pence has not had as much time to work toward the figure as some other candidates who entered the race earlier, considering he launched in June.
"While other candidates in this race have taken 21 weeks to reach their goal, some, like Tim Scott, have taken 13 weeks to reach their goal. We're confident by the end of next week, we will be qualified for this debate," said the campaign.
"As of this morning, we are well over 30,000 donors. We continue to make progress every day, and we are very confident that we're going to hit those numbers," he added.
DeMaura, who noted the campaign is "incredibly proud of its ground game building in Iowa and New Hampshire," emphasized that the campaign saw its "first 2000 individuals donor day" in late July and that its "been averaging more than 1000 new donors every single day" since then.
"The tactics that we are using online are working, but we expect that that tactic is going to use or make up a smaller percentage of our overall donor base than it does for other candidates because the vice president has such a strong base of grassroots donors via the mail," he explained.
Those who have already qualified include former President Donald Trump, Gov. Ron DeSantis (R-FL), entrepreneur Vivek Ramaswamy, former Gov. Nikki Haley (R-SC), Sen. Tim Scott (R-SC), Gov. Doug Burgum (R-ND), and former Gov. Chris Christie (R-NJ), the Associated Press noted Sunday.
Read More: World News | Entertainment News | Celeb News
Breitbart