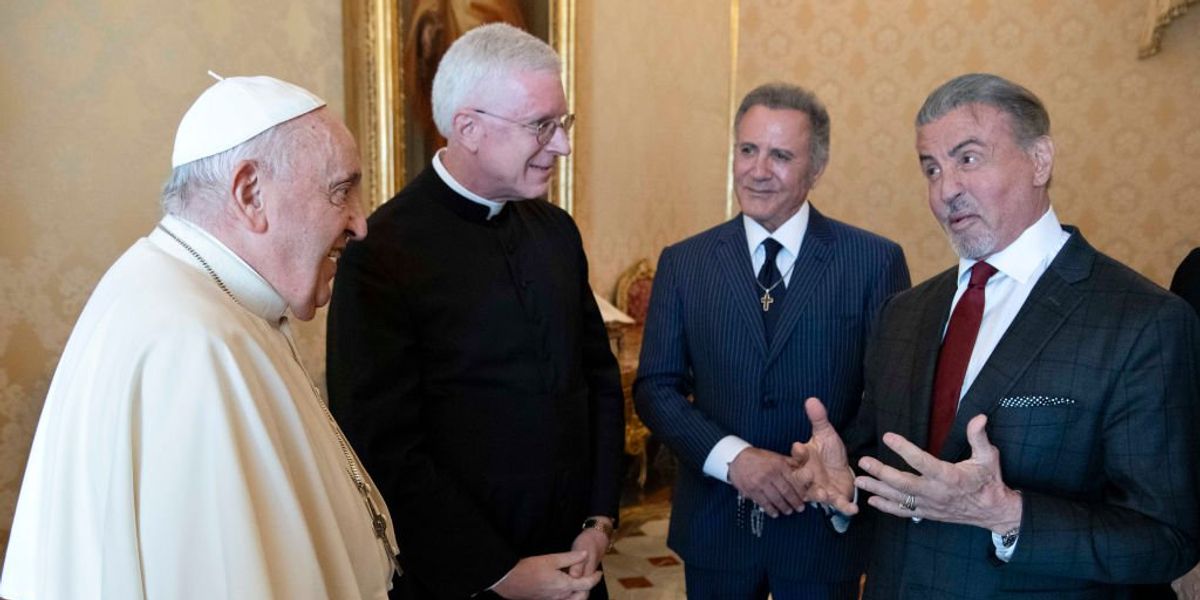 Pope Francis told actor Sylvester Stallone that he grew up watching his movies before the two jokingly shared a brief moment of shadowboxing in the Vatican City.
Stallone introduced himself to the 86-year-old head of the Catholic church, followed by his three daughters, Sophia, Sistine, and Scarlet, along with his brother Frank.
"Thank you very much for taking time from your busy day. We appreciate this very much," Stallone told the pope at the Apostolic Palace.
"We grew up with your films," Francis said through a translator.
"Ready? We box!" Stallone replied as he got into a boxing stance, followed by the pope showing off a couple of short, left-hand punches.
While in Italy, Stallone received honorary citizenship from the city Gioia del Colle. The city of approximately 28,000 held a ceremony for the actor and his family, Fox News reported.
Stallone previously visited Vatican City in 2022 and at the time showed off his experience by posting a picture of himself on Instagram holding two gigantic sets of keys.
"Very rare and special moment," he wrote.
"I was allowed to hold the KEYS that open EVERY single door in the entire Vatican city! Including the Sistine Chapel ! So glad we named our beautiful daughter this beautiful name., 'Sistine'. … Of course they wouldn't let me out of their sight with the KEYS … I don't blame them!" he added.
Stallone recently told the Wall Street Journal that he is incredibly protective of his daughters, telling would-be suitors that if they try to kiss any of them, they should imagine they're kissing him, as well.
"I know how these guys think. I happen to have been one. It's nature, but I want to let them know. I say, 'OK, when you're trying to kiss her, it's like you're trying to kiss me at the same time.' I'm very connected to my family, so if you do something that's inappropriate, it's like you did it to me," the "Rocky" star explained.
"There's going to be an issue and it's going to be a great deal of pain. I'm incredibly protective over my daughters, because I know it's a dangerous planet," he told the outlet.
All of Stallone's daughters are in their twenties.
Like Blaze News? Bypass the censors, sign up for our newsletters, and get stories like this direct to your inbox. Sign up here!
Read More: World News | Entertainment News | Celeb News
TheBlaze