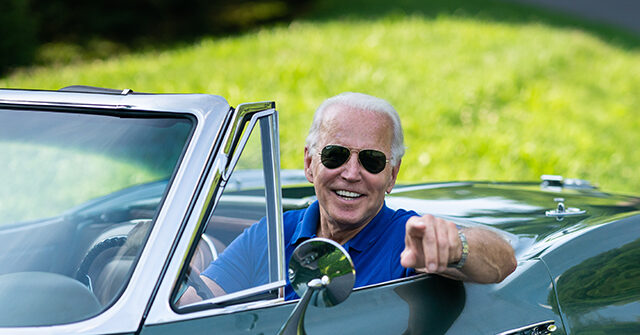 Special Counsel Robert Hur, who is investigating President Joe Biden for mishandling documents, is not expected to charge anyone, sources familiar with the matter told CNN and the Wall Street Journal.
The report suggests a double standard of justice. While there will reportedly be no consequences for Biden, Special Counsel Jack Smith indicted former President Donald Trump in June for mishandling classified documents.
Attorney General Merrick Garland appointed Hur in January to investigate Biden after classified documents from his time as vice president in Barack Obama's administration were found in his possession at the Penn Biden Center in Washington, DC, and at his Wilmington, Delaware, home.
Hur was among those at the Justice Department who had knowledge about the Russia hoax perpetrated against former President Donald Trump.
Hur will reportedly issue a report on his investigation that could be made public by the end of the year.
Hur's investigation encompassed 100 Biden aides, colleagues, and family members, including Hunter Biden. Hur also interviewed Joe Biden for two days in October, the Journal reported:
The documents in question date to Biden's time as vice president during the Obama administration as well as his days in the U.S. Senate. The number of interviews Hur's team has conducted indicates it cast a wide net in trying to answer questions about how the material was packed and handled and wound up at an office Biden used at the Penn Biden Center for Diplomacy and Global Engagement, a Washington-based think tank, and in the garage of his home in Wilmington, Del., alongside his vintage Corvette.

Among those Hur spoke to were Secretary of State Antony Blinken, who was an aide to Biden in the Senate and his national security adviser when he was vice president; current White House national security adviser Jake Sullivan; top White House political aide Steve Ricchetti and Biden's former chief of staff Ron Klain.

The investigation has focused on who handled the documents and what procedures they followed in doing so, the people said.
Joe Biden's classified document scandal leaked to CBS News on January 9, weeks after the initial trove was found by Biden's personal lawyers on November 2. The establishment media reported at least three times that Biden and the DOJ agreed to hide the scandal from public view with likely no plans to disclose it.
It is unclear why Biden's attorneys were initially searching his papers when they found his alleged illegally stashed documents. The White House failed to provide a reason for the search.
Joe Biden will still remain under investigation by the House impeachment inquiry, which
subpoenaed
former White House Counsel Dana Remus on Tuesday related to the alleged mishandling of classified documents.
In addition, Oversight Committee Chair James Comer requested four additional White House employees familiar with President Biden's alleged mishandling of classified material, including Annie Tomasini, to appear before the committee for transcribed interviews.
Comer previously revealed that Joe Biden's senior aide, Tomasini, who reportedly told Hunter Biden she loved him multiple times, handled the president's classified documents at the Penn Biden Center in Washington, DC, 20 months before Joe Biden's lawyer disclosed the discovery of the documents to the public.
Joe Biden is going to skate on the classified docs.

As I wrote in BREAKING BIDEN, Joe's handling of the materials was FAR worse than anything Trump did, so of course his own corrupt machine let him off the hook.

There are (at least) two systems of justice in this country.

— Alex Marlow (@AlexMarlow) November 16, 2023
Read More: World News | Entertainment News | Celeb News
Breitbart