Top US infectious disease expert Anthony Fauci has warned that more "pain and suffering" is on the horizon as COVID-19 cases climb again and officials plead with unvaccinated Americans to get their shots.
Dr Fauci also said he doesn't foresee additional lockdowns in the US because he believes enough people are vaccinated to avoid a recurrence of last northern winter. However, he said not enough are inoculated to "crush the outbreak" at this point.
Dr Fauci's warning comes days after the Centers for Disease Control and Prevention changed course to recommend that even vaccinated people return to wearing masks indoors in parts of the US where the Delta variant is fuelling infection surges. With the switch, federal health officials have cited studies showing vaccinated people can spread the virus to others.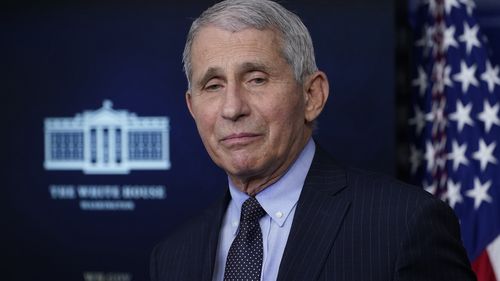 Most new infections in the US continue to be among unvaccinated people. So-called breakthrough infections can occur in vaccinated people, and though the vast majority of those cause mild or no symptoms, the research shows they can carry about the same amount of the coronavirus as those who did not get the shots.
"So we're looking, not, I believe, to lockdown, but we're looking to some pain and suffering in the future because we're seeing the cases go up, which is the reason why we keep saying over and over again, the solution to this is get vaccinated and this would not be happening," Dr Fauci said on ABC's 'This Week'.