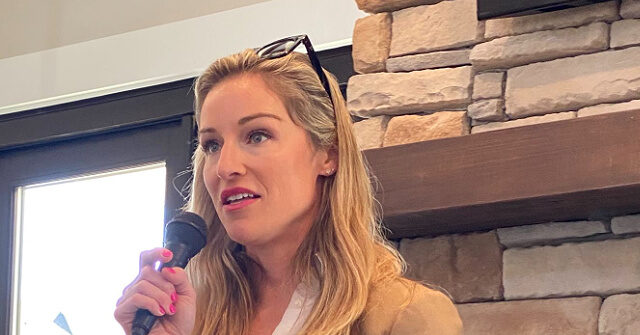 Sen. Mark Warner (D-VA) and Rep. Abigail Spanberger (D-VA) did not respond to queries on Tuesday on whether or not they still support Susanna Gibson as the Democrat candidate for the Virginia House of Delegates after revelations she engaged in online sex acts for money.
The Washington Post on Monday broke the story that Gibson live-streamed sex acts with her husband on a website called "Chaturbate," a platform that says it takes its name from "the act of masturbating while chatting online."
The report said she encouraged viewers to pay them for specific requests with "tips."
So proud to stand with @SpanbergerVA07. From CIA to Congress, Rep. Spanberger has dedicated her entire life to serving others and knows our community well. I'm honored by the confidence Congresswoman Spanberger has in me and my campaign. pic.twitter.com/icq7CKdo99

— Susanna Gibson (@SusannaSGibson) August 7, 2023
Gibson, 40, is a nurse practitioner and mother of two young children who is running in a "highly competitive suburban Richard district," according to the report.
The Post reported that there were "more than a dozen videos" of the couple captured from the Chaturbate website and archived on another site called Recurbate, including after she entered the race in September 2022.
Soliciting tips is apparently in violation of Chaturbate's terms and conditions. In at least two videos viewed by the Post, Gibson tells viewers she is "raising money for a good cause."
Gibson posted two photos with Spanberger and one with Warner to her Instagram account, which she made private on Tuesday after Breitbart News contacted Warner's office about the photo.
However, there is still a post from Spanberger just three days ago in which she appears next to Gibson, saying, "Fantastic night supporting @SusannaSGibson…"
Fantastic night supporting @SusannaSGibson with @ScVanValkenburg and @SenatorHashmi as we prepare for the start of early voting in Virginia THIS month!

These Virginians truly care about getting things done for their communities, protecting our rights, and growing our economy. pic.twitter.com/3R3FnF5Nfj

— Abigail Spanberger (@SpanbergerVA07) September 9, 2023
Gibson reposted that post, which still remains up as of Tuesday.
Follow Breitbart News's Kristina Wong on Twitter, Truth Social, or on Facebook.
Read More: World News | Entertainment News | Celeb News
Breitbart