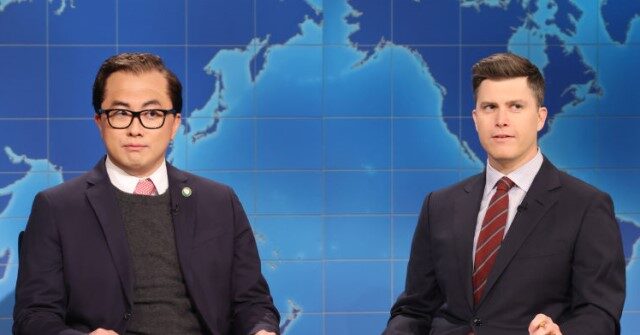 With its first broadcast of the year, NBC late-night comedy show Saturday Night Live barely mentioned Joe Biden's growing classified document scandal, instead giving him airtime for a silly cameo and going all-in to ridicule freshman Rep. George Santos (R-NY).
SNL has not had a new show since Dec. 17 and as it finally came back this weekend with its first new episode of the year, the cast decided that Biden's ever-widening document scandal was far less interesting than the case of Santos, who won election last year before news broke that he has fabricated and exaggerated major portions of his personal biography.
In fact, not only did the show practically ignore Biden's illegal possession of classified documents, the president himself delivered a breezy pre-recorded appearance to help boost guest host Aubrey Plaza's opening monologue.
Biden's document scandal did make a brief appearance during the show's "Weekend Update" faux-news segment with a bit by Michael Che, who joked that among the documents found in Biden's Delaware home was "Barack Obama's real birth certificate" — which he had "hidden in a copy of Black Tail Magazine." Colin Jost followed up that joke by insinuating Hillary Clinton — who the FBI declared to have improperly stored classified emails as Secretary of State — is somehow vindicated by both Trump and Biden being accused of a similar crime.
[embedded content]
But even as the "Weekend Update" devoted less than a minute to Biden's document scandal — without actually hitting Biden during it — the same segment devoted at least 5 minutes to savaging Santos' more frivolous issues — both with one-liners from the hosts and from cast member Bowen Yang doing an impersonation.
[embedded content]
And the Weekend Update appearance was actually Yang's second outing as George Santos in the night's broadcast.
During the cold opener, he portrayed Santos as a Fox Sports correspondent who lied about his resume to get a shot as a sports reporter, changing into drag to send up allegations that Santos performed as a drag queen in Brazil.
[embedded content]
Meanwhile, Biden was widely applauded by the audience when he was featured in a brief pre-recorded segment during guest host Aubrey Plaza's opening monologue in which he congratulated her for being recognized as "the most famous person from Delaware."
[embedded content]
The Santos scandals do lend themselves to cheap jokes, and his Long Island district's proximity to the Manhattan-based NBC writers help explain the show's obsession with him over more consequential politicians like Biden. But with few Republicans backing him up, the choice to lampoon a blundering Congressman over a blundering Commander-in-Chief shows just how little SNL cares anymore about ridiculing the powerful. So long as the target is a Democrat, no amount of gaffes or foolishness can fire up this generation of sketch writers' imaginations.
Follow Warner Todd Huston on Facebook at: facebook.com/Warner.Todd.Huston, or Truth Social @WarnerToddHuston
Read More: World News | Entertainment News | Celeb News
Breitbart