Tara Lipinksy and Todd Kapostasy. | Source: Getty Images
Many fans are curious about former Olympic figure skater Tara Lipinski's husband, Todd Kapostasy. The couple first met at a prestigious awards show in 2015, marking the start of their captivating love story.
Todd Kapostasy, born on July 7, 1984, in Lake County, Ohio, is a former production assistant turned ESPN sports producer. He attended Perry High School and later graduated from Brown University with a history and political science degree.
Kapostasy's producing and directing credits include the movie "The Pine Tar Incident: Making of Tar Wars," the short film "Gifts of My Kin," and the limited series "Meddling."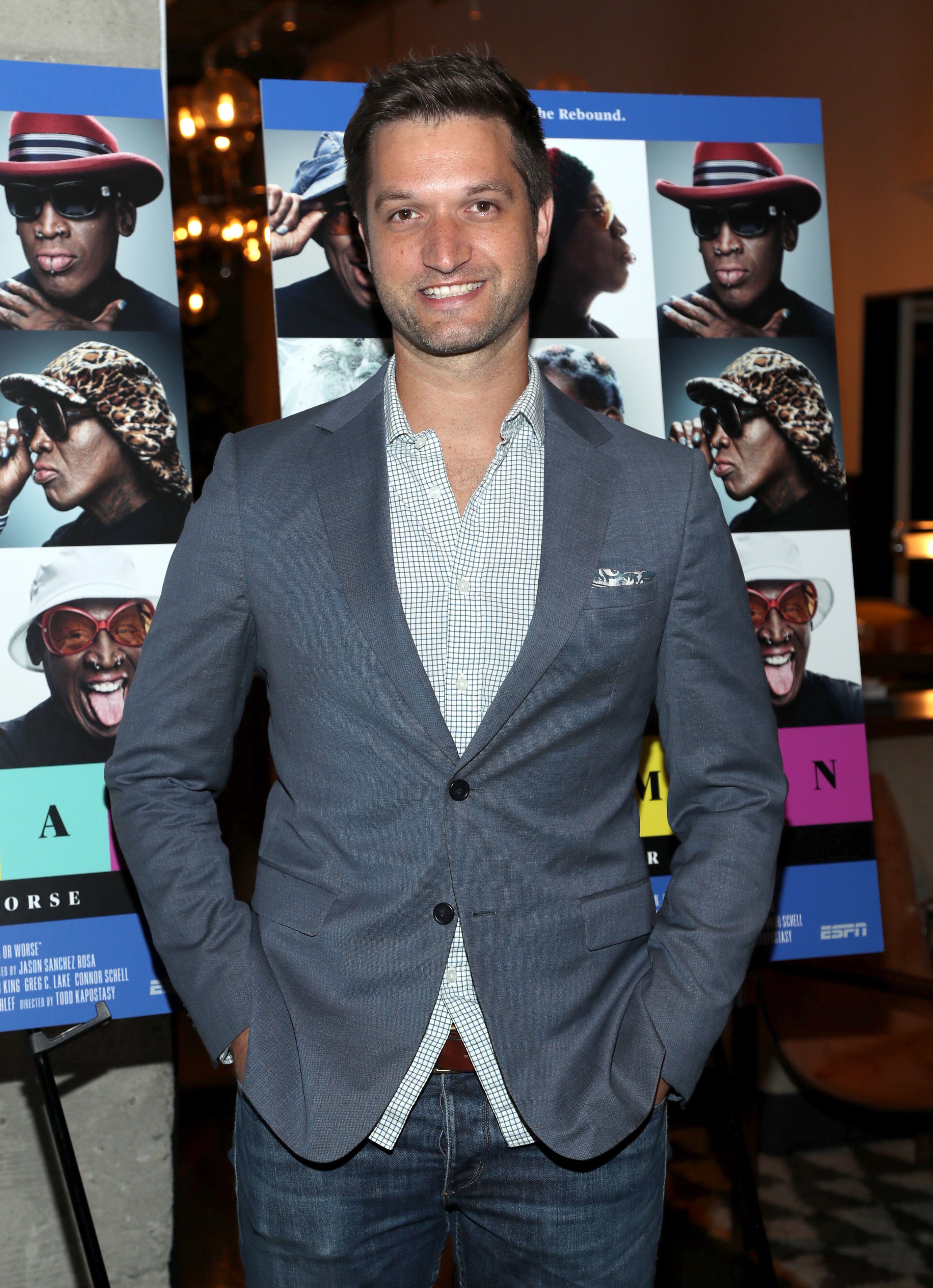 Todd Kapostasy attends a special screening of ESPN's 30 for 30 documentary "Rodman: For Better or Worse" at NeueHouse Los Angeles on September 9, 2019, in Hollywood, California. | Source: Getty Images
They Married Two Years after Their Engagement
Lipinski and Kapostasy tied the knot in a stunning wedding ceremony at Middleton Place in Charleston, South Carolina, in June 2017. The couple dated for two years before marrying. She once stated about their relationship on Instagram:
"I feel so lucky that I get to spend the rest of my life loving my best friend and love of my life."
The dazzling bride captivated the guests with her breathtaking white gown that featured a 200-foot tulle skirt. The groom looked dashing in a black suit, black pants, a white shirt, and a black bow tie.
The bridesmaids looked stunning in their gowns and floral headpieces, and the flower girls were the picture of cuteness carrying their little baskets, which the bride's mother made. The event had a lush, floral theme.
Lipinski suggested to her husband that they should renew their vows to celebrate their marriage.
Lipinski and Kapostasy's wedding featured a range of flower arrangements and decorative elements, such as orchids, roses, lanterns, and arches, which enhanced the couple's special day with an ultra-romantic atmosphere.
The former figure skater had a clear vision of what the ceremony and events would look like. Before the big day, she revealed she wanted to use romantic palettes of light colors like cream and green and flowers.
Lipinski met Kapostasy through Sports Emmys in May 2015, where she presented him with an award. The future spouses hit it off immediately, unaware of how close they would eventually get.
Todd Took Tara Skating in Central Park
Kapostasy seemed to be a big fan of Lipinski's figure skating career, so he did something special for them to enjoy: skating in Central Park. In November 2015, he shared an Instagram photo of the two on Instagram, smiling at the skating rink.
Although he already knew she was a skating champion, the sports producer playfully wrote in the caption that it was nice to give Lipinski a "private lesson" in ice skating and that she had potential.
It turned out that taking Lipinski to Central Park was not the cherry on top of the cake, and it appeared that Kapostasy had something on his mind that was even more exciting.
Kapostasy proposed to her in December 2015 at Manhattan's illustrious Plaza Hotel. He got down on one knee and put a commissioned painting of their engagement outside her California home in the hotel's window.
For Their 5th Anniversary, Tara Asked Her Husband for a Vow Renewal
The couple just celebrated their fifth wedding anniversary in June 2022. While they celebrated their union already, she recently revealed that she had plans to make their marriage even more meaningful.
Lipinski suggested to her husband that they should renew their vows to celebrate their marriage. While the plan may take a while to realize, she has kept herself busy sharing wedding tips for other couples.
Lipinsky is one of the hosts of the new series "Wedding Talk," along with experts José Rolón and Jove Meyer. A hopeless romantic, she said the series was special because she was once a bride who went through all of the necessary wedding preparations.
She and Kapostasy's marriage is one of the celebrity marriages that many people admire. Fans also adore Serena Williams and Alexis Ohanian, Vince and Sondi Carter, and Ronda Rousey and Travis Browne's marriages.
Read More: World News | Entertainment News | Celeb News
Anomama