A restaurant, medical centre and supermarket have been added to a a long list of COVID-19 exposure sites as Sydney battles against the spread of the Delta variant.
NSW Health issued an alert for venues of concern just before 5.30pm today, with a Japanese restaurant in Sydney's inner-west listed over a 10-day period.
Anyone who attended Katsuya Japanese Restaurant at Clemton Park Shopping Village in Campsie between 6am and 10pm from July 19 to July 28 is considered a close contact and must get tested and isolate for 14 days, regardless of the result.
Other close contact venues include Ali Group Supermarket in Campsie for large parts of July 25, 26 and 27 and Myhealth Medical Centre at Rhodes Waterside Shopping Centre for some of the morning on July 27 and 30.
The additional exposure sites were added after NSW Health named a Sydney fruit shop as a venue of concern for the second time this week.
Anyone who was at Campsie World of Fruit on July 25 from 10.40am to 11am is now deemed a close contact and must get tested and isolate for 14 days, regardless of the result.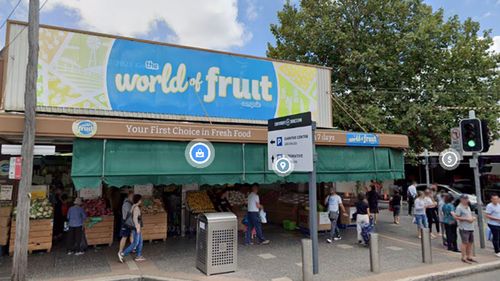 The fruit shop was previously listed as a close contact location from July 20 to 25 between 6am to 7pm. It's not known what prompted this specific new timing at the known location.
Also, anyone who travelled on the following public transport routes is a close contact and must immediately get tested and self-isolate for 14 days regardless of the result:
400 Bus From Bondi Junction Station, Stand F to Frenchmans Rd at Clovelly Rd, Randwick, on Monday 19 July; Departed 1.31pm – arrived 1.40pm

473 Bus From Dan's Corner, Beamish St Campsie to Earlwood Shops on Monday 26 July; Departed 2.42pm – arrived 2.51pm

461X Bus From Parramatta Rd after Sloane St, Summer Hill to Parramatta Rd bf Lyons, Camperdown on Tuesday 27 July; Departed 8.09am – arrived 8.17am
Anyone who attended the following venues at the times listed is a casual contact who must immediately get tested and isolate until a negative result is received. Please get tested even if you have had a test in recent days.
If your date of exposure at this venue occurred in the past four days, you must get another test on day five from the date of exposure. Wear a mask around others and limit your movements until you get another negative result. You should continue to monitor for symptoms and if any symptoms occur, get tested again:
Bondi Junction: Bondi Junction Post Shop Eastgate Shopping Centre, Shop 28 71-73 Spring Street Friday 16 July between 9.10am to 9.20am.

Smithfield: GRAM Engineering, 16-22 Cullen Place Friday 23 July between 7.15am to 4:30pm, Monday 26 July between 7.15am to 4.30pm and Tuesday 27 July between 7.15am to 4.30pm

Bankstown: Quantum Radiology, 258 South Terrace, Monday 26 July between 12.30pm to 12.50pm

Brookvale: Woolworths Warringah Mall, 145 Old Pittwater Road, Sunday 25 July between 5.05pm to 5.35pm.

Pennant Hills: Astley Mobility Pharmacy, 368 Pennant Hills Road, Thursday 29 July between 1.30pm to 2pm, Saturday 31 July between 11am to 11.30am.

Double Bay: Woolworths Double Bay, Kiaora Rd on Sunday 18 July between 5.30pm – 5.45pm; Monday 19 July between 4.30pm – 4.45pm

Yagoona: Ya Ya Bakery, 522 Hume Highway on Monday 19 July between 6.45am – 7am

Liverpool: Mina Pizza Shop 3, 46 Elizabeth Street on Tuesday 20 July between 9am – 10am

Granville: Woolworths, 6 Louis St on Wednesday 21 July between 6.20pm – 6.50pm

Eastwood: La Vigne Bakery 82 Rowe St on Thursday 22 July between 11.40am to 11.55am

St Marys: Aldi St Marys, 410-422 Great Western Hwy on Thursday 22 July between 5.30pm to 5.45pm

Macquarie Fields: Target, Glenquarie Town Centre Click and Collect, Victoria Road on Thursday 22 July between 9am – 7pm and Friday 23 July, Sunday 25 July, Monday 26 July and Tuesday 27 July between 9am – 5pm

Wentworth Point: The Smelly Cheesecake, Wentworth Point, Shop RT317, 5 Footbridge Bvd on Saturday 24 July between 9.25am to 9.35am

Burwood: Evergreen Fresh World, Shop 39 Burwood Plaza, 42 Railway Parade on Saturday 24 July between 2.45pm to 3.15pm

St Marys: IGA St Marys, Great Western Hwy & Mamre Rd on Saturday 24 July between 4pm – 4.15pm

Lakemba: Woolworths Lakemba, 2 – 26 Haldon St on Saturday 24 July between 10.30am – 10.40am

Bankstown: Aussie Farm Fresh Bankstown Central, Shopping Centre, North Terrace on Wednesday 28 July between 8.40am – 8.50am
Anyone who travelled on the following train service is a casual contact who must immediately get tested and isolate until a negative result is received:
T4 Train Line From Caringbah to Bondi Junction on Monday 19 July; Departed 12.12pm – arrived 1.26pm