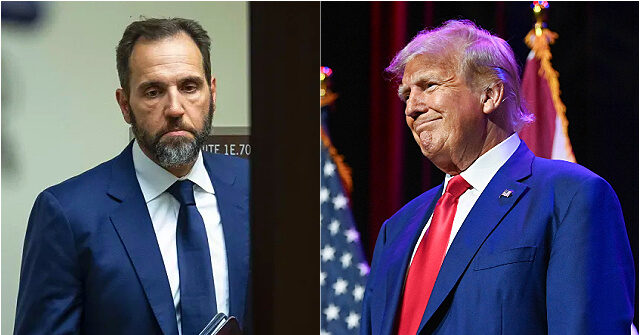 Special Counsel Jack Smith on Friday asked a judge to issue a protective order in the case against former President Donald Trump over his alleged efforts to overturn the 2020 election after Trump made a post on Truth Social.
On Friday, Trump posted the following message to his Truth Social account: "IF YOU GO AFTER ME, I'M COMING AFTER YOU."
Now, Smith is using that post to argue Trump's access to the discovery in his criminal case should be restricted. Smith's proposed order seeks to prevent "improper dissemination or use of discovery materials, including to the public," according to a four-page filing.
"Such a restriction is particularly important in this case because the defendant has previously issued public statements on social media regarding witnesses, judges, attorneys, and others associated with legal matters pending against him," Smith argued before referencing Trump's Truth Social post. "And in recent days, regarding this case, the defendant has issued multiple posts either specifically or by implication including the following, which the defendant posted just hours ago."
Jack Smith uses a Truth Social post as excuse tonight to seek another restrictive protective order on discovery and limit Trump's access to evidence in J6 case (similar to "classified doc" case)

Why does DOJ think a post about going "after Trump" is referring to them? pic.twitter.com/GJ7YeaEvLs

— Julie Kelly 🇺🇸 (@julie_kelly2) August 5, 2023
"If the defendant were to begin issuing public posts using details or, for example, grand jury transcripts obtained in discovery here, it could have a harmful chilling effect on witnesses or adversely affect the fair administration of justice in this case," Smith argued.
A Trump spokesperson defended the Truth Social post as "political speech" and denied it was in reference to the criminal case.
"The Truth post cited is the definition of political speech, and was in response to the RINO, China-loving, dishonest special interest groups and Super PACs, like the ones funded by the Koch brothers and the Club for No Growth," the spokesperson said.
Trump was indicted by a Washington, DC, grand jury on Tuesday on four counts, including conspiracy to defraud the U.S., conspiracy to obstruct an official proceeding, obstruction and attempt to obstruct an official proceeding, and conspiracy against rights, in relation to the January 6 Capitol riots.
On Thursday, he appeared in federal court in D.C. and entered a not-guilty plea. After his arraignment, Trump declared, "This is a persecution of a political opponent."
Smith similarly sought a protective order in the Mar-a-Lago White House documents case in June.
"The Discovery Materials, along with any information derived therefrom, shall not be disclosed to the public or the news media, or disseminated on any news or social media platform, without prior notice to and consent of the United States or approval of the Court," DOJ attorneys wrote at the time.
Smith's first proposed protective order mirrored an order in effect in Trump's criminal case arising out of Manhattan.
At the time, Trump claimed the New York judge "violated" his First Amendment rights by implementing the protective order, which prohibits him from sharing evidence to "any news or social media platforms," without the court's prior approval.
Jordan Dixon-Hamilton is a reporter for Breitbart News. Write to him at jdixonhamilton@breitbart.com or follow him on Twitter.
Read More: World News | Entertainment News | Celeb News
Breitbart