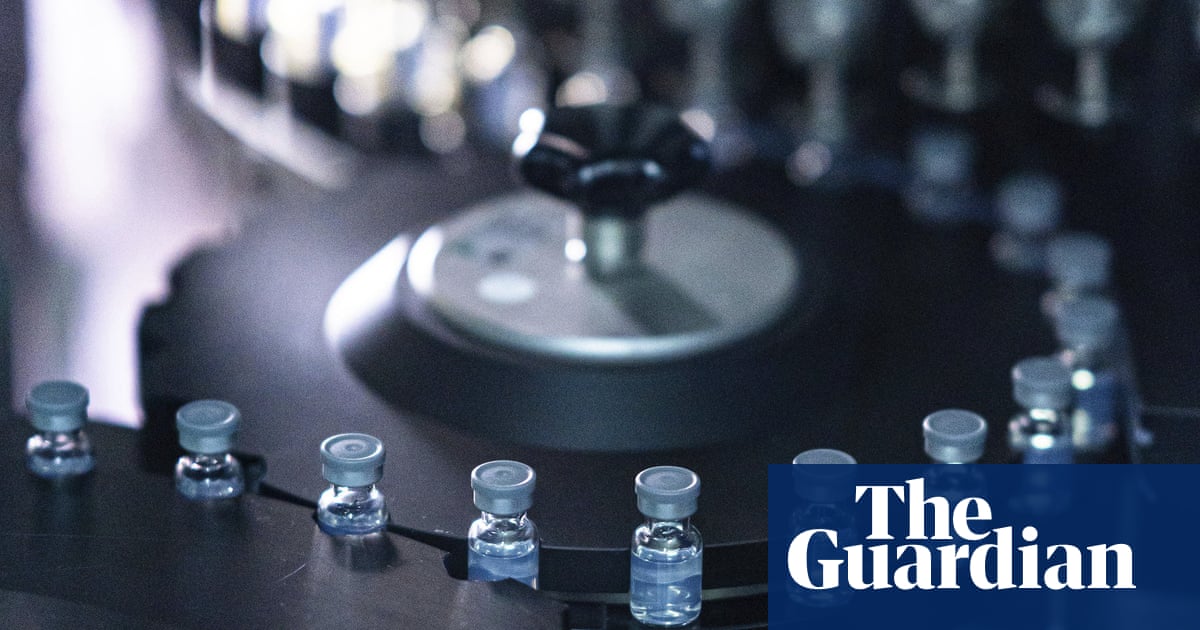 Ministers are facing urgent calls to consider widening the availability of Covid vaccines amid concerns that a new variant of the virus could put pressure on the NHS and cause more sickness in the workforce this winter.
As new data appeared to show the Pirola variant spreading, Rishi Sunak and Steve Barclay, the health secretary, were urged to rethink their decision to restrict vaccines to people aged 65 and over and vulnerable groups.
A group of MPs wrote to the prime minister on Friday warning that the NHS may struggle to cope with another winter of high numbers of Covid cases, while one leading virologist said the health service was in for a "rocky ride" and called to a return to jabs for over-50s.
Members of the all-party parliamentary group on coronavirus, led by Layla Moran, a Liberal Democrat MP, called on Sunak to consider extending the booster programme this autumn to more groups, such as people aged 50 to 64, and to help make the Covid jab publicly available to buy privately, like the flu vaccine.
Scientists have noted the high number of mutations that the new variant BA.2.86 carries, which raises the possibility that it could evade the immune system more easily or be more transmissible.
In a briefing note on Friday, the UK Health Security Agency (UKHSA) said an outbreak at a care home in Norfolk and other cases across the UK indicated there was likely to be community transmission of the strain, but said it was too early to judge the full extent of its spread.
The NHS is launching its autumn Covid vaccine programme this Monday, with residents of elderly care homes and people who are housebound the first to get the offer of jabs. From Monday 18 September, over-65s and people who are clinically vulnerable, carers and those living with people who are immunosuppressed will start to be invited for vaccines.
The government brought forward the vaccine programme by a month in response to the BA.2.86 variant but did not widen the eligibility criteria, saying it would follow the advice of the Joint Committee on Vaccination and Immunisation (JCVI).
Moran said: "As the government have been flexible about moving the date, they should also consider widening the groups it should be available to."
She said two of the main arguments for more boosters, such as for the over-50s, and allowing GPs to recommend people on a case-by-case basis, were reducing pressure on the NHS and helping the economy by having fewer people off sick with the virus or from long Covid.
"Our argument is that the government is being a bit cavalier and thinking this is just going to be fine," Moran said. "It also does not make any sense to us that the vaccines will be available to buy in the US but not in the UK. I think a lot of people would want the option and it's not clear at the moment why it's not available here."
Steve McCabe, a Labour MP and vice-chair of the all-party parliamentary group on access to medicines, also said there was a case for extending the vaccine rollout to include over-50s and a number of other groups.
"We should be focusing on older people, and yes of course on vulnerable people, but perhaps it should also include workers from groups who are likely to come into contact with the public," he said.
Joan Twelves, of Covid Action, a grassroots campaign group, said anyone who wanted the vaccine should be able to take it up.
Pharma industry sources say Covid jabs will not be available privately in the UK until 2024 at the earliest.
Prof Lawrence Young, a virologist at the University of Warwick, said the government should "absolutely" extend the eligibility of Covid vaccines to over-50s, and also consider offering them to all adults.
He said the UK faced a "rocky ride" this winter amid growing concerns over new variants, and ministers should reverse their decision to deny boosters to under-65s.
"We're heading into a very uncertain time as evidenced by the recent upsurge in various variants of concern. I just don't understand for the life of me why this is any different to autumn 2022 when all over-50s were offered an extra dose," he said.
Young said he understood that the JCVI had taken cost-effectiveness into account when making its recommendations. "But I think amid all this uncertainty and unpredictability about Covid, it would make much more sense to give the vaccine to as wide a population as possible."
He added: "The threat from Covid has not gone away. If anything, there's even more concern given the fact we've got waning immunity. Many folks won't have had a vaccine for a year or so. We've got new variants. I think we need to be protecting as many people as possible."
Dr Simon Williams, a public health researcher and lecturer in psychology at Swansea University, also called on ministers to reverse their decision to deny under-65s access to Covid jabs.
"Extending the Covid booster to over-50s would be a sensible precaution ahead of an uncertain winter," he said. "In the US, President Biden is encouraging all Americans to get an updated Covid-19 booster, in addition to an updated flu jab. It is right to prioritise those over 65 and clinically vulnerable, but in the UK the decision to limit to the over-65s only seems to have been made on too narrow a definition of cost-benefit. Cost-effectiveness, looked at from a broader perspective, is about more than just reducing deaths and hospitalisations."
Dr Andrew Hill, a visiting research fellow in pharmacology at Liverpool University, said excluding the 12 million people aged 50-64 was shortsighted. "These vaccines are known to be effective against the new Covid variants. There is no other way for people aged 50-65 to access Covid vaccines in the UK, especially as it looks like people who want them will not after all be able to get them privately," he said.
However, Prof Paul Hunter, an expert in the epidemiology of infectious diseases at the University of East Anglia, said denying under-65s Covid jabs was the correct decision.
"If you look at the ONS survey data back from April, the average number of infections that people in England had had then was over two infections per person since the start of the pandemic [and] it will be more now," he said. "So almost every one of us has survived one, and most of us have already survived multiple, Covid infections."
Health sources said there were currently no plans to widen the availability of vaccines.
A Department of Health and Social Care spokesperson said: "We have accelerated the autumn flu and Covid-19 vaccine programmes to ensure greater protection, support those at greatest risk of severe illness and reduce the potential impact on the NHS.
"Those most at risk from winter illness – including people in care homes for older people, the clinically vulnerable, those aged 65 and over, health and social care staff, and carers – will be able to access a Covid vaccine from next week."
Steve Brine, the Conservative chair of parliament's health committee, said he thought it was right that the JCVI advice was being followed.
"The commercial pharma companies need to look at this as a commercial opportunity and if they've got a customer base then they need to meet that demand. If there's not a commercial basis then I refer you to JCVI advice. Other than doing a population-level vaccination programme, I don't know what the alternative really is. I wouldn't be making any different decision if I were in the government now," he said.
Read More: World News | Entertainment News | Celeb News
Guardian