When a woman boarded a plane to Hawaii in 2021, she never imagined how much her life would change. By the time the plane landed, she was a mother. Read her miracle story and find out more about the surprise baby.
Life has a funny way of surprising us when we least expect it. One woman received an incredible blessing during a flight, and her one-of-a-kind experience left people speechless.
Lavinia 'Lavi' Mounga has a story unlike any other. She gave birth to a baby boy while aboard an airplane, and the biggest shock of all—she did not know she was pregnant!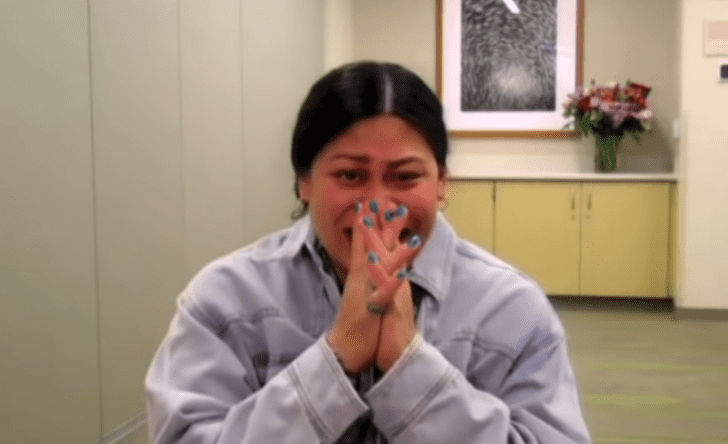 Mother gets emotional seeing the nurses and doctor who helped her after she gave birth mid-flight. | Source: youtube.com/TheEllenShow
HER LIFE CHANGED FOREVER
Mounga's birth story went viral after people learned of her surprise airplane pregnancy. The mother shared her story on The Ellen Show and recalled the unbelievable events that changed her life forever.
She had stomach issues and cramps while on a Delta airplane, so she walked to the restroom. Mounga spent a long time in the cubicle, aching and in pain—unaware that she was in active labor.
Mounga explained:
"I got on the plane and just couldn't settle in to fall asleep. I got up, was having cramps, and went to the restroom. I passed out for a little. When I came to, the baby was here."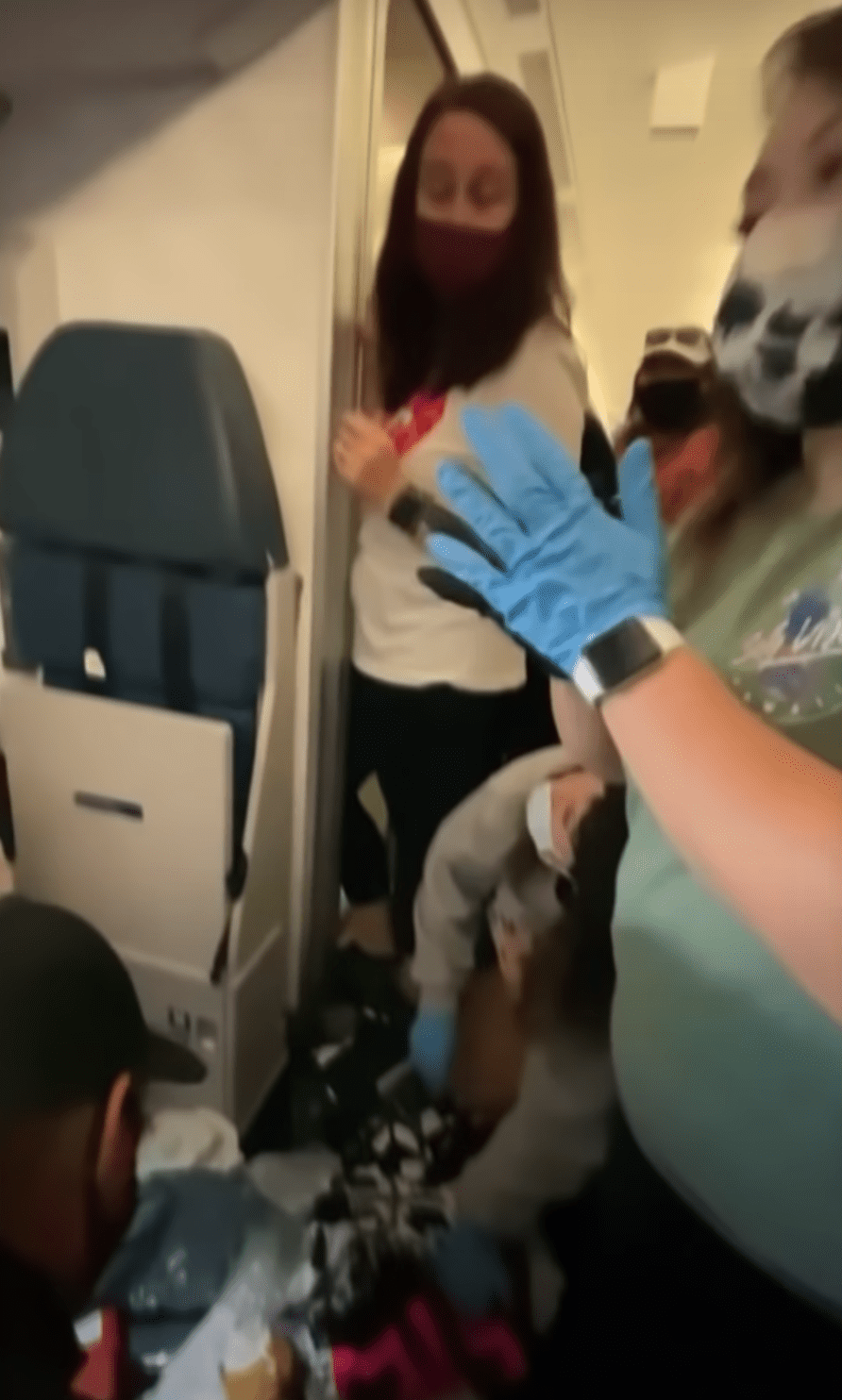 Nurses and doctors help a woman who gave birth mid-flight. | Source: youtube.com/TheEllenShow
SHE HAD A CRYPTIC PREGNANCY
When Mounga woke up, she was a mother, and it was a massive shock to her. She experienced a cryptic pregnancy, which is often linked to hormone imbalances.
The condition leaves women unaware of their pregnancy until they are far along or in labor. It occurs more regularly than many people think, affecting about 1 in 400 women.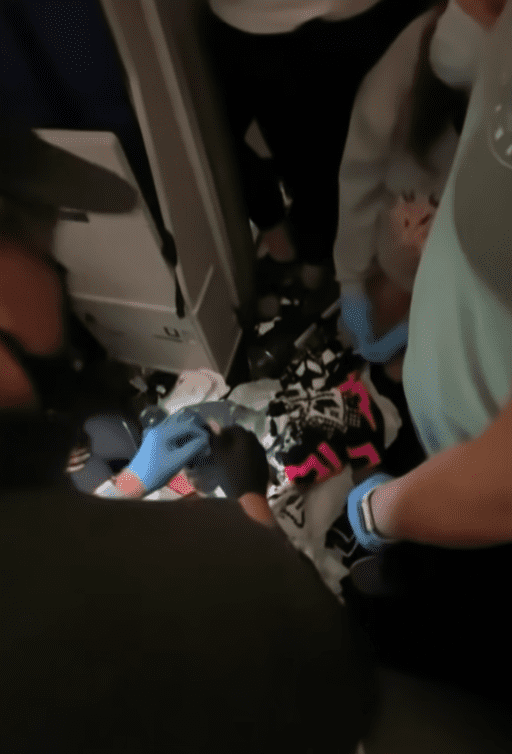 Nurses and doctors on board an airplane rush to help a woman and her newborn baby. | Source: youtube.com/TheEllenShow
THE BABY WAS PREMATURE
Baby Raymond entered the world miraculously but sadly, his struggles and fight to survive had only begun. He was premature and 40,000 feet in the air, away from the medical facilities he desperately needed.
Born at 29 weeks, the youngster and his mother needed assistance. By a twist of fate, five healthcare professionals were on board the airplane, and they were all ready to lend a helping hand.
CALLING FOR URGENT MEDICAL ASSISTANCE
Physician assistant Lindsay Maughan heard Mounga's sister-in-law calling for urgent medical assistance. Maughan shared: "I jumped up from my seat and ran up to the bathroom."
When she opened the door, she saw Mounga holding the tiny newborn. Thankfully, three neonatal intensive care nurses were also present and got to work immediately.
THEY SOURCED MEDICAL EQUIPMENT CREATIVELY
Nurses Lani Bamfield, Amanda Beeding, and Mimi Ho used their surroundings to source equipment. A shoelace from a passenger helped cut the umbilical cord, and an Apple Watch tracked the baby's heart rate.
They also used microwaved bottles to keep baby Raymond warm, along with an array of other creative inventions. Dr. Dale Glenn, a family medicine physician at Hawaii Pacific Health, also played a pivotal role in stabilizing the patients.
Glenn was napping when his daughter informed him that a doctor was needed. He quickly offered his expert services and was thankful for the NICU nurses at his side.
THE BABY WAS NOT DOING WELL
The doctor shared that the infant was not breathing as they had hoped he would. He added: "The baby was not crying. Normally, you want to hear more noise. This was about as quiet of a delivery as you can get."
They managed to create a makeshift incubator and were happy when the baby started warming and "pinking up." He shared:
"That first hour was really tricky, but fortunately this is a tough little kid."
THE MOM WAS GRATEFUL TO THE TEAM
The team also monitored Mounga and was delighted when she remained stable, despite the shock of the experience. While she felt overwhelmed, she was immensely grateful to the team, who did everything in their power to help.
She expressed:
"I'm just so lucky. If they weren't there, I don't think he would be here."
Glenn shared that he would never forget the encounter with Mounga and her son. He was also given the honor of providing a second name for baby Raymond.
Glenn's daughter thought of the beautiful Hawaiian moniker, Kaimana. It symbolized the power of the sea, and all involved parties felt it was fitting because Raymond was born flying over the Pacific ocean.
IT WAS A ONE IN A BILLION EXPERIENCE
Mounga and her baby recuperated at the Kapi'olani Medical Center for Women and Children. The medical team visited the duo during their stay at the facility, and it was an emotional moment for all.
Nurse Ho recalled: "We all just teared up. She called us family and said we're all his aunties." They were thrilled that the duo was happy and healthy. Mounga and Raymond were doing well and survived an experience very few people have faced.
Glenn highlighted that "there have only been about sixty babies born on airplanes in history." Undoubtedly, the team was honored to have been part of such a one in a billion experience.
Click here for another unbelievable story about a woman who gave birth unexpectedly. The mother went into labor in a gas station and started praying when she realized what was happening.
Anomama