Xavier Alexander Wahlberg is the child of a renowned singer. Despite coming from a famous family, Xavier lives a low-key life, far away from the spotlight.
Xavier Alexander Wahlberg was born on March 4, 1993. His ancestry from his father's side comprises Swedish, French, Canadian, and Scottish. Through Xavier's father's French-Canadian ancestry, he is a distant relative of renowned singers Celine Dion and Madonna. Xavier's great-grandfather was the son of Swedish immigrants.
Xavier was born when his father was 23. Even though he was scared of being a parent at the time, Xavier's father stated the birth of his son left him a changed man.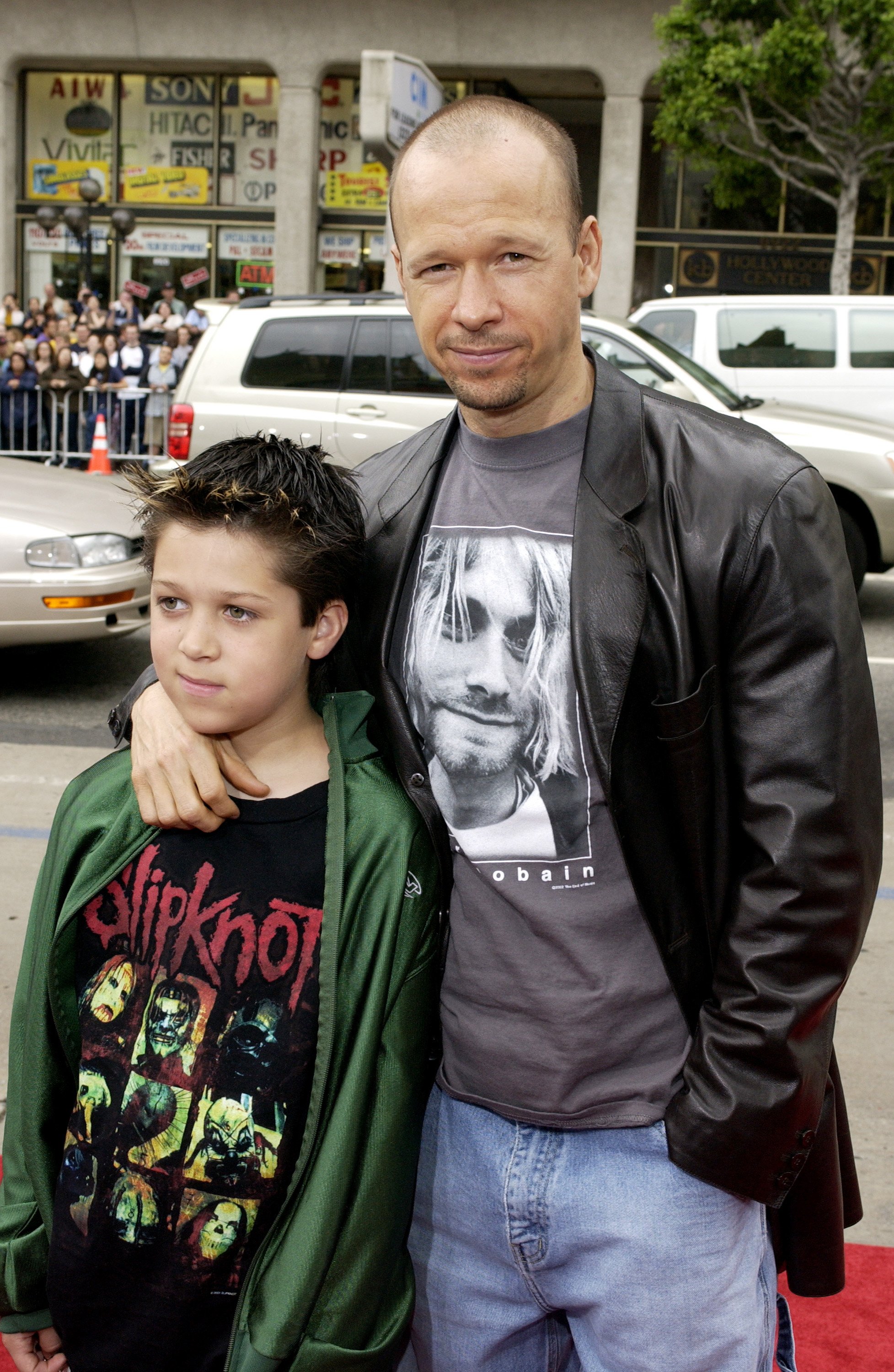 Donnie Wahlberg & son Xavier during "Scooby-Doo" Premiere at Grauman's Chinese Theater in Hollywood on June 8, 2002 | Source: Getty Images
He stopped living for himself and began living for his son. Xavier's father said after his son's birth, his legacy didn't matter. According to the actor/singer, what was important was providing for his son.
Xavier Alexander Wahlberg Didn't Love Being on Camera
Even though Xavier doesn't like being in the spotlight, when he was younger, he appeared on the reality show "Donnie Loves Jenny" alongside his father, Donnie Wahlberg, and stepmother Jenny McCarthy. The show, which aired for three seasons, explored Xavier's parents' lives and featured their wedding.
On the other hand, Xavier's dad said his stepbrother Evan has an outgoing personality.
While fans enjoyed the reality show, Xavier's father said their children weren't comfortable with having cameras in their homes. He said if they were to do another reality show, it would be about him and his wife.
In an interview, Xavier's father said his son doesn't like publicity, and he couldn't even mention his name on TV because he would get mad at him. Despite his son's strict conditions, the singer gave some details about Xavier's life and that at 17, he was 6'2″ and had a girlfriend.
While there are very few photos of Xavier as an adult, when he was younger, he attended the "Scooby Doo" premiere and walked the red-carpet event alongside his father.
Xavier Alexander Wahlberg Loves Music Like Dad Though He Keeps It Private
Although Xavier did not go out and debut as a singer, it's safe to say that the love for music stays within the family. On a few occasions that Xavier's dad has talked about him, he hinted that his son was in a band and loved to play dark hardcore music.
Xavier's dad said he is close to his son but rarely discusses school-related topics. Most of their conversations revolve around the concerts Xavier has been to and the experiences.
Xavier Has a Special Connection with His Blended Family
After Xavier Alexander Wahlberg's parents divorced in 2010, he gained new family members, his stepmom McCarthy and stepbrother Evan. While speaking about raising a blended family, Xavier's dad said McCarthy is the best partner he could have ever imagined and a great stepmom to his sons.
Xavier's dad revealed that McCarthy is an amazing wife, and he felt grateful to have someone he could build traditions with for his children. Even though little is known about Xavier, his dad talked about his personality and said he is intellectual and reserved, but he can carry on a great conversation.
On the other hand, Xavier's dad said his stepbrother Evan has an outgoing personality. Although he is not reserved, he is affectionate and knows how to express himself.
Xavier's dad explained that with Evan's personality, he has been able to connect with him more than with his son and that Xavier connects more with his stepmom. Even though Xavier's father and stepmom had failed relationships in the past, Xavier's father said he was glad to have found a wonderful partner with whom they could build a family.
Read More: World News | Entertainment News | Celeb News
Anomama