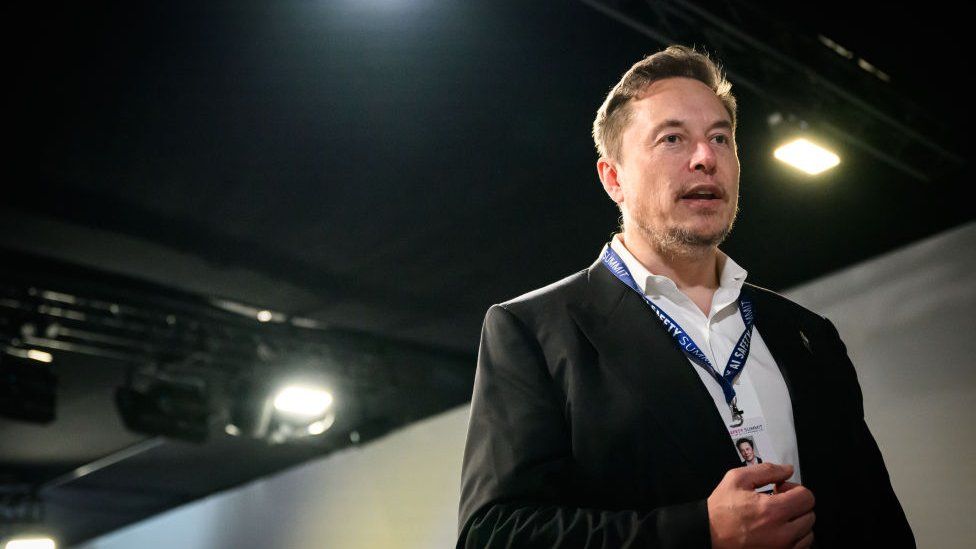 An advertising boycott of social media platform X is gathering pace amid an antisemitism storm on the site formerly known as Twitter.
Apple, Disney, Comcast and Warner Brothers Discovery have all halted advertising on X, US media report, following hot on the heels of IBM.
The European Commission, TV network Paramount and movie studio Lionsgate have also pulled ad dollars from X.
It comes after X owner Elon Musk amplified an antisemitic trope.
The corporate boycott has also been picking up steam in the wake of an investigation by a US group which flagged ads appearing next to pro-Nazi posts on X.
A spokesperson for X told the BBC on Thursday that the company does not intentionally place brands "next to this kind of content" and the platform is dedicated to combatting antisemitism.
The billionaire Tesla and SpaceX entrepreneur denied he is antisemitic and later said his comments referred not to all Jewish people but to groups like the Anti-Defamation League (ADL) and other unspecified "Jewish communities".
The White House denounced Mr Musk's endorsement of the post.
"We condemn this abhorrent promotion of antisemitic and racist hate in the strongest terms," said spokesperson Andrew Bates.
On Friday evening, the ADL – one of the most vocal critics of how X moderates incendiary content – offered rare praise for Mr Musk's steps to fight hate on the platform.
Mr Musk had posted on X that anyone using terms such as "from the river to the sea" – which the ADL has described as a coded call for Israel's destruction – could be suspended from the platform.
ADL chief executive Jonathan Greenblatt replied that this was "an important and welcome move".
X chief executive Linda Yaccarino posted on Friday evening that the platform had been "extremely clear about our efforts to combat antisemitism and discrimination. There's absolutely no place for it anywhere in the world".
The ad boycott follows an investigation by left-leaning pressure group Media Matters for America, which said it found ads bought by the companies next to posts including Hitler quotes, praise of Nazis and Holocaust denial.
On Thursday, IBM became the first company to pull its advertising from the site, saying the juxtaposition of its ads with Nazi content was "completely unacceptable".
X claims that it has stronger brand safety controls than other social networks and that hate speech and extremism has fallen on the platform despite large cuts to the company's safety team.
Several outside groups disagree with the company's assessment and say that extremism and hate speech have increased under Mr Musk's leadership.
It is unclear how much of X's revenue currently comes from ads, because it's now a private company and no longer publishes quarterly reports.
But before Mr Musk took over the firm, advertising made up about 90% of Twitter revenue.
Mr Musk has attempted to change its reliance on ad dollars by trying to create a paid-membership tier.
If you pay a monthly fee, you can have a blue tick by your name and your content will be boosted. Yet that still makes up a tiny fraction of revenue.
In an interview with the BBC in April, Mr Musk said "most" advertisers had returned.
Three months later he acknowledged in a post on X that ad revenue had fallen by 50%.
His appointment of Ms Yaccarino, a former ad executive, was widely seen as Mr Musk trying to smooth relations with advertisers.
But building those kinds of relationships is difficult when the company's owner himself is the one making the controversial posts.
It is also hard to square advertisers' fears that the platform does not moderate content enough, with Mr Musk's commitment to free speech.
The BBC interviewed Twitter investor Ross Gerber last month and he said advertisers were worried about Nazi content not being removed.
"I do not want my ads anywhere near Nazis and I would say that 99% of brands would agree with that," he said.
"To lose advertisers over Nazi voices is the dumbest policy you could imagine."
Although Mr Musk is the world's richest man, he borrowed billions to buy Twitter and has to pay interest on those loans.
Unless he is able to staunch the flow of ad dollars from the platform, it could become an increasing financial burden.
(Additional reporting by Kayla Epstein, Matt Murphy and Mike Wendling)
Read More: World News | Entertainment News | Celeb News