The slow motion replay of Aaron Rodgers' injury already showed his calf muscle reververate, which was already a terrible sign. Those who have seen Achilles' tendon injuries before will tell you that when confirmed, a complete tear will keep any athlete out of activity for at least a full year. On Tuesday morning, the New York Jets confirmed Aaron Rodgers suffered a complete rupture of his left Achilles tendon. This means he will be out for the full season and the team will now have to start looking for his replacement this season. Not that Zach Wilson is not good-enough to maintain his position as QB1 on the team, he started slow against the Buffalo Bills last night but he is a highly skilled quarterback. The news drops as a massive bag of bricks on Rodgers though.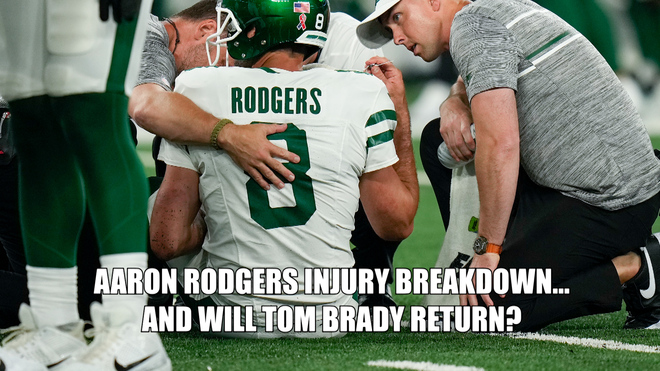 Could Aaron Rodgers retire after this injury?
If Aaron Rodgers was five years younger than he is right now, retirement wouldn't even be considered, he did win the NFL MVP at the age of 37. But the man is pushing 40 and he is not getting any younger. We have to see how quickly his body responds to him during the recovery but the odds for someone his age are never good. Although no reaction from Rodgers has taken place yet after the news, chances are he may decide to retire in order to focus on his recovery on a full time basis. The one who broke the story first was NFL insider, Ian Rapoport. It obviously ends Rodgers' season after only playing four snaps totalling 75 seconds of play time in the current NFL season.
It is expected that Aaron Rodgers maintains this radio silence for a while, the shocking news need some time to take in and meditate in order to make the best decision moving forward. When last season ended, the QB was struggling to make a decision about his future. It was either retire for good or continue playing the sport he loves so much. This drastic turn of events should be more than enough for him to gravitate towards retirement but you never know. If he decides to step down from activity, there may be a massive chip on his shoulder. However, Aaron rodgers is one of the most accomplished NFL quarterbacks of the last 20 years. He owes nothing to anyone. If he decides to retire for good, nobody would feel like he didn't accomplish his goals in the league. It's just unfortunate for people who were eager to watch him play for one more season.
Read More: World News | Entertainment News | Celeb News
Marca