Even for someone as rich and famous as Patrick Mahomes, life is about the simple, everyday things that keep him going. In an interview with GQ, the Kansas City Chiefs quarterback made a list of the top 10 things he could not last a day without.
Besides his Super Bowl ring and one-of-one custom shoes, it turns out he's pretty much like the rest of us.
Listen to Patrick Mahomes's answer – Does Brittany make the list?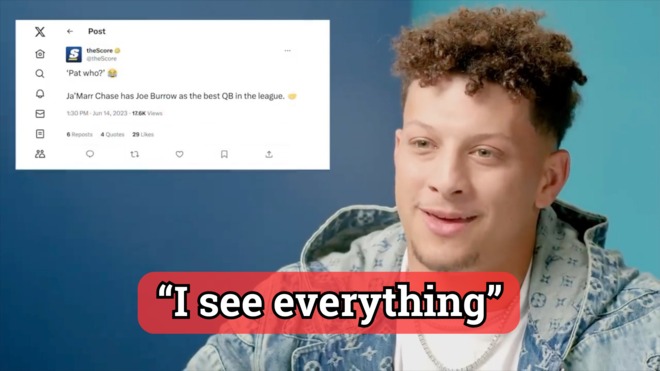 After the Chiefs lost to the Lions on opening night of the 2023 NFL season, Mahomes might want to add injured tight end Travis Kelce to the list of things he can't live without. Chiefs pass catchers dropped eight of Mahomes' passes in the Week 1 loss.
Mahomes loves his sponsored products
As the face of the NFL, Patrick Mahomes endorses countless products. He shows with his list of 10 things he can't live without that he only advertises products that he really uses every day.
Whether it's his Oakley sunglasses, BioSteel drinks or the Head and Shoulders products that keep his signature hairdo on point, Mahomes stays true to the products he endorses and actually uses them every day.
Patrick Mahomes can't live without Brittany
The Mahomes family unit is very strong. Patrick made sure to include his wife, Brittany on the list. One of the power couples of the NFL, Brittany has over 1.3 million followers on Instagram.
"She's the best. She's more than my wife, though. She's my best friend," Pat said in the video.
Brittany was quick to remind him that their kids are also daily essentials, and that it feels weird to go anywhere without them. The couple has one daughter, Sterling, and one son, Bronze.
Patrick Mahomes sees the comments on social media
The final item on Mahomes' list was his cell phone, but maybe not for the reason you think. Many athletes, especially those with the popularity of the MVP, try to stay away from the noise on social media to focus on their game. Mahomes has a different idea.
"I see everything," Mahomes admitted. "I use that as fuel to go out and be who I am."
Patrick Mahomes isn't so different from the rest of us. He can't go without his phone, his wife or his late night bag of Doritos.
Read More: World News | Entertainment News | Celeb News
Marca