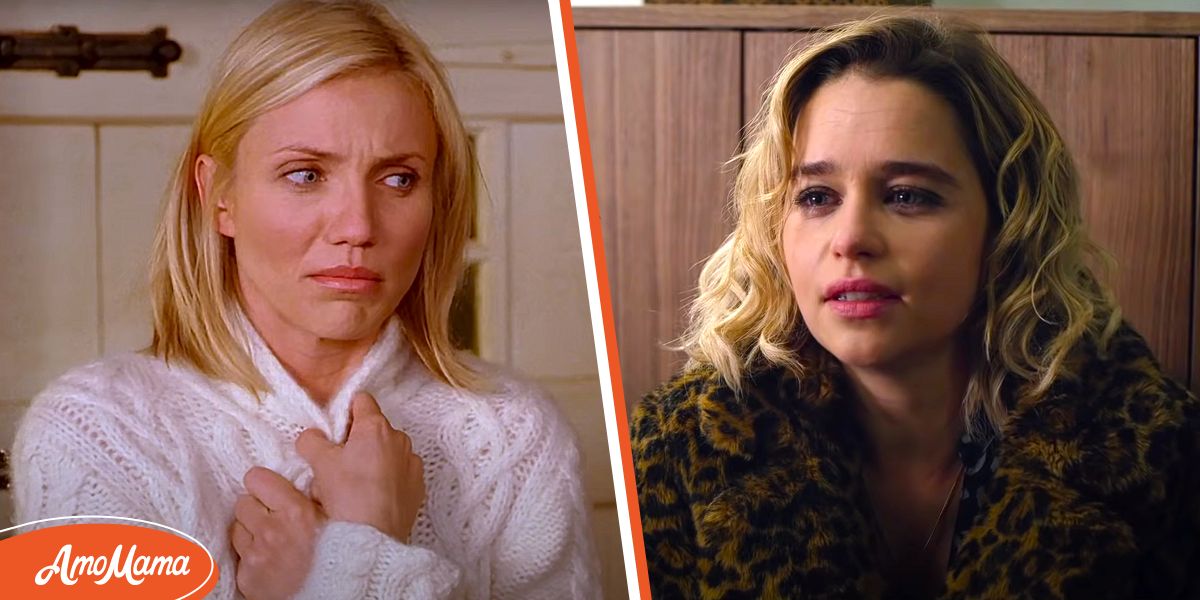 Cameron Diaz in "The Holiday" | Emilia Clarke in "Last Christmas" | Source: Youtube/sonypictures | Youtube/UniversalPictures
This year marks the 20th anniversary of "Love Actually," a festive season classic. Its ensemble cast and wholesome British allure will prepare you for the holidays before, during, and after the festive season. Additionally, the movie has inspired this list of other Christmas movies.
"Love Actually" is another British gem that opens with Hugh Grant's sultry yet soothing English voice narrating you into the mood for love, laughs, and "awwws." The two-hour film follows the lives of multiple families, homes, and somehow interconnected couples, continuously highlighting the importance of loved ones during the holiday season.
It captures the chaos that ensues during the weeks leading up to December 25. While it might be a tug-of-war between a feel-good Christmas movie and a dramatic rom-com, "Love Actually" has proven to be timeless.
This comfort movie calls for thick socks and warm blankets around the fire and can be enjoyed any time of year. However, Christmas movie fanatics will be pleased to know this classic has inspired many more films.
'Bridget Jones's Diary'
In 2001, Renée Zellweger convincingly starred as the loveable Bridget Jones in the English classic "Bridget Jones's Diary." In the film, she plays an unsuspecting book publicist who has a hot and heavy love affair with her womanizing boss, played by Grant.
However, when Grant's character leaves Bridget heartbroken, the stoic Mark Darcy (Colin Firth) comes to the rescue. But Bridget still has to choose between both men, as they occupy half her heart.
'The Holiday'
"The Holiday" is a 2006 film that shows the Californian producer Amanda Woods (Cameron Diaz) experiencing another breakup, leaving her yearning for a getaway. On the other side of the world, English columnist Iris Simpkins (Kate Winslet) is hopelessly in love with a man who will never love her back.
In an attempt to escape these problems, both women agree to switch homes for the Christmas holiday, which eventually proves to be a life-changing choice, as they both end up finding unexpected love.
'Happiest Season'
The catch? She has not come out as a lesbian to them. However, with dry humor and moments that pull at the heartstrings, the movie's protagonist overcomes her fear of losing her family while embracing her sexuality.
'Four Weddings and a Funeral'
In 1994, screenwriter and director Richard Curtis — who has been the mastermind behind multiple romcoms — cemented himself in Hollywood with "Four Weddings and a Funeral," co-starring Grant and Andie MacDowell.
In the film, Grant plays a commitment-phobe bachelor who eventually settles down but cannot seem to extinguish the eternal flame between him and MacDowell's character as their paths continue to cross over the years at four weddings and a funeral.
'The Family Stone'
After traveling to meet her boyfriend's family for the first time, Parker's character doesn't exactly hit it off with her in-laws and even attempts to flee at some point. However, while her presence causes a rift between some relationships, it sparks others.
'Four Christmases'
In "Four Christmases," Vince Vaughn and Reese Witherspoon play a happy, child-and-family-free couple who enjoy spurlging on lavish vacations during the festive season. However, after their flight to Fiji is canceled, the couple is forced to celebrate the holidays with their no-so-loved loved ones.
The movie's protagonists have divorced parents, which sees them stopping at four homes for four different Christmas celebrations. And for just over an hour, viewers are kept entertained as Witherspoon and Vaungh's characters unearth details about each other they had previously hidden.
'Last Christmas'
Like "Love Actually," "Last Christmas" has a naughty and nice feel as Emilia Clarke plays a miserable employee at a year-round Christmas shop who, ironically, loses sight of the Christmas spirit.
However, after continuously bumping into a constantly gleeful stranger (Henry Golding), Clarke's character regains her zest for life and learns that her and Golding's run-ins were not accidental.
'Let It Snow'
Netflix's "Let It Snow" is based on Maureen Johnson, John Green, and Lauren Myracle's young adult novel of the same name and follows the lives of a group of teenagers played by Isabela Merced, Liv Hewson, Kiernan Shipka, and more.
Similar to "Love Actually," the high schoolers are somehow tethered to each other, and each experiences budding romances during the holiday season, whether with old flames, new loves, or the one who had been there all along.
'Sleepless in Seattle'
After his son calls a local radio station on his behalf, a widower (Tom Hanks) wins the hearts of thousands of women under the alias Sleepless in Seattle after vulnerably opening up about life before and after his wife's passing.
However, across the country, his touching story also reaches the ears of Meg Ryan's character, who cannot help but feel the pull between herself and this man she has never met. As a result, she travels to Seattle in the name of love, giving this 1990s film the same romantic and festive feel as "Love Actually."
'New Year's Eve'
If the name didn't already give it away, unlike "Love Actually," which is centered around Christmas, this Hollywood hit occurs a few days later on New Year's Eve. However, it packs the same punch with its sentimental feel littered with humor and numerous well-known faces from — Halle Berry and Jessica Biel to Ashton Kutcher and Michelle Pfeiffer.
Surrounded by the promise of a fresh start and a whole set of 365 days of new possibilities, "New Year's Eve" follows how the lives of New York City singles and couples intertwine.
Read More: World News | Entertainment News | Celeb News
Anomama